BILL AND SUE-ON HILLMAN: A 50-YEAR MUSICAL ODYSSEY
www.hillmanweb.com/book
ROCK ROOTS CHAPTER
presents

JOHN LENNON DARKER SIDE QUOTES
www.hillmanweb.com/beatles4/john/darkside.html

John Lennon was killed by Mark David Chapman in front of his New York City apartment building almost 40 years ago. Since his death, the musician's name has practically become synonymous with peace and love. That was a side of him, of course, but art is also artifice. It's interesting to take a look at the darker side of the former Beatle member's nature — such as the time he nearly killed a man who implied Lennon was gay — as revealed through his and others' quotes.

Ref:

1. Even Yoko Ono, the love of John Lennon's life,
had a hard time living with the man.

2. John Lennon's possessive attitude toward Yoko was the stuff of legend,
even while he was sleeping with her assistant, May Pang.

3. Early in the '70s, Yoko essentially kicked John out of the house
– and out of New York – as part of a trial separation.
For 18 months, John wallowed in alcohol and made clingy,
pleading phone calls to Yoko, asking to come home.

4. Lennon describing the way his first son, Julian, came to be.

5. What Lennon screamed at a 16-year-old Julian
after the boy giggled at the table during a visit to John and Yoko's home.

6. John's first son Julian was famously snubbed by his father,
who barely saw him for the last dozen years of his life.
Between the absence and the abuse, what little relationship
they had seemed to have been at Yoko's behest.

| | |
| --- | --- |
| | |
| 7. Even Lennon's second son Sean has harsh words for his father. | 8. Lennon didn't seem clear on why he should send Sean to school. |

9. Describing his own father.

10. John Lennon had a knack for verbally
stabbing people who knew him in the back.
Even when he tried to offer compliments, for example to other Beatles,
he still came off as quite callous.
This quote (and many others) is from Lennon's last interview,
which was published in Playboy the month after his death.
11. In another backhanded compliment from the Playboy interview,
Lennon went on to slam George Harrison's post-Beatles career.
Right after this line, John essentially
accuses George of plagiarism for "My Sweet Lord."

12. In fact, Lennon dished out criticism of all Beatles members.

| | |
| --- | --- |
| | |
| 13. Lennon on his friend and drinking partner, Mick Jagger. | 14. His fans were also a target of his ire. |

15. Lennon was touchy about his sexuality.
Rumors about an affair with Brian Epstein dogged him for years,
and apparently he kept his temper on a hair trigger.
This quote is in reference to the episode in which
John Lennon attacked Cavern Club manager Bob Wooler
over a joke and sent him to the hospital.

16. John describes the moment when Brian Epstein came out to him.

17. Lennon, explaining where
he got the lyrics to "Getting Better."

18. Lennon was an easy mark for many of the
various fads and crazes of his day.
EST, Primal Scream, and various trendy diets
all made their mark on him.
Here, he explains why he won't get cancer from chain smoking.

| | |
| --- | --- |
| | |
| 19. Lennon wasn't shy about self-promotion, either. | 20. Of course, John had his own troubled upbringing. |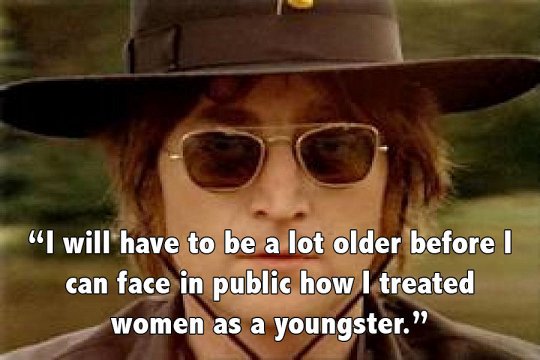 21. Lennon had a lot of issues with relationships,
which he admitted to during the Playboy interview.

FEEDBACK
From the Liverpool Echo

"Man of peace, genius, great man" - a few of the many misleading plaudits plucked from the posts of the misinformed. Personally, I was staggered when our local airport was named after him. After all, he was no Charles de Gaulle or John F Kennedy and I can think of many other sons and daughters of Liverpool whose international stature is much worthier of the honour.

His frequent mimicking of physically and/or mentally disabled persons and his frequently inflicted physical abuse on women, particularly his wives Cynthia and Yoko is well-documented. Yoko Ono, in fact, encouraged his 18 month adulterous and, yet again, violent relationship with May Pang just to give herself a break from him.

Like many violently-slain and relatively young celebrities, Lennon became something of a martyr when Mark Chapman shot him on that cold New York night in December 1980, but the peaceful sentiments he expressed in some of his songs are simply hypocritical BS!

---

BUT THERE WAS ALSO A FUN SIDE. . .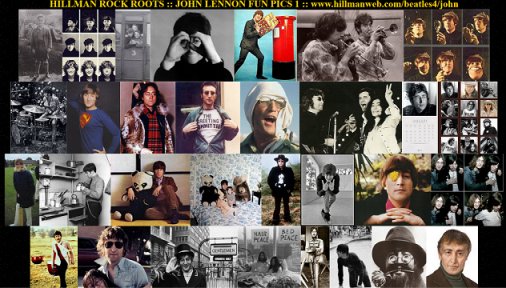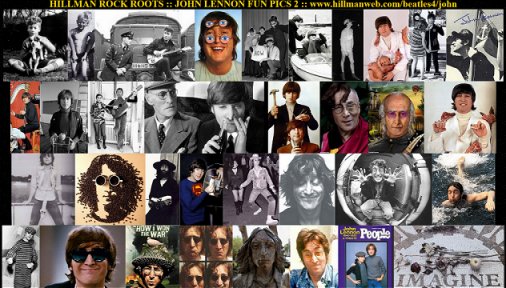 BACK TO THE JOHN LENNON CONTENTS PAGE
Bill & Sue-On Hillman
HILLMAN MUSICAL ODYSSEY
HILLMAN GIG NOTES
www.hillmanweb.com/book/roots