PART III (Continued from PART I and PART II)

VIDEO: At the front door of Hillmans' Maple Grove country home.
Sandi walks down brick steps and out among spruce trees.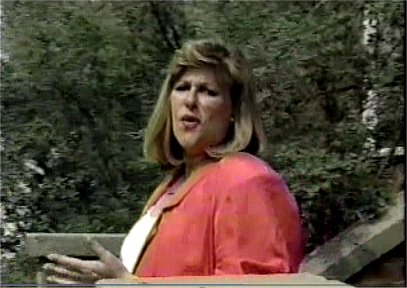 .

SANDI: OK. Time for a review -- there may may be a test later on...
Bill and Sue-On have recorded 10 albums.
They have performed just about everywhere.
They have homes in Brandon and in Strathclair.
They've catalogued their collections of musical instruments. . .
the comic books. . . Chinese furniture. . .
O yeh. . . They own and operate a 260-seat Chinese restaurant . . .
and did I mention that Bill also commutes for his teaching job
200 kilometres a day from Brandon to Strathclair?


VIDEO: Closeup of hand surfing a car radio dial
and then to Bill driving van... waves to local traffic...
cut to over the shoulder view of Highway 16.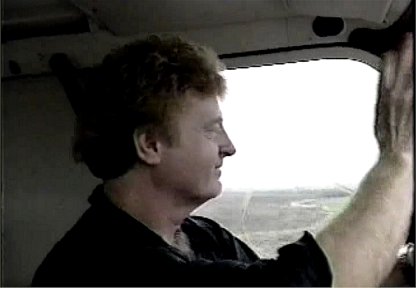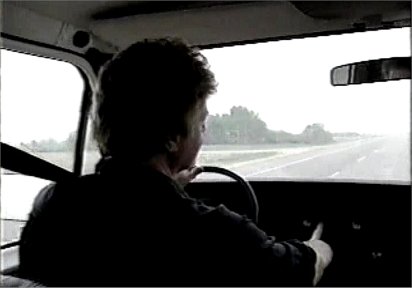 BILL: It's almost easy driving, cause we're so used to driving at 4 and 5 in the morning
after setting up and tearing down and performing and all . . . and driving for three hours after that.
We're just here for such a short period of time, so you try to cut down on your sleep.
SUE-ON: Do as much as you can.
VIDEO: Long shot of van going by on highway.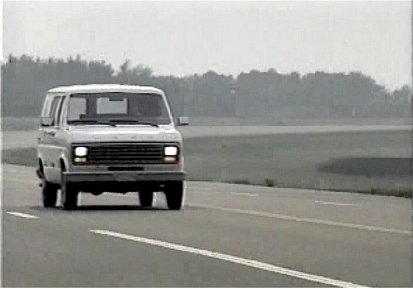 BILL: You try to do a great number of things at once.


VIDEO: Sandi takes down a family portrait from Media Room picture wall.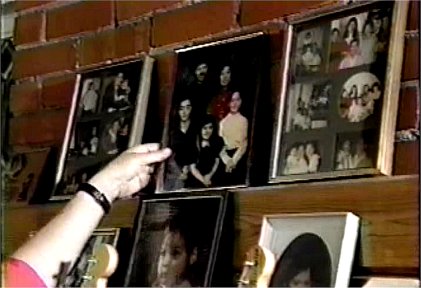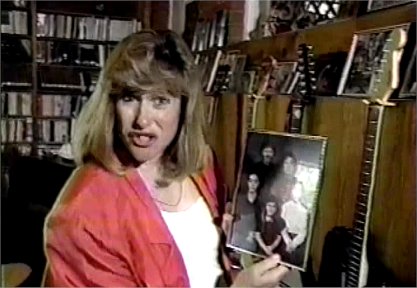 SANDI: And did I mention that the Hillmans also have three children.


VIDEO: Ja-On and Sue-On at front till serving customers.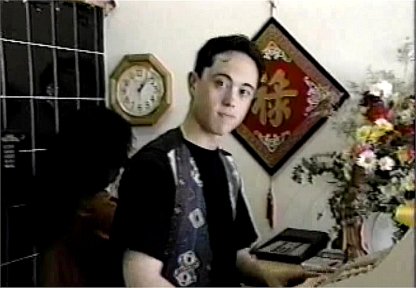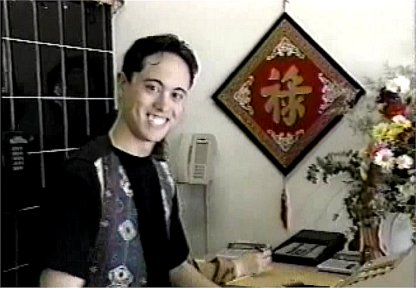 SANDI: There's 17-year-old Ja-On who helps out at the restaurant.
VIDEO: Robin working in clean up prep room washing dishes.
VIDEO: China-Li playing harp in the Hillmans' Kensington music room.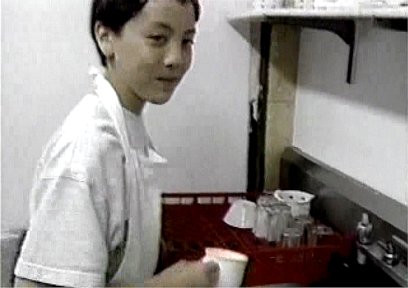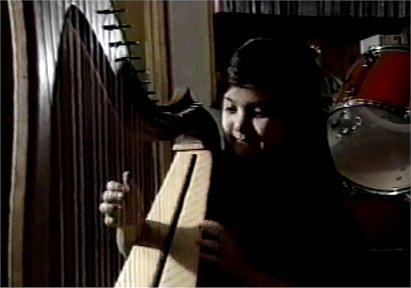 SANDI: 13-year-old Robin who is also picking up some of the family work ethic.
SANDI: And 9-year-old China-Li.


VIDEO: Back to Media Room chat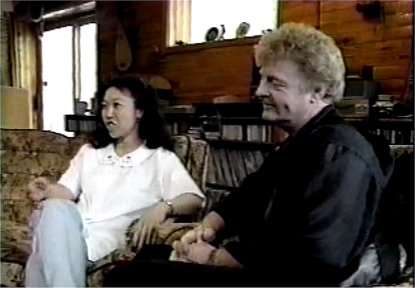 SANDI: Have you two always been this busy?
SUE-ON: We were busy from the day we got married.
We were painting a school house in Elphinstone for money to go on our honeymoon.
I think we finished painting on a Friday,
so we phoned our friends up and said we're getting married on Monday,
because we had to be back in two weeks for another gig he was playing
-- that was before I joined the band.


SANDI: With you both being so busy, what do you do to relax?
AUDIO: Chinese chimes and gong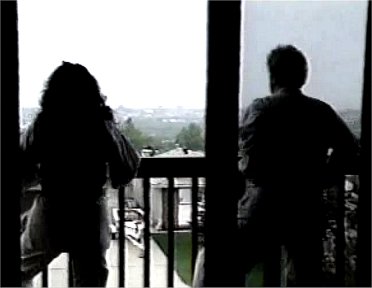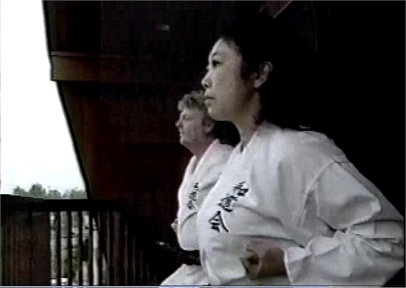 VIDEO: Long shot overlooking City of Brandon from upper balcony of their North Hill residence.
Camera zooms back to show Hillmans doing slow Karate and Tai Chi moves -- a morning ritual.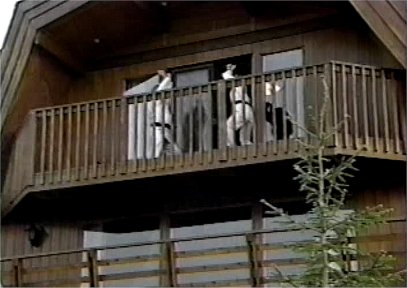 SANDI: I guess we forgot to mention that
Bill and Sue-On both have their black belts in karate.
AUDIO: Traditional Chinese music
VIDEO: Cut to side view of work out on balcony.
Cut to shot from ground level looking up for
a long shot of Hillmans on the upper deck of their Cedar home.
VIDEO: Cut to stage shot ~ Riding Mountain National Park
Closeups of band warming up. Barry Forman tuning fiddle.
Kerry Morris tuning bass. Kevin Pahl missing from shoot.
Bill tuning Roland Synth Guitar. Sue-On adjusting drums.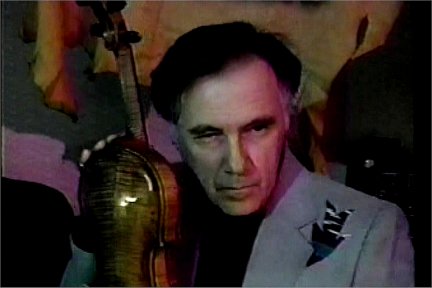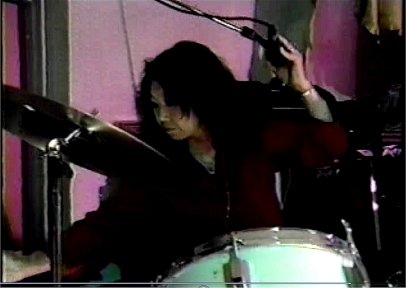 SANDI: It seems for the Hillmans, their music, their jobs,
and their many obsessions are part of a basic whole.
VIDEO: Dancers on dance floor. Sue-On singing and band performing:"Can I Have This Dance?"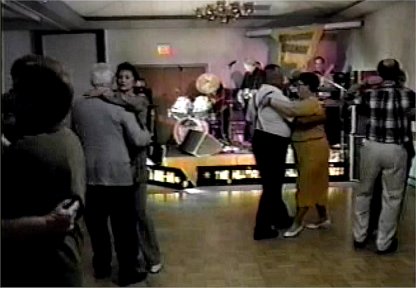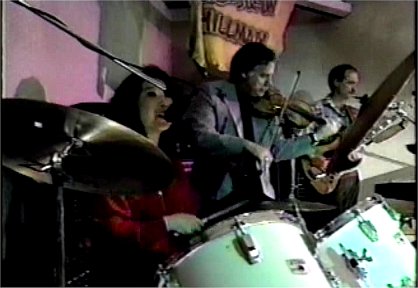 AUDIO: "I'll always remember, the song they were playing --
The first time we danced and I knew -- As we swayed to the music --
and held to each other -- I fell in love with you."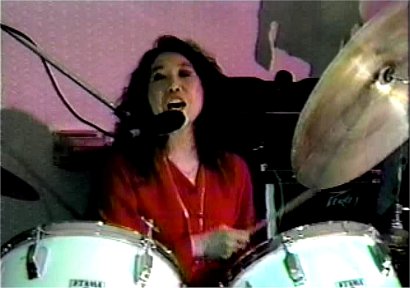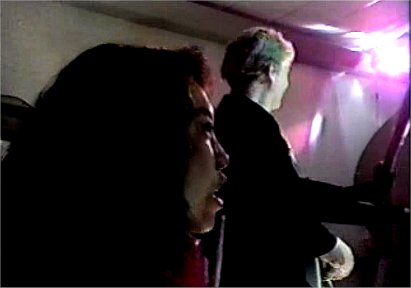 BILL: I think that the things we pursue -- that we're busy in --
are relaxing things in general and we gain energy from trying different things.
BILL: A change is as good as a rest . . . or whatever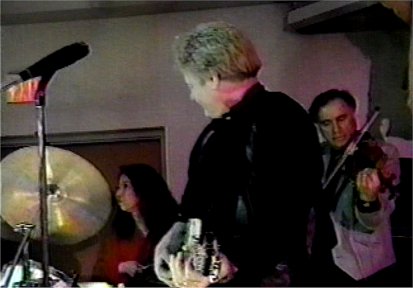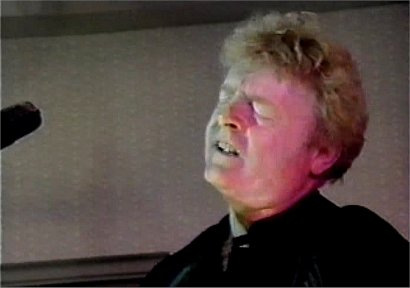 VIDEO: Sue-On while playing drums sings "One Day At A Time"
AUDIO: "I'm just a woman. Lord help me believe in all that I am... and all I can be."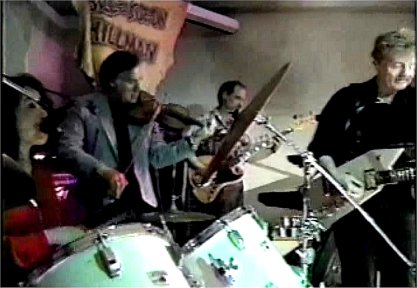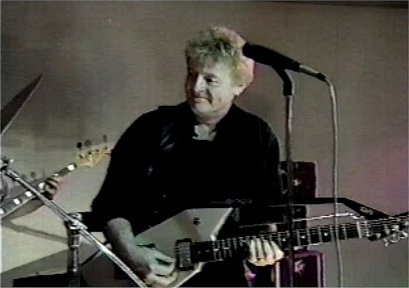 SUE-ON: We've never been idle -- we've always done things.
Maybe we'll grow old and slow down...
BILL: We have each other to lean on a lot, you know.
We gain strength from each other.
SUE-ON: And it's worked out great for 29 years.
I don't know what would happen if one of us wasn't there.
AUDIO: "Lord help me today. . . Show me the way. . . One day at a time."
VIDEO: Fade out with band performing.