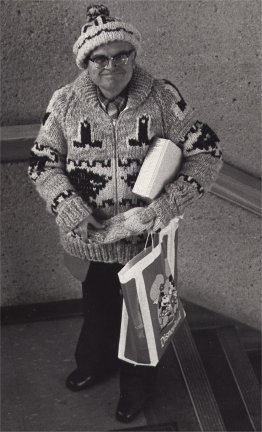 ELFIN
Blithe, merry elfin skipped through the sky,
Tripped o'er the tree-tops, soared o'er the sea.
Bright speck of starlight, winsome and shy,
Danced down a moonbeam, joyful was she.
She was all beauty, piquant her smile,
Gay, fairy queen with a silvery crown, "
Sat on a mushroom, playing a viol,
Bright as the sunlight, mischievous clown.
Deep in the forest, aeons ago,
Rode forth a knight on his tall courser white,
Heard magic elfins play soft and low,
Followed the strains and was filled with delight.
He loved the elfin, charmed by her lay,
Her hair was golden; his beard was grey.
Centuries after, in a new age,
Men tramped the forest carrying staves.
Filled with a fury, burning with rage,
They were all madmen; they were all knaves.
Fierce was their zeal, with fire and pitch
They were aflame and drunken with power
Strong was their lust to murder a witch,
Led by a knave who kept a lord's tower.
Deep in the woodland, by an old town,
Spied he a crone with a sharp, beaky frown.
Gaily he seized her, laughed at her cries,
Then saw the elfin deep in her eyes.
Many years after, woodlands were few.
Vast sprawling cities spread o'er the world.
Men flew the skies, and towers were new
Wars had been many, strange flags unfurled.
Witches and elfins were all in the past,
Queer superstitions no one believed.
This generation, they said, was the last;
This tragic world could not be retrieved.
World without magic; world without kings,
World without knighthood, world out of tune.
Harsh, ugly noise, the new world sings.
Man's flaming rockets fly to the moon.
still there are fools who will leave bowls of food
For blithe, merry elfins who live in the wood.