By COLIN MACLEAN - Staff Writer
Edmonton Sun ~ Friday, May 9, 2003
You can go home after all.
Mom and dad may be gone, your old grade school a parking lot and your childhood address a 7-Eleven, but there is one place that remains resolutely untouched by time.
Rydell High
The girls still wear bobby socks, the nerds sport saddle shoes and the greasers stick back their hair. In today's world where everything seems disposable, Rydell High stands forever as it was in the '50s.
Of course, Rydell is the high school at the centre of this surprising Citadel Theatre celebration of the youth you never had. Surprising, because if ever there was a show that has spent too long in the oven, it's Grease. Is there a high school in the world that hasn't produced it?
But director Bob Baker is a theatrical alchemist, turning dramatic dress into pure gold. Cheerfully cherry-picking moments, costumes, songs and dances from the original 1971 production, the John Travolta/Olivia Newton-John movie, the newer Tommy Tune Broadway version and his own seemingly inexhaustible bags of theatrical tricks, he has pumped vital new life into the old warhorse. (With the help of choreographer Krista Monson, who matches Baker's high-spirited vision step by exuberant step.)
The dramatic elements are pitched just over the top, the acting performed in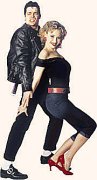 John Ullyatt and Pamela Gordon
the grand manner, the singing is full-bodied and delivered with zip and the production
numbers are, well, I don't think thrilling is too strong a word. Just wait till you catch the entire company givin' 'er to We Go Together or Summer Nights.
The movie was tailored for Travolta and Newton-John but here, freed from the shackles of mounting a star vehicle, Baker is able to spotlight others in his talented cast.
Consequently, Christian Goutsis as Doody delivers a knockout version of Those Magic Changes, Scott Walters shines as Kenickie in Greased Lightning (a love song sung to a car) and Aaron Walpole and Shelley Simester are romantic in Mooning, a homage to baring your bottom for fun and recreation. Lindsay Thomas bounces all over the stage as cheerleader Patty Simcox - and can that girl dance. The two gangs – the Pink Ladies and the Greasers – interact within their groups with energy and fun.
Each of the characters gets their moment and all make the very best of it.
Celina Stachow's aspiring hairstylist Frenchy is appealing and she has one of the best musical theatre voices around.
Briana Buckmaster unleashes a strong, clear voice as Rizzo, the embittered leader of the Pink Ladies. This Rizzo makes more sense than the near psychotic reading Stockard Channing gave in the movie.
Ashley Wright brings an imposing heft to his Miss Lynch, avoiding the temptation to overplay the cross-dressing and delivery, to present a character with some dignity (but funny).
Coming off their memorable pairing in last year's Cabaret, Baker's leads are pedal to the metal all the way.
John Ullyatt's Danny is softer and more vulnerable than Travolta's swaggering dude, but it's a valid and convincing take. Under his "cool" we see that Danny is kind of a sweet guy. His song, Sandy, sung when she walks out on him at the drive-in, is the anguished cry of a kid with raging hormones who can't figure out the opposite sex.

Pamela Gordon, besides unleashing that big voice of hers in songs like Look at Me, I'm Sandra Dee and Hopelessly Devoted to You, manages to pull off the impossible – she makes Sandy, surely one of the blandest creations in all of theatre, into a flesh-and-blood character.
---
And Then There's Bobby Curtola
---
There could be no other Teen Angel in this country. We first see him in silhouette at the top of a huge staircase and then when he finally appears in his silver lamé suit to exhort Frenchy, the beauty school dropout, to "go back to high school." There is no doubting the charisma of a star that has held audiences for 50 years. Maybe he's not quite hitting those big high notes anymore but you can see the undimmed twinkle in his eye as he commands the stage.
Any small problems I saw in the preview I was permitted to attend no doubt evaporated by opening night.
The top price may range around $70 but let me tell you it's worth it. Get your tickets because Grease is the word and when it gets around, there won't be a seat left. Grease ends the Citadel's season playing on the Shoctor Stage and is already held over.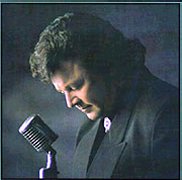 Bobby Curtola
~ Our Teen Angel ~