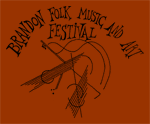 Brandon Folk Music and
Art Festival Archive
1999-2002 & 2004






SNAPSHOT SCRAPBOOKS
Photos and Line-up from
FESTIVAL 2000
The 16th annual Brandon Folk Music & Art Festival
July 29 & 30, 2000
On the grounds of the Keystone Centre
Mainstage entertainment for the night of Saturday, July 29 included:
Men in Kilts
Off the Wagon
From Both Ends of the Earth
Scruj Macduhk
Rheostatics.

---
Sunday mainstage performers included:
Small Rooms
Art Turner
Ted Longbottom Band
Bill Bourne
The weekend also featured performers, activities and workshops for children of all ages,
culminating in a "trip to Africa" featuring the Coffieman African Band.
This 7-piece Winnipeg ensemble performed a special participatory concert for the entire audience
on the main festival stage on Sunday.
The children's area of the festival offered special thematic workshops all weekend.
Members of the Coffieman African Band conducted workshops in
African dance, percussion-making and African drumming.
The Mortal Coil Performance Society from Vancouver, BC offered
workshops in stilt-walking and headdress and costume-making.
These new skills and costumes were featured during a parade from the children's area to the mainstage,
where the audience were encouraged to dance, drum and sing along to the music of Coffieman.
---

July 28 - 29, 2001,
Keystone Centre Brandon
The 17th annual Brandon Folk, Music and Art Festival features world class music from Brandon and beyond, games and activities for families and children, and art and craft from some of the regions most talented artists.


The Main Stage Presents:

Chris Neufeld Band: A local act with a new country edge.
Asani: An a cappella aboriginal women's trio from Calgary.
The Mike Weterings Band: Pan-African, global pop sounds, with African percussion and dancers.
Elvis: A local 3-piece folk/art/rock band.
Fred Eaglesmith: A veteran of the Canadian folk circuit.
Rudimental: A 9 piece francophone funk band from Winnipeg.
Nathan: A quirky, accessible folk pop band.
Nicky Mehta: A Winnipeg-based songwriter and singer of poignant songs.
Rakish Paddy: A local Celtic jig & reel band.
Harry Manx: A bluesman and Indian Mohan veena player, from Saltspring Island, BC.
das Macht Show: Off-the-wall acoustic music
The Festival Choir: Participate in the Sunday night finale.

---
Family Stage
Jamie Oliviero: a Winnipeg storyteller and children's performer
Green Fools Theatre: A theatre group specializing in stilt-walking, puppetry, mask-making, etc.
Ted Longbottom's Buffalo Tales: historical accounts of early pioneer and Metis life in Manitoba.
Aboriginal Circle Singers
Ryan Runearth, hoop dancer

---
Family Area Activities
The Kids' Stage features music to entertain those involved in the nearby mask making, sculpture, collage, found object art, face painting, dancing, singing, hide-and-seek, and more

---

Under The Canvas
This is a place where you can join artists, craftspeople and community groups and buy handmade pottery, funky jewelry or handcrafted instruments or watch artists demonstrate their talents.

Two Potters With Beards ~ Athena's Handmade Clothing ~ Kaleidograph ~ St. James Rubber Stamp ~Dragonfly Body Work and Massage ~ Clear Energy Glass Studio ~ C.F. Casey Guitars ~ Andee's Jewelry Accessories & Clothing ~ Rainbow Woman Birch Bark Biting ~ Kelly's Temporary Tattoos ~ Nanimals ~ Moonstruck ~ Raku Firing by Jeff Bettle ~ Two Potters with Beards ~ painters galore ~ Solar Oven Demo ~ Yoga Demonstrations ~ Graffiti Artist Derek Joyce ~ and much more.
---
A few pics from Sunday, July 29, 2001
None available yet from Saturday as
we were away performing all that day at Winnipeg Beach
Send 'em on in folkies...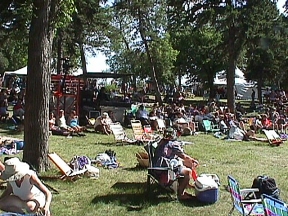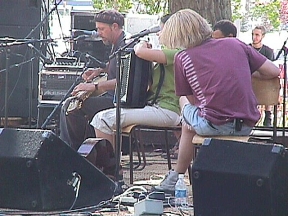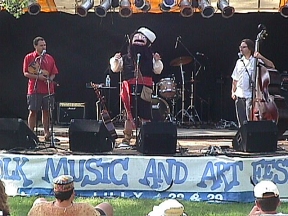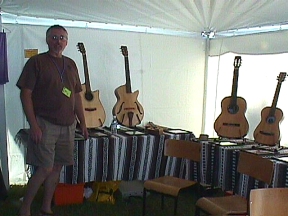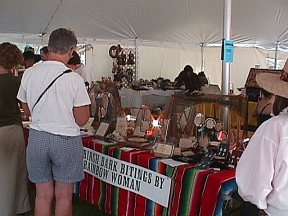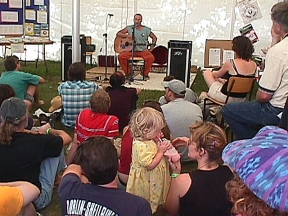 TICKETS

Adult Weekend $28
Mbr/Std/Snr Weekend $25
Youth Weekend $15
Family Weekend $60
Society Membership $15

Brandon Folk Music and Art Festival
Box 2047
Brandon MB R7A 6S8
(204) 727-3928

www.folk.mb.ca

bfmas@hotmail.com
---
July 27 - 28, 2002,
Keystone Center Brandon
Performers
No Photos Available
Jeremy Proctor ~ Wailin' Jennys: Cara Luft, Nicky Mehta and Ruth Moody from Winnipeg. ~ La Raquette A Claquettes: traditional French-Canadian songs ~ Luther Wright and the Wrongs: classic country/bluegrass re-make of Pink Floyd's "The Wall" ~ Fred Penner: singer, storyteller author and educator ~ Gypsy Moon Circus: revival of the Middle Eastern circus ~ Michael Kusugak: from Rankin Inlet, Nunavut ~ Luke Doucet: folk music, filtered through pop, with a side of soul. ~ Rebecca Campbell & Justin Haynes: torch songs, country and jazz ~ Mangy Coyote : Celtic-Boogie-Down in Celtic-Boogie-Down! ~ Ellen Mcilwaine: Rhythm & Blues, Latin, Jazz, Gospel
TICKET INFORMATION:
http://www.folk.mb.ca/ticketpage.htm

---
SNAPSHOT SCRAPBOOKS



BILL and SUE-ON HILLMAN ECLECTIC STUDIO
Photos by Bill Hillman
Copyright 1999/2000/2010 ~ Bill Hillman
WebMaster: Bill Hillman