BILL AND SUE-ON HILLMAN
A MUSICAL ODYSSEY
1968-1971
Bar Wars Pt. 2
Brandon Bar Circuit
Continued from Part 1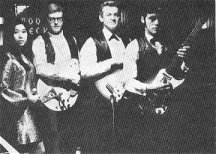 I taught high school in my hometown during the great teacher shortage from '65-'68 but I had been hired without a complete Bachelor of Science degree or teacher training. The salary paid to such "permit" teachers was minimal -- my first monthly pay cheque was $190. In the fall of '68 we moved to Brandon where we lived with Sue-On's brother Kenny and his wife Rebecca for three years - in a basement suite - while we attended Brandon College to complete our Bachelor degrees in Science, Arts and Education. To help pay tuition and living costs we played in Brandon pubs every night - moving from the Cecil to the Brandon Hotel Viking Room to the new Beaubier - with occasional one nighters in military bases or dance halls, as well as taping sessions for our television show. We had 8:30 morning classes every day at the University and labs all afternoon, so this routine got to be a bit of a grind but we managed to keep our marks up. In fact before we moved back to Maple Grove in '71 I graduated with two degrees and a Silver Medal in Geography.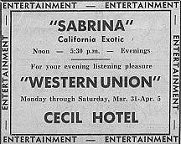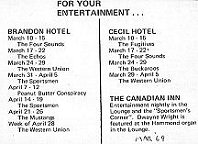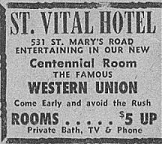 For some time before we moved in we had been driving in to play the beverage room in the Cecil Hotel and now our move to the city coincided with all the hotel beverage rooms move to hire bands... and strippers. We have the distinction of being the first Brandon band to supply live musical accompaniment for exotic dancers. At that time most of the girls were imported from fairly classy clubs in Europe, and tourist towns like Vegas -- some were quite well educated and all were entertaining.





The thriving bar scene saw a proliferation of live bands and we often ducked out during our breaks to hear bands in the other downtown hotels. We had a number of television series on CKX during those years on which we invited many local performers to appear as guests.
OTHER BANDS MAKING THE BRANDON BAR CIRCUIT IN THE LATE '60s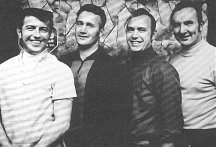 Keystone Status (November '69)
~ Jerry Budinski ~ Bill Starling ~ Al Clark

The Sportsmen (January '69)
Gary Lillie ~ ~ Ed Neufeld

The Echos
Roy Forrest ~ Lorie & Jerry Reed

The Fugitives (May '69)
Dave ~ David ~ Blair ~ Rick ~ Margo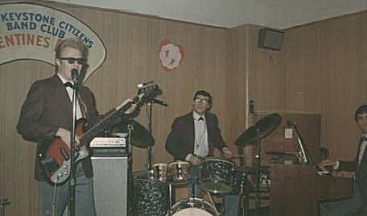 A popular Brandon band from the '70s
Three and Easy
Terry Fleetwood ~ Ian Hunter ~ Roy Edwards
---

Periodically we broke the routine of nightly bar performances in Brandon by playing in military bases at Shilo, Rivers, Portage and Winnipeg - some of our all time favourite gigs because they offered such a variety of venues: Mess Hall Clubs, hangars, country clubs, teen clubs, German Army training establishments, etc.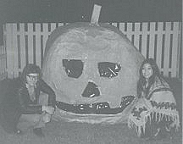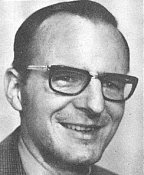 Many memorable ... and some not so memorable, gigs come to mind:

the night we played to a particularly rowdy group of Princess Pats in Winnipeg who were so wound up that they hired us to play overtime, and then drove to downtown Winnipeg where they did a commando raid on a hotel which they left looking like a war zone
a political convention where we provided support, live and on television for Sterling Lyon in the Winnipeg Auditorium - after which we moved to provide standing room only background noise for the conventioneers in the lobby of the Marlborough
University of Manitoba grad dances in the convention halls of the Fort Garry, North Star and Marlborough Hotels
my family delaying my grandmother's funeral to enable us to fulfill a contract in hotel in The Pas ~ and then the crook manager refused to pay us because his feuding partner had hired us
playing as part of an ethnic festival in the University of Winnipeg featuring Caribbean bands, jazz dancers...
---
| | | |
| --- | --- | --- |
| | | |
BILL HILLMAN Late '60s BRANDON BAR CIRCUIT SONG LIST
FAST
Folsom Prison Blues (TV)
Girl On a Billboard
Chattanoogie Shoeshine Boy
Alabam (TV)
Flowers on the Wall
Cotton Fields (TV)
Jackson (TV)
Six Days on the Road
Prison Band
Thank the Lord
Suzie Q
Josephine
Mental Revenge
Memphis
Hula Love
Above and Beyond
Just a Little Lovin'/Anytime
Sam Hill
Skip a Rope
Only Daddy / Walk Line TV
Johnny Cash Medley
Daddy Sang Bass
Break My Mind
Sing Me Back Home
Rock Island Line
House of the Rising Sun
If I Were a Carpenter
Silent Night (guitar) (TV)


NOVELTY
Long Tall Texan
Tie Me Kangaroo Down
Grandma's Lyesoap
Does Your Chewing Gum
Kawliga

GUITAR
Let the World Turn
Buckaroo
Happy-Go-Lucky Guitar
Memphis
Driving Guitars /Go
Hideaway

MEDIUM
Sweet Thang
Fugitive
Honky Tonk Man
Fraulein
Wings of a Dove
Since I Met You Baby
Windy and Warm (TV)
Wheels / Yellow Bird
Faded Love
Blue Hawaii
Last Date
Sing Me Back Home

GUITAR (cont)
Wildwood Flower
Down Yonder
Under the Double Eagle
Tippy Toes
Mexican Polka (TV)
Steel Guitar Rage (TV)
Buck's Polka (TV)
Black Mountain Rag
Yakety Axe
Twelfth Street Rag (TV)
Silver Bell
Sugar Foot Rag
Guitar Breakdown
Guitar Boogie
Rise & Fall of Flingle Bunt
TO THE HILLMAN MUSICAL ODYSSEY CONTENTS