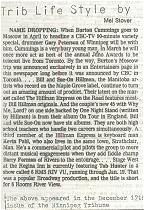 OPRY NORTH
Winnipeg Tribune ~ November 29, 1979
One of Canada's top country vocal groups, The Family Brown headlines the second fund-raising concert by the Winnipeg Big Country Convention Committee. Other performers appearing are Ralph Carlson and his group Country Mile, Harvey Henry and the Downs Showband, champion fiddler Reg Bouvette, Manitoba recording artists Bill and Sue-On Hillman and Manitoba's talent winner Ron Karlowsky.
STRATHCLAIR ARTISTS HAVE SIX ALBUMS
by Tracy Young ~ Brandon
"The Hillman Express on the Road" is the latest of 6 albums recorded by Bill and Sue-On Hillman, of Strathclair, featuring mostly Bill Hillman originals. A new 45 is from their album "On Tour in England", featuring "Why Me, Lord?" backed up by Bill Hillman's song, "One Night Stand."
Bill and Sue-On are school teachers (having two careers), the son of Mr. & Mrs. Jerry Hillman of Newdale and the daughter of Mr. & Mrs. Soo Choy, former cafe operator of Newdale and now operating a well known restaurant in Brandon. Kevin Pahl, another Strathclair resident is the third member and keyboard man. Kevin, a commercial pilot, pilots the group to their more distant engagements.
TRIB LIFE STYLE by Mel Stover
Reprinted in the Strathclair Review from the Winnipeg Tribune, Dec. 17, 1979
Bill and Sue-On Hillman, the Manitoba artists who record on the Maple Grove label, continue to turn out an amazing amount of product. Their latest on the market, called The Hillman Express on the Road, features mostly Bill Hillman originals. And the couple's new 45 with Why Me, Lord? on side one backed by One Night Stand (written by Hillman) is from their album On Tour In England. Bill and wife Sue-On now have six albums. They are both high school teachers who handle two careers simultaneously. A third member of the Hillman Express is keyboard man Kevin Paul, who also lives in the same town, Strathclair, Man. He's a commercial pilot and pilots the group to more distant musical engagements when they add fiddle champ Barry Forman of Rivers to the entourage.