HILLMAN FAMILY HISTORY
A Letter to
Miss Jane Robinson
Uffington, Ontario
from her father
Robert Robinson
The letter is postmarked
Zealandia, Saskatchewan ~ April 24, 1911

---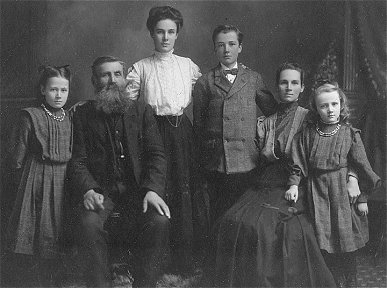 Crystal ~ Robert ~ Jane ~ Alf ~ Helena ~ Mercy
The Robinson Family 1909 ~ Bracebridge, Ontario
ROBERT ROBINSON

Robert Robinson of Bracebridge, Ontario, applied for his homestead in 1911 and returned to homestead later that year at 10-26-16. He went back to Ontario in 1913 to bring his wife and children to Saskatchewan but while there he died. Mrs. Robinson moved with her son Alf and two daughters, Mercy and Crystal, to the homestead six miles west of Elrose. Older daughter, Jane Hillman, was already living in the area. They endured many hardships to break their land, plant their crops and build a home.

JANE ROBINSON (HILLMAN)

Jane Robinson married Bert Hillman of Bracebridge in Purbrook, Muskoka, Ontario in 1911. In the fall of 1912 they came to the Elrose area and homesteaded on NE 34-25-16-W3 in the Wartime district. Bert opened a blacksmith shop in Hughton in 1914, and one in Wartime in 1915. In 1917 the Hillmans returned to Ontario for a short time, and then came back to farm the homestead. They were allowed to purchase the homestead for $10 provided they lived on it six months a year for three years. Bert opened a blacksmith shop in Elrose in April of 1922. They leased a house for a few months, and moved the original shack in from the homestead in November. Because of the changing times Bert took on additional work. He took over the janitorial duties of the school in 1925. He continued at this job until his retirement in 1956 at the age of 75. Mr. Hillman passed away in January, 1963, and Mrs. Hillman in December, 1978.


Bert Hillman ~ Jane Robinson age 17

The Hillmans had eight children: Rupert, Gordon, Donald, Gerald, Doris, Lorne, Merna and Arthur.
---

Zealandia April 23 / 11

My Dear Daughter

How are you, and how is school going since Easter, did you have a good holiday and how are they all at home? I am quite well, have had quite an experience when I got to Rosetown on Monday night. I got a team on Tuesday to drive to see the ¼ section however bad, its 33 miles out. One of the horses was balky and I had to let it go as fast as it liked or it wouldnít go at all, when I had gone about ¼ mile I struck a mud hole, and had to take a side road, in such places the land is hummocky, something like big potato hills, they were hard froze and I had to let them go on the run. I just held on to the lines with one hand and on to the buggy with the other. I expected to hear the buggy smash but it didnít, and I got along all right and got out by noon. Found R. Hamilton and H. Watson at dinner; we had dinner then took Watsonís team and wagon without a box, just sat on the reach and drove to beat the band about twelve miles round to see some land.
Page 2
That was open for homestead, didnít think much of it, and got hitched up about 5:30 to start for Rosetown, about 6:00 it started to snow and get dark. I kept plugging along till about 7:00 then pulled in to a stopping place to find every place full. I tried two more places with the same result. I didnít mind much as I knew there were houses all along the road but the storm got so thick I passed by two and couldnít see them, then I saw a black object and drove in to find a shack and stable empty and locked. And took my back track to the road. I went a piece farther and could just discern a dark place on the other side, and drove in to find another deserted shack and stable empty, except they were full of snow which had drifted in in the winter so I had to take my back track again. The storm had abated a little and I saw a light and made for it. It was a little place where
Page 3

A contractor had his teams in tents and his wife and a lady friend and two men were staying, the man who owned the outfit was away. The lady told me there was room in the tents for the horses, but they couldnít keep me, that settled it, I told her if I had to stay with the horses I would do so; but I didnít dare go any farther, I was getting real scared, well we got the horses in and I went into the shack to get warm, I didnít know how cold I was till then, I shivered there for about 2 hours. One of the men was away to P.A. and he got lost though he supposed he could go anywhere at anytime round there. Well they put some blankets and my fur coat (which was as wet as it could be) on the floor and I laid down there (not to sleep) but to think what might have happened if I had not got in someplace, and what Nelly would think if she knew just what kind of plight I was in.
Page 4

One great trouble with me was the horses were just from Ontario, if they were western horses all that is needed is to let them take their own course and theyíll pull up at the first house whether the teamster knows or not. Well as I laid there thinking of you all I heard a terrible tearing noise and could hear there was a real blizzard. I thought the shack would go, sure it did creak but it didnít go over, but it pulled some of the tent pegs, and the bottom of the tent was flopping round the horses feet and they were fighting one another. The tent my horses were in was allright. Well we got out and I was never in such a wind but with a lot of hard work we got the tent pegged again and banked around the bottom with manure and snow and it wasnít too bad. It kept up blowing till noon, then abated some, we had dinner and I got
Page 5

Ready to start to find my horse wasnít ready yet. When I got them on the tongue it would tighten a trace and when I unhitched it. It threw itself down before it would walk away with the neckyoke, so I started to drive it round and there was quite a strong wind blowing and some mud underfoot with some places an inch and some places a foot of snow, and those two women looking through the window at me. You may imagine how I felt but I never let on. I must have had that team to the buggy ten or fifteen times, they got at last I could put them on the tongue and they would start up when they were not hitched, at last I got the halters an made one fast to each of the tugs of the balky one and pulled a little on them with one hand, then pulled pretty hard, at last I tied the shanks together and put them behind my shoulders and held back
Page 6

all I was able, then I tried them on the buggy, but no use. So I went at it again and made it haul me around for half an hour more and at last got her to start, but she made a lunge and started south instead of east and took me a mile before there was a road I dare try to make a turn on. I was off the right road but kept pounding along not daring to pull up till I made another turn two miles farther on. I got to a house and I yelled, the woman came to the door, I asked her the way to Rosetown, she told me Jack was at the stable, I started to yell again, not daring to stop, by the time I got to the stable, he was at the door. I asked him the way to Rosetown, he told me, I told him I darnít stop as I had a balky horse, by that time the mare was getting excited so I gave her
Page 7
her fling and they went off on the run. Well I got to Rosetown all right. I made 22 miles from where I started, beside being out of the road a mile or more, in less than 2 ½ hours and the road was quite bad. This made Wednesday night. I met a man there who told me of a qr. close to him and pre empting. So I went on Thursday to see it. We had a little joke there; It proved it was there daughter where I inquired the way to Rosetown the day before, and she told them about a man with a team and buggy inquiring the way and off in such a hurry, and they didnít understand what I said, but thought I said there was an accident and I was going for a Dr. There are two gasoline engines just going out there and being a stranger. They thought I was one of them fellows
page 8

Well I had a look over that land, but yet undecided, so went back. There was another man in town, told me of some land open about 25 miles south west (I had been North west before). So on Friday I started off there. I walked about 27 miles that day and stopped at a farm house all night. On Saturday I struck out again over the land that was open, the best is all taken up so it is scattering. I walked 37 or 38 miles on Saturday and stopped at another farm house that night intending to walk to Rosetown on Sunday. I had Zig zaged round two townships, till now I was 23 miles from Rosetown. The man told me he was going to Rosetown on Monday and I could ride with him, so I stayed there. I felt as I needed a rest. On Sunday we took a walk about three miles to the spring where the volunteers camped
Page 9

on the way from Swift Current to Battleford the time of the Reil Rebellion, 1885 it is on land owned by the Railroad, there are two roads to it where they drew water from it last summer, for steam plows and threshers, the roads are padded just like a road to town. Well I picked on a qr. on the next section to it. There seems to be lots of water around that part, some of the wells not more than ten or twelve feet deep, some have had to go eighty feet but all who have dug have got plenty of good water at some depth. The qr. I filed on is hilly and a few small stone but a great many people say that is the best land. It wont yield quite as heavy a crop but it is surer than the heavy flat land without stone. Well I got to Rosetown on Monday and to Zealandia and on Tuesday I filed on my homestead.
Page 10

Then I hired with a contractor who owns a steam plow, to drive four mules. I thought I was going to draw water, coal, etc. to the outfit but he sent me to a farmer to put in crop. I started after dinner Tuesday with a seed drill and got along fine. When I got out there, which is ten miles from Zealandia, I hitched the quietest pair of mules to a wagon and went off for a load of hay. We were going down the road and I was driving and he was standing on the tail end of the rack, when first thing I knew, down went one mules head an up went its heels and down the road they went at full gallop. I pulled them on to some plowed ground and got them stopped. We then went to the haystack, I was watching for some caper
Page 11
and first thing I knew, without the least warning, they struck the running, they nearly pitched me off the load, however I managed to get ahead and hold of the lines and drove them round the stack and we got the load on and home all right. Well about that time I was ready to tell Mr. Rowse to put someone else with the mules, but he being six or eight miles away, I couldnít just talk to him. So I got to work again on Wednesday on the seeder and have been at it ever sine, have sowed about seventy five acres in the four days. Thereís fifty more to sow, then we go someplace else, I donít know where. The place we are on now is owned by a sort of real estate agent, they are supposed to get our meals
page 12

ready but make a very poor fist of it, however it will soon be done, we are keeping back to day, I think they pay seven fifty per day for man and team of four and charge for the board so I suppose there will be about five dollars per day left, I have a notion to try and hire the mules to break some land. I would like to put in six months this summer, and go back home for a year then come back that is if all goes well. They say the contract is let to grade the railway which is to run very near my homestead. The Co. are under a forfeit if they havenít built to the Whitstor farm, which is aobut 8 miles east and will have to be built soon. Excuse this poor scribble, Iíve lost my glasses and
page 13

have no pen and ink here and must write home too. Iím not telling them all my experience in the blizzard or mother would fret so. And I donít think there is any danger at all. Well now my girl, in case I go into breaking, I will need some money, I think they will be all right for money at home, there was over 20 pigs to see, that is if they all came on all right there ought to be about forty or fifty dollars worth of potatoes to sell, and there is about sixty five dollars in the bank. Lawson promised to supply all the dry goods needed this summer, and in case I get thirty acres broke and
page 14

sowed with flax it will cost quite a lot of money. I have only got about thirty dollars and the seed flax will cost over fifty dollars, and I must have lumber for a shack, and feed for me and the mules or oxen or what I get. If flax is an average crop, it will make about fifteen dollars per acre, but it may be a total failure or it may be thirty dollars per acre but at any rate the seed will be the only direct money loss in case of failure, as the ground will be ready for another year. In case I cannot hire an outfit Iíll have to keep working where I am and hire the breaking done. Iím getting forty dollars
page 15

per month here, but will try to get nearer my homestead, if I donít get an outfit and go on to it. If I can get work near my homestead so as to sleep there most of the time. It counts as homestead duties so long as a man is working at agricultural work. I can manage to hire the breaking all right but will need money if I go to put a crop in. So now if you have any you are not needing, I would like to get it, but it may be the fall of 1912 before I can pay it back. It would all depend on the season. I do wish Alfred was here with the horses, I could sell them for enough to pay four oxen which are the best here, just a present but I suppose I will have to
Page 16

fight it through the best I can. I certainly intend to see this matter through, health permitting. I do hope nothing happens that I have to go home either on my account or any of you there. Say this does look a great country to me. Not so nice as Indian Head, but so much bigger. I am on the much boasted Goose Lake District, and it certainly does look good. Water is very scarce where I am working, but the land seems extra good. It is forty miles from here to my place, the land is lighter here, the water better and more plentiful. I must close. You may tell them at home as much of this as you think is best to. So now good bye. Your aft. father R. Robinson

c/o N. Rowse Box 54

NOTE: The homestead quarter referred to in this letter was located near the hamlet of Wartime. South of #44 highway about 1 ½ miles, 1 mile east of Wartime.
Jane's sister, Mercy, married Robert Ruthven and they continued to farm and be a vital part of Elrose. Mr. Ruthven died in 1960. They had four children: George of Elrose, Jim of Elrose and recently of Saskatoon, Evelyn of Saskatoon and Doreen of Pennant.
Hi
Please find enclosed the letter that was found in an old trunk that was being restored by my brother Jim.

Jim received the trunk after the family cleared out the house after Auntie Janeís death. It was to be taken to the dump, but was asked if he could restore it. The original is in the estate hands somewhere. It was written in a pocket notebook style, in bad shape.

Hoping this meets your satisfaction.
George Ruthven
PO Box 282
Elrose, SK S0L 0Z
BILL & SUE-ON HILLMAN ECLECTIC STUDIO
http://www.hillmanweb.com/