WINTER GAMES 2002
MATHIAS COLOMB CREE NATION
PUKATAWAGAN
March 20 - 24, 2002

Everyone is welcome to come out to enjoy themselves
and to participate in the Community Winter Games of 2002
OPENING DAY PARADE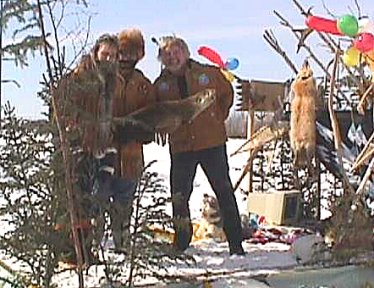 See More Parade Pics
SPECIAL EVENTS

KING & QUEEN TRAPPER
$50 entry fee ~ $500 prize
YOUTH KING & QUEEN TRAPPER
$20 entry fee ~ $200 prize
SNOW SCULPTURE CONTEST
Begins Thursday and judging will be on Sunday
---
DAY 1: Wednesday, March 20, 2002
---
10: 00 AM

OPENING CEREMONIES

11:00 AM

COMMUNITY PARADE
$50.00 entry fee per float
Starting from the Arena, it goes around the community
and will end at the Drop-In Centre.

1:00 PM

CHILDREN EVENTS
Sakastew School
Mathias Colomb Cree Nation
Ages 13 years and under

7:00 PM

MONSTER BINGO
Youth Drop-Centre
---
DAY 2: Thursday, March 21, 2002
---
10:00 AM

OUTDOOR EVENTS
Sawmill Point
$5.00 entry fee for each event
Prizes for MEN / WOMEN events: 1st $20 ~ 2nd $15 ~ 3rd $10
Prizes for YOUTH BOYS & GIRLS Events: 1st $15 ~ 2nd $10 ~ 3rd $5
NAIL DRIVING
LOG SAWING
POLE CLIMBING
TRAP SETTING
AXE THROWING
LOG THROWING

1:00 PM

MEN / WOMEN LEG & ARM WRESTLING
$20 entry fee
Heavy Weights: 200 lbs plus
Middle Weights 150 lbs - 200 lbs
Light Weights 15 lbs and less

7:00 PM

TALENT NIGHT
Sakastew School
$5.00 admission at the door

MEN / WOMEN INDOOR EVENTS
$5.00 entry fee for each event
Prizes: 1st $20 ~ 2nd $15 ~ 3rd $10
GOOSE CALLING
MOOSE CALLING
LYING CONTEST
LAUGHING CONTEST
FROG CALLING

---


Prizes: 1st $75 ~ 2nd $50 ~ 3rd $25
SINGING CONTEST
DUET CONTEST
FIDDLING CONTEST
HARMONICA CONTEST

10:00 PM

DANCE TO FOLLOW THE TALENT NIGHT EVENTS
Featuring
THE REZ BOYS and fiddler DARRELL McCALLUM
$5.00 admission at the door
---
DAY 3: Friday, March 22, 2002
---
10.00 AM

MEN / WOMEN SHORT DISTANCE SNOW SHOE RACE
Start from Sawmill Point to Blandin's Island, then on to and around Hamburger Hill
and return to finish line at Sawmill Point.
$20.00 entry fee: 1st $150 ~ 2nd $100 ~ 3rd $75

YOUTH BOYS / GIRLS SHORT DISTANCE RACE (14-17 years of age)
Same route as the men / women event
$10.00 entry fee: 1st $75 ~ 2nd $50 ~ 3rd ~ $25

11 AM

OUTDOOR EVENTS at the SAWMILL POINT
Prizes: 1st. $50 ~ 2nd $25 ~ 3rd $20

FIRE START
TEA BOILING
BANNOCK BAKING
RABBIT SKINNING (Provide your own rabbit)
BEST TASTING RABBIT STEW

2:00 PM

MEN / WOMEN OUTDOOR EVENTS
Sawmill Point
$5.00 entry fee: 1st $20 ~ 2nd $15 ~ 3rd $10

FOOT RACE
PIGGY BACK RACE
EGG RACE
RELAY RACE


---


YOUTH BOYS / GIRLS OUTDOOR EVENTS (14-17 years)
Sawmill Point
$5.00 entry fee: 1st $15 ~ 2nd $10 ~ 3rd $5

7: 00 PM

WINTER GAMES SQUARE DANCING COMPETITION (First Dance)
Sakastew School
$5.00 admission at the door
ADULTS (18 years plus)
$200 entry fee per team: 1st $1500 ~ 2nd $1000 ~ 3rd $800
INTERMEDIATES (13-17 years)
$200 entry fee per team: 1st $1000 ~ 2nd $800 ~ 3rd $600
JUNIORS (12 years and under)
$200 entry fee per team: 1st $800 ~ 2nd $600 ~ 3rd $500

JIGGING COMPETITION
$5 entry fee
MEN / WOMEN / YOUTH / CHILDREN

10:00 PM

DANCE (to follow the Dance Competition)
$5 entry fee
Featuring THE REZ BOYS
---
DAY 4: Saturday, March 23, 2002
---
10: 00 AM

MEN/ WOMEN LONG DISTANCE SNOW SHOW RACES
Sawmill Point
$20 entry fee: 1st $500 ~ 2nd $300 ~ 3rd $200

11:00 AM

MEN / WOMEN OUTDOOR EVENTS
Sawmill Point
$5 entry fee: 1st $20 ~ 2nd $15 ~ 3rd $10
EGG THROW
SPOON EGG RACE
NEEDLE & THREAD
WHEEL BARROW
CLOTHING PILE
GOLFING (closest to putt)

YOUTH BOYS / GIRLS (14-17 years)
(Same events as the men and women)
$5 entry fee: 1st $15 ~ 2nd $10 ~ 3rd $5

3:00 PM

BEST TRADITIONAL DRESSED (open)

5:00 PM

AWARDS

7:00 PM

SQUARE DANCING COMPETITION - FINAL DANCE
Sakastew School Gymnasium
$50 entry fee: 1st $800 ~ 2nd $400 ~ 3rd $200
---
DAY 5: Sunday, March 24, 2002
---
10:00 AM

ICE FISHING DERBY
Longest pickerel will determine the winner
CONTACT: Ovide Colomb

2:00 PM - 4 PM

POKER DERBY
Sawmill Point

3:00 PM

JUDGING FOR SNOW SCULPTURE CONTEST
CLOSING OF THE WINTER GAMES 2002
The Nepin/Pepon Committee has the right to change the winter festival schedule.
Tyhe Nepin/Pepon are not responsible for any lost items of injuries.

---
OPENING DAY PARADE

Adolph Bighetty
Assembling float costumes and decorations:


Blessing of the parade participants
.


Brandon University Northern Teacher
Education Program Float


Lead Float takes an intermission stop
partway into the parade


Neighbouring Float During the Parade


Approaching new construction project
.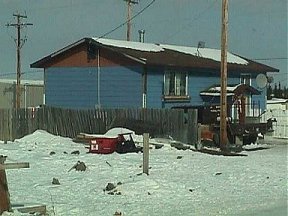 Chief's House En Route
NEPIN / PEPON COMMITTEE
General Delivery
MathiosColomb Cree Nation
Pukatawagan, Manitoba R0B 1G0
Canada
Webpage Design by
Bill Hillman
Bill & Sue-On Hillman Eclectic Studio