A SANDON & DISTRICT LEGION TRIBUTE TO
F/L WILLIAM GAVIN CAMPBELL
and the
CREW OF LANCASTER KB879
BILL HILLMAN PHOTO JOURNAL
Day One ~ 99.08.23
Arrival

After a 10-hour flight, during which we lost six hours and an entire night's sleep, our Air Canada 767 flew into Manchester Airport airspace. After almost an hour of circling over the lush English countryside in a "stacked up - holding pattern" and after at least one aborted approach, I wheeled my mother, Louise, through Customs, retrieved our luggage, and rushed to the reception area where Don Mitchell had promised to meet us. Our fears that perhaps we wouldn't recognize Don, or worse still, perhaps he had given up on us and had returned home, were all allayed when we spied a tall, distinguished man holding a large "Hillmans" sign. After loading our luggage into Don's BMW [1], we were soon enjoying our trip along the Motorway -- a trip which evoked memories of similar sojurns Sue-On and I had made in the past -- and drove home once again just how much I missed my travel companion and soul mate of 35 years.

We checked in to the Crown [3], a fine traditional English Inn in Stone [2], just a few miles north of Burston, Sandon, and the monument site on A51. Mom stayed to rest in the room while Don drove me over to Stafford to pick up a Citroen sedan so generously provided by the Sandon & District Legion.

Later with the Legemobile safely tucked away in the Crown parking lot [4] I struck out on foot to explore the village of Sandon -- very scenic [2] and much larger than what was indicated by the small dot on my trusty 1979 road map -- a relic left over from one of the three music tours we made in England many years ago. The window of our hotel overlooked the market square and Stone Library [5]. I didn't know it then, but the Library would soon provide one of my main links to home. High Street was festooned with floral displays and many fine shops: W.H.Smith, Woolworth's, bakeries, clothiers, antique, betting, supermarket, chemists, gift, pubs, etc. [6][7].

Our first meal in England was at one of the oldest and best pubs in the area - The Holly Bush Inn at Salt [8]. Our fine hosts -- the Mitchells, Don and his charming wife Kathy, could not have made a better choice. Following supper which included a few pints of the best brew in the world, and a meeting with son James, the Mitchells invited us to their country home -- Sandon House [9]. This magnificent dwelling yielded a plethora of treasures but the ones which most impressed my jet-lag-addled mind at that time was a large tin which contained actual charred metal parts from Uncle Bill's downed Lancaster [10]... and rare photos of the crash site. Following a test drive on Don's Internet computer -- the magic carpet which was actually responsible for bringing us here -- we returned to the Crown... and the first bit of sleep we had seen for 48 hours.
Note
During our week in the Sandon area I took over 400 digital photos and two hours of Hi-8 video. Obviously, I've had to be somewhat selective in what I chose to display here. Hopefully we can persuade local Sandon scribes Don Mitchell, Peter Berrisford and Robert Selby to add some commentary to accompany the photos not used in this series.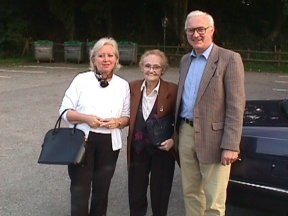 .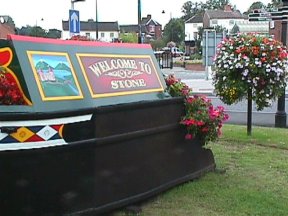 [1] Don and Kathy Mitchell welcome Louise Hillman to England
[2] Welcome to Stone - The Canal Village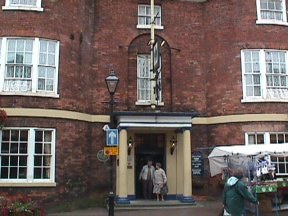 .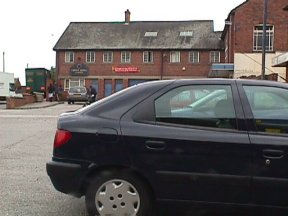 [3] Crown Hotel - Front entrance off Stone's High Street
[4] The Legemobile parked in the Crown parking lot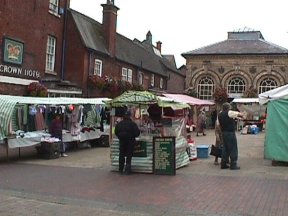 .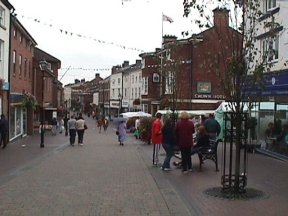 [5] Stone market square and library beside the Crown
[6] Looking down High Street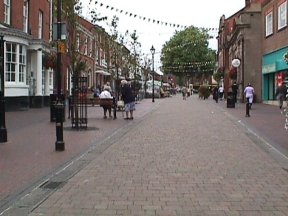 .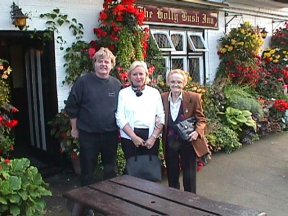 [7] Looking up High Street
[8] The Mitchells treat two jet-lagged Canucks to a meal at the Holly Bush Inn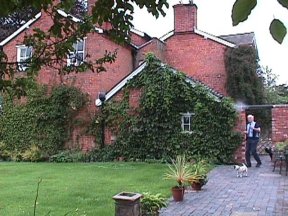 [9] The Mitchell Residence: Sandon House

10 Piece of Lancaster Wreckage
TAKE ME TO OUR WWII AIR MUSEUM TRIBUTE SITE
Webmaster: William G. Hillman
BILL and SUE-ON HILLMAN ECLECTIC STUDIO
All Original Material Copyrighted 1999-2002/2011/2021