HAPPY BIRTHDAY KID
Through the years you have unselfishly put many hours into creating birthday cakes for others.
I've never mastered anything of a culinary nature. . . so . . .
I've done the next best thing.
For your birthday I've created a montage of just some of the cakes you've created.
~ Luv ya . . . Wills
.

SUE-ON'S CAKE WALK
Part 1

Sue-On has baked and decorated hundreds of cakes over the years.
Here are a few of the ones that we've managed to capture on film.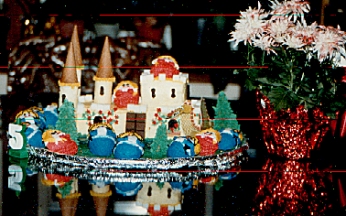 Castle Cake
.

Yule Log with Poinsettas and
Baby Boot with Apple Blossoms


Bill's Guitar Birthday Cake:
40th Birthday ~ A Scary Thought


Numero Uno Birthday Cake


Birthday Cake with Roses


Christmas Montage
.


Remembrance Day Cake for the
Royal Canadian Legion Banquet


Christmas Cake with Santa's Sleigh
~ Wreaths ~ Poinsettas ~


Happy Bird-day for a Bird Lover
from Jay and Robin


Unicorn Birthday Cake


Doll Centre Piece Cake

70th Birthday Uncle Don
with Campbell Crest and Hockey Ice


Strathclair Municipality Centennial
Official Logo and Hockey Theme


Secretary Retirement Cake
with Typewriter


Chinese Birthday Cake:
Floral Wheel Barrel


Teacher Retirement Cake


Bouquet Cake


Ja-On's Volkswagen
Transformer Cake


Anne of Green Gables
Drama Club Party Cake


Gibson Guitar Going Away
Cake for Musician


Family Crest on
88th Birthday Cake
Visit Our Main Website At:
BILL & SUE-ON HILLMAN ECLECTIC STUDIO
Photos and Text Copyright 2001/2004/2010
Sue-On Hillman