Ancient China in 3D: Gallery Gallery Sixty-Four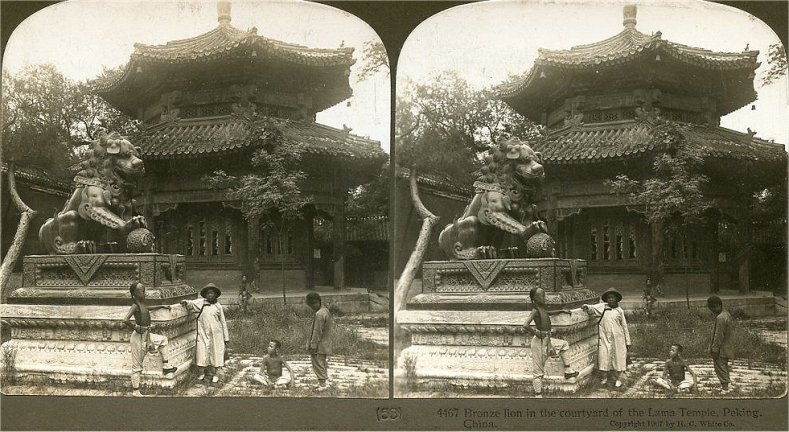 Bronze lion in the courtyard of the Lama Temple, Peking



Russian soldiers on the Battle-field, Manchuria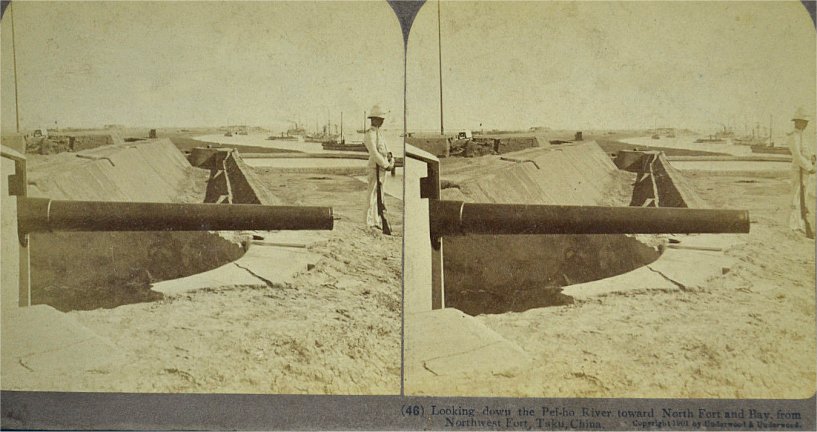 Looking down the Pei-ho River toward North Fort and Bay, from Northwest Fort, Taku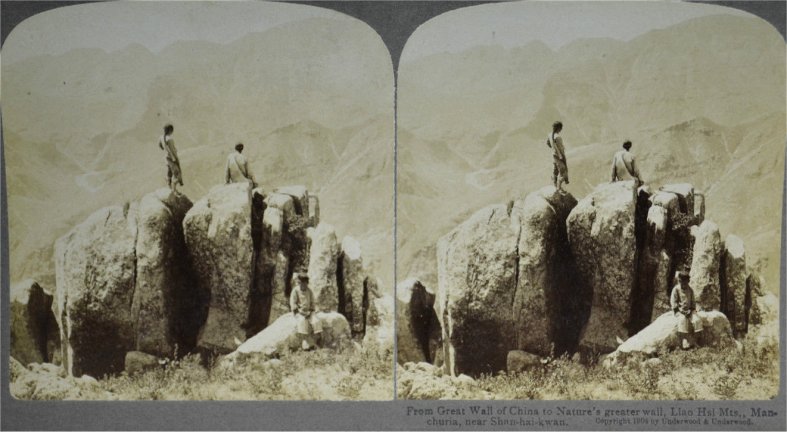 From Great Wall of China to Natures greater wall, Liao Hsi Mtns, Manchuria, near Shan-hai-kwan



China's old barrier against Tartar hordes -- Great Wall crossing the mountains, Shan-hai-kwan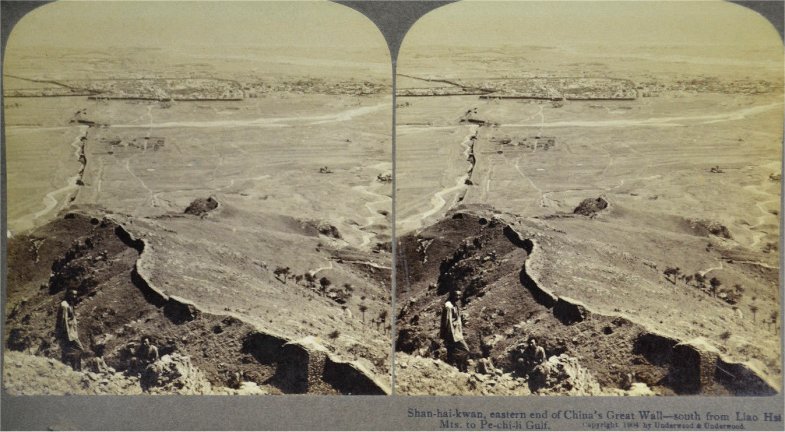 Shan-hai-kwan, eastern end of China's Great Wall -- south from Liao Hai Mtns. to Pre-chi-li Gulfl.



Comforts of travel in Manchuria -- a train load of third class passengers on the Chinese Imperial Railway.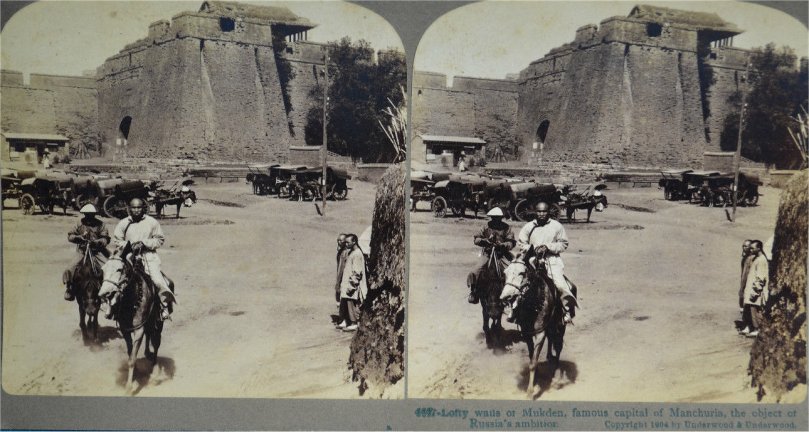 Lofty walls of Mukden, famous capital of Manchuria, the object of Russia's ambitions.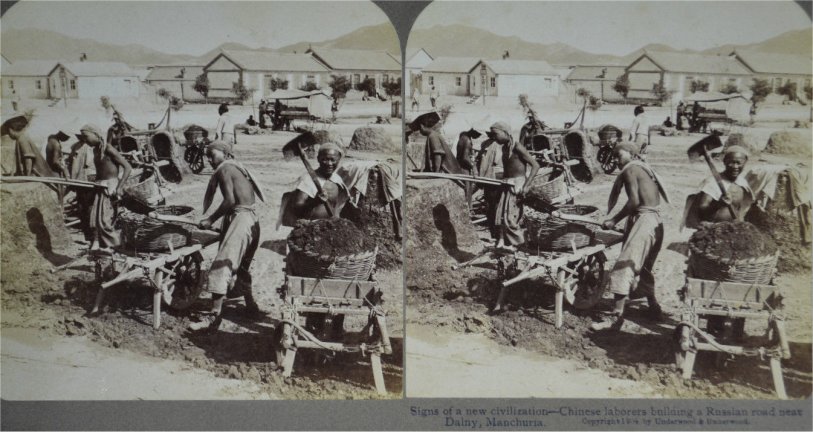 Signs of new civilization -- Chinese laborers building road near Dalny, Manchuria



Where China's Great Wall begins its 1,250 mile course -- from Shan-haio-kwan (N.) to Liao Hai Mountains.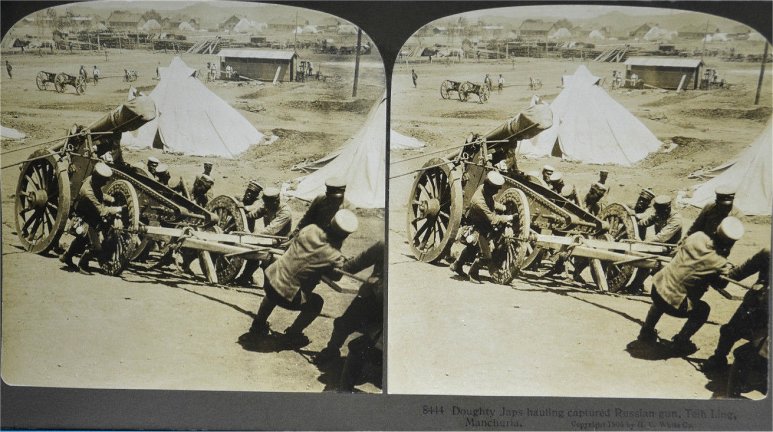 Doughty Japs hauling captured Russian gun, Teih Ling, Manchuria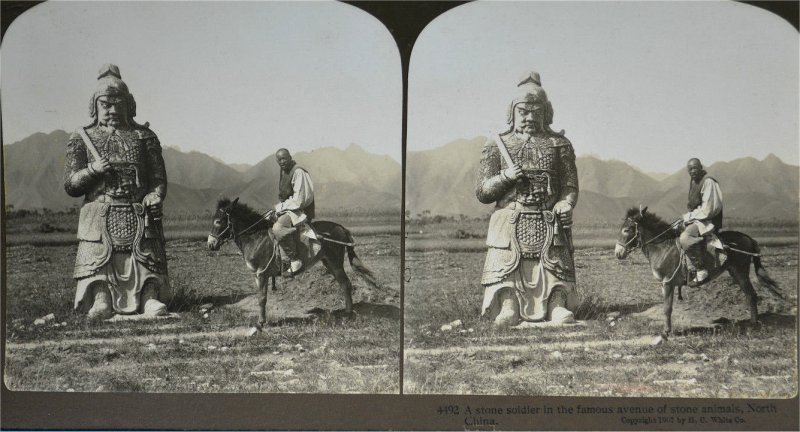 A stone soldier in the famous avenue of stone animals, North China.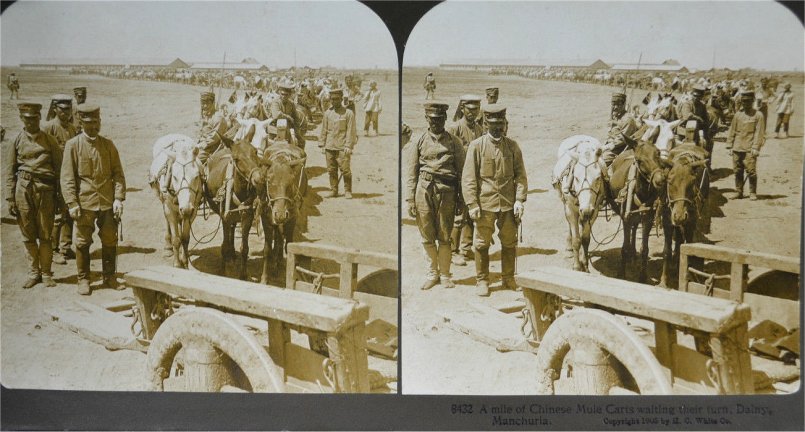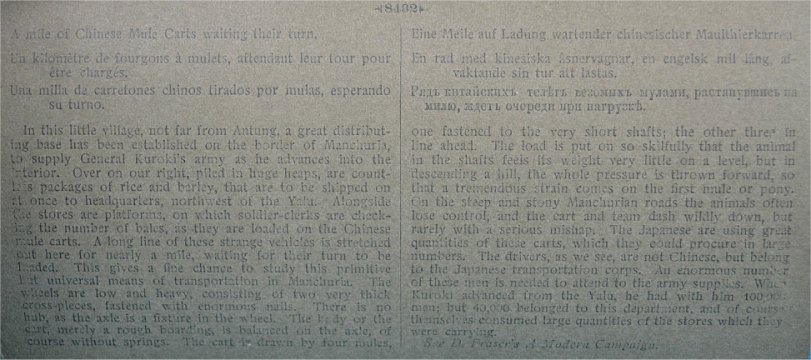 A mile of Chinese Mule Carts waiting their turn.



A great stone camel -- famous avenue of strong animals, North China



Lofty walls surrounding Moukden on the South side, Manchuria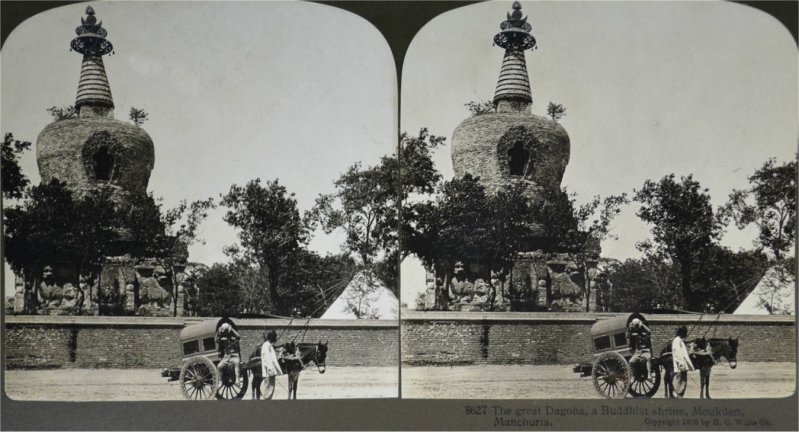 The great Dagova, a Buddhist shrine, Moukden, Manchuria.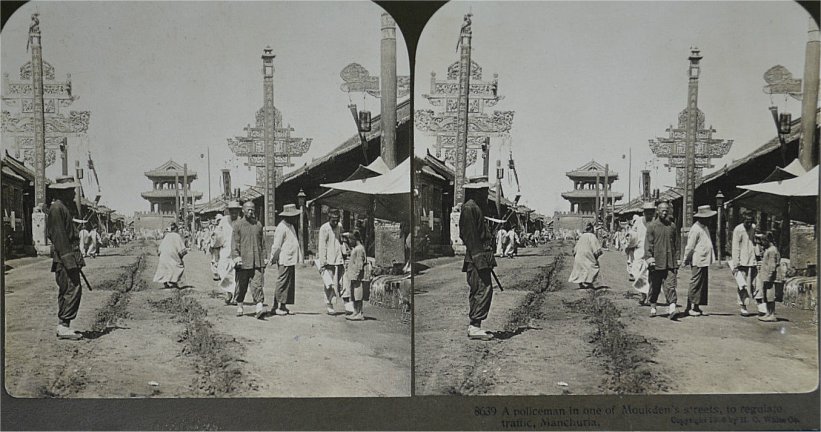 A policeman in one of Moukden's streets, to regain truth, Manchuria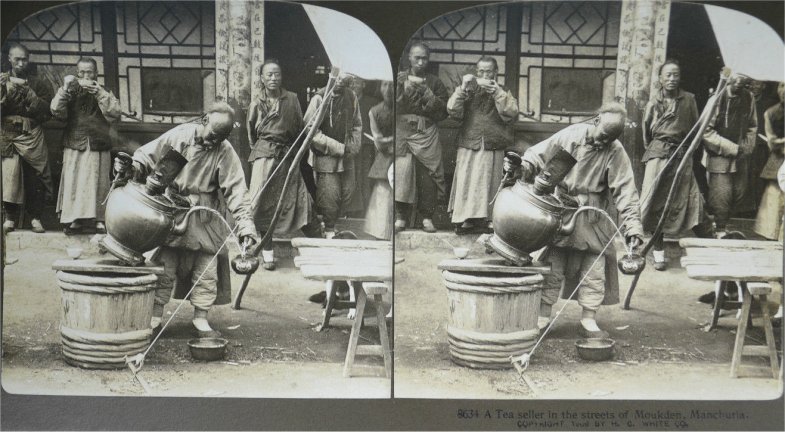 A Tea seller in the streets of Moukden, Manchuria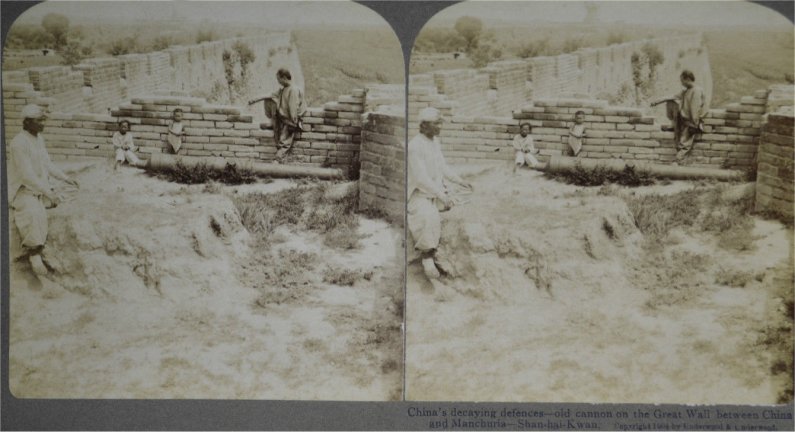 China's decaying defences -- old cannon on the Great Wall between China and Manchuria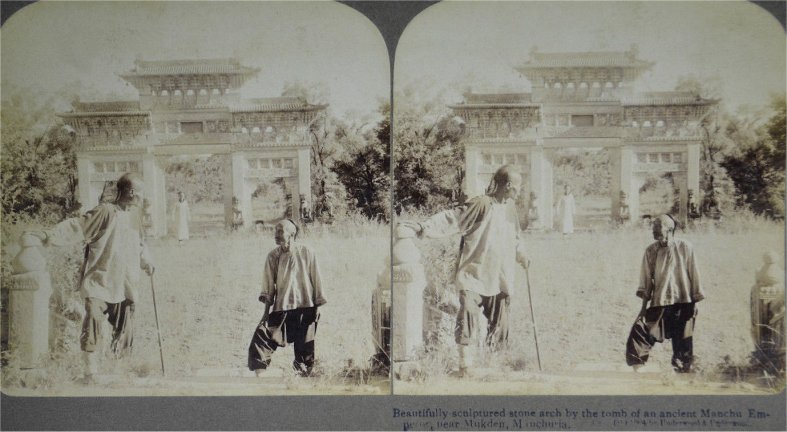 Beautifully sculptured stone arch byo the tomb of an ancient Manchu Emperor, near Mukden, Manchuria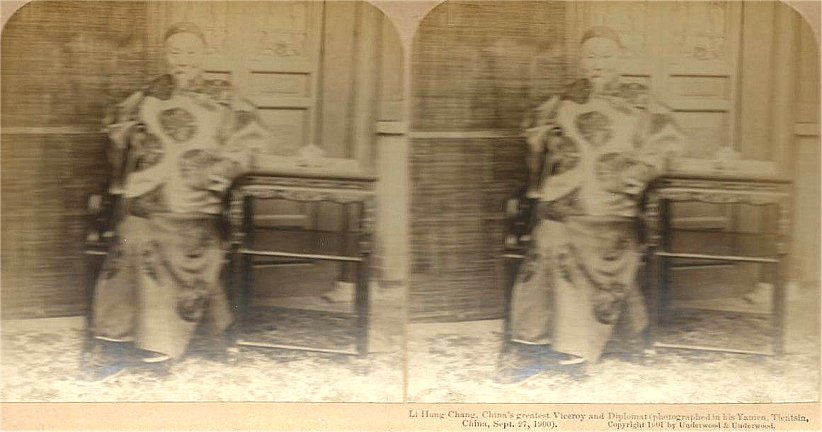 Li Hung Chang, China's greatest Viceroy and Diplomat (photographed in his Yamen Tientsin - Sept. 27, 1900)





BACK TO THE MAIN
3D CHINA CONTENTS PAGE
2000 3d Stereoviews ~ Many in Two Sizes and Colour -- With Captions and Full Notes
www.hillmanweb.com/3dchina


Older Original Contents Pages: CHINA 3-D CONTENTS I :: CHINA 3-D CONTENTS II
BACK TO HILLMAN MAIN SITE CONTENTS
All Original Work and Photo Restoration ©1996/2020
William Hillman: hillmans@wcgwave.ca
Faculty of Education Professor (Retired)
Brandon University :: Brandon, Manitoba