Bill and Sue-On Hillman: A 50-Year Musical Odyssey
www.hillmanweb.com/book :: www.hillmanweb.com/book/travel

HILLMAN CHINA ADVENTURE 2017
www.hillmanweb.com/china2017

CANTON / GUANGZHOU
7. SHAMIAN ISLAND PARK I
http://www.hillmanweb.com/china2017/canton7.html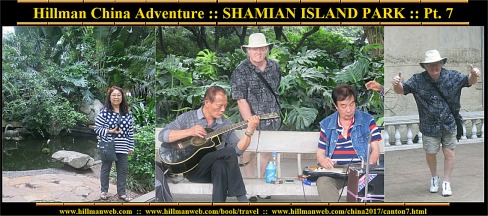 SHAMIAN ISLAND I

---

This quaint green island, ceded to the British under the 1842 Treaty of Nanjing, is an architectural testament to bygone days. When the British and French set up here they built grand villas, churches and embassies, planting trees that have now become giant banyans overhanging the streets.

There were gates barring entry to Chinese just as foreigners had been denied access to Guangzhou. Discontent with foreign influence led to a protest demanding the return of Shamian, which resulted in 50 people being shot by colonial troops on June 23, 1925. Although Shamian is separated by just a few metres of muddy water from the bustle of downtown, everything here moves a little slower.

We left Shangxiajiu Pedestrian Street and crossed over the busy multi-lane streets to reach the waterway separating the mainland to Shamian Island. Crossing over to the island we admired the old colonial buildings.
Click for full-screen photos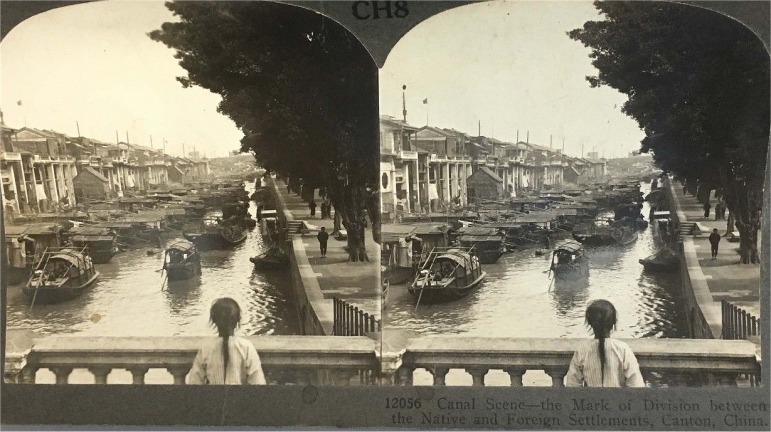 Canal Scene -- the Mark of Division between the Native and Foreign Settlements, Canton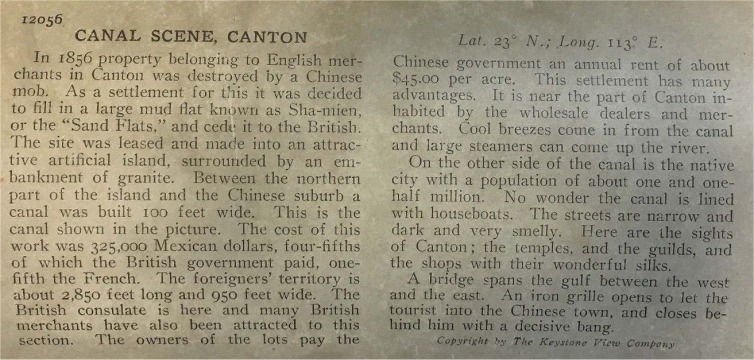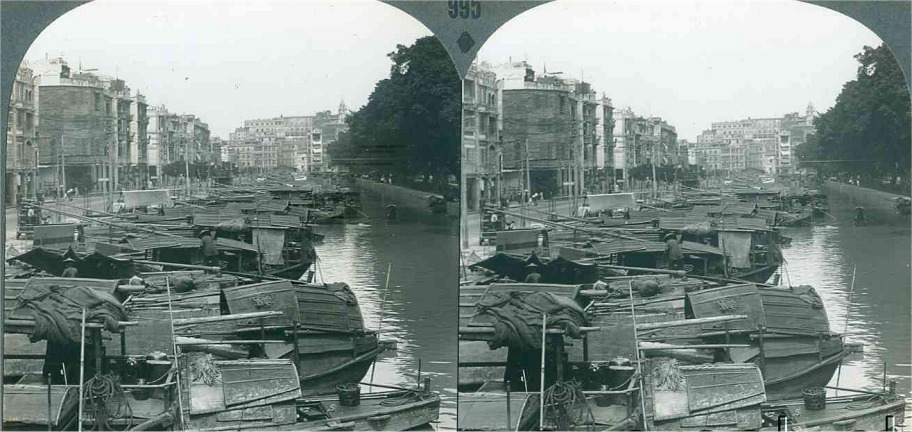 Canal Between Canton Island Of Shameen
From our Collection of over 1,000 Stereoviews of China - circa 1900
www.hillmanweb.com/3dchina
www.hillmanweb.com/3da

Crossing over the busy street to reach Shamian Island
Looking in west and east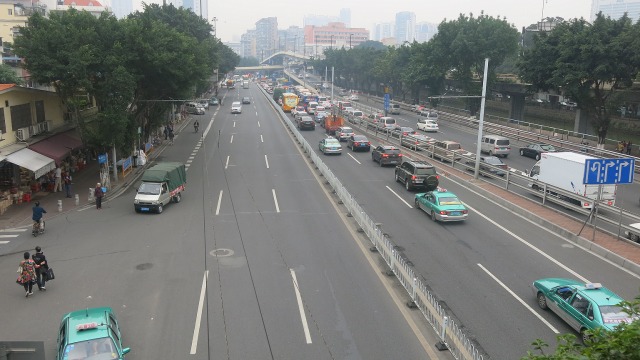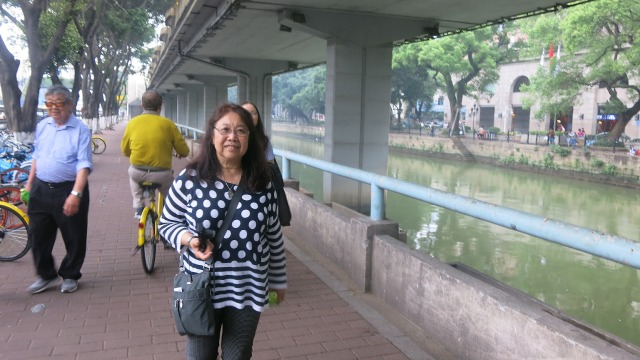 Crossing the waterway onto Shamian Island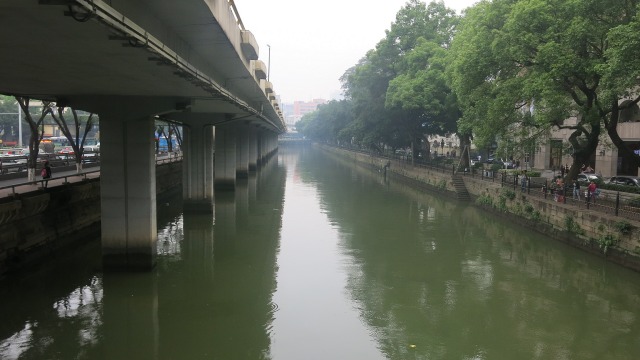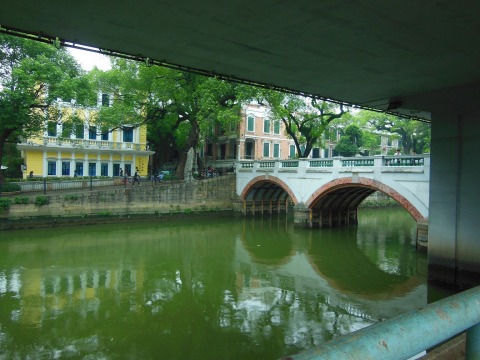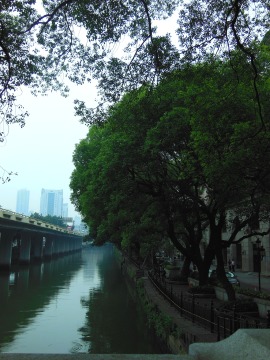 Onto the Island and past the colonial buildings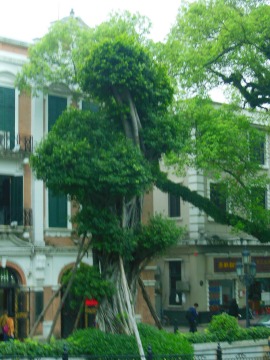 .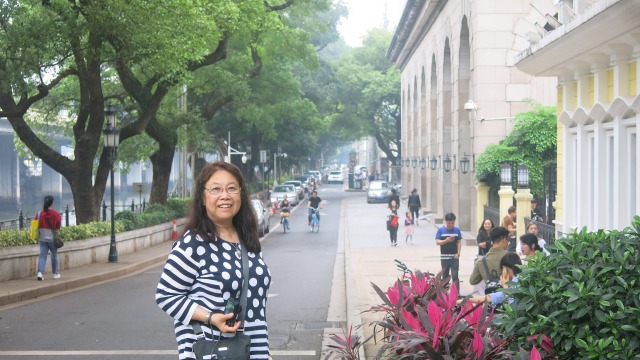 .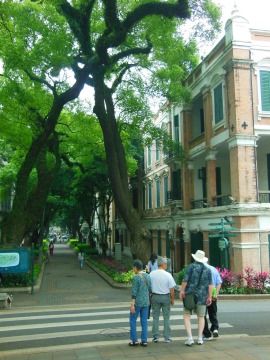 .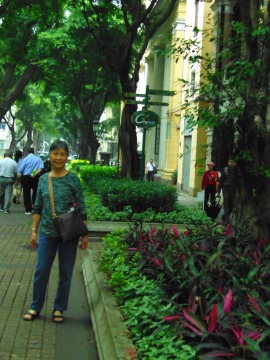 .

.

.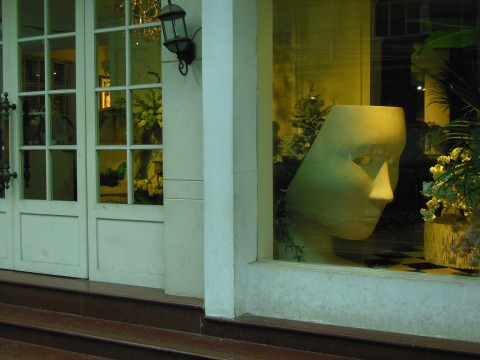 .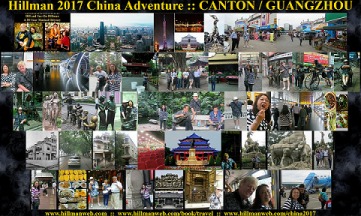 CANTON / GUANGZHOU CONTENTS
www.hillmanweb.com/china2017/canton.html

BACK TO CHINA 2017 ADVENTURE
MAIN CONTENTS
Bill and Sue-On Hillman
www.hillmanweb.com
hillmans@wcgwave.ca