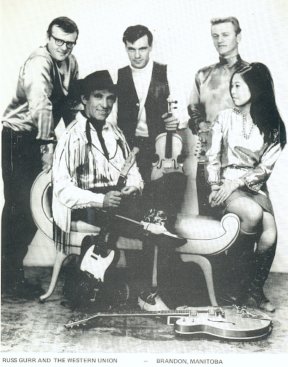 RUSS GURR & WESTERN UNION
SOUVENIR PHOTO
Farmer-Entertainer Gurr and
Western Union Group Busy
by Kaye Rowe ~ Sun Feature Writer
Brandon Sun ~ 1967

Minus instruments, Russ and four of his five-man group assembled in a local legal office last week to sign contracts relative to National Film Board's use of their song, The Threshermen's Ball. Recently they roped and tied contracts with Federal Grain for personal appearances at fairs, rodeos and stampedes ranging from Provincial Exhibition at Brandon commencing July 3, and on to some dozen other points in Saskatchewan and the north country Swan River rodeo."

The National Film Board action began back in July of '65 when Russ Gurr and the gang were filmed and taped as part of the whoopee at Austin's Threshermen's Reunion. Labyrinth -- one of the "must-see" exhibits at Expo according to everyone on more than a cursory look around -- planned to use a segment of their Austin, Manitoba footage and the Gurr song, Threshermen's Ball.

The group includes two high school teachers -- Barry Forman of Rivers on fiddle and Bill Hillman of Strathclair on lead guitar, Jake Kroeger of Rivers on rhythm guitar, and John Skinner, drummer of North Brandon. An added feature is a Chinese doll -- Sue-On Hillman -- Bill's wife, who does lively songs and dances.

The company will perform on a modern-style open-air stage created a la Centennial Caravans using caravan truck that doubles as a parade float, and features a movable stage complete with sets and furnishings. They will play several shows a day as a free feature, and aid in calling the crowd into the grandstand.