HILLMAN COMPENDIUM OF
CANADIAN HERITAGE SITES III

Portals to Dossiers 1-4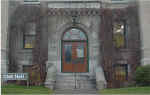 Part III: Military History
Created by
William G. Hillman
Assistant Professor
Faculty of Education ~ Brandon University



SITES FEATURED IN DOSSIER III
Click on each chapter's respective logos to begin your online tour


.

MEMORIAL TO THE CREW OF R.C.A.F. LANCASTER KB879
www.airmuseum.ca/rcaf
A tribute to the The Fallen Crew of Lancaster aircraft # KB 879 were engaged
on a cross-country exercise when they crashed at Sandon, Staffordshire, England. F/L. W.G. Campbell, WO2 T.D. Lawley, Sgt. J.H. Kay, FS.s S. Berryman, J.L. Tweedy, E.J. Wright and FS W.G. Ward (RAF) were all killed.

Letters ~ Photos ~ Log Book Entries ~ Clippings ~ 1999 Memorial Dedication Ceremony ~ A Mother's Lament ~ Tributes from Friends and Family ~ Scrapbooks
www.hillmanweb.com/rcaf
.

HILLMAN PHOTO JOURNAL OF H.M.C.S. PRINCE ROBERT
www.hillmanweb.com/rcn
www.airmuseum.ca/rcn
The PRINCE ROBERT was the most noteworthy of three of the most unusual ships to sail. She metamorphosed more times than a butterfly. Originally designed as a fast coastal ferry, she later became a cruise ship, an AMC, an A/A cruiser, a refugee transport, and finally, a luxurious ocean liner.

In July, 1945, HMCS went to join the British Pacific Fleet, and in August arrived in Hong Kong to facilitate the release of the Canadian POWs and to have her Captain represent Canada at the surrender ceremonies.

Featured here are Official RCN Photographs ~ the PR Story ~ Anecdotes ~ Letters ~ Memorabilia ~ Specs ~ Hong Kong POW Photos ~ Nostalgia Items
AS YOU WERE. . .
A Monthly Webzine of WWII History and Nostalgia
www.airmuseum.ca/web

AS YOU WERE . . .
WAR YEARS MEMORIES AND ECLECTICA
Compiled by Bill Hillman

Wherein we share an eclectic assortment of items gleaned from the Internet, media and contributing readers -- presented as a tribute to those of the Canadian Armed Forces ~ RCAF, RCN and RCA ~ to whom we owe so much.

..
SHORT BURSTS
Webmaster: William Hillman
www.airmuseum.ca/mag

The Official Monthly Webzine publication of
the RCAF Ex-Air Gunners Association.

Featuring contributions from members: stories, histories, bios, anecdotes, memories, photos, memorabilia, obituaries, letters, club reports, art, cartoons, nostalgia items, tributes, commentary, links, etc.
..
Edgar Rice Burroughs: The War Years
www.erbzine.com/war

The Oldest Correspondent of the WWII Pacific Theatre
A compendium of materials from
the Burroughs Family archives in Tarzana, California:
Letters, Photos, Journals, Columns, Documents
Collated by Bill Hillman
.

.

Robin Hillman (seated in cockpit and on the left) with the cast of the 4-hour
BCATP re-enactment documentary filmed at bases and locales in
Canada ~ England ~ Belgium ~ Holland

Bomber Boys:
The Fighting Lancaster
featured on History Television
1. The Lucky H - Nov. 7
2. Baker Flight - Nov. 8
3. Combat - Nov. 9
4. Reunion Nov. 10
.
MEMORIES OF CJATC RIVERS
http://www.hillmanweb.com/rivers
Memories of Canadian Joint Air Training Centre
CJATC RIVERS, MANITOBA
Photos ~ Anecdotes ~ Prince Philip Visit ~ etc.
www.hillmanweb.com/rivers
.

CROSS REFERENCES
See Compendium Part I:
A Collection of Manitoba Cultural Websites
We have created scores of Webpages
to supplement the reference material
in the following military museums:

.
COMMONWEALTH AIR TRAINING PLAN WWII MUSEUM
www.airmuseum.ca
Brandon Location: Brandon Airport ~ McGill Field ~ HW 10 North

| | |
| --- | --- |
| | The CATP Museum is a non-profit, charitable organization founded and operated by volunteers. The Museum is dedicated to the preservation of the history of the British Commonwealth Air Training Plan and serves as a unique memorial to those airmen who trained and served, and especially those who died, while serving their country in the air war of 1939-1945. This is the only Museum in the world dedicated solely to this goal and we think it is fitting that it is located in Manitoba where so much of the training was carried out. |
.
XII MANITOBA DRAGOONS & 26 FD. REGT. RCA MUSEUM
www.12mbdragoons.com
Brandon Location: Brandon Armoury ~ Victoria Avenue

| | |
| --- | --- |
| | Canada's XII Dragoons and 26th Field Regiment are military units steeped in tradition. Appropriately housed in Brandon's historic Armoury, the museum's rooms are packed with artifacts, memorabilia and research materials. Curator Ross Neale and his squad of volunteers are on hand to guide visitors through this trove of Canadiana and military history. |
.

NAVIGATION MAP FOR THE HILLMAN COMPENDIUM OF HERITAGE SITES
PORTALS TO PARTS 1-4

We want to hear from you: E-Mail
hillmans@westman.wave.ca

---
GOOGLE SEARCH OF THOUSANDS OF HILLMAN WEBPAGES
Scattered among the following servers:
HillmanWeb.com ~ Westman Wave
. . .check them both.
| | |
| --- | --- |
| | Search hillmanweb.com Search home.westman.wave.ca |


Copyright 1996-2014 William Hillman
BILL and SUE-ON HILLMAN ECLECTIC STUDIO
www.hillmanweb.com