Bill and Sue-On Hillman: A 50-Year Musical Odyssey
www.hillmanweb.com/book

HILLMAN INDOCHINA ADVENTURE
PART 3

www.hillmanweb.com/indochina/vietnam

PAGE 38c: MEKONG DELTA II:
Crossing to Mainland

http://www.hillmanweb.com/indochina/vietnam/v38a.html
The return crossing to the mainland gave us a chance to take note of the great variety of traffic on the delta waters: tour boats, ferries, barges, cargo ships, small private boats and more. The most obvious activity was the dredging of alluvial deposits from the river bottom. Smaller craft brought up sand and silt through giant hoses -- much of this alluvium could be seen stored on the larger barges. There is a great demand for this rich material all over Vietnam and even for export.

We had a bit of a thrill when we looked up and noticed the prow of the largest ship in the area bearing down on us. The captain of our little boat sped up a bit to make way . . . whew! . . . no collison.

Our short voyage was made even more pleasurable when we were offered coconut drinks in the shell, which we drank using straws. After docking we boarded our red bus and started our two-hour return journey through the rural countryside.
Click for larger full-screen images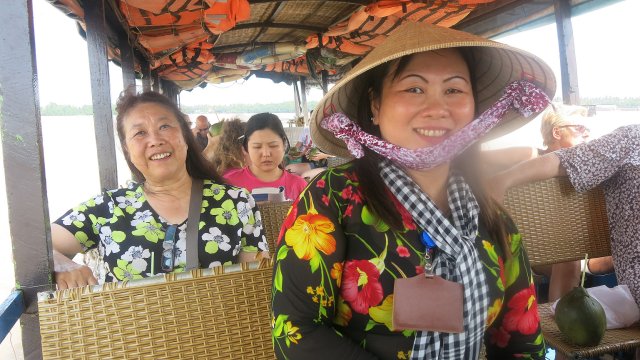 .



Copyright 2015
Bill and Sue-On Hillman
hillmans@wcgwave.ca