HILLMAN INDONESIA ADVENTURE
www.hillmanweb.com/indonesia

www.hillmanweb.com/indonesia/bali

18. BALI: ASHA YANA BEACH RESORT I
Pantai Wates Yeh Malet
www.hillmanweb.com/indonesia/bali/b18.html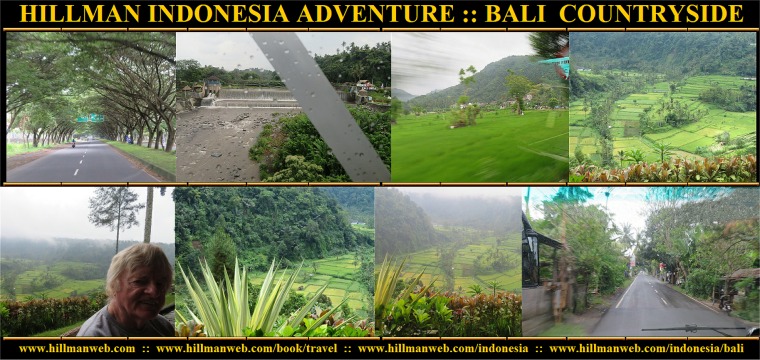 '
Click for full-size collage


LUNCH BREAK STOP
It's been raining, and here we are, at the restaurant for lunch.
Had to travel down a narrow and winding road (of course), but luckily, we have a great driver.
The beautiful view from our restaurant was spoiled a bit by mist and rain.
The pouring rain provided a ovely sound as we sat under a bamboo roof enjoying lunch.
Al fresco dining!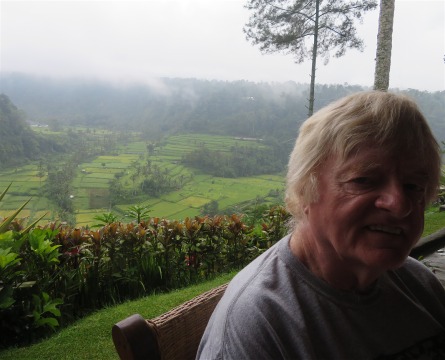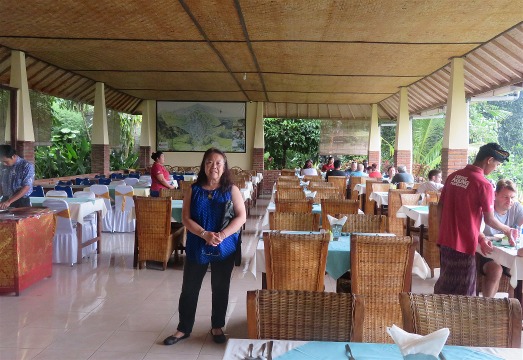 The restaurant had a big buffet or a la carte.
All the restaurants offer basically the same menu:
Indonesian - Nasi Goreng, etc, Chinese - Chap Cay, western, etc.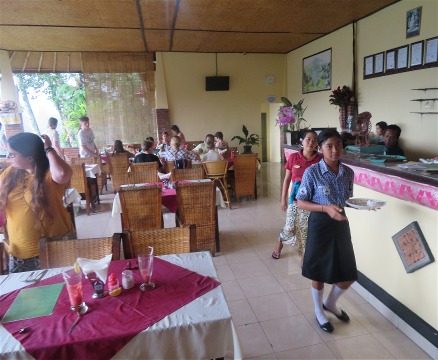 BACK ON THE ROAD WITH VERA
On the way to Candidasa, our final destination in Bali before leaving for Lombok.
There were many elaborate statures but it was hard to capture them all on camera
as they flew by so fast or blocked by other vehicles.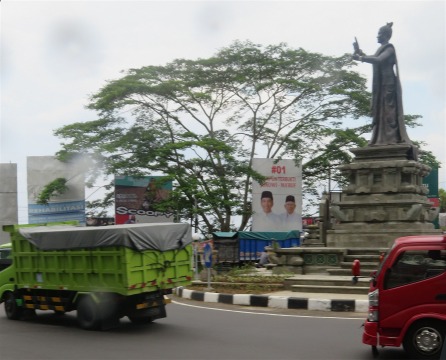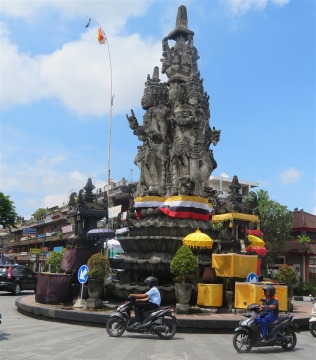 The ocean and beach coming into view.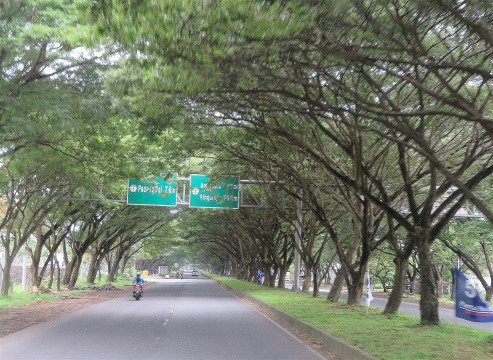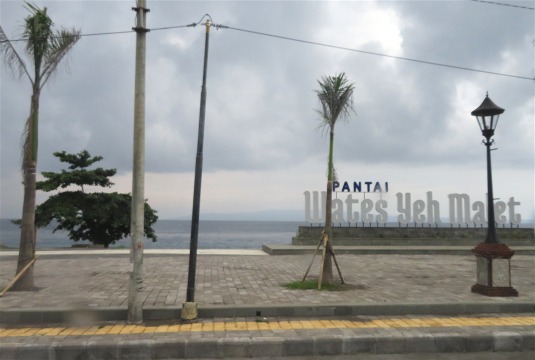 1. The view from our hotel room! Surf's up!
It rains every afternoon. The water is perfect for snorkeling in the morning.
After lunch, the undercurrent is stronger so viewing underwater is not as good.
2. The pool outside our room.
The rest of the travellers are quite envious as we seem to have scored the best room!
The staff, wearing traditional Balinese clothes, are very friendly and accommodating.
They keep everything clean -- sweeping up leaves and flowers from early morning to night.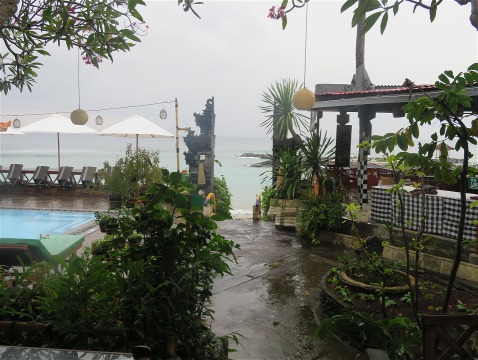 .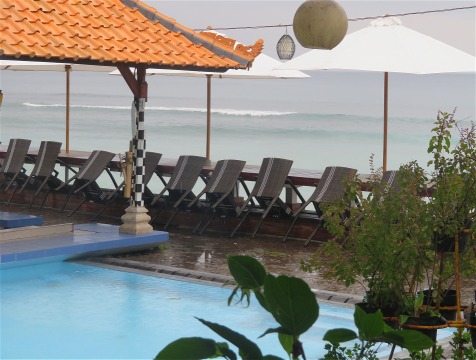 EVENING MEAL AND ENTERTAINMENT
Every Friday is "Friday Orphan" tea time.
You can watch the making of Balinese sweet cakes called Jate Laklak.
The Laklak are made in a pan similar to the ones that we picked up in Malaysia.
Edah's sister made lovely snacks for us in 2013.
Sue-On felt motivated to put them to use when we got back home!
The Lak Lak was quite bland- made with rice flour, water and coconut milk.
A small ladle is used to pour some of the batter into a metal pan
with several small forms, covered, then steamed.
These are good with grated coconut and palm syrup.
One of the team put together a mix of 3 kinds of "cakes,
with grated coconut and palm sugar syrup, in a banana leaf.
Photos of Jaja Batun Bedil and Lakis at the top of the collage.
Balinese Lukis below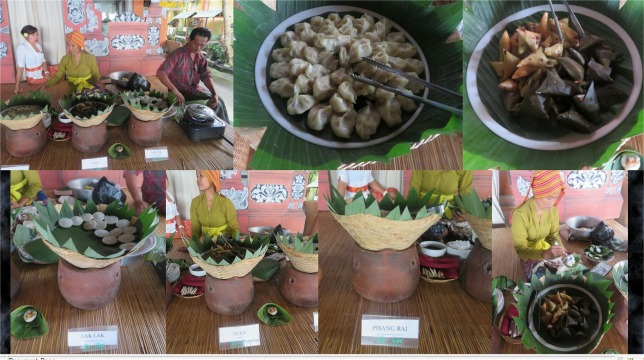 Click for full size
Balinese afternoon tea - gooey, sticky, sweet, delicious with a cup of tea.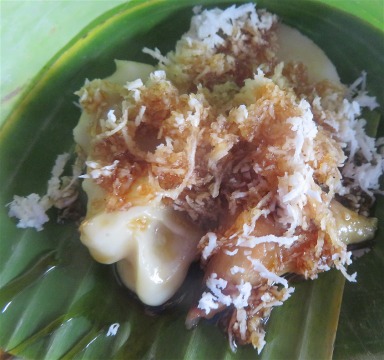 .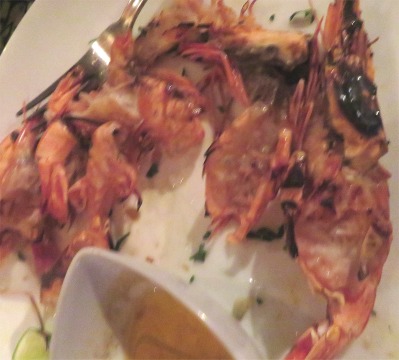 We walked across the street to New Queen Restaurant.
Another place with unique decor and live music!
Waiting for the music to start. Palm wine is drink of choice for the band. . .
... as well as for these three: Bottoms up! Lindsay Box, Val, from Brazil, and Bill

.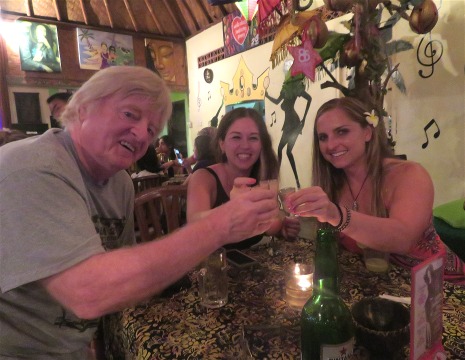 Versatile band - western and reggae
VIDEO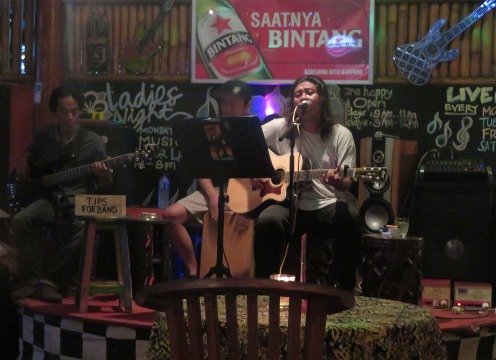 Always hard to get group pictures, but the waiters are great with our requests.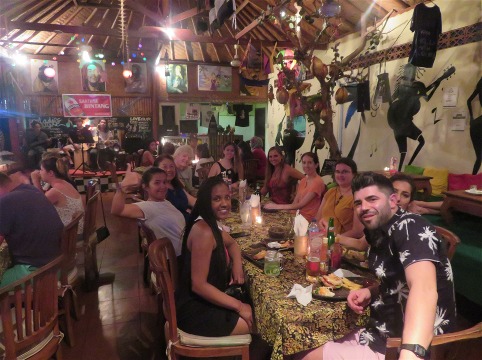 .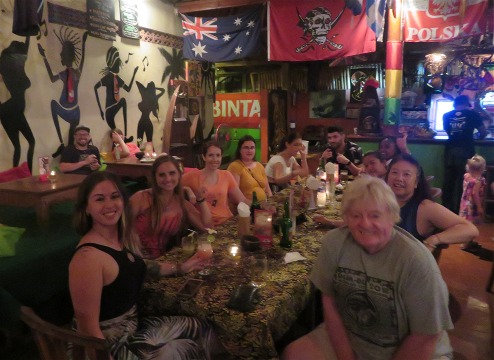 MORNING
Breakfast in our hotel restaurant, just steps from our ocean-front room.
Good service and food always puts a smile on Sue-On's face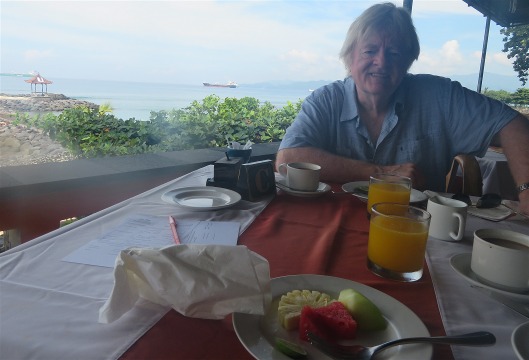 .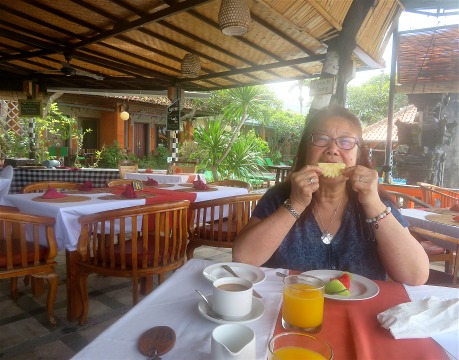 We ordered breakfast the night before, and wow...no mistaking whose is whose!
Nice touches, not only with our breakfast, but all around the hotel.
There are plumeria blossoms laid on the steps, along pathways, in the pool,
in our room, on the dresser, in the sink, etc.
They missed Sue-On's hyphen, which we can understand,
but they addressed our Welcome Letter as Mr. Sueon and Mr. William Gerald Hillman! LOL!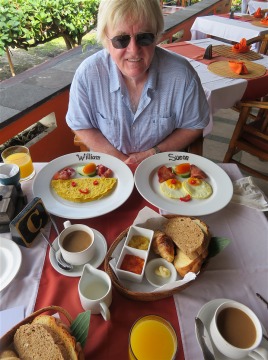 .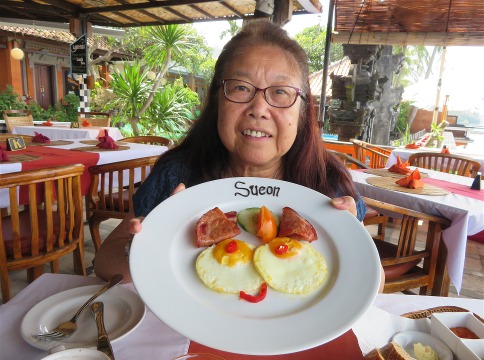 Great beach views from our restaurant table.
Not much sand -- more of a pebble beach.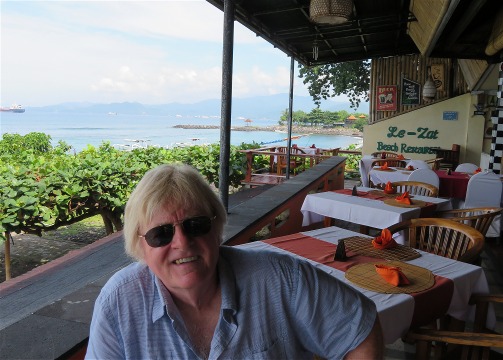 .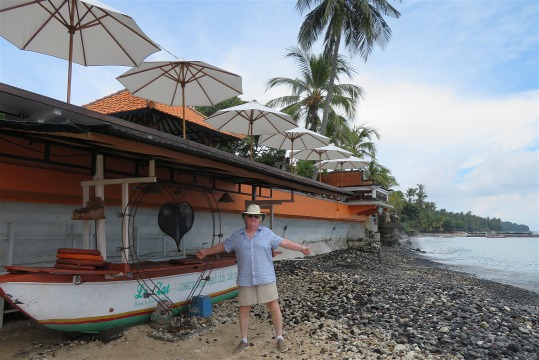 More restaurant seating and a good view of the pier
Set up for a romantic dinner, They drew a heart in the sand, then outlined it all with stones and coral.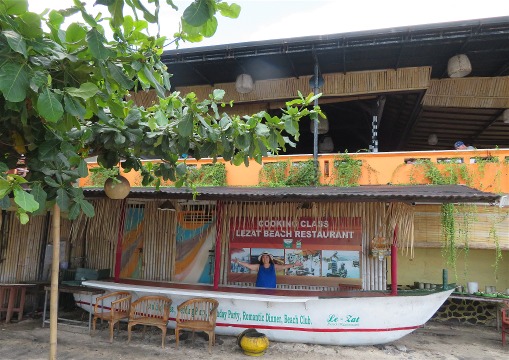 .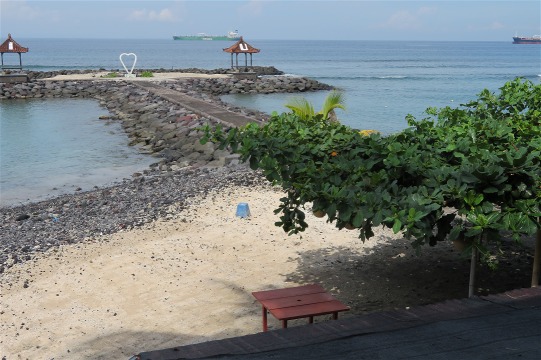 A walk down to the pier.

.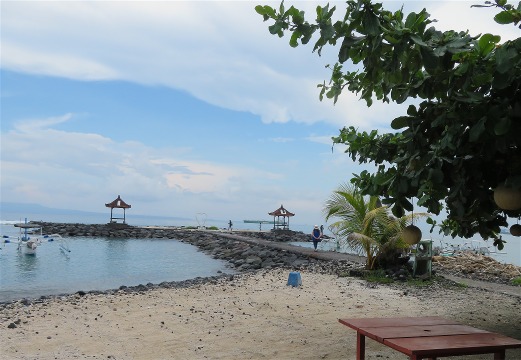 A great set-up for Destination Weddings.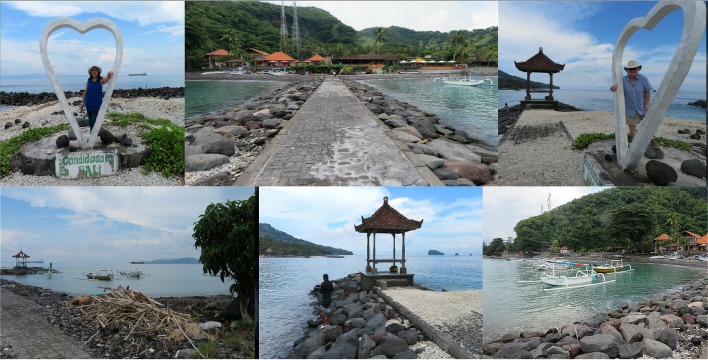 Click for full size
There are lots of water taxis to go off for snorkeling or cruising around the coast.
A platform for relaxing... or fishing.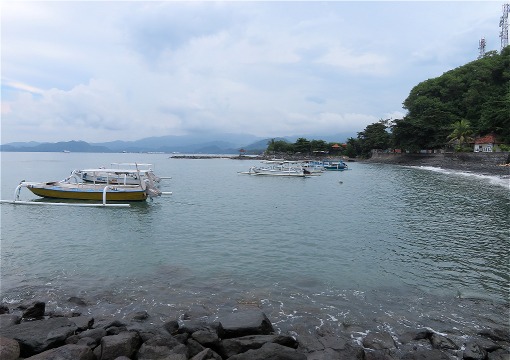 .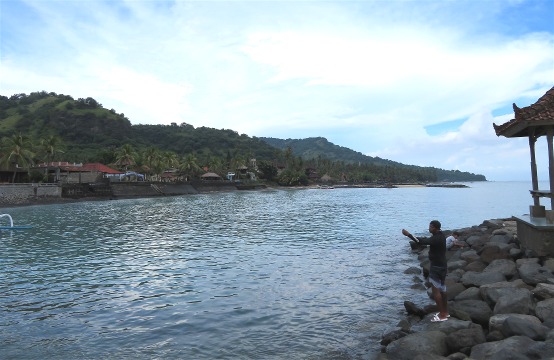 Sue-On sings lovesongs while Bill dives for oysters.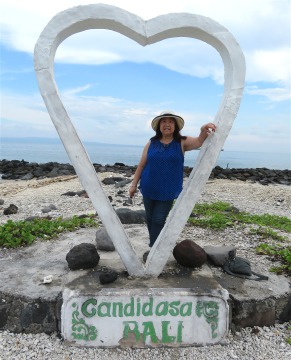 .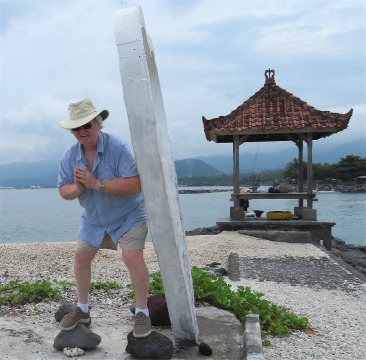 .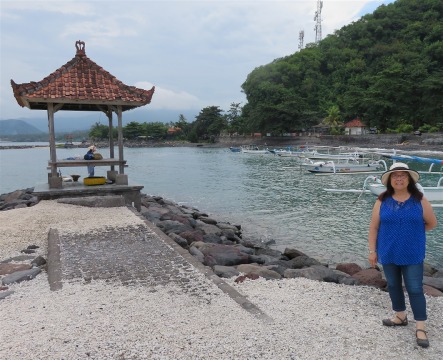 Our room is in the group of brown roofs - first on the left.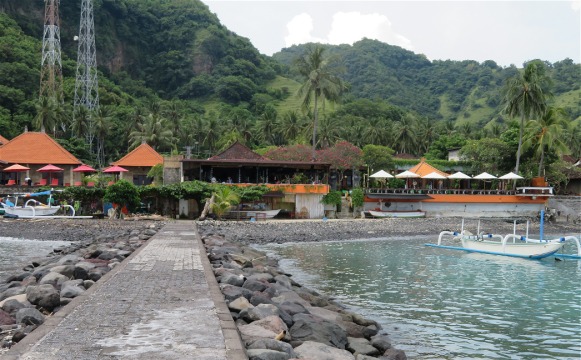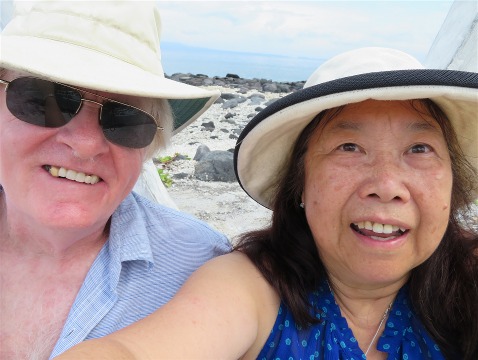 Obviously we definitely need a selfie stick!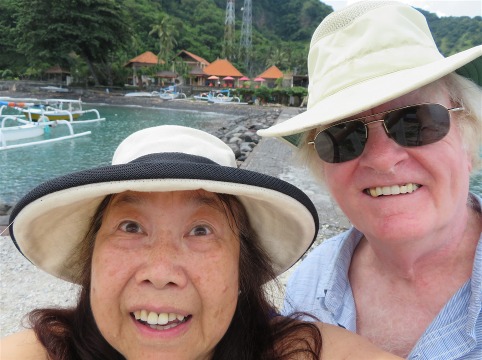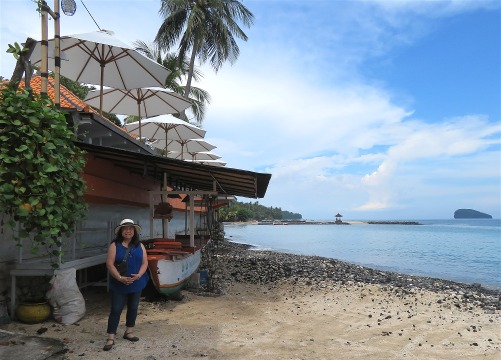 BALI CONTENTS
www.hillmanweb.com/indonesia/bali
INDONESIA INTRO CONTENTS
www.hillmanweb.com/indonesia

Part of the
Hillman Travel Adventures
Bill and Sue-On Hillman