HILLMAN INDONESIA ADVENTURE
www.hillmanweb.com/indonesia

SUMATRA I: 108_2403
www.hillmanweb.com/indonesia/sumatra/trek.html
Jungle Trek in Search of Orangutans
Click for full-size images

Crossing the river via swinging bridge and
approaching the steep cliff climb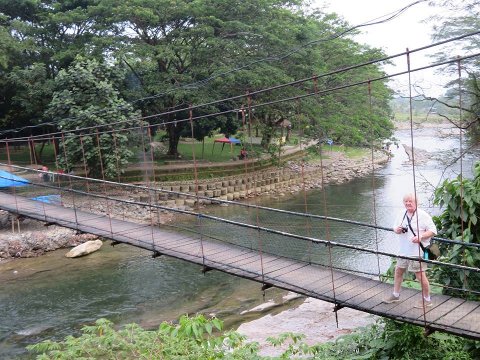 .
The first part of our jungle trek was really quite steep,
some narrow steps, and other parts just "toe-holds".
We had hiking sticks which helped with stability.
We were able to stop often and take photos of the jungle vegetation.

.
Bill celebrates at the top of the cliff climb with our G-Adventures CEO & Guide Vera

.
It was quite a long trek up to a little rest area with a jungle grocery store - for drinks, snacks, etc.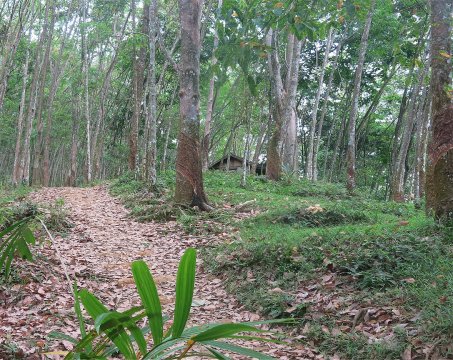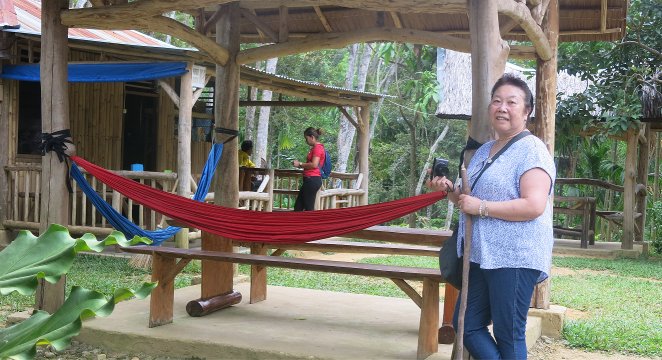 The vegetation is amazing, and rubber trees are cultivated in this forest.
We watched a worker cutting channels in the bark and the white liquid following a tiny trench into a cup.
The liquid is pure white, collected later, and new cuts are made as the older ones heal over.
These trees are very very tall, and nothing like the rubber trees we grow in pots back home.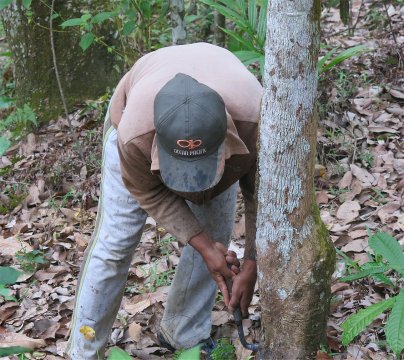 .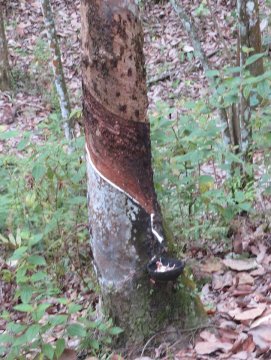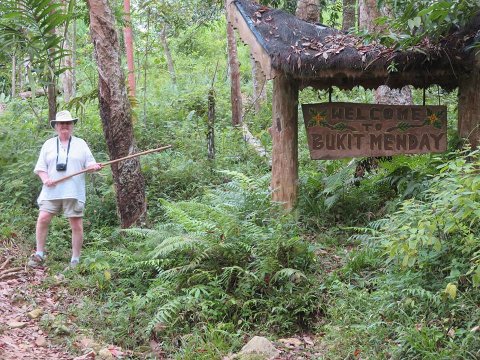 There were lots of monkeys, swinging through the forest but seem to respect each other's territory.
We just missed seeing rhinos as reported by another group.

.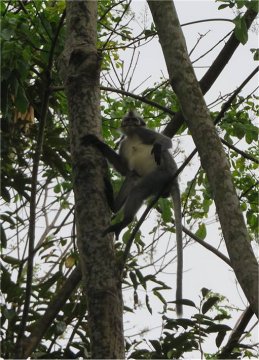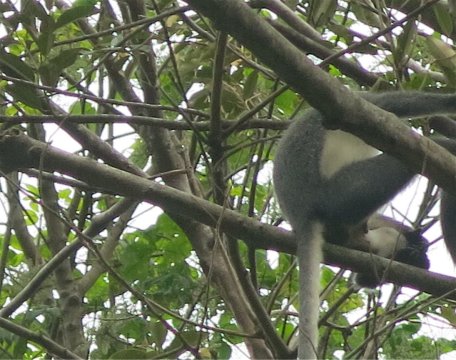 .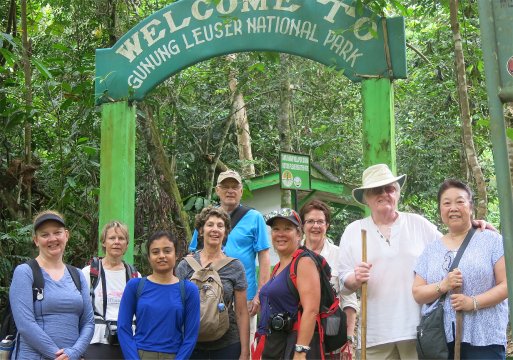 Entering the actual orangutan sanctuary, we had to keep noise to a minimum.
There are park rangers in the area, and they searched out any animal sightings.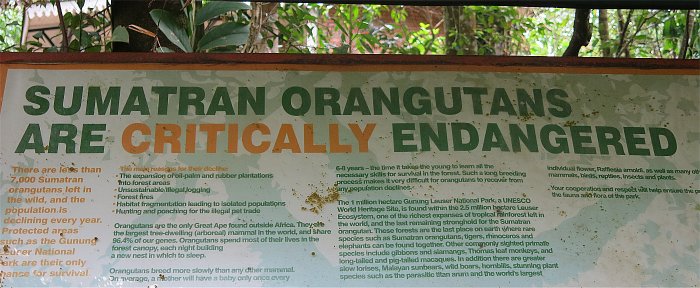 YES! There is a female orangutan and her baby, about 3 months old.
This is the first baby born in the sanctuary.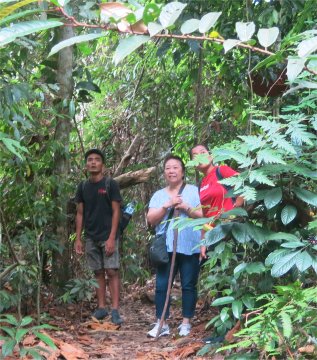 .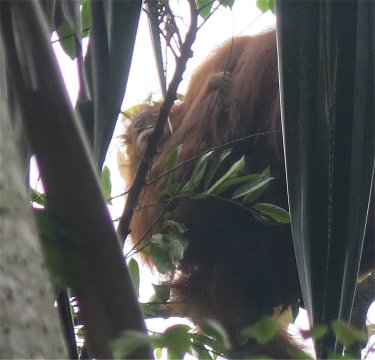 .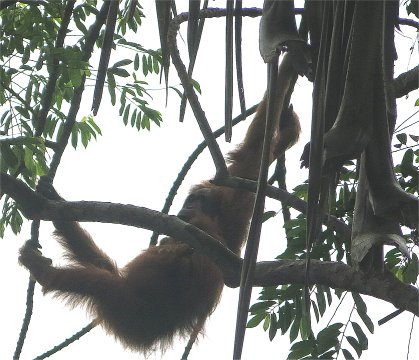 .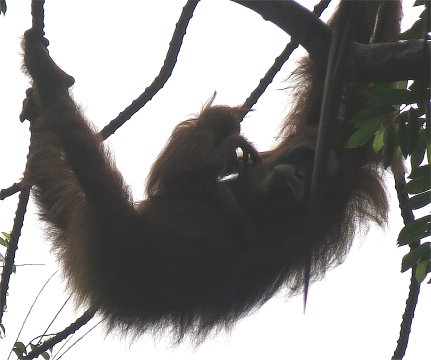 They were very high up in the trees but didn't seem to be too frightened.
It was quite fascinating to watch the baby venturing away for a short distance then rushing back to cling to momma.
Amazing long strong arms on mom, and she seemed to be putting on a show for us albeit in slow motion, it seemed.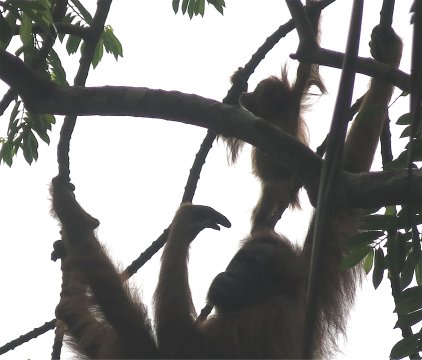 .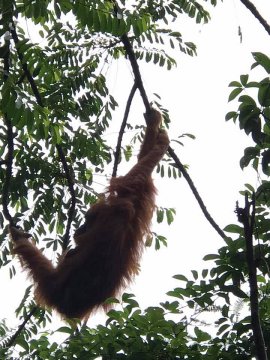 Our trek back along the jungle trail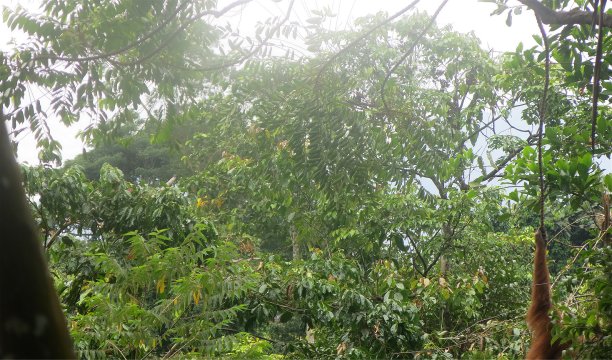 TAKE SUMATRA JUNGLE TREK II
THE APE GALLERY
www.hillmanweb.com/indonesia/sumatra/trek2.html


HILLMAN INDONESIA ADVENTURE
www.hillmanweb.com/indonesia
MORE HILLMAN TRAVEL ADVENTURES
www.hillmanweb.com/book/travel


BACK TO THE MAIN HILLMAN
INTRO PAGE
www.hillmanweb.com