MIKE SPACK
WWII RCAF PHOTO SCRAPBOOK
PART IV
Overseas Parts 6-7
---
Mosquito Aircraft "Mossie" named "Canuck"
---
163 Squadron, RAF Station Wyton, Huntingdon, England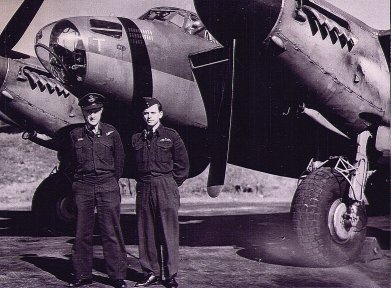 Navigator/Bomber Mel Boulton, Sundre, Alberta, Canada
Pilot, Mike Spack, Brandon, Manitoba, Canada

Being small, I was teased often -- just good fun with fine friends.
So on a stool -- placed by the Australian no doubt -- also the cigarette for I did not smoke.
163 Squadron: many with "Gongs" -- Merit Badges such as Distinguished Flying Cross, D.F.C., etc.
---
163 SQUADRON
---
163 Squadron ~ March 1945
Includes ground crew which is GREAT . . .often forgotten heroes.
I am seated fifth from right in the front seated row
Mel is eighth from right second row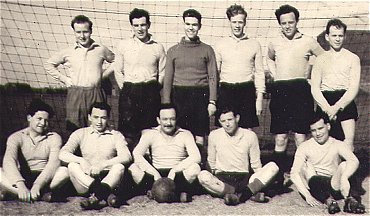 163 Squadron Soccer Team
Back Row Right: I may be the only Canadian on the team.
Commanding officer Broom centre, back row ~ Now Air Marshall Sir Ivor Broom.
---
MOSQUITO MISSION OVER GERMANY
---

The ground crew at work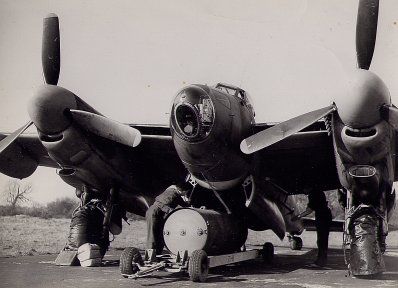 4000 lb bomb called "Cookie" being rolled, then lifted into a "Mossie."
We dropped two to four 500 lb bombs.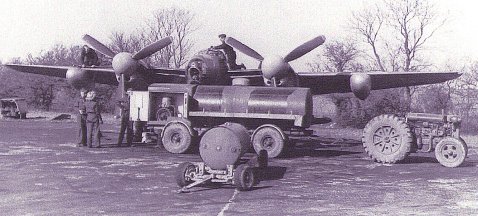 Petrol and 1000 lb bomb being readied for loading.

Navigator Mel and I getting into our "Mossie" using the required ladder.
Quite a squeeze, especially for the large sized aircrew.
Note the transparent nose with bomb sight from which Mel bombed.
Quite a "wooden wonder" for it was basically made of wood.


Typical sunset take-off on trip to Germany. . . 163 Squadron
This is the picture I used for my painting.
A "Beauty" is the "Mossie"!
Mel and I requested our "own" Mossie for operations ~ The CANUCK

Over Target
Bombs released ~ Flak upper right ~ Flares lower left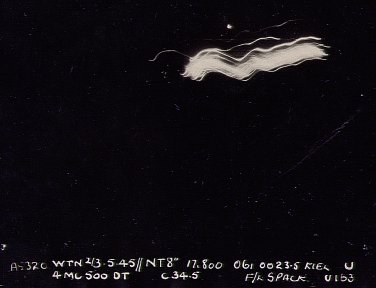 Last trip bombing Kiel ~ May 2 and 3 since we arrived back at the base after midnight.
This was the 14th trip -- almost half of the 30 which makes up a tour.
Height was 17,800 but at time we are at 25,000.
This pic proves our bombs did release and strike the ground. Looks like we dropped 4-500 lb bombs.
These pictures were taken so many seconds after the bombs are released from our aircraft,
so I stayed on course until Mel indicated that the picture was taken.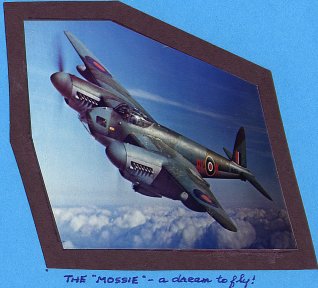 ---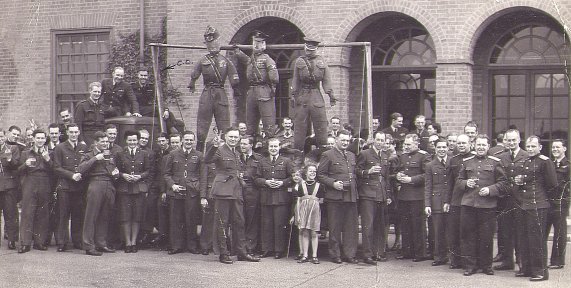 VE Day ~ May 8, 1945
I was on my way to Nantwick (see "A Car Ride Remembered Always")
Note Russian officers. Our commanding officer Broom seated top left. I'm not visible in the picture.
Hanged in effigy are Hitler, Mussolini, Tojo ~ the Axis leaders of Germany, Italy and Japan.

WEDDING PICTURE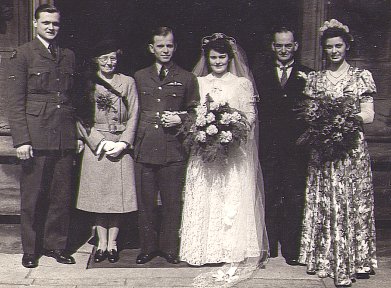 Bernie Maluta ~ Nanny Saint ~ Mike ~ Kath ~ Pop Saint ~ Nancy Palmer
Contact Daughter Cathy at:
cspack@mymts.net







Webmaster: William G. Hillman
BILL & SUE-ON HILLMAN ECLECTIC STUDIO
Editor and Webmaster Bill Hillman ~ Copyright 1996-2021