ROOTS SERIES
Memories of Strathclair

Photo Gallery II
INTRO | GALLERY I | GALLERY II | GALLERY III | GALLERY IV | GALLERY V | GALLERY VI
Click for full-screen images


ON STAGE: THE STRATHCLAIR CONNECTION

MEMORIES AROUND THE BEND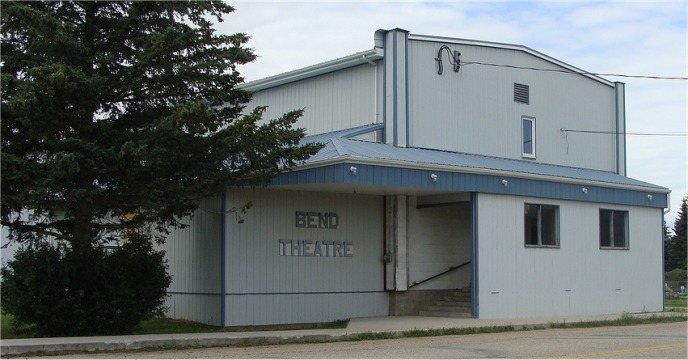 For our memories of the Bend Theatre go to
www.hillmanweb.com/strathclair/bend
---
STRATHCLAIR PERFORMANCES
Hotel Pub
---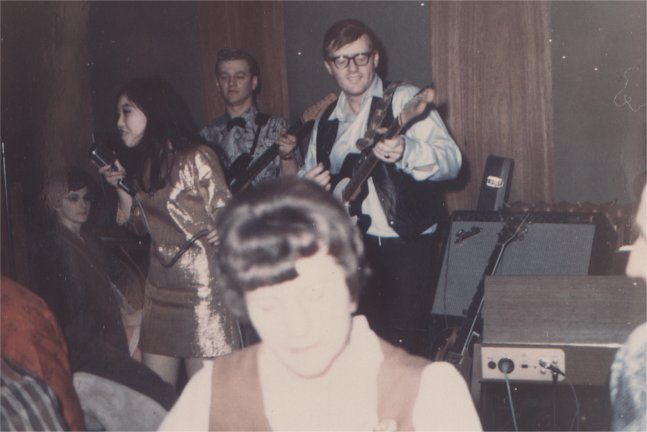 1967/1968: Sue-On and Bill Hillman with Jake Kroeger performing in Strathclair Hotel
.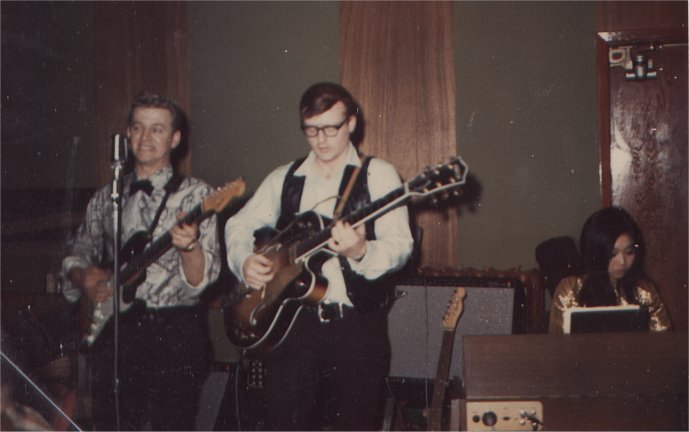 Bill & Sue-On Hillman with Jake Kroeger on stage in Strathclair Hotel
.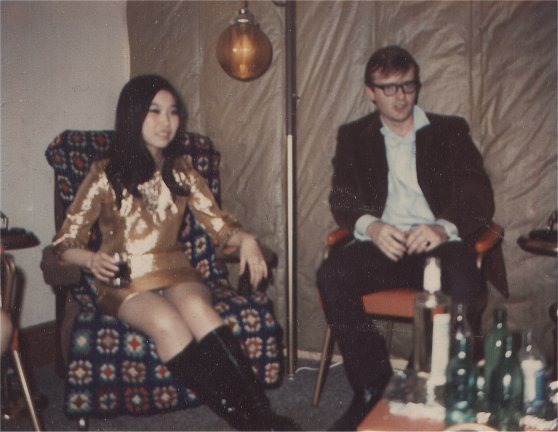 Bill and Sue-On Hillman relaxing after the show in Strathclair Hotel
Through the years we did a number of socials, arena dances,
street dances, high school grads, weddings, benefits, etc. in Strathclair.
.
---
BEND THEATRE STAGE SHOWS
---

The Hal Lone Pine - Betty Cody Show
with son Hal Lone Pine, Jr. (Lenny Breau) and Ray St. Germaine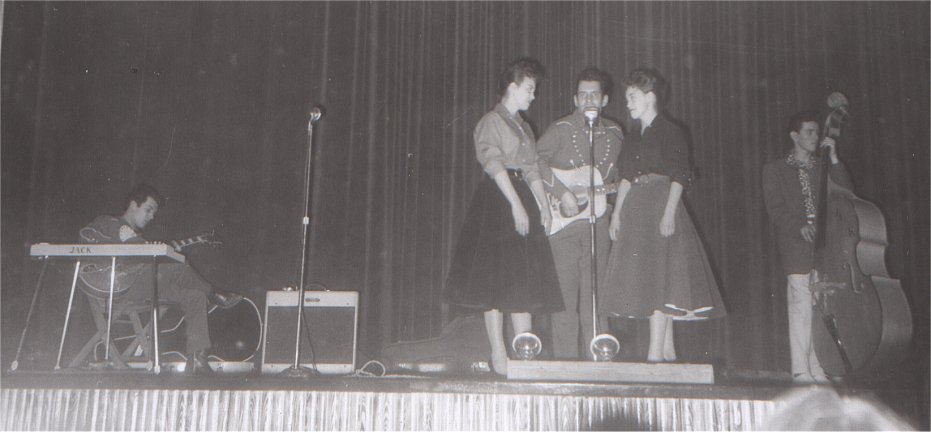 Lenny Breau (seated) behind the steel was an amazing guitarist.
He went on to become one of the most respected guitarists in the world.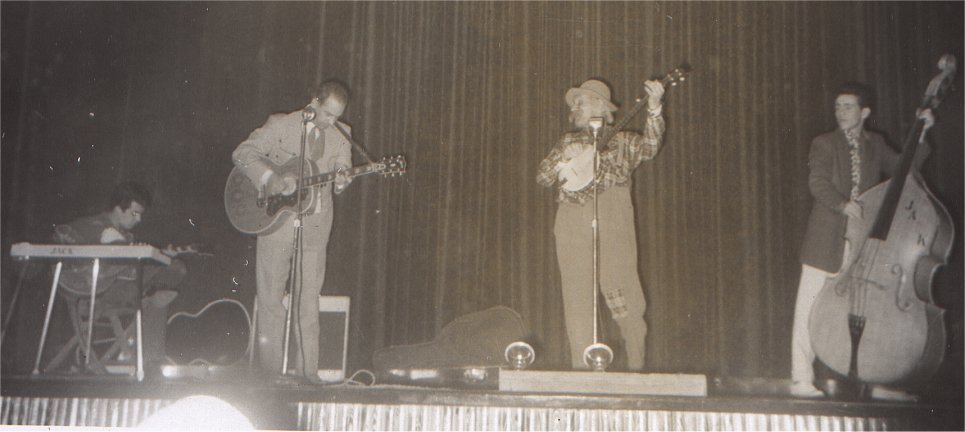 Young Ray St. Germaine was billed as Canada's Elvis and did very convincing Presley imitations.
Ray has had a long and successful career as a performer: recordings, TV shows, radio & jingle work.
We have done a number of shows with Ray - the last being when he opened for Bobby Curtola at a R 'n' R revival.
I had toured as Bobby's lead guitar player in the '60s and it was great to work with him again for a giant sock hop reunion show.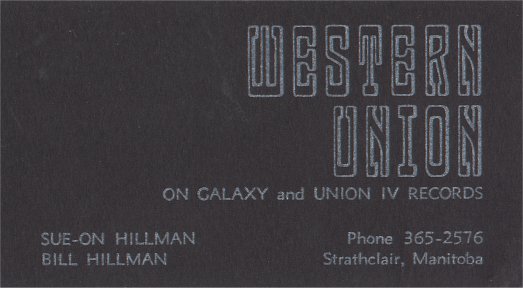 ---
MUNICIPAL HALL
---
Our early appearances in bars and dance halls were a great training ground and were generally quite exciting and rewarding.

The only real clunker that stands out was in our hometown. We were hired for a community dance by a sports club in Centennial Year 1967. The band assembled early at our country home, Maple Grove, as the local paper wanted to do a photo feature on us.

The photos and newspaper feature turned out great, but no one showed up for the dance, not even the members of the sports club. Embarrassing... but we had a good practise : )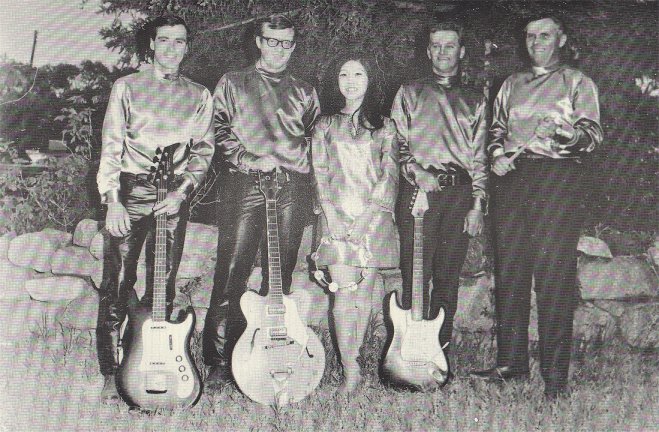 The Western Union ('60s line-up)
Barry Forman ~ Bill Hillman ~ Sue-On Hillman ~ Jake Kroeger ~ John Skinner

.
---
STRATHCLAIR FAIR STREET DANCE: 1977
---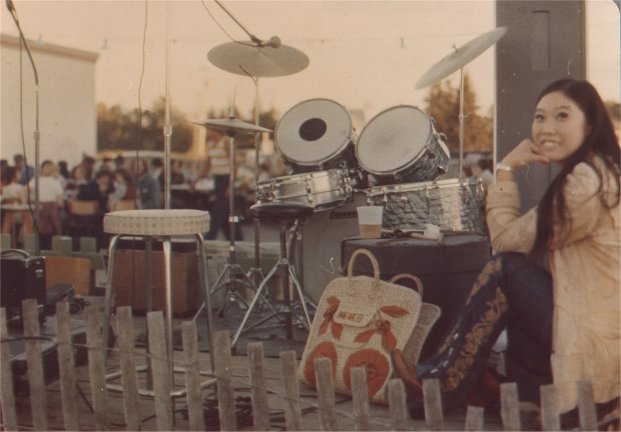 1977: Sue-On taking a break from the drums.
The next day we flew to England for our second UK performance tour and recording sessions.
HIGHWAY 354 and BEYOND. . .
From the Hillman Songs & Recordings Site

---

We have spent a lifetime juxtaposing our love of music and performing with our other day-job careers.

For most of our lives we lived on the farm that was first homesteaded by my great grandfather.

Wherever our travels took us, the journey always started on Highway 354 which runs north-south past Maple Grove.

This song was an attempt to show how this gravel road was really our gateway to whatever dreams (both real and beyond reach) and journeys (far and near) we pursued over the years.

---

HIGHWAY 354

Slam the car door
Highway 354
Gonna take me from a week of 9 to 5
Love that highway sound
Lonely Manitoba towns
Lights and truckers, weekend lovers flying by

O I can take it, think I'll make it
Even though it takes a mighty long time
O I'll keep shakin' and fakin'
And rakin' in the dollars and dimes

Gimli Carman Dauphin
Brandon Shilo Austin
Then on the road and home to Maple Grove
McCreary Minnedosa
Portage Wawanese
I'll keep makin' records - Looking for gold

Nine to five a day job
Only in the way job
Longing for the weekend show
Nine to five a day job
Just a slavin' pay job
Dreaming 'bout another life I know


---
.
The Hillman Musical Odyssey and Strathclair Connection
www.hillmanweb.com/odyssey1

---

When Sue-On and I reformed the group we were
joined by two of my former Strathclair Collegiate students:
Kevin Pahl on keyboards, and
Kerry Morris on bass and drums.

We went on to tour State Fair Grandstand shows in the US, military bases, and
three tours of England.
Along the way we recorded 12 albums and played countless one-nighters and
appeared in decades of local TV and national TV shows.

Our three kids spent their formative years in Strathclair.
When they were old enough they joined the band:
Robin (drums, bass, trombone),
China-Li (harp, electronic bagpipes, keys),
Ja-On (saxophone).
.

Bill (guitar) ~ Sue-On (drums)
Kevin Pahl (keys)

.

The Hillman Family: Bill (guitar) ~ Sue-On (drums & keys)
Ja-On (sax) ~ Robin (drums, bass, trombone) China-Li (harp, pipes)
.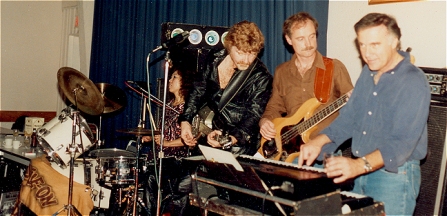 Sue-On ~ Bill ~ Kerry Morris (bass) ~ Barry Forman (keys, fiddle, bass)

Maple Grove ~ Strathclair Home
---
INTRO | GALLERY I | GALLERY II | GALLERY III | GALLERY IV | GALLERY V | GALLERY VI

BILL & SUE-ON HILLMAN: A MUSICAL ODYSSEY
www.hillmanweb.com/odyssey1
Bill Hillman: Music Influences
Part I: Strathclair ~ Victoria ~ A WORLD APART ~ China ~ Hong Kong
www.hillmanweb.com/h100.html
Part II: Strathclair
www.hillmanweb.com/h101.html
BACK TO THE STRATHCLAIR CONNECTION
INTRO PAGE & NAVIGATION GUIDE




WebMaster: Bill Hillman
Bill & Sue-On Hillman Eclectic Studio
HillmanWeb.com
Photos and Text Copyright 1996-2009/2020