Bill Hillman Presents
AS YOU WERE . . .
A WAR YEARS MEMORIES WEBZINE
www.airmuseum.ca/web
July 2011
---

WORLD WAR II VINTAGE AIRCRAFT
.
Stearman Biplane Training Aircraft | P-51 Mustang Fighter Aircraft

---


Leading up to the Yellow Wings Tour Event at the CATP Museum
Two vintage aircraft restored by

have been on public view at the Museum during refueling stops on their flights to the West.

Our July 2011 AS YOU WERE . . . monthly Webzine
features descriptions and photos of these two classic aircraft.

Photos of more aircraft of the Yellow Wings Tour Event are being added:
In honour of the British Commonwealth Air Training Plan,
the Commonwealth Air Training Plan Museum (CATPM)
hosted the Vintage Wings' Yellow Wings Tour,
Thursday, July 21st.

This tour showcased four vintage training aircraft
as they travelled Canada west to east.
On display were historic aircraft for close-up viewing
followed by a the Flying Demonstration.

Many other events and local displays were part of the event:
RCA Museum vehicle display
A26 Douglas Bomber on display
HMCS Chippawa Jazz Ensemble provided music for a hangar dance
BBQ on site
. . . and more.
PHOTO ALBUMS
Photos by Volunteer Webmaster Bill Hillman and Don Dilley


1. WELCOME PAGE:
2. Enter the Display Areas
3. Hanger Views: Main Museum Area
4. Hangar: Dance to HMCS Chippawa Jazz Ensemble
5. On the Tarmac I
6. On the Tarmac II: Prepare to Take Off
7. On the Tarmac III: More Photos
8. In Flight I: Crowd Waits and Watches
9. In Flight: Yellow Wings Fly Again
10. RCA Museum Artillery Displays I
11. RCA Museum Artillery Displays II
| | | |
| --- | --- | --- |
| Contents | Faces in the Crowd I | Hangar Dance |
| Ground Crew | In Flight I | RCA Artillery Equipment |
Boeing-Stearman Model 75
Ref: Wikipedia and RCAF.com
Boeing Stearman (Kaydet) Biplane Trainer
Manufacturer Stearman Aircraft / Boeing
Introduced 1934 ~ Number built ca. 9,783 ~ Unit cost $11,000
The Stearman (Boeing) Model 75 is a biplane used as a military trainer aircraft, of which at least 9,783 were built in the United States during the 1930s and 1940s. Stearman Aircraft became a subsidiary of Boeing in 1934. Widely known as the Stearman, Boeing Stearman or Kaydet, it served as a primary trainer for the USAAF, as a basic trainer for the USN (as the NS and N2S), and with the RCAF as the Kaydet throughout World War II. After the conflict was over, thousands of surplus aircraft were sold on the civil market. In the immediate post-war years they became popular as crop dusters and as sports planes.

.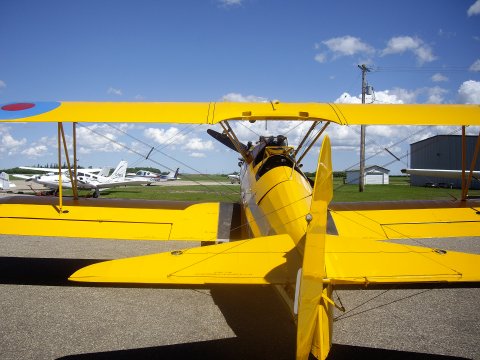 .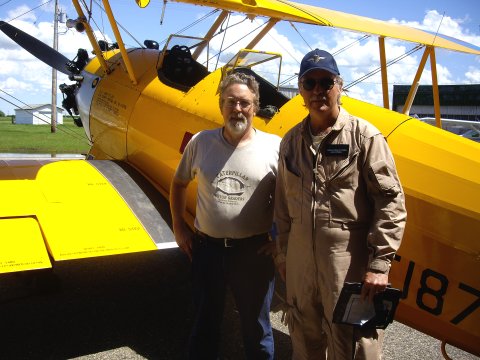 .

.

.

.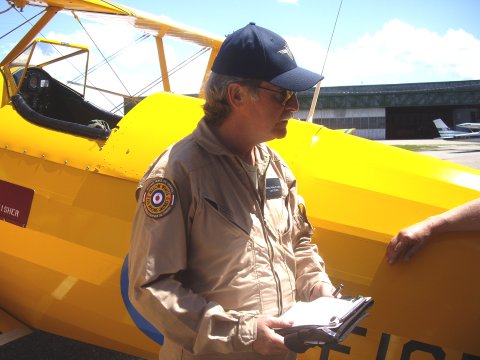 .

.
---
North American P-51 Mustang
Ref: Wikipedia and RCAF.com
The North American Aviation P-51 Mustang was an American long-range single-seat World War II fighter aircraft conceived, designed and built by North American Aviation (NAA) in response to a specification issued directly to NAA by the British Purchasing Commission. The first production Mustangs were used by the Royal Air Force (RAF) as tactical-reconnaissance aircraft and fighter-bombers. From late 1943 P-51s were used by the USAAF's Eighth Air Force as bomber escorts in raids over Germany, while the RAF's 2 TAF and the USAAF's Ninth Air Force used the Merlin-powered Mustangs as fighter-bombers, roles in which the Mustang helped ensure Allied air superiority in 1944. The P-51 was also in service with Allied air forces in the North African, Mediterranean and Italian theatres, and saw limited service against the Japanese in the Pacific War. At the start of Korean War the Mustang was the United Nations' main fighter but the role was quickly shouldered by jet fighters, including the F-86, after which the Mustang became a specialised ground-attack fighter-bomber. In spite of being superseded by jet fighters the Mustang remained in service with some air forces until the early 1980s.
VINTAGE WINGS OF CANADA P-51 MUSTANG PAGE

The Mustang visits Brandon's CATP Museum

Length: 32 feet, 3 inches
Wingspan: 37 feet, 0 inches
Height: 13 feet, 8 inches
Crew: 1
Weight: Empty - 6,500 lbs Max Takeoff - 11,600lbs
Max Speed: 443mph at 20,000 feet
Cruise Speed: 275 mph
Range: 1,675 miles
Service Ceiling: 41,900 feet
Fuel Capacity: 180 gallons internally,
300 gallons externally in drop tanks
Powerplant: Packard Merlin V-1650 V-12 engine 1,695hp
Armament: 6 50cal Browning Machine Guns
Up to 1,000lbs of bombs externally
First Flight : October 26, 1940
Cost: $54,000
.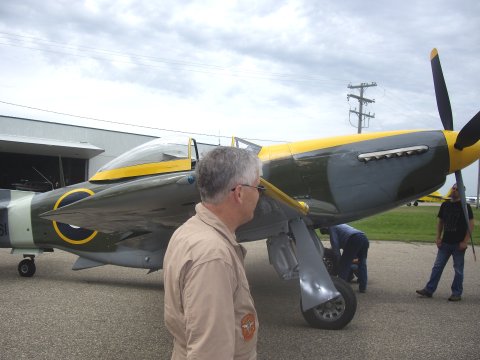 .

.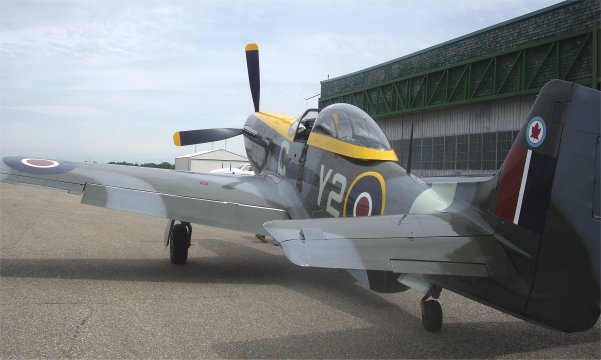 .

.

.

.

.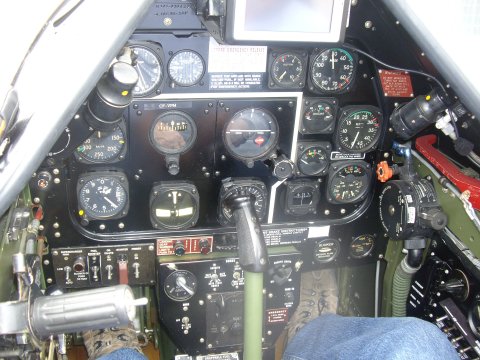 MORE ONLINE REFERENCES
VINTAGE WINGS OF CANADA
www.vintagewings.ca
STEARMAN PERFORMANCE AND SPECS
www.pilotfriend.com/aircraft%20performance/stearman.htm
STEARMAN RESTORERS ASSOCIATION
http://dev.stearman.net
NATIONAL STEARMAN FLYIN
http://stearmanflyin.com
BACK TO
Bill Hillman's AS YOU WERE . . .
Weekly Webzine Archives
To more Hillman
Military Tributes