Colourized Air Force Photos
from the Colourizing History FB site


Pilot and co-pilot in the cockpit of their Nº.149 RAF Squadron Vickers Wellington bomber, probably at RAF Mildenhall in 1941.
The pilot is David Donaldson, who was promoted to Wing Commander in 1943 at the age of 28. (IWM)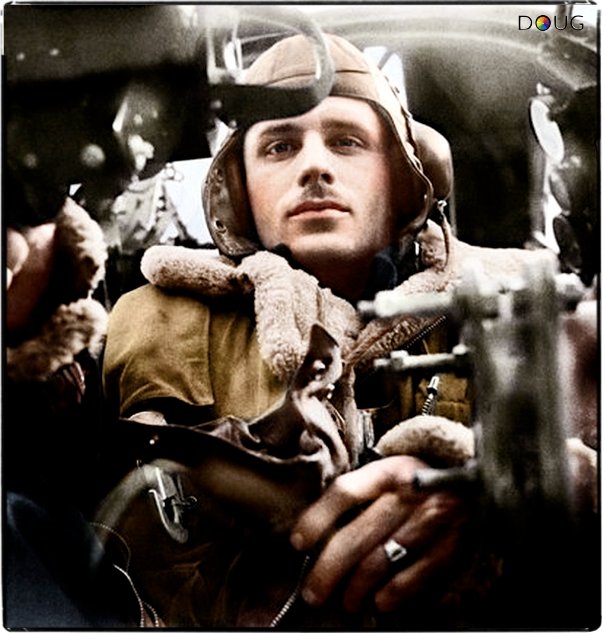 (Photograph by Cecil Beaton) IWM D4736
RAF Vickers Wellington bomber, rear gunner in position.



Flying Officer J B Burnside, the flight engineer on board
an Avro Lancaster B Mark III of No. 619 Squadron RAF based at Coningsby, Lincolnshire,
checks settings on the control panel from his seat in the cockpit. February 1944 (IWM CH 12289)



(photo by Lt. Wayne Miller of the U.S. Navy Combat Photo Unit)
US Navy pilots, (in front) Lieutenant (jg) Henry H. Dearing of Cleveland, Ohio,
Ensign Charles W. Miller of Houston, Texas and Lieutenant (jg) Bus Alder of San Mateo, California
walking toward their Grumman F6F-3 'Hellcats' aboard the aircraft carrier USS Saratoga (CV-3) 1943.11.05
These men provided fighter coverage for Avenger torpedo bombers and Dauntless dive bombers.
On Nov 5, 1943, in response to reports of Japanese cruisers concentrating at Rabaul, Papua New Guinea,
the Saratoga aircraft penetrated the heavily defended port and disabled most of the Japanese cruisers,
ending the surface threat to Bougainville. Saratoga herself escaped unscathed.



US. Ensign Ardon R. Ives escaping from his burning Grumman F6F-5 'Hellcat' of VF-9 fighter carrier group.
His fighter burst into flames when it hit a barrier and other planes while landing on the USS Lexington (CV-16) on the 25th February 1945.
Ardon Ives was KIA in a dogfight with Japanese fighters just a few months later on the 22nd May 1945, aged 23.
He is buried in his home town of Rockford, Kent County, Michigan.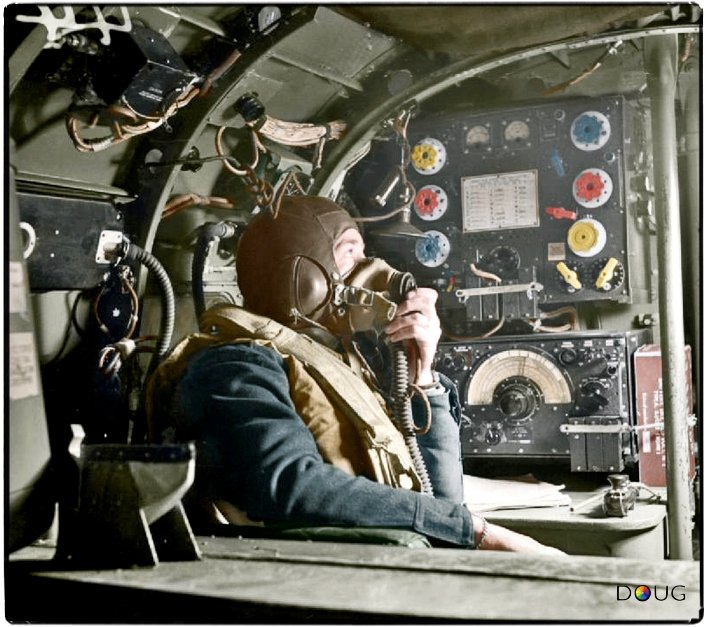 Flying Officer R W Stewart, a wireless operator on board an Avro Lancaster B Mark I
of No. 57 Squadron RAF based at Scampton, Lincolnshire,
speaking to the pilot from his position in front of the Marconi TR 1154/55 transmitter/receiver set.
1942-43 (IWM CH8790)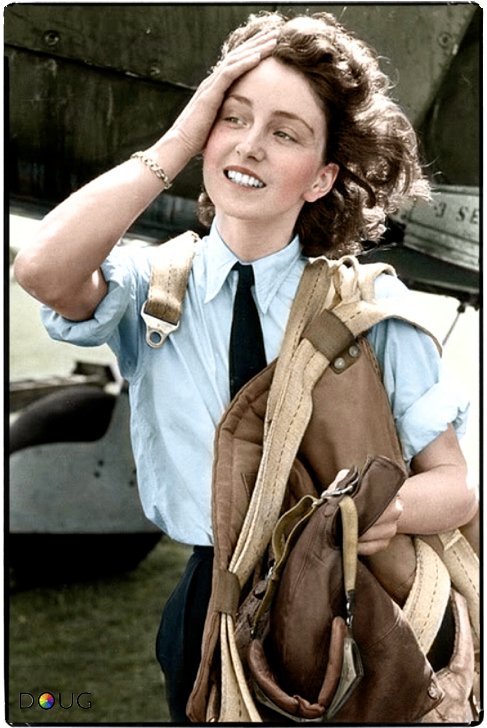 Featured on the front cover of the 'Picture Post' magazine 16th September 1944.
Maureen Dunlop (aged 24), an Air Transport Auxiliary (ATA) pilot, in front of a Fairey Barracuda dive bomber.
Born in Argentina of Australian/English parents, she joined the ATA in 1942, trained to fly 38 types of aircraft,
her 800 hours subsequently logged included time in Spitfires, Mustangs, Typhoons, and bomber types including the Wellington.
She later stated that her favourite type to fly was the de Havilland Mosquito.
Initially attached to No.6 Ferry Pool at RAF Ratcliffe near Leicester, she then moved to the all-female Ferry Pool at Hamble, Southampton,
which exclusively delivered Spitfires from Supermarine's new factory at RAF Southampton.
She was forced into occasional emergency landings, once after the cockpit canopy of her Spitfire blew off after take off
and another occasion put down in a field after the engine of her Fairchild Argus failed in the air.
One in 10 women pilots died flying for the ATA.
Maureen died on the 29th May 2012 aged 91.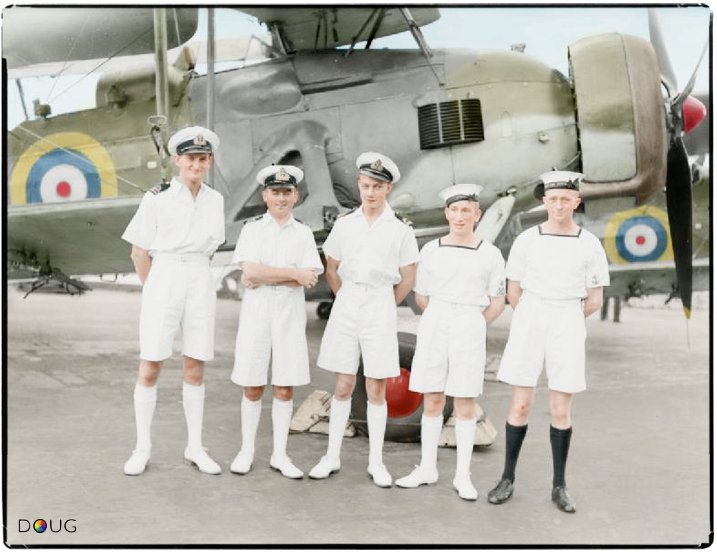 Admiral Somerville visited HMS Ark Royal to congratulate the officers and ship's company
after the successful engagement with the BISMARCK, October 1941.
Officers and ratings who were decorated for the part they played in the sinking of the BISMARCK (on 24th May 1941),
in front of a Fairey ('Stringbag') Swordfish aircraft.
Left to right: Lieutenant P D Gick, RN, awarded DSC; Lieutenant Commander Eugene Esmonde, RN, awarded DSO;
Sub Lieutenant V K Norfolk, RN, awarded DSC; A/PO Air L D Sayer awarded DSM;
A/Ldg Air A L Johnson, awarded DSM. all from 825 Squadron, HMS Victorious.
Some nine months later on 12th February 1942, Esmonde and Johnson would both die
attempting to stop the battleships Scharnhorst and Gneisenau and the heavy cruiser Prinz Eugen from making the 'Channel Dash'.
Norfolk was KIA over Cherbourg 17/9/42. Both Gick and Sayer survived the war.



Supermarine Spitfire Mk VB (R6923, QJ-S) of Nº92 (East India) Squadron RAF based at Biggin Hill, Kent, UK.
Flown here by Fl.Off. Alan Wright on 19th May 1941.
On the afternoon of the 21st June '41 it was flown by Sgt. G.W.Aston on a bomber escort run over France
and shot down a Bf 109 before it too got hit and had to ditch in the sea.
Sgt. Aston survived and returned for duty that same evening.



Fl.Lt. Dudley S.G. Honor, Nº 274 Squadron RAF poses by a Hawker Hurricane of the squadron
at Gerawala, Egypt, on rejoining his unit following his rescue.
On the afternoon of 25th May 1941, his Mk.I Hurricane (W9266) and that of Fl.Lt Hugh Down were attacking the aerodrome at Maleme, Crete.
Down's plane was hit but Honor shot down an Italian SM79 and a German JU52 before being attacked by a Bf 110 and then a Bf 109.
His plane crashed into the sea, sinking some forty feet, but because he was wearing a German self inflatable life jacket, he was able to reach the surface.
After a four hour swim he managed to drag himself onto the rocks.
He was found by Cretan peasants and a party of Greek soldiers and after six days in hiding
was rescued by a passing RAF Sunderland that saw him signalling from his pocket torch.
The Sunderland pilot said it was a million to one chance that he was spotted,
they were looking for Major General Weston and his staff, with Honor giving directions down the coast,
they located the General at Sfakia on about the 31st May.
Group Captain Honor died on December 26th 2007. © IWM (CM 941)
(The Hurricane is showing a Yellow lightning flash of the 247 Squadron and the front underside of the nose
and leading edges sport an Italian camouflage, supposed to confuse Italian ground AA gun crews in North Africa.)



Pilots of No. 19 Squadron RAF relax between sorties outside their crew room at Manor Farm, Fowlmere, Cambridgeshire.
They are (left to right), Pilot Officer W Cunningham, Sub-Lieutenant A G Blake of the Fleet Air Arm (nicknamed "The Admiral")
and Flying Officer F N Brinsden (New Zealander), with a Cocker Spaniel. September 1940.
In that month Blake was credited with six and a half kills;
5 Bf 109s, 2 of which were destroyed on one sortie on 17th September and 2 on 27th September.
He also downed a He111, shared a second and was credited with a possible Bf110.
Sadly, he was to become No 19 Squadron's last casualty of the battle.
He was shot down and killed whilst flying Spitfire Mk IIa P7423 QV-Y in the early evening of 29th October 1940 over Chelmsford, Essex.
He was just 23 years old.
© IWM (CH 1459)