Bill Hillman's Monthly Military Tribute
AS YOU WERE . . .
WAR YEARS ECLECTICA
JOIN OUR FACEBOOK GROUP HERE

February 2015 Edition
COLORIZED WAR PHOTOS


Franz von Werra was born on 13 July 1914 at Leuk in the Berner Oberland region of Switzerland.
Von Werra was appointed Adjutant on the staff of II./JG 3, on its formation at Zerbst on 1 February 1940.
A brief History of the Pilot and the Plane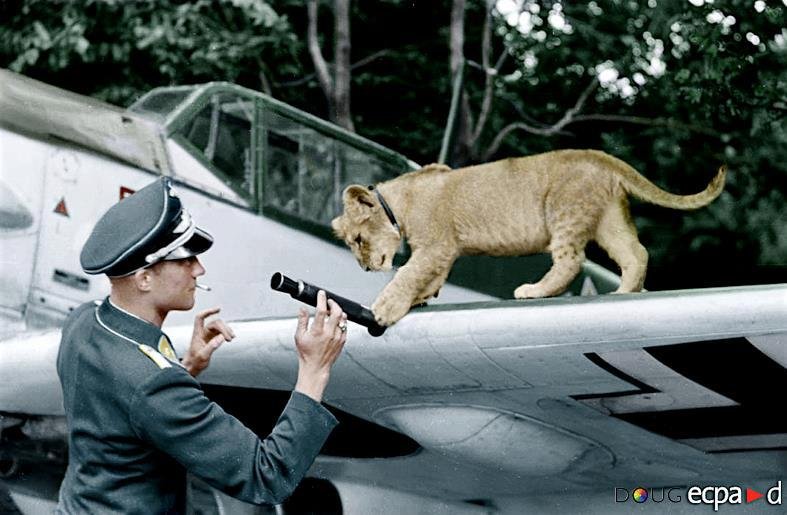 Mascot
Le lieutenant Franz von Werra -3e escadrille (II./Jagdgeschwader 3) and the group's mascot: a baby lion.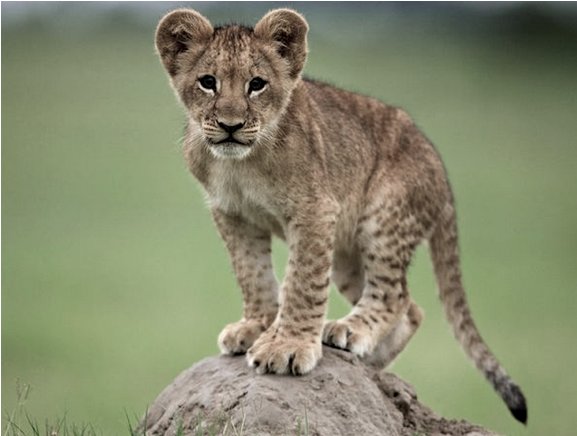 'Simba' the squadron's pet lion cub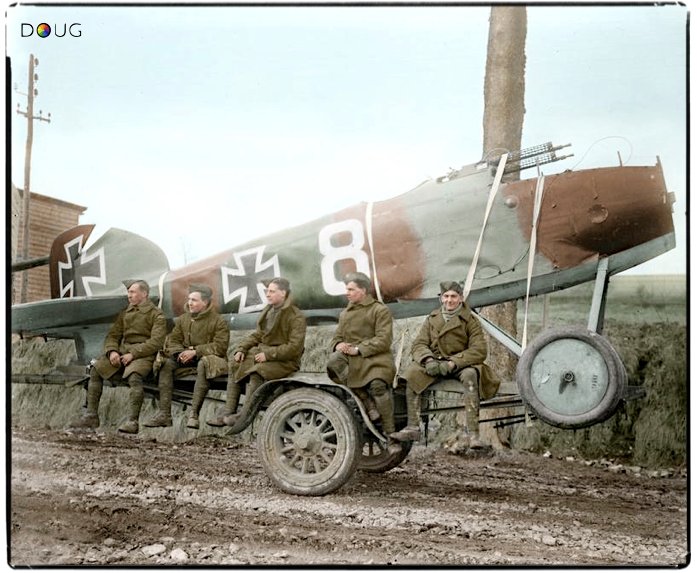 A captured Albatros D.II previously flown by Lt. Max Böhme of Jagdstaffel Nº.5, it was forced down over allied lines
and is seen here being transported to a British aviation depot near to the location of Auxi-le-Château, France.
Lt.Böhme survived and became a POW.
The engagement occurred on the 4th March 1917 and the 'claim' was made by
both an FE 2b crew and a DH 2 pilot Lt. Arthur Pearson
who would be shot down and killed five days later by the 'Red Baron' Manfred von Richthofen.
IWM (Q 4932)
(It was later repainted in French colours and Tested at Vélizy-Villacoublay, France)

Royal Aircraft Factory S.E.5 and an unknown RFC personnel with the No. 32 Squadron pet fox,
at Humieres Aerodrome, St Pol, France, 5 May 1918. (National Library of Scotland)

'The Raid' 1918 by photographer Frank Hurley (AWM) from British History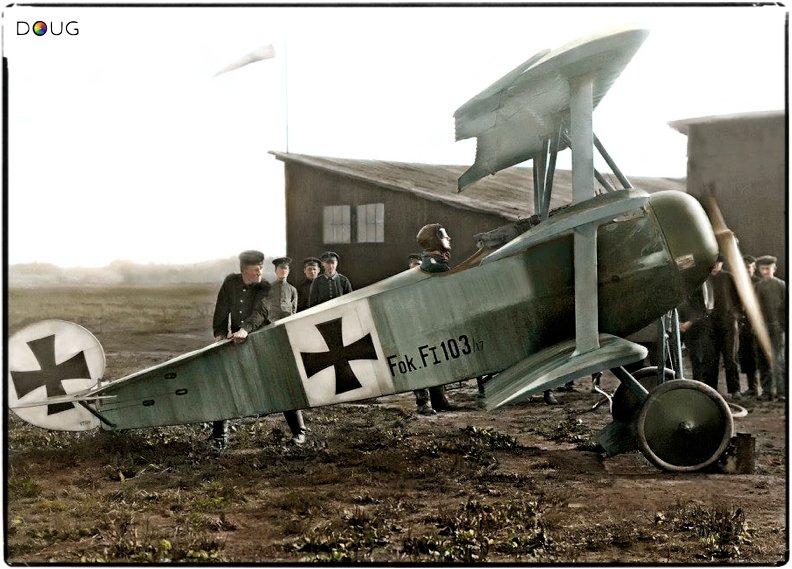 Lieutenant Werner Voss, Staffelführer of Jasta 10 in his Fokker F.1, September 1917. (KIA 23/9/17 aged 20)
Voss achieved 48 victories in just over ten short months.
It took von Richthofen, the Red Baron two years to achieve his 80 victories.

An armourer loading grenades and signal flares onto a Halberstadt CL.II "Brünhilde"
of Schlasta 27b at Boucheneuil airfield Belgium. April 1918


This photo was featured in the Time Life magazine in March 1941.
20-year-old Flying Officer Harold 'Birdie' Bird-Wilson, Nº17 Squadron RAF Debden. June/July 1940.
In September 1938 he survived an aerial accident but was badly burned and lost his nose.
He underwent plastic surgery at the Queen Victoria Hospital, East Grinstead
and was one of the earliest aircrew 'guinea pig' patients of the famous, pioneering plastic surgeon, Sir Archibald McIndoe.
For some months 'Birdie' walked around without a nose whilst McIndoe rebuilt it for him;
he subsequently became the No 2 member of the famous 'Guinea Pig Club'.
During the 'Battle of Britain' he was shot down by Luftwaffe ace Adolf Galland on the 24th September 1940
in a dog fight over the River Thames but baled out and was picked up by a riverboat. (Galland's 40th victim)
Wounded with shrapnel from the guns of Galland's Bf.109 embedded in his body
and suffering from burns for the second time in his flying career,
he recovered and returned to duty after two months recuperation.



Volunteer Editor and Webmaster: William G. Hillman
hillmans@westman.wave.ca
Copyright 2015