Bill Hillman's Monthly Military Tribute
AS YOU WERE . . .
WAR YEARS ECLECTICA
2015.11 Edition

REMEMBRANCE TRIBUTES ON THE
BCATP AIR MUSEUM FACEBOOK GROUP
JOIN OUR FACEBOOK GROUP HERE
Click for larger images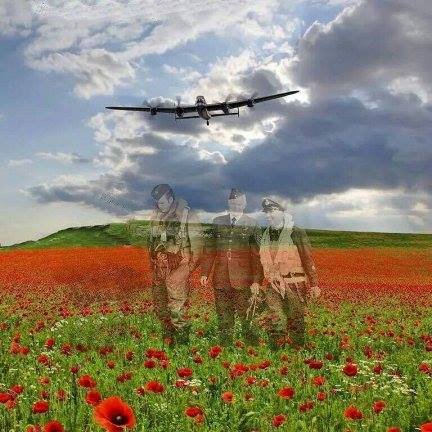 On November 11th, Remembrance Day
Free Open House 1pm to 4pm
at the Commonwealth Air Training Plan Museum and RCAF WWII Memorial
(Hangar #1, Brandon Municipal Airport)
At 2:00 pm visit the museum canteen for a free presentation of remembrance,
focusing on first and second world wars.
Also the museum's Ladies Auxiliary will be providing coffee & dainties in the main museum.
For more information call the museum at 727-2444.
www.airmuseum.ca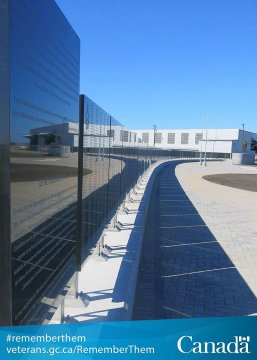 RCAF WWII BCATP Memorial :: CATP Museum ~ Brandon, MB
www.airmuseum.ca/memorial
The unveiling of the Royal Canadian Air Force (RCAF) Second World War British Commonwealth Air Training Plan Memorial took place on September 10, 2014 in Brandon, Manitoba. It pays tribute to the brave airmen and airwomen of the British Commonwealth who lost their lives during the Second World War. The memorial is impressive in both size and scope. It has a 100 metre long row of black granite panels etched with 19,256 names, a 2.5 metre tall bronze statue of an airman and 1,150 square metres of paving stone, including a 20-metre wide RCAF wing in full colour.

More information:
www.veterans.gc.ca/eng/remembrance/memorials/canada/rcaf-bcatp

There are so many ways to remember and honour Canada's Veterans.
Find out how: Canada.ca/RememberThem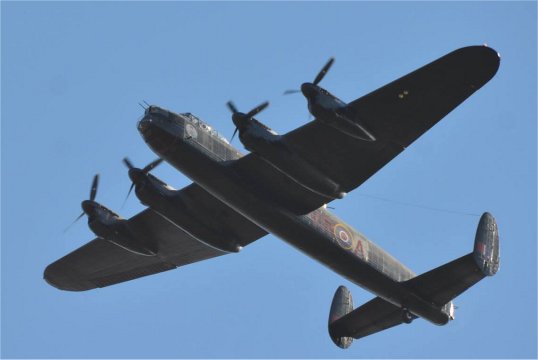 Vera over St Catharines looking and sounding great - The sound of freedom - WWII style.
. Glynne Hynes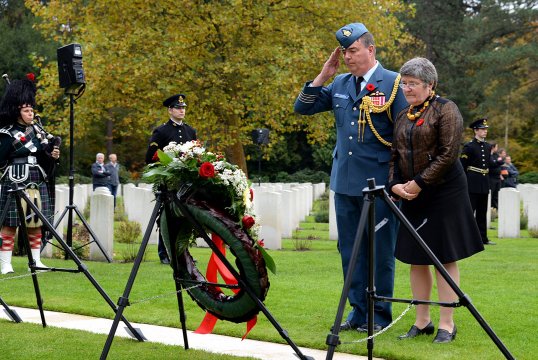 Ambassador Nölke joined Mayor Frank Petter and the people of Bergen op Zoom in commemorating
the Canadian airmen and soldiers who died in the Battle of the Scheldt, helping to liberate the Netherlands.
The commemoration ceremony took place at the Canadian War Cemetery in Bergen op Zoom.
~ Embassy of Canada to the Netherlands


www.facebook.com/RoyalCanadianMint

| | |
| --- | --- |
| Canadian War Museum to webcast moving Remembrance Day ceremony >> MORE | Poppies, Near Argenteuil ~ Claude Monet, 1873. |


The Kent Battle of Britain Museum


CANADA'S EFFORTS IN AFGHANISTAN :: 2001-2014
| | |
| --- | --- |
| 40,000+ Canadian Armed Forces members served in our country's efforts in Afghanistan | 158 died ~ In a previous issue we paid tribute to the first 100 fallen |
Canada's engagement in Afghanistan was our country's most significant military operation in recent years.
Pictured above left is a soldier attached to the 3rd Battalion, Princess Patricia's Canadian Light Infantry
guarding the perimeter around a Chinook helicopter during a mission northwest of Kandahar Airfield in July 2002.


FROM THE HILLMAN MILITARY TRIBUTE SITE
www.hillmanweb.com/war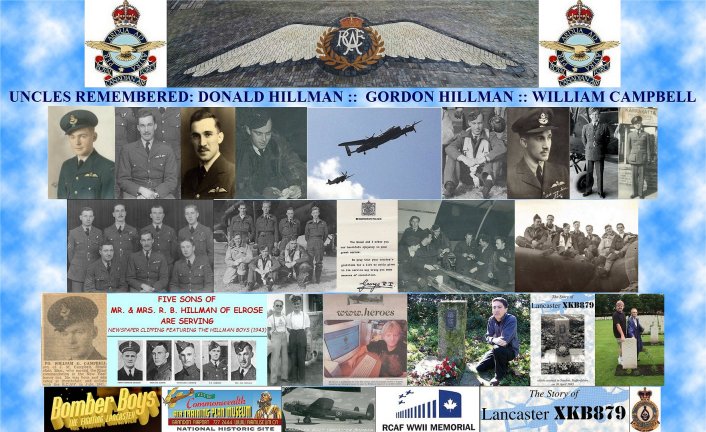 ~ Bill Hillman's RCAF Tribute


Sai Wan War Cemetery ~ Fallen Canadians in the Far East in WWII
Sai Wan War Cemetery with the Sai Wan Bay War Memorial Cross in the distance
during a Canadian commemoration of the Battle of Hong Kong, Dec, 1941.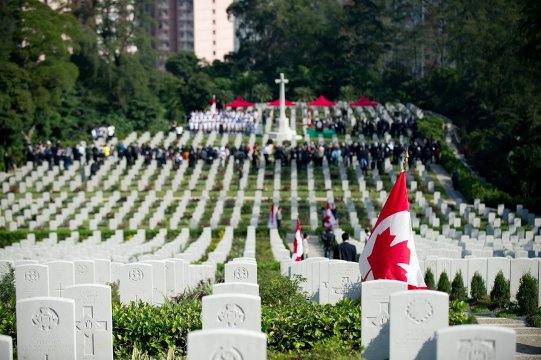 Sai Wan War Cemetery and Memorial
The Sai Wan Bay Memorial was erected at the Sai Wan Bay War Cemetery on the island of Hong Kong to honour those who died in its defence. On this Memorial are inscribed the names of over 2,000 people, 228 of them Canadian, who died with no known grave. Below the memorial, the Sai Wan Bay War Cemetery slopes towards the sea, with a panoramic view of the coastline and distant hills. Here are buried 283 soldiers of the Canadian Army, including 107 who were unidentified. These are among the 1,975 Canadians who sailed from Vancouver in October 1941, to commit to battle during the Second World War in the defence of Hong Kong. The small brigade group consisting of the Winnipeg Grenadiers and the Royal Rifles of Canada found itself in action against the Japanese. In total, more than 550 Canadians died in the campaign or in captivity.

Where Are the Canadian Dead Buried?

The island of Hong Kong fell to the Japanese on Christmas Day 1941 following a brief but intense period of fighting.
Most of those buried in this cemetery were killed at this time, or died later as internees or prisoners of war during the Japanese occupation. The remains of those who died as prisoners in Formosa (now Taiwan) were brought to Hong Kong for burial at Sai Wan in 1946. There are now 1,505 Commonwealth casualties of the Second World War buried or commemorated at Sai Wan War Cemetery. 444 of the burials are unidentified. There are special memorials to 16 Second World War casualties buried in Kowloon (Ho Man Tin) No 3 Muslim Cemetery, whose graves were lost. There are also 77 war graves of other nationalities from this period, the majority of them Dutch and 7 non-world war graves that the Commission maintains on behalf of the MoD. The cemetery contains special memorials to 12 First World War casualties buried in Kowloon (Ta Sek Ku) Mohammedan Cemetery, whose graves have since been lost .
HMCS PRINCE ROBERT / HONG KONG CONNECTION
www.hillmanweb.com/rcn/hk
Bill Hillman's RCN and HMCS Prince Robert Tribute


BACK TO OUR MONTHLY MILITARY WEBZINE
CONTENTS PAGE
As You Were . . .

Photos and Web Design by Bill Hillman
Volunteer Editor and Webmaster: William G. Hillman
hillmans@westman.wave.ca
Copyright 2015