2. The USS Shaw explodes during the
Japanese attack on Pearl Harbor on December 7, 1941.



3. The USS Shaw burns in Pearl Harbor.
Japanese bombers hit the forward portion of the ship with three bombs.
The resulting fires proved uncontrollable, and Shaw was ordered abandoned.
Soon after, her forward ammunition magazines detonated
in a spectacular blast, completely removing her bow.



4. Sailors stand among wrecked airplanes at Ford Island Naval Air Station
as they watch the explosion of the USS Shaw in the background,
during the Japanese surprise attack on Pearl Harbor.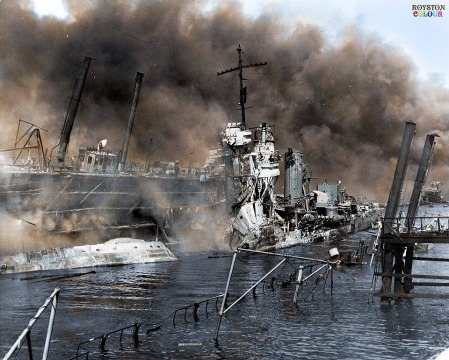 13. The twisted remains of the destroyer USS SHAW burning
in floating drydock at Pearl Harbor after the attack.



5. Sailors try to salvage a burning Catalina flying boat
at the Ford Island Navy Base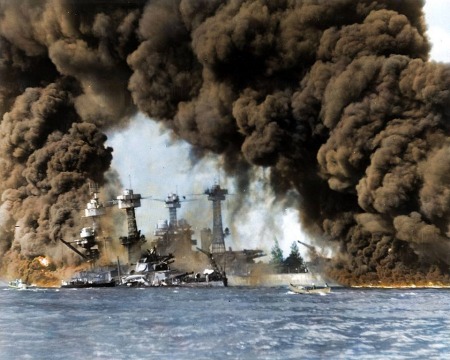 6. The battleships USS West Virginia and USS Tennessee burning
after the Japanese attack on Pearl Harbor



7. A small boat rescues a seaman from the 31,800 ton USS West Virginia (BB-48),
which is burning in the foreground.
Smoke rolling out amidships shows where the most extensive damage occurred.
Note the two men in the superstructure. The USS Tennessee (BB-43) is inboard.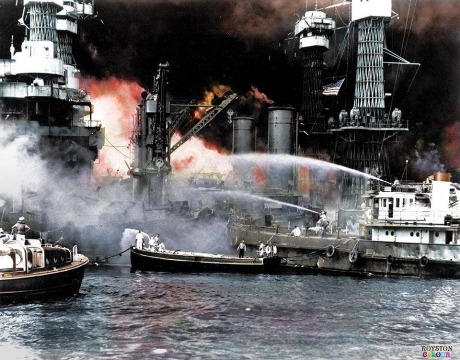 8. The battleship USS West Virginia is seen afire
after the Japanese surprise attack on Pearl Harbor



9. The flagship, USS California



10. The battleship USS Arizona belches smoke as it topples over into the sea
during a Japanese surprise attack on Pearl Harbor.
It's the superstructure that's leaning forward and to the side.
The hull settled straight down in an upright position.



11. The USS California sinks into the mud of Pearl Harbor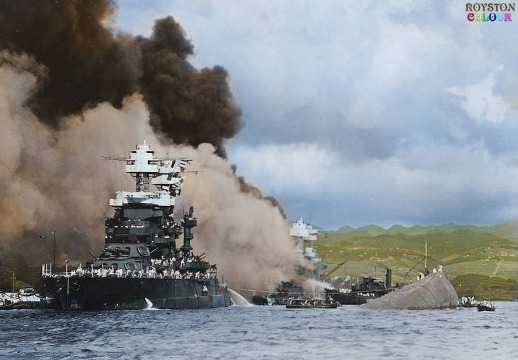 12. The USS Maryland, a battleship moored inboard of the USS Oklahoma,
which capsized, was damaged slightly in the Japanese attack on Pearl Harbor



14. USS Pennsylvania, behind the wreckage of USS Downes and USS Cassin