Bill Hillman's Monthly Military Tribute
AS YOU WERE . . .
WAR YEARS ECLECTICA
2018.07 Edition
GEORGE COX OF THE RAF
'42/'43 Photos Taken While in Canada in the BCATP
31 SFTS Training and Repair Squadron ~ Kingston, Ontario
Continued in Part II
Click for full-size images
Editor's Note:
This wonderful collection of WWII photos is from the wartime photo album of George Cox.
The pages have been scanned and shared with us by his son Brian.
I've presented each of the album pages in two sizes so be sure to click on the images for full-size viewing.
For this month's AS YOU WERE. . . feature
I've chosen to present George's "on duty" photos. . .
the many photos he took while on leave in many interesting places across North America
will be featured in a future month's zine.
During our correspondence Brian shared some information on his dad, which I've included below:
---
My father, Arthur George Cox (known as George) was born in 1912 in Birmingham, England and he died in 1985 also in Birmingham. He joined the RAF in September 1940. He was in Canada from April 1942 until July 1944.

During WW2 my mother Phoebe worked in the Castle Bromwich (Birmingham) factory that produced most of the spitfires ever built.

After WW2 George married Phoebe and they had four sons and a daughter. He has numerous grandchildren and an ever increasing number of great grandchildren.

George's father, Sergeant George David Cox, was killed in action on April 11th 1917 in the Battle of Arras. George Cox had fought on the western front from 1914 until they finally got him in an artillery barrage. He was in the 1st Bn. Royal Warwickshire Regiment.

While preparing dad's introduction I remembered dad's service and release book so I dug it out and I thought you might like to see this scan of the centre pages of his book.
~ Brian Cox, ex Chief Petty Officer, Royal Navy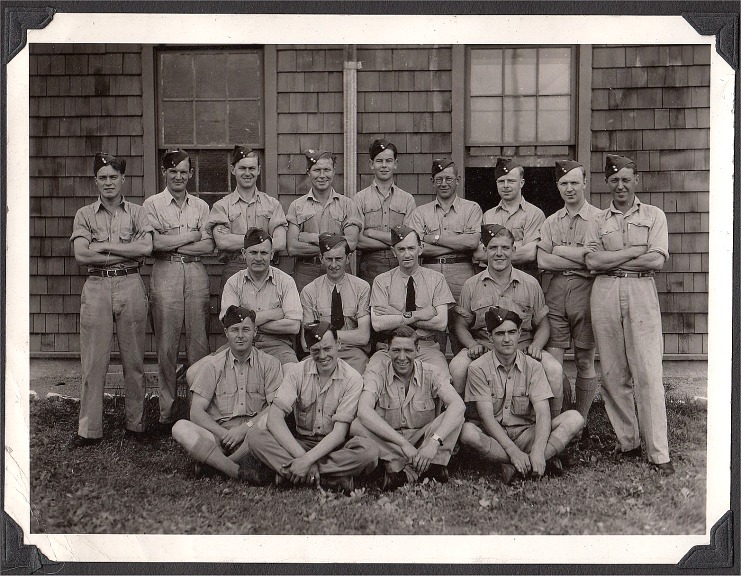 .
George is 4th from the left (as you look at it) in the back row.
---
INTRODUCTION
---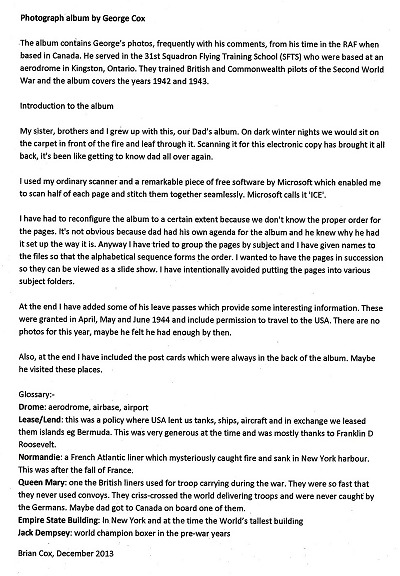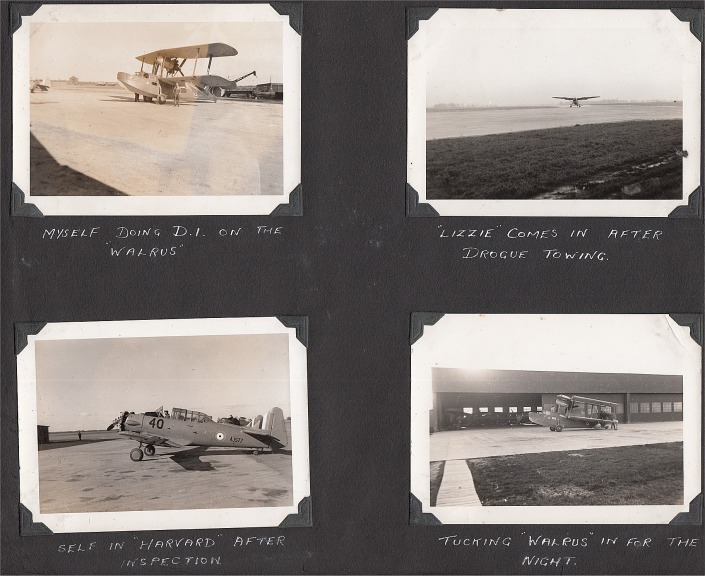 .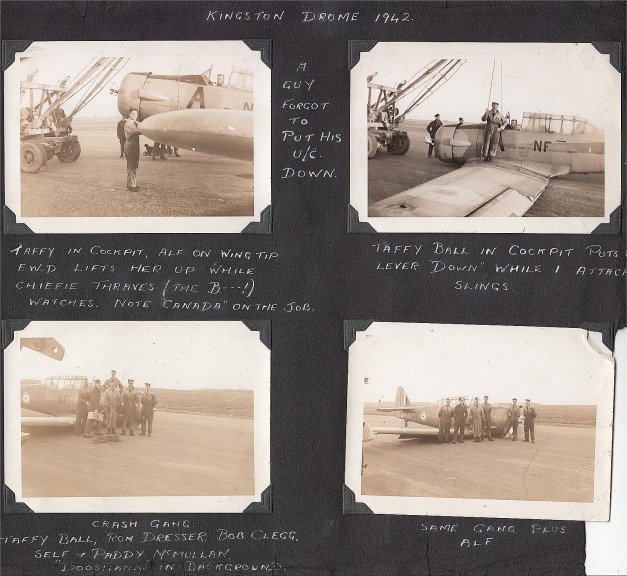 .

.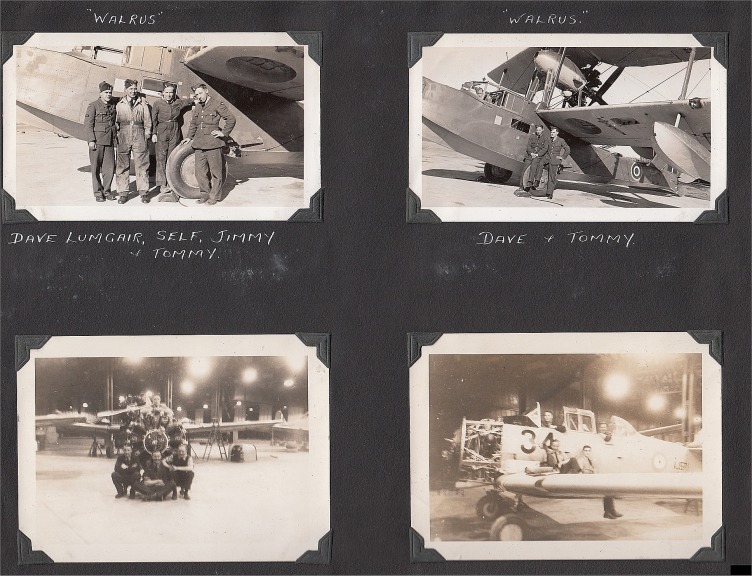 .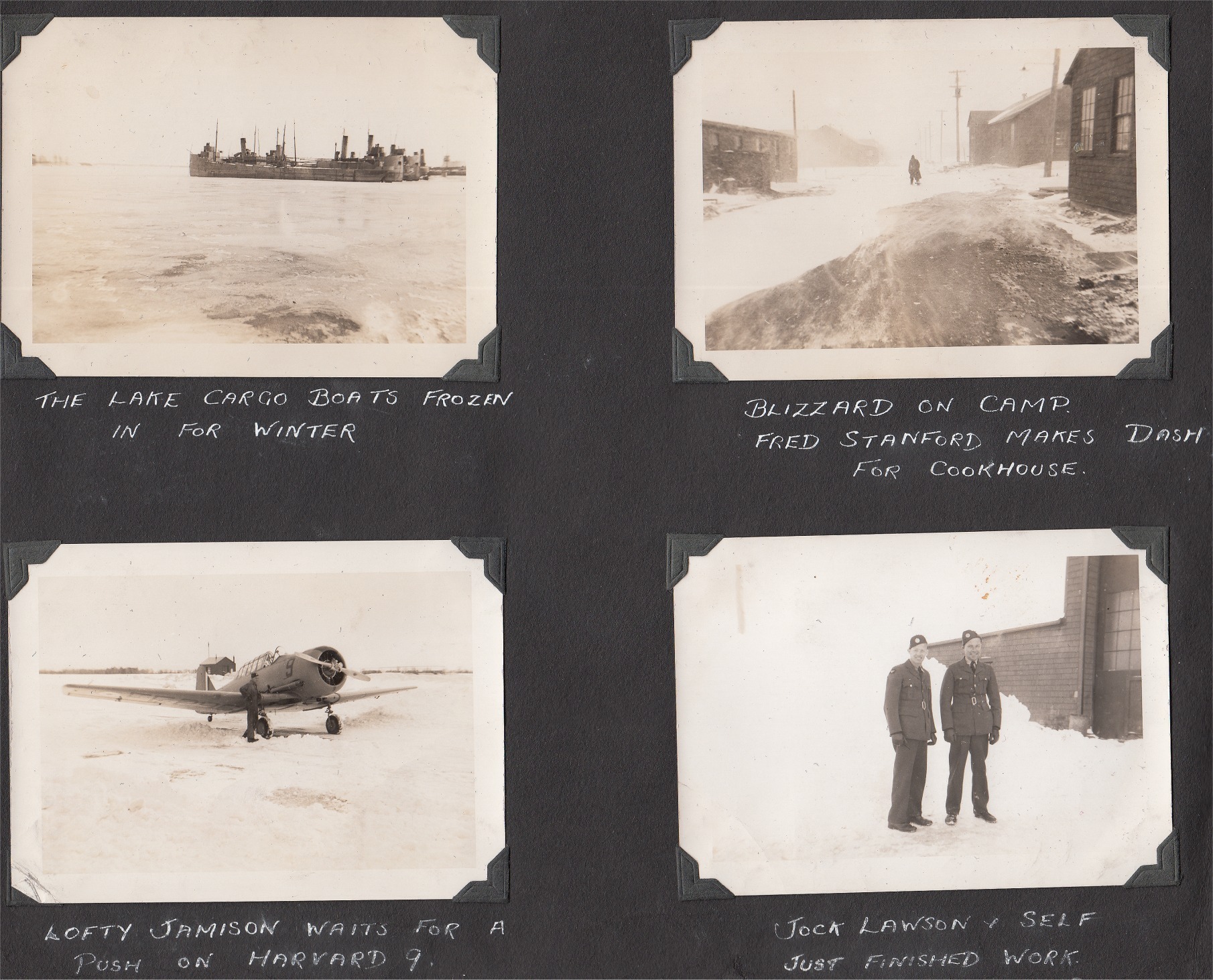 .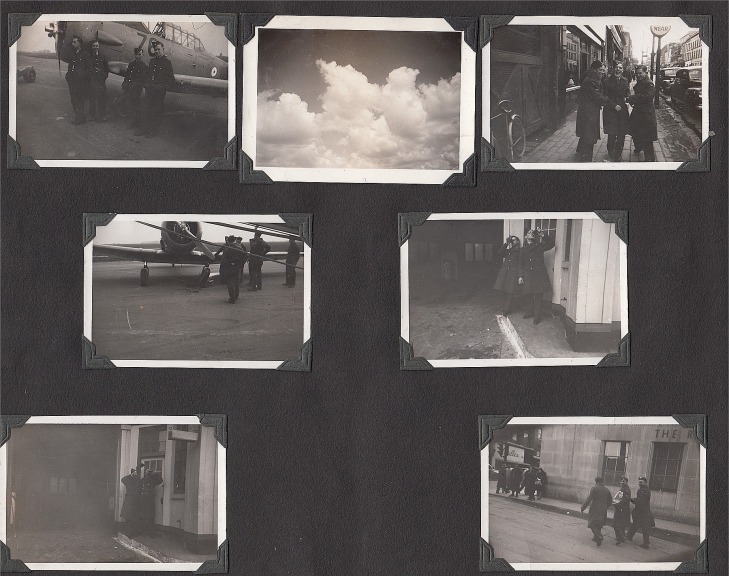 .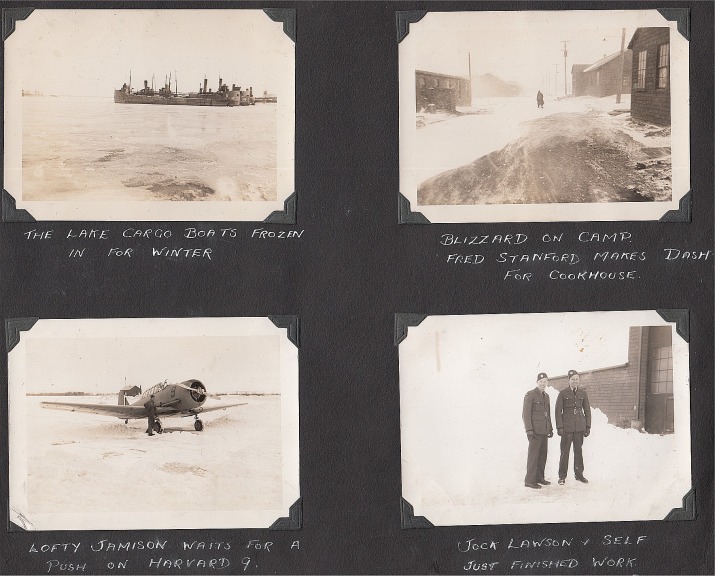 .

.

.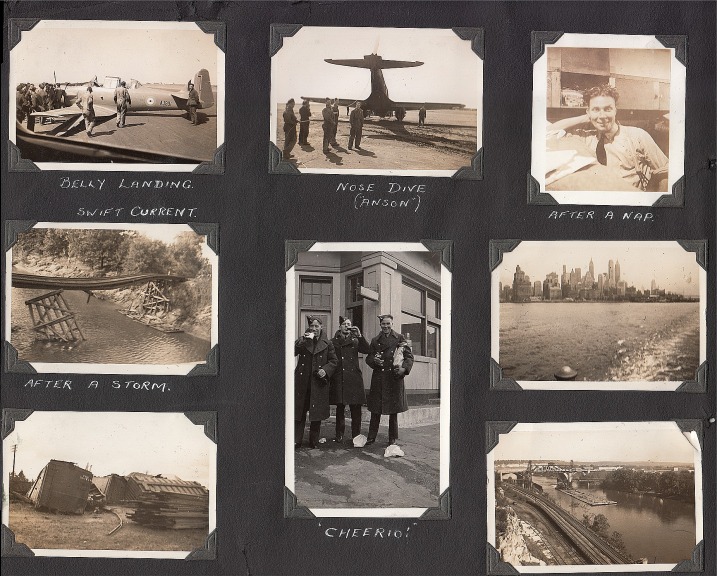 .


PHOTOS WHILE TAKEN ON LEAVE
WILL BE FEATURED IN A LATER ISSUE

.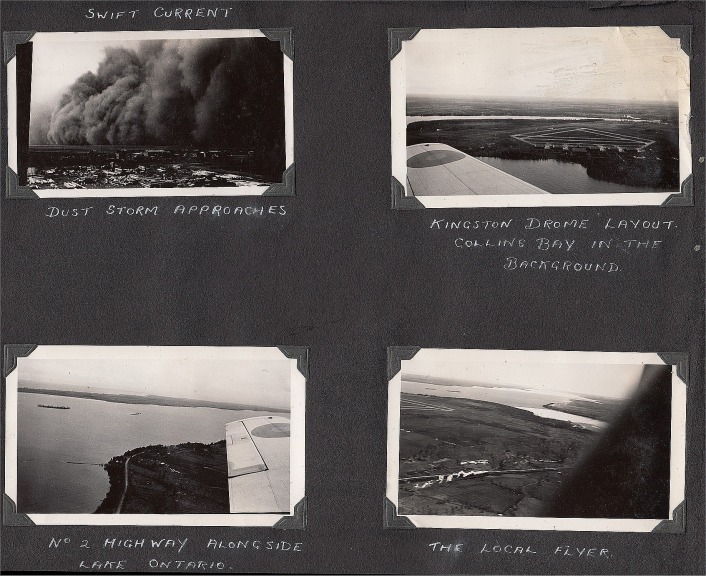 .


FORMAL PARADE


.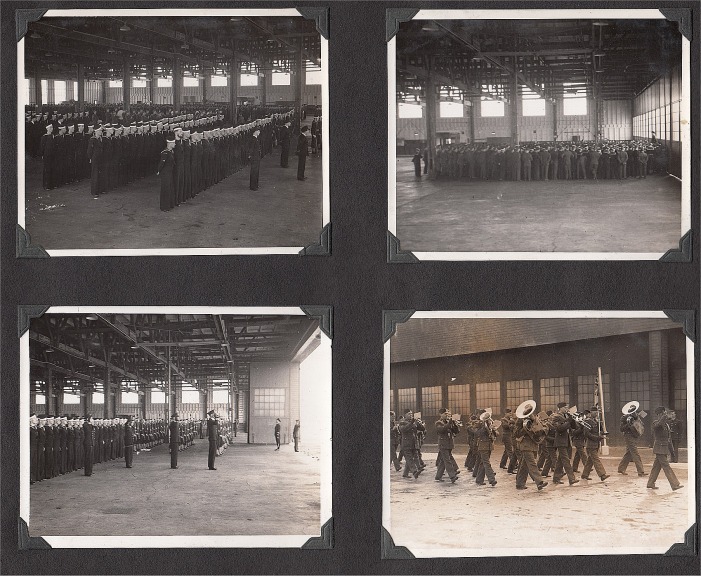 .

.
.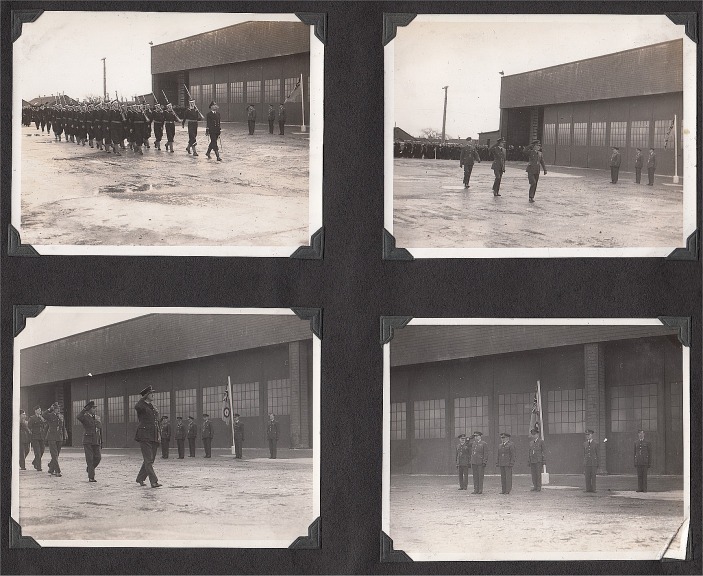 .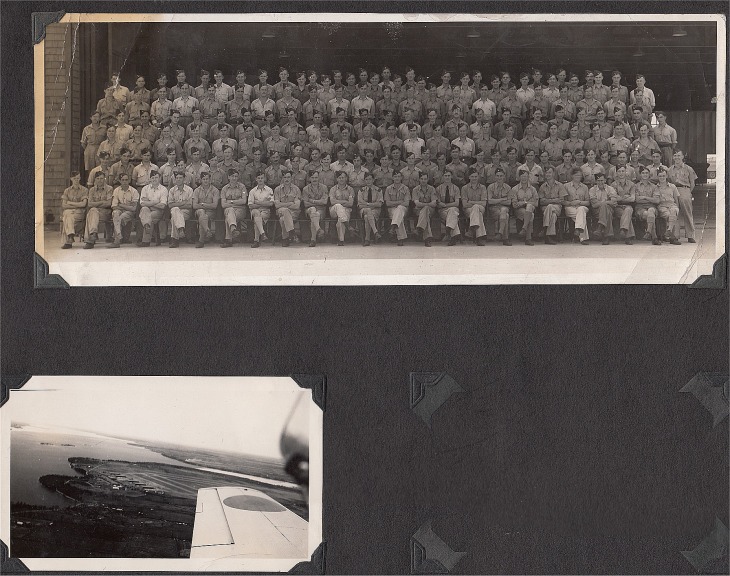 .


CONTINUED IN PART II:
CRASH SITE
www.hillmanweb.com/war/2018/1807a.html
BACK TO OUR MONTHLY MILITARY WEBZINE
CONTENTS PAGE
As You Were . . .


.

Web Design by Bill Hillman
Volunteer Editor and Webmaster: William G. Hillman
hillmans@westman.wave.ca
Copyright 2018