Bill Hillman's Monthly Military Tribute
AS YOU WERE . . .
WAR YEARS ECLECTICA :: DECEMBER 2019
2020.12 Edition

Click for full-size PROMO SPLASH BARS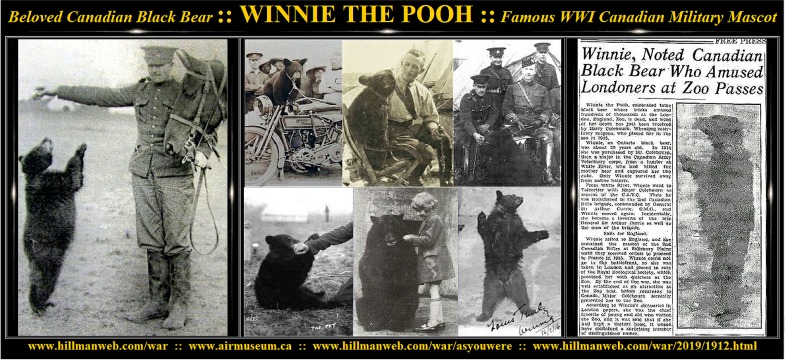 A WARTIME CHRISTMAS



Christmas is a time when normal routine is suspended for many people
– and so it was in the depths of World War II.
For civilians and military alike during the 1939-45 period, normality was a loose concept,
but these pictures show how they attempted to put on a brave face
and observe some of the traditions that they would have enjoyed during peacetime.
These traditions – the Christmas dinner, presents and parties –
became hugely modified as the toll of food rationing,
wartime separation and bombing raids took their toll.


.

.

Canadian soldiers enjoying a few drinks on
Christmas Day at the front, Ortona, Italy

Canadian troops have their Christmas Eve dinner
amongst the debris of Ortona's Santa Maria di
Costantinopoli church Dec. 24, 1943.

.

.

Christmas at Buna, Papua, 1942
by Australian War Memorial collection.

These little toddlers may have been sleeping this year on bunks
in a London tube station on Christmas eve on Dec. 26, 1940
but Santa Claus did not forget to pay them a visit.

.

.

"London children enjoying themselves
at a Christmas Party, Dec. 25, 1940,
in an underground shelter.

Adolf Hitler dines with coastal defence workers of the organisation Todt
in a camp tent in celebration of Christmas Eve
in Germany on December 24, 1940.

.

.

This soldier intends to have a good Xmas dinner:
A Tank Corps corporal walking off with four ducks,
which were being sold at a London Market.

About 800 women are packing packages at a special Army Postal Dept
in Breslau, Poland, on Dec. 23, 1940
for shipment to German soldiers at Christmas.

.

.
Over 200 Acton children were guests of Canadian soldiers
at a Christmas Party on December 16.
All the youngsters bad either been bombed out
or their father were prisoners of war.

Prime Minister Winston Churchill, US President Franklin Roosevelt
and members of their party leave the White House in Washington,
Dec. 25, 1941 for Christmas Service
at the Foundry Methodist Church.

.
.

A flying chaplain brings the Christmas message
to the bomber flight line on Dec. 24, 1942.
Continuous night bombing schedule
allows no time out for Christmas Eve worship

British soldiers taking part in the African campaign
kneel in the desert in Bardia, Libya, Jan. 26, 1941
for a Christmas sunrise mass.

.
.

Singing 'Silent Night' during Dec. 4, 1943 recording
for the Christmas Day program for servicemen
Dinah Shore, Ginny Simms and Frances Langford.

Christmas dinner on board a British battleship,
Dec. 29, 1942.
The ward-room drinking the Royal Toast.

.
.

American Navajo Indians of the 158th U.S. Infantry,
after breaking through the Japanese defences in New Guinea
pose in jungle grass regalia they made on a South Pacific Island
to celebrate their traditional Christmas dances.

At a Red Cross station in New Guinea on Jan. 18, 1943,
natives assist Australians with sacks of
Christmas parcels which were dropped
from transport planes in the Kokoda and Myola areas.

.
.

The Trapp family singers at rehearsal
in New York, Dec. 15, 1944
for the Christmas Eve broadcast

500 tough, sunburned veterans of the Mediterranean war,
arrive at a London railway station on December 2, 1944,
for twenty-eight days' leave.

.
.

CHRISTMAS IN THE TRENCHES
Play
(Slow load - wait for it)
J. McCutcheon / Appal Songs ~ EMI Canada
From the Danny Boy album by Canadian singer,
John McDermott
www.johnmcdermott.com
---

Liner Notes Intro:
This song depicts the moods of the soldiers, on both sides of the front lines, during the first Christmas of World War I. It was hailed as the "Amazing Truce" where German and British soldiers took a respite from the War. Sir Arthur Conan Doyle, in his history of 1914, called the Christmas truce "An amazing spectacle, one human episode amid all the atrocities which have stained the memory of war."

Conan Doyle's phrase, indeed, sums up the attraction of the truce. It is the human dimension which means that this relatively obscure event in the fifth month of a fifty two month war is still remembered and will continue to catch the imagination. In a century in which our conception of war has been the Exocet, the Cruise Missile, and the Neutron Bomb, the fact that in 1914 some thousands of the fighting men of the belligerent nations met and shook hands between their trenches strikes a powerful and appealing note. It is perhaps the best and most heartening Christmas story of modern times.


---
CHRISTMAS IN THE TRENCHES
(lyrics by J. McCutcheon)
Oh my name is Francis Tolliver, I come from Liverpool
Two years ago the war was waiting for me after school
From Belgium and to Flanders, Germany to here
I fought for king and country I love dear.
T'was Christmas in the trenches and the frost so bitter hung
The frozen fields of France where still no Christmas songs were sung
Our families back in England were toasting us that day
There brave and glorious lads so far away.
I was lying with my mess mates on the cold and rocky ground
When across the lines of battle came a most peculiar sound
Says I now listen up me boys, each soldier strained to hear
As one young German voice sang out so clear.
He's singing bloody well you know, my partner says to me
Soon one by one each German voice joined in in harmony
The cannons rested silent and the gas cloud rolled no more
As Christmas brought us respite from the war.
As soon as they were finished and a reverent pause was spent
God rest ye merry gentlemen struck up some lads from Kent
The next thing sang was Stille Nach - T'is Silent Night says I
And in two tongues one song filled up that sky
There's someone coming towards us now the front line sentry said
All sights were fixed on one lone figure trudging from their side
His truce flag like a Christmas star shone on the plane so bright
As he bravely trudged unarmed into the night.
Then one by one on either side, walked into no mans land
With neither gun nor bayonet, we met there hand to hand
We shared some secret brandy and we wished each other well
And in a flare lit football game we gave them hell.
We traded chocolates, cigarettes and photographs from home
These sons and father far away from families of their own
Ton Sanders played the squeeze box and they had a violin
This curious and unlikely band of men.
Soon daylight stole upon us and France was France once more
With sad farewells we each began to settle back to war
But the question haunted every heart that lived that wondrous night
Whose family have I fixed within my sights.
T'was Christmas in the trenches and the frost so bitter hung
The frozen fields of France were warmed, the songs of peace were sung
For the walls they'd kept between us to exact the work of war
Had been crumbled and were gone forever more.
Oh my name is Francis Tolliver, from Liverpool I dwell
Each Christmas comes since World War I have learned its lesson well
For the one who calls the shots won't be among the dead and lame
And on each end of the rifle we're the same.
---
WINNIE

Back on August 24, 1914, a Canadian soldier, on his way from Winnipeg to serve in the First World War, was persuaded to buy a cub from a trapper for $20 during a stop in White River, Ont.

Lt. Harry Colebourn named the cub 'Winnipeg' (or Winnie for short), after his hometown, and took the animal overseas where it became the mascot for the Fort Garry Horse Regiment. Winnie played with Canadian soldiers during their off-hours in their encampment on the Salisbury Plains.

Colebourn later donated Winnie to the London Zoo, where the bear inspired the creation of A.A. Milne's famous children's book character. He intended to bring Winnie back when he returned to Canada in 1920, but when he saw how much the bear was loved by children, he decided to donate her to the zoo. Winnie was often allowed to walk freely on the grounds.and passed away in July 1934 at the ripe old age of 20.
Ref: Winnipegger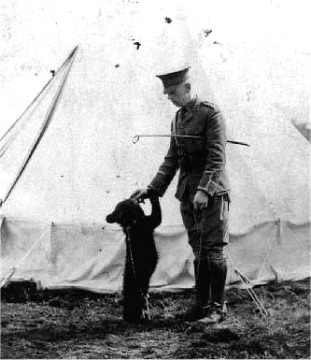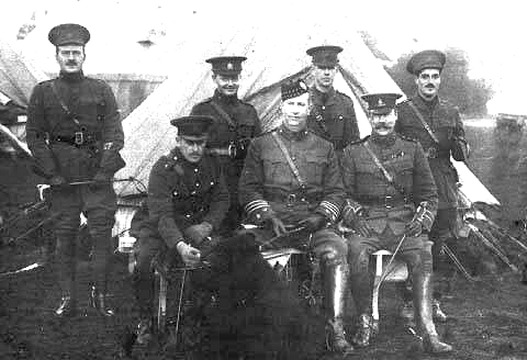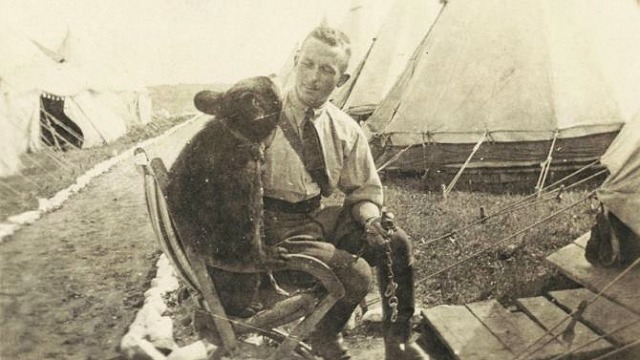 CHRISTMAS GREETINGS FROM YOUR WEBMASTER AND FAMILY


Click for full-size collage


BACK TO OUR MONTHLY MILITARY WEBZINE
CONTENTS PAGE
As You Were . . .
Photos and Web Design by Bill Hillman
Volunteer Editor and Webmaster: William G. Hillman
hillmans@westman.wave.ca
Copyright 2020