BILL HILLMAN'S
WEIRD AND WONDERFUL PHOTOS
WARTIME ECLECTICA
www.hillmanweb.com/archive/rare/15.html

.
Signing of the Armistice Treaty - Dec 15, 1917

Promoting Princess Mary's appeal for help in sending
a Christmas present, from the Nation, to
"every Sailor afloat and every Soldier at the front."
.
Amy Johnson, English aviator 1903-1941 One of the first women to gain a pilot's licence, Johnson won fame when she flew solo from Britain to Australia in 1930. Her dangerous flight took 17 days. Later she flew solo to India and Japan and became the first woman to fly across the Atlantic East to West, she volunteered to fly for The Women's Auxiialry Air Force in WWII, but her plane was shot down over the River Thames and she was killed.

Avro ''Lancaster'' bombers
nearing completion at the
A V Roe & Co Ltd factory
at Woodford in Cheshire,
1943
.
c. 1943 : Breast Protectors for War Workers

Geraldine Doyle, who was the inspiration
behind the famous Rosie the Riveter poster.
.
Bea Arthur (née Bernice Frankel) (1922-2009)
SSgt. USMC 1943-45 WW II.
Enlisted and assigned as typist at
Marine HQ in Wash DC,
then air stations in VA and NC.
Best remembered for her title role in the
TV series "Maude"
and as Dorothy in "Golden Girls".

Nightwitches - Female Russian bombers who bombed Germany during WWII.
They had old, noisy planes and the engines used to conk out halfway
through their missions, so they had to climb out on the wings
mid-flight to restart the props.
To stop Germans from hearing them & starting up the anti aircraft guns,
they'd climb to a certain height, coast down to German positions,
drop their bombs, restart their engines in midair & get the hell out of dodge.
Their leader flew 200+ missions and was never captured.
.
This is one of five known X-rays of Hitler's head,
part of his medical records compiled by
American military intelligence after the German's
surrendered and declassified in 1958.
The records also include doctor's reports,
diagrams of his teeth and nose and electrocardiograms.
He had bad teeth, lots of fillings and crowns.

SS Heinrich Himmler
.
Chief Petty Officer Graham Jackson plays "Going Home"
as FDR's body is borne past in Warm Springs, GA,
where the President was scheduled to attend a barbecue
on the day he died. April, 1945.

Sergeant Stubby (1916 or 1917 – April 4, 1926), was the most decorated war dog of World War I and the only dog to be promoted to sergeant through combat. America 's first war dog, Stubby, served 18 months 'over there' and participated in seventeen battles on the Western Front. He saved his regiment from surprise mustard gas attacks, found and comforted the wounded, and even once caught a German spy by the seat of his pants (holding him there til American Soldiers found him).
.
Three days before his 19th birthday, George H.W. Bush
became the youngest aviator in the US Navy.

John Fitzgerald Kennedy
.
London Blitz
In a West London Library.

Before Radar: Japanese War Tubas
Actually acoustic locators,
designed to listen for plane engines.
.
Before Radar
Sound Mirrors

Before Radar
Parabolic Shell ~ Concrete sound mirror
.
| | |
| --- | --- |
| | |
| Putnam County Buzz Bomb Memorial at Court House. | Training |
.
| | |
| --- | --- |
| | |
| Messerschmitt Me 163 Komet - Rocket fighter | First manned rocket flight 1941 - Luftwaffe adopted 1944 |
.
| | |
| --- | --- |
| | |
| Service Respirator (Gas Mask) | Wellington Bomber |
.
| | |
| --- | --- |
| | |
| Hand Grenades | Parachutes |
.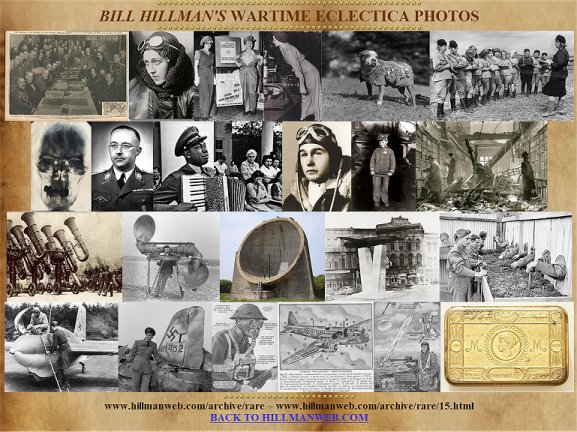 Click for full-screen collage
WEIRD CONTENTS
www.hillmanweb.com/archive/rare
BACK TO HILLMANWEB.COM