BILL HILLMAN'S
WEIRD AND WONDERFUL PHOTOS
WARTIME and MISC. ECLECTICA
www.hillmanweb.com/archive/rare/16.html

.
An aerial view of the WWI Loos-Hulluch
trench system in France.
British trenches are situated
on the left of the photo,
and German trenches on the right –
in the middle of the two is no man's land.
July 22, 1917

13 June 1944: An English brewery
donates a sizable amount of fresh beer
for the troops fighting in Normandy
and a unique delivery method is created,
strapping kegs to the underwings of Spitfires
being shipped to forward airfields.
Flying at 12 000 feet chills the brew to perfection
.
US Government mockups of how
Hitler could have disguised himself

A man having his nose measured
during Aryan race determination tests, 1940
.
The last Jew in Vinnitsa, 1941

Wedding rings from WW II concentration camps.
Each pair of rings represents a family,
a marriage, a couple. 1945
.
Allied soldiers mock Hitler
atop his balcony at the Reich Chancellery
1945

The end of WWII is celebrated in
Moscow's Red Square.
May 9, 1945
.
Leonard Siffleet, captured Australian commando
who fought in WWII,
moments prior to being beheaded
by a member of the Imperial Japanese Navy.
1943

The morning after a long night
awaiting a Viet Cong ambush that never came
40 miles East of Saigon, Vietnam,
1965
.
The Titanic in dry dock 1912

Carl Akeley posed with the leopard
he killed with his bare hands
after it attacked him, 1896
.
A beggar running alongside
King George V's coach. England, c. 1920

Animal Tamer Captain Jack Bonavita
sitting down with some of his cats, ~1870s
.
The Muffin man in 1910 London

The smallest shop in London –
a shoe salesman with a 1.2 square metre shoe store, 1900
.
| | |
| --- | --- |
| | |
| Testing football helmets in 1912 | A man trying to sell his car after losing all in the Great Crash of 1929 |
.
1865: Hanging hooded bodies of
the four Lincoln assassination conspirators

Loggers in California with the felled
giant 'Mark Twain redwood', 1892
.
A shot from atop Pittsburgh's Cathedral of Learning
during game 7 of the 1960 World Series.
The Pirates defeated the Yankees with a walk off
home run by Bill Mazeroski.
Photo was taken moments after the home run.

Iranian woman in the era
before the Islamic revolution
by Ayatollah Khomeini.
Iran, 1960
.
| | |
| --- | --- |
| | |
| NASA before Powerpoint | ISS Path with Moon in background. |
.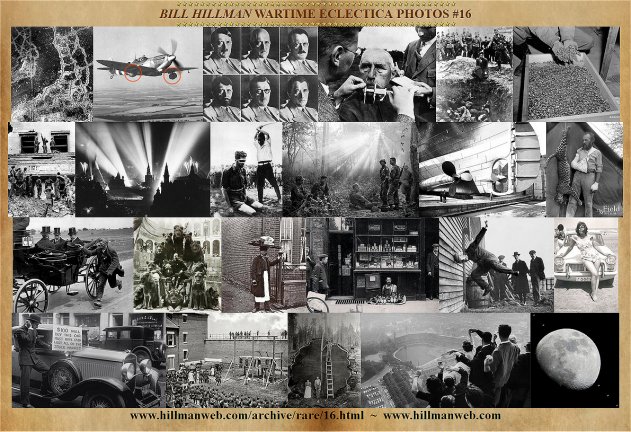 click for full size
WEIRD CONTENTS
www.hillmanweb.com/archive/rare
BACK TO HILLMANWEB.COM