BILL HILLMAN'S
WONDERFUL EXOTIC PHOTOS
China celebrates 60 years II ~ 1949 - 2009
October 1, 2009 Celebrations
www.hillmanweb.com/archive/rare/24.html

A float depicting China's space achievements
participates in a parade to mark the 60th China anniversary
in Beijing, China, Oct. 1, 2009

A man takes pictures of PLA aircraft performing a fly-over.
.
Dancers from the National Ballet of China perform the
"Red Detachment of Women" ballet
at Tanggu Great Theate.
This is a full-length Chinese ballet depicting a
peasant woman's journey into the PLA, combining
Western dance style with Chinese cultural elements.

Soldiers from the PLA Airborne Corps
massage their comrades during a break
at a training session at the 60th National Day
Parade Village in the outskirts of Beijing.
.
LA air force pilots salute
during a training session for the parade.

PLA armored vehicles rumble past
Tiananmen Square during the parade.
Tattoo artist Ren Liang
works on a tattoo.

A float representing modes of transport
passes by Tiananmen Square.
.
A banquet is held marking China's 60th anniversary on
Sept. 30, 2009, at the Great Hall of the People in Beijing.

Invited guests watch the parade down Changan Ave. in Beijing.
.
| | |
| --- | --- |
| | |
| Chinese military personnel march toward Tiananmen Square. | PLA tanks roll past Tiananmen Square. |
.
| | |
| --- | --- |
| | |
| Participants hold heart-shaped balloons during the parade | Early-warning PLA aircraft fly in front of a fighter bomber. |
.
Local residents watch the military parade on TV in a shopping
mall in Chengdu in southwest China's Sichuan province.

Participants prepare for an evening performance.
.
A man watches a huge overhead screen showing soldiers of
the PLA marching, at a shopping mall in Beijing.

Fireworks explode over Tiananmen Square
during an evening performance.
Fireworks light up Victoria Harbour in Hong Kong.
Large crowds gathered on the waterfront.

The Empire State Building is lit with red and yellow lights
to mark the anniversary on Sept 30, 2009 in New York.
.
A child watches as fireworks light up Victoria Harbour
to celebrate Chinese National Day in Hong Kong.
.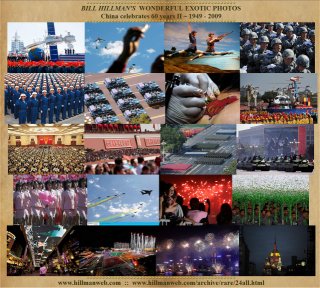 Click for full-screen mosaic
PHOTO ARCHIVE CONTENTS
www.hillmanweb.com/archive/rare
BACK TO HILLMANWEB.COM