THE HILLMAN 2013 ASIAN ADVENTURE
Section I: Malaysia
Page 33
www.hillmanweb.com/asia/malaysia33.html
Photos by Bill and Sue-On
(click to see full size)
Captions by Sue-On
(expanded from our FaceBook pages)

FAREWELL

A Last Minute Morning Trip to Sungai Petani
| | |
| --- | --- |
| = | |
| Election is definitely in the air! | HSBC Bank |

=

Bill... Him Big White Hunter!

Goldsmiths tend to stay together.
There are several shops within one block.
Not sure if this nice young man was working as securrity.

| | |
| --- | --- |
| = | |
| McDonald's...can't escape! | Waiting for McD's to open for breakfast ;-) |

=

How about KFC?!

Kerry had to go to the hardware
for a lawnmower.

=

Then it's off to Tesco for groceries.
Tesco is the British version of Costco...
a reminder of the British presence?

We buy fiddlehead ferns,
usually just the curled up bits.
Edah's brother picked a pile of these one morning,
close to their property...
The more tender bits are broken into sections
then fried - a quite delicate flavour.

Back to Yan to Prepare for Departure to China

=

The kids love it when Grandpa Edan
takes them for rides on HIS scooter.

This is the village tailor and his wife.
They spoke Cantonese and were quite happy to chat.
He can sew anything you want,
and did a great job with the alterations I needed.

=

The local gym.
There were workers there putting in an extension.

The local policemen make full use of the facilities.
Inspite of the looks of the building,
the facility was quite well equipped.

=

We should have gone
for a workout after a couple slices
of Zah's delicious corn custard cake;-)
Got the recipe!

Seems everyone loves plants.
There are shrubs and trees around the grounds,
but flowering plants like orchids
are often in hanging pots.
Some plants grow rampant,
so using pots restricts them somewhat.

| | |
| --- | --- |
| = | |
| Anyone for self administered reflexology? | Here are the instructions... |

=

Lovely looking yard around a local home.

Bird's Nests Hotel, built to attact the swallows.
Then the workers harvest the nests for the Asian market.

=

Jammin' like old times

Doing "Silver Threads and Golden Needles,"
which brought the family out dancing!

=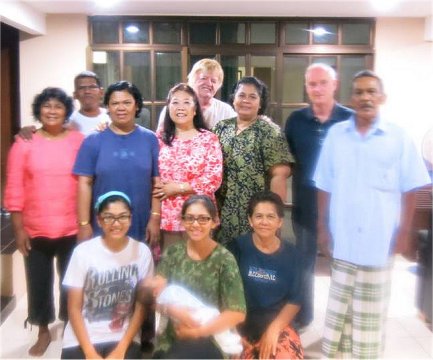 The Family Farewell at 4 am as we were being picked up by the hired van.
Heading to Penang airport for our flight to Guangzhou then Beijing!
The fuzzy pic is due to condensation on the camera lens -
a result of bringing it from our air conditioned bedroom to the outside heat and humidity.


BACK TO MALAYSIA/SINGAPORE



Hundreds of Photos with Captions







.
WebMaster: Bill Hillman
Bill and Sue-On Hillman Eclectic Studio
hillmanweb.com
Brandon, Manitoba, Canada
Copyright 2013