THE WALL
There's that wall, that damned steel wall.
The light is flickering dimly in the dark.
The dark is deeper than the light.
Can't we make it flare up briefly?
There's so little time.
In a moment we both will be gone,
and it will be too late.
I'll find a blow torch
Blast through,
Blast a little hole.
Then, however dimly and briefly,
I'll glimpse your face and hear your voice.
I'll listen if you talk to me,
Tell me how you feel, what you think,
What you love, what you fear.
Will you hear me, too?
Let's try.
It might fail.
But, again, maybe not.

CAL
Wait long enough
It will happen to you, too.
It's not death, I mean,
At least not exactly.
It's the partial death
When you've lost anticipation;
You've a Cessna on order
And you're not even thrilled.
There's no hump.
The airplane, think of that?
At twenty-four I'd been excited,
But now, at forty-one
Who'm I kidding?
Look at that young pair,
The boy with his arm round her shoulder.
I remember how that was;
Sure, I was young once,
I played ball a lot,
Knocked around in the bush.
But now I'm forty-one
And the fun's all gone.
I could do it all now,
But it was different then.
I had those humps.
Now one year's like another,
Something's gone.
I wish I knew what it was.
I wish I had it now.

THOSE WHO STILL REMEMBER
"And he and his kind will remain alive until night comes to all those
who fought and still remember the war in the Pacific."
Bruce Bahrenburg, The Pacific Then and Now

I saw the bombers, red suns on wingtips;
I saw the hangars buckle,
Saw the Arizona blazing at her moorings.
I saw it all, more than most.
It was my one brush with war.
And, later, like a White Russian emigre,
I recalled the old days from afar
With nostalgia that clings to me yet.
My best days were my first,
And they ended on that day of infamy.
I've been homesick ever since,
Wishing I could roll back time,
And be a sergeant's son again,
In that Pineapple Army.
But each day I must travel further away,
Leaving my own particular paradise far behind
As with others like me,
Who, longing for youth and remembering,
Pass through twilight. toward the dark.

MOTHER
Someday I won't have to go, I told myself.
She won't be watching
For me at the window.
Someone else will have her room,
Her chair,
Her place at the table,
Her old black coat,
And wear her dresses.
I won't have to go
And wish I could.

MY FATHER
My father was a soldier and taught me duty.
Duty was his word for love.
It's not mine, but I understand its worth
Better now than then.
Tall and straight he stood,
The campaign hat with gold and blue cord,
The stripes, the bars, the foureguerre.
I recall him with fondness and longing.
There were things I wished I'd told him,
Told him before he went away,
Never to return.
I've told others how proud I've been
To be a soldier's son,
But I never told him, and now I wish I could.

MY DOG
"Abraham breathed his last and died in a good old age,
an old man full of years, and
was gathered to his fathers."(Gen.25:8)
Gambol and roll little one;
Gambol and roll in your dreams;
Blind brown eyes no longer see;
Muzzle so grey, and frame so fragile.
Gambol and roll like you did long ago
In the rich, deep grass of Bell Green.
Our love, follow your dreams,
Into the dark night.
Gambol and roll,
Sleep, dream, and so goodnight.

SKIPPY
Go ahead, laugh.
How daft to love a skunk.
But I do and he's done.
He won't lie in my lap again,
Contented and asleep.
No more stiff-legged walk,
No tail curled high at the tip.
Goodbye, little one.
You were my very special joy,
My funny little furry friend
Who used to find sunspots on the rug
And turtle out with tiny legs outstretched.
I won't forget my clownish, merry elf,
Goodnight, sleep tight, my little one,
Good night,
forever,
Goodbye.
By the fence, beneath the trees,
Lies the little grave.
The autumn leaves fall over it, golden and brown.
And soon comes the snow.

GRIEF
Grief runs out,
Rage expires;
Memories block or fade,
And either way it's much the same.
There's duty, work,
The things that must be done.
Time doesn't heal.



REMEMBERING HAWAII
Something will be left
Something old and langorous,
Something hateful progress
Forgot or passed by.
I'll search till I find it,
Some quiet place forgotten,
A stretch of lonely strand
White in the moonlight,
And stroll alone in starlight
Yearning for the past.

OLD FRIEND
My old friend who crossed the seas with me and back again.
We were always different, you and I.
What I love you loathe; what thrills you is
ennui to me.
Not the same loves, not the same hates
not the same dreams.
But isn't that the way with old friends?
I could go. Yes, I could go and start life anew.
And being me, and stubborn, I'd like as not succeed.
But who am I deceiving?
That quarter century'd be there.
And sometimes in the night I'd hear you call
my name.

LOVE UNMANIFEST
Save your breath,
I've no taste for philosophy.
You're just saying "nonsense!"
When you say love's understood,
It need never be shown.
For to me,
Sceptic that I am,
There's nothing in this whole wide world
That can be taken in silence.
To me there is nothing
That is just understood.
So if it's love unrnanifest
Keep it!
It's nothing to me,
Nothing at all.


DEATH
The highway leads down,
Down past the Mall,
And on to the graveyard
Where someday my ashes will lie,
And Kate's beside me.
I haven't come to terms with it,
Being wholly unresigned,
For though life's hard
And full of disappointment,
Death's worse,
Being nothing.
Someone else will have this house,
Cars will cruise the road to Boissevain,
A friend or two will briefly recall,
Perhaps they'll laugh at me a bit,
My postures, funny hats.
And then, in time,
I'll be no more at all,
And life will go on
As if I'd never lived.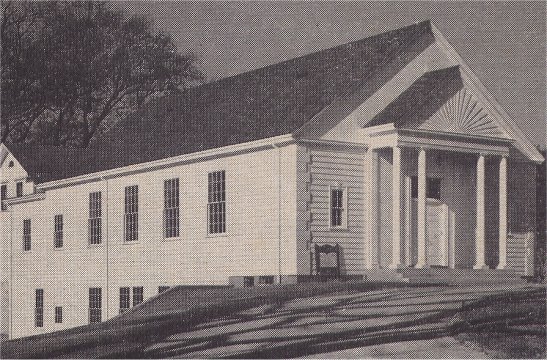 The Wellesley Community Universalist Church
Love is the doctrine of our church,
The quest for truth is its sacrament,
And service is its prayer;
To dwell together in peace,
To seek knowledge in freedom,
To serve mankind in fellowship.
---
| | |
| --- | --- |
| Lafayette | Brandon |


Photo Research, Transcription and Webpage Design by
William G. Hillman
Assistant Professor ~ Brandon University
www.hillmanweb.com/bu/research
Text compilation and supplementary notes by
Catherine Brockway
Copyright 2007
BACK TO THE BROCKWAY CONTENTS PAGE
BACK TO THE
HILLMAN BU EDUWEB RESEARCH PROJECT