What follows is one section of our online showbusiness biography - work in progress.
If our readers find anything of interest in these ramblings they are invited to come back often as
we are adding sections on an almost weekly basis.
If you have memories of these years we would love to hear from you.
Please write: hillmans@westman.wave.ca
Early '60s while taking Bachelor of Science at Brandon College I earned much of my tuition and spending money by working with a multitude of bands. This was a much more pleasant way of earning money than my summer jobs at the time which included working as a painter in the CE section at CFB Rivers, working the Strathclair area doing custom spray painting of barns, elevators, houses, rinks, etc., working for the Manitoba Telephone System for which I dug holes for telephone poles with a spoon and bar (no mechanical augers at that time), and working in my parents' Marshall Wells Hardware Store in Newdale.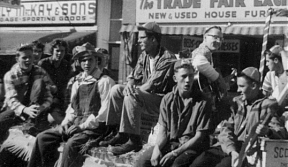 My first performance in Brandon. Brandon College Freshie Parade on Rosser Avenue. September 1961
---
The line-up of pre-Sue-On bands I worked with in the early '60s:
---
The Country Gentlemen:
See the Country Gentlemen page for the whole story and photos.
In 1962, the original Country Gentlemen had just broken up but Barry Forman had kept rights to the name. Barry and I were classmates in college and I had jammed with the band a few times -- so after the break up we put a line-up together to fullfill previous television and appearance contracts. During this time Barry and I also played many dance dates for which we picked up a variety of musicians.

Barry Forman (fiddle and accordian): went on to become a teacher and owner of a string of successful Ford dealerships

Larry Clark (drums and piano): A well-know local jazz musician who went on to become a lecturer at Brandon University, City Planner, Forest Ranger and a successful recording artist performing novelty forest ranger songs under the name Uncle Smokey.

Audry Lintott (singer): I had worked with Audrey in another band where she played piano.

Bill Hillman (lead guitar)
---




THE BLUE ANGELS
There are no known photographs of this group in action.

Doug Broland (drums), a budding artist who now owns a motorcycle shop north of Brandon.
Ken Blair (rhythm guitar) eventually became a school teacher and principal. Ken and I later worked together on Alan Jones' Free Spirit recording project.
Bill Hillman (lead guitar) Gretsch Nashville guitar through a Harmony amp

We played four-hour dances for which I picked guitar solos all night. It was the days of instrumental bands, a la Ventures, Fireballs, Shadows. Our venues included community halls and clubs, dances as far away as Saskatchewan and regular gigs at Riverside Hall, south of Brandon.

Later, our sound was beefed up considerably by the addition of Alan Jones, a blind physiotherapist who had come from England to take a position at the Assiniboine Hospital. Al played piano and sax. Both were hard to amplify however, as the PA systems of the time were quite primitive by today's standards. Al became an invaluable source of material as he had his brother in England send over the latest albums by the Shadows and later, The Beatles. Alan and I became close friends and later we were involved in many recording projects (The Free Spirit Album). Many years later, Alan helped line up our first tour of Britain and he often joined Kevin Pahl, Sue-On and myself on the UK stages. Alan and his wife Sky now live in Victoria where he has his own physiotherapy practice.
---


THE FLAMINGO COMBO

Murray Bateman (trumpet and arranger): now a successful Calgary architect.
Cyril Stott (saxophone): now owns a large farming operation north of Brandon - and is also father to Amanda Stott who has embarked on a very successful solo recording career.
Audrey Lintott (piano): at the time we didn't know that she sang... later we worked together on a series of TV shows where she was the featured singer.
Barry Norris (drums): an accountant
Bill Hillman (Gretsch Nashville guitar)
This was another great learning experience as we sat/stood behind old traditional style music stands and read everything from pre-arranged charts -- everything from old jazz standards to the instrumental hits of the day, leaning heavily to Bert Kaempfert hits.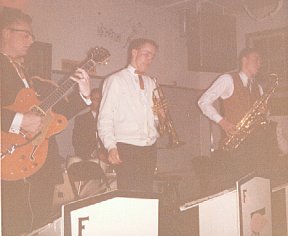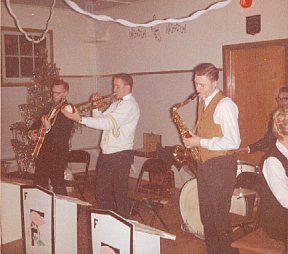 THE FLAMINGO COMBO at Park Community Centre, Brandon ~ Early '60s
Bill Hillman | Murray Bateman | Cyril Stott | Audrey Lintott | Barry Norris
---
THE SHADOWS -- LATER NAMED THE DOVERMEN
See the special section on this group

Delkeith Dubbin (rhythm guitar and vocals), John Bishop (bass), Warren Hannah (drums), Bill Hillman (lead) and later Cyril Stott (sax) from the Flamingo Combo.

In the early days of the British Invasion we played all over southern Manitoba and Saskatchewan, many Winnipeg community clubs and shows, toured as back-up band for teen star Bobby Curtola, backed the Newbeats, and opened for Roger Miller and The Everly Brothers.
During these College years I also freelanced with a variety of other groups: Neepawa Variatones, Lenny Fairchuck, Brandon College Jazz Combo, and various hometown bands back in Strathclair and area.


Sue-On and I married on August 29, 1966.
Sometime after the following gig we started rehearsing our duet act
and formed the Western Union Band the next year.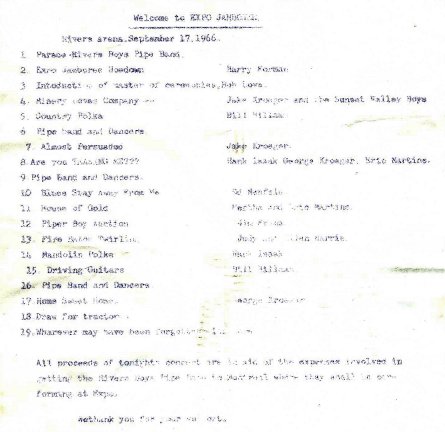 WELCOME TO EXPO JAMBOREE
Rivers Arena ~ September 17, 1966
"All proceeds of tonight's concert are in aid of the expenses involved in
getting the Rivers Boys Pipe Band to Montreal where they shall be performing at Expo 67.
We thank you for your support."
1. Parade - Rivers Boys Pipe Band
2. Expo Jamboree Hoedown ~ Barry Forman
3. Introduction of Master of Ceremonies, Bob Love
4. Misery Loves Company ~ Jake Kroeger and the Sunset Valley Boys
5. Country Polka ~ Bill Hillman
6. Pipe Band and Dancers
7. Almost Persuaded ~ Jake Kroeger
8. Are You Teasing Me? ~ Hank Isaac, George Kroeger, Eric Martins
9. Pipe Band and Dancers
10. Blues Stay Away from Me ~ Ed Neufeld
11. House of Gold ~ Hertha and Eric Martins
12. Piper Boy Auction ~ Jim Frane?
13. Fire Baton Twirling ~ Judy and Ellen Harris
14. Mandolin Polka ~ Hank Isaac
15. Driving Guitars ~ Bill Hillman
16. Pipe Band and Dancers
17. Home Sweet Home ~ George Kroeger
18. Draw for Tractor
19. What May Have Been Forgotten. . .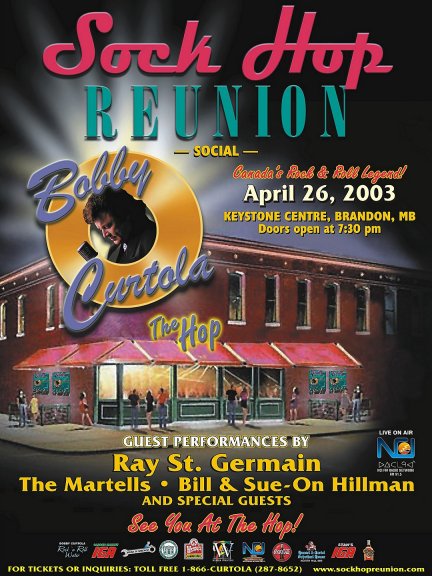 TO THE HILLMAN MUSICAL ODYSSEY CONTENTS
WebMaster: Bill Hillman
Bill and Sue-On Hillman Eclectic Studio
Photos and Text Copyright 2000/2004/2012