Hillman Guitar No. 21
ROLAND G-77 BASS SYNTHESIZER
Plus
SUE-ON'S VINTAGE SYNTHS & KEYS
www.hillmanweb.com/hillgt13a.html


.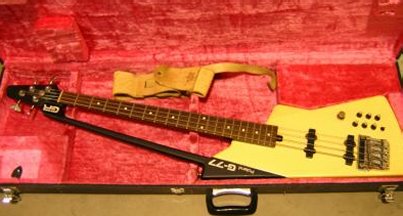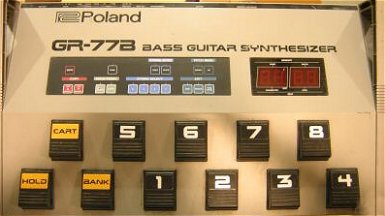 .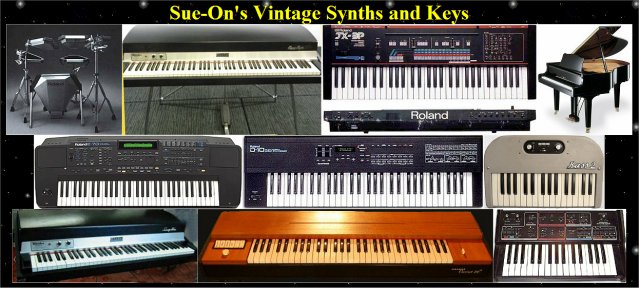 .
THE ROLAND G-77 BASS GUITAR WITH gr-77B SYNTHESIZER

I've been a longtime fan of the Roland synth guitars, so when an old G-77 Bass system -- 1985 guitar controller and floor synth -- appeared for a great price on e-Bay, this 20-year-old vintage synthesizer system was a "must have." This seemed to make a lot of sense since I had only one bass -- a Hofner Beatle Bass -- and I was reluctant to take it on the road. Over the decades the various 3rd members of our trio often played bass: Barry Forman (Yamaha), Kevin Pahl (numerous keyboard basses), Kerry Morris (Fender), son Robin (Fender). . . and Sue-On, when not playing drums, played a series of keyboard basses (see below: Hohner, Fender, Moog, Roland). We've used it numerous times without the synth floor module at our weekly Cantina jam sessions. It plays well.
.


PHOTO GALLERY & SPECS


The G-77 is the bass equivalent of the G707 guitar.
It also has a stabilizer bar and
originally came in Silver, Black, or Cream.
Body: Ash or Alder
Finish: Acrylic (natural)
Neck: Maple
Fingerboard: Rosewood
Frets: 21
Bridge: Adjustable
Nut: Polycarbonate
Tuning Machines: Gotoh
Pickups: Two single-coils
Scale: 34"
Truss Rod: Single, adjustable
Neck Width: 1 5/8 "
Body Width: 9 "
Body Depth: 1 3/4 "
Overall Length: 46 "
Weight: 9 lbs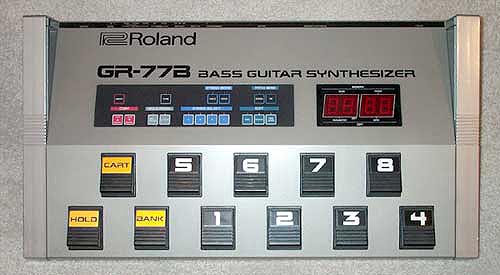 The GR-77B is a fully analog 4 voice polyphonic synthesizer and
shares the same internal electronics as the Roland JX-8P keyboard.
The synth can store 64 sounds internally (in 8 banks of 8).
Another 32 sounds can be stored and retrieved externally in proprietary Roland PC-16M memory cartridges.



The inputs on the back of the unit are as follows (from left to right):
POWER - Power Switch (top)
AC INLET - Power Cord (bottom)
MEMORY CARTRIDGE - M-16C Memory card holder
GUITAR INPUT - Guitar/Bass input connector
PROGRAMMER - PG-800 programmer connector
MIDI OUT - MIDI OUT connector
MEMORY PROTECT - Memory protect switch
PITCH - Pitch control jack (optional external pedal)
VCF - VCF control jack
GUITAR OUT - Guitar/Bass magnetic pickup output jack
OUTPUT - Line out jacks
LEVEL - Level selector switch
OUTPUT (2) - XLR output connectors

Brochure



.

Sue-On's
ROLAND DIGITAL DRUMS
(Released in the mid '80s)


DDR-30 DEMO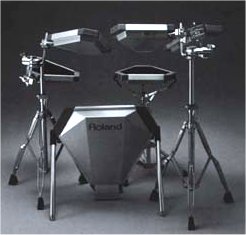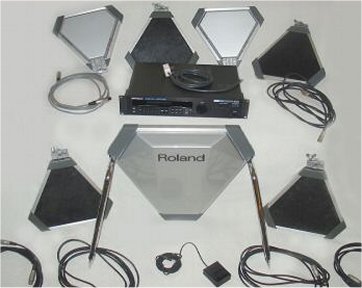 In the '80s and '90s we were some of Roland's best customers. We had worked as a trio for most of our gigs through the years so it seemed natural to beef up our sound a bit with synthesizers. I turned to a Roland G-707 synthesizer guitar and Sue-On added a stack of Roland synth keyboards for the right hand plus a small Moog for the bass sounds from her left hand. Since she doubled on drums it seemed natural to augment her drum kit with the Roland DDR-30 digital drums module with pads for bass, toms and snare. Unhappy with the feel of the digital snare drum pad she soon replaced it with her acoustic Ludwig snare (miked). We also programmed a series of digital drum machines for backing in the events that we played as a duo. Eventually we tired of all the progamming and digital sounds and gradually returned to our original pre-synth instrument line-up.

DDR-30 specs: "The Roland digital drums system consists of the DDR-30 digital drums module and two kinds of dynamic pads. Basic sounds of the DDR30 are PCM recorded bass, snare and 4 toms (each with 4 different PCM digital sounds). Up to 8 kinds of modified preset sounds per voice can be stored in internal memory and 64 more on ram cartridge. Midi in, out and through connectors are provided as well as individual and mix outputs.

"The DDR30 is incredibly versatile, the samples are a great blend of purely acoustic and electronic (there is an electronic kick that can be modified to be anything from a cheesy simmons thing to a deep 808). It's also great for recording percussion, hook up a pad (in fact a microphone will do) and beat the hell out of it. Record the MIDI out in to your sequencer and admire your work! It beats the hell out of trying to do fills tapping those little crappy buttons on a drum machine, or a keyboard."
---
Sue-On's Keys
What are now considered
Vintage Keyboards
---
Roland E-70

Roland D-10

Roland JX-3P
---
Sue-On's Keys
Before the Synths
---
Fender Rhodes 88
(Keyboard later split - Left hand through bass amp - Right through Peavey & PA)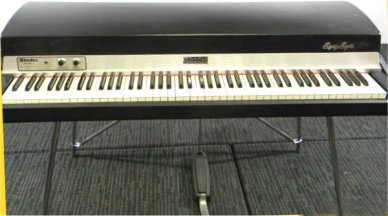 Fender Rhodes 73


Hohner Clavinet


Hohner Bass 2 | Moog MG-1
Used as Keyboard Basses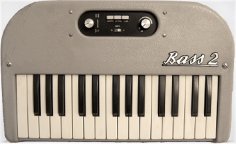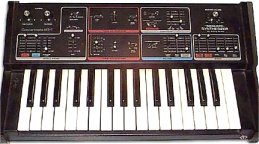 Yamaha Grand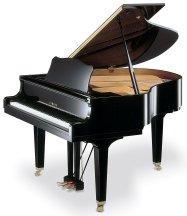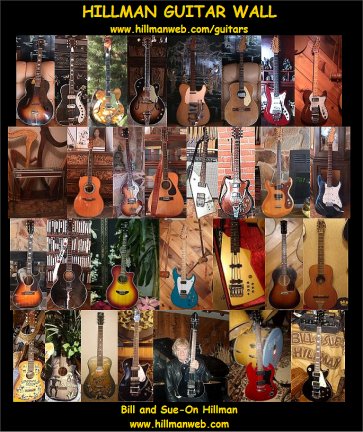 Hillman Guitar Contents Page
.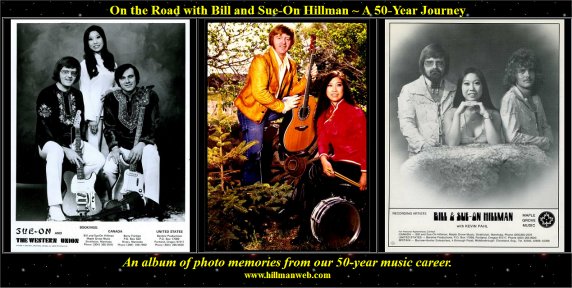 HILLMAN ARCHIVE MONTAGE GALLERY
.



All Original Material Copyrighted 2001/2009 /2012 Bill Hillman
WebMaster: Bill Hillman