BILL AND SUE-ON HILLMAN
Present

DAVID WESTFALL
NORTHERN ODYSSEY OF A TRAVELLING PROFESSOR
Photo Journal II
Continued from Part I
www.hillmanweb.com/puk/westfall/dw02.html


---
ST. THERESA POINT
---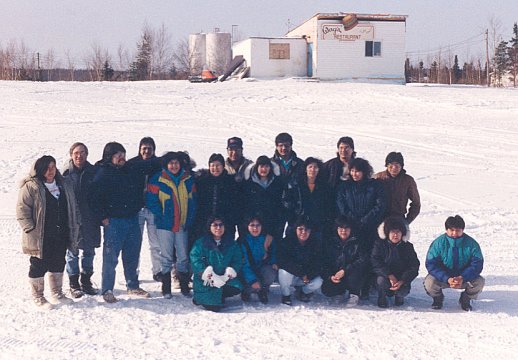 One of my very favourite BUNTEP classes at St. Theresa Point.
I was the coodinator from 1991 to 1994 and taught some courses there.
I also supervised the students' field experience (student teaching practice)
in the three Island Lake communities.
---

This is one of me waiting for my boat taxi ride to Wasagamack,
one of the places served by the BUNTEP centre at St. Theresa Point in the early 1990s.

---
| | |
| --- | --- |
| Bertha Flett Shared the Taxi | STP Spring Breakup Ride |
In the early 1990s, we had to take a boat taxi pulled by a snowmobile to get to the post office in the Bay
(Hudsonís Bay Company store) on St. Mary Island at St. Theresa Point.
One of our students, Bertha Flett, shared this trip during spring break up.
A minute later the Skidoo broke through the ice, the driver hopped off and retrieved the machine.
We resumed the ride, flying over cracks in the ice, and bouncing from floe to floe
until we reached the ten-foot plank that we had to walk to get to the shoreline.
---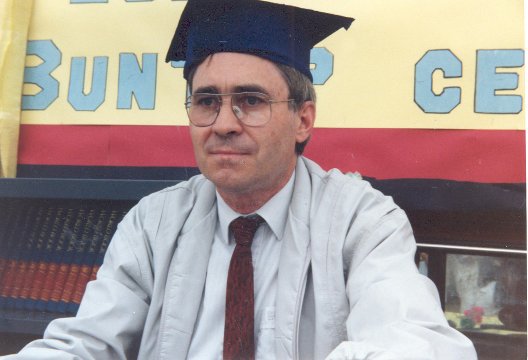 Professor Westfall on BUNTEP Parade Float at St. Theresa Point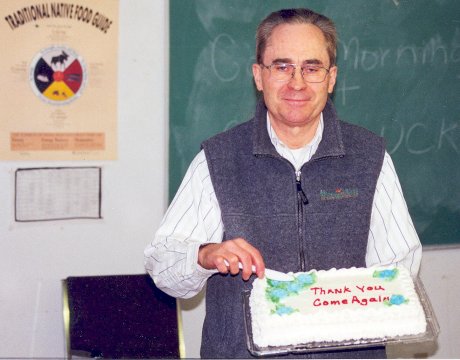 April 2000 ~ The traditional "going-away" cake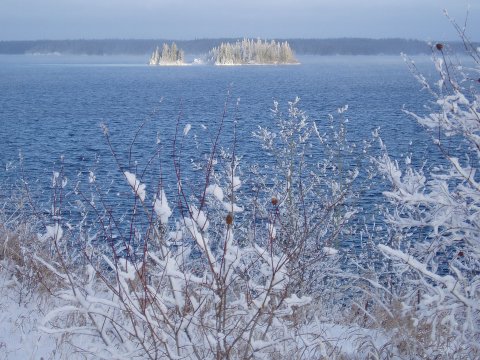 Mission Point
---
PUKATAWAGAN
---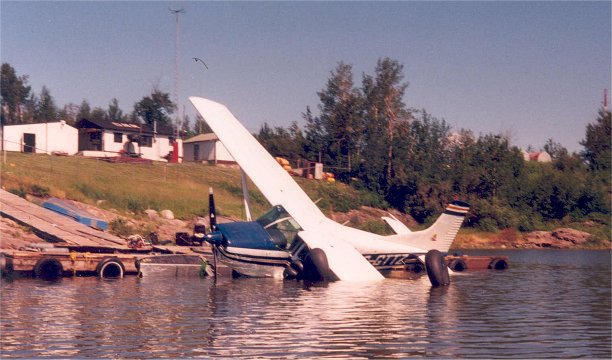 Our float plane had a leak in a pontoon at Pukatawagan but it was soon repaired.
The Churchill River is punctuated at intervals by some creative lichen scraping.
This example is downriver from Pukatawagan.

---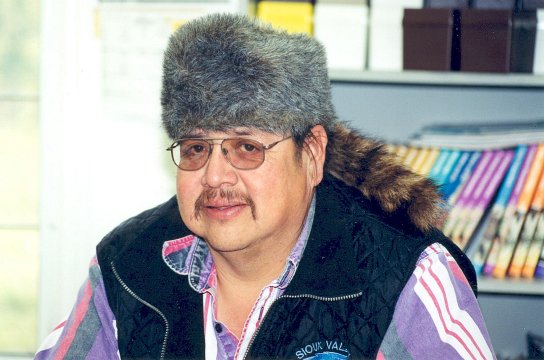 RodTaylor - SiouxValley BUNTEP
Wearing a Sidney Castel "Beeper Hat"
See the CBC interview with Sidney at the Sidney Castel Tribute Site

---
PAGE ONE OF THIS PHOTO JOURNAL IS LOCATED HERE
---
Back to the David Westfall Project
www.hillmanweb.com/puk/westfall
Visit All The Hillman Pukatawagan Features at:
www.hillmanweb.com/puk
BACK TO THE PUK CONTENTS PAGE
EduTech Research and Creation by
William Hillman
Assistant Professor ~ Faculty of Education ~ Brandon University
2007/2014