Bill and Sue-On Hillman: A 50-Year Musical Odyssey
www.hillmanweb.com/book :: Rock Roots and Influences

PAGE 3 :: SCRAPBOOK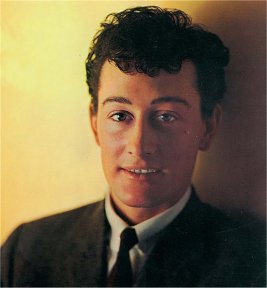 www.hillmanweb.com/rock/holly


BUDDY WRITES HOME FROM NASHVILLE
Buddy Holly wrote this letter to his Parents, from Nashville, in November 1956.
This was right after the DJ Convention and prior to a recording session at the Bradley Studios.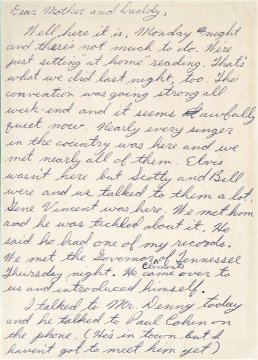 .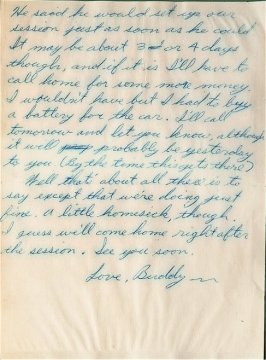 BUDDY HOLLY RECORDING SESSION
15 November 1956 Music City Recording, 804 16th Ave. South, Nashville 3, TN
Harold Bradley [gt], Grady Martin [gt], Don Guess [bass], Farris Coursey [drums],
Floyd Cramer [piano], Dutch McMillin [sax]. Producer: Owen Bradley
042 101033/NA 9586 ROCK AROUND WITH OLLIE VEE 9-30434
043 101034/NA 9587 MODERN DON JUAN 9-30166/DL 8707 VL 73811 CB 20101
044 101035/NA 9588 YOU'RE MY ONE DESIRE 9-30166/DL-8707 VL-73811 CB 20101
GENE VINCENT REMEMBERS

Here's a snippet of Mick Farran interviewing Gene, who was recollecting the encounter,
"So "Be Bop-A-Lula" came out and for three weeks nothing happened. Then some man in Baltimore started playing it and that bloody thing hit. It went to number 1 in every bloody place you went. But I didn't know how to handle a hit. I was only a child … a boy.

I went to Nashville. I walked in the door of the Prince Albert Hotel and had on a pink suit with a wine-coloured shirt. See, they hated me right from the start, cause I had the number one record in town. But I didn't know that at the time. So I went to this big disk-jockeys' convention in town and a person was playing there by the name of Bill Monroe. He had a bluegrass band. And everybody was sitting there. Then Faron Young got up and said: "There's this fella in town; one of these rock and roll people who's only going to last a year, if he lasts that long. But by the way he sings, he won't." And then he said: "And there sits the boy. He might sing in a minute. His name is Gene Vincent." And man, I snuck out that door … crawled out of there. He brought me down so bad! So I went back to the hotel and there was this fella sitting there in the lobby who came up to me and said, "Excuse me, can I get your autograph?" And I said, "Haven't I seen you someplace before?" And he said, "Yeah, my name's Buddy Holly." He had out a record then called "Blue Days, Black Nights". It was a fabulous record."

~ David Friedman
.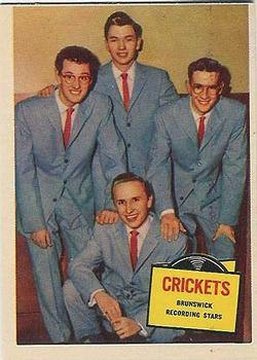 ---

Norman Petty Recording Studio, which now serves as
a musuem to Petty and early rock 'n' roll, sits on 7th Street in Clovis.

CLOVIS - Norman Petty spent much of his life making rock 'n' roll history in Clovis. Now, 36 years after his death, Petty's friends and fans are doing what they can to keep that legacy alive. A Clovis native, Petty began his long career as a musician, songwriter, producer and recording engineer in 1953. He began running his own recording studio in Clovis in the early 1960s. Over the course of his career, he worked with legendary rockers who included Buddy Holly, Buddy Knox and the Fireballs. The non-profit group Friends of Norman Petty Inc. was formed last September to help maintain Petty's studio in Clovis, which was converted into a museum after his death in 1984 by his wife Vi Petty.

---

Young Buddy
.


Buddy Holley meets Elvis - Fair Park Coliseum, Lubbock, TX
June 3, 1955 ~ Bob Montgomery looking on.
.
| | |
| --- | --- |
| Buddy and the Everly Brothers | Buddy |
.
| | |
| --- | --- |
| Buddy with his Gibson | Buddy and J.B. Mauldin |
.
| | |
| --- | --- |
| Buddy Holly Trading Card | Buddy in the UK - 1958 |
.
| | |
| --- | --- |
| Taping an interview | Buddy and Jerry Allison Backstage |
.
| | |
| --- | --- |
| Ravin' On with the Crickets | Sonny Curtis, Buddy, Don Guess, Dean Curtis |
.

.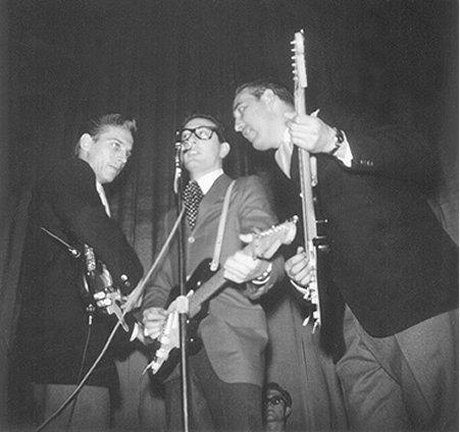 Buddy with Waylon Jennings, Carl Bunch, Tommy Allsup - Crickets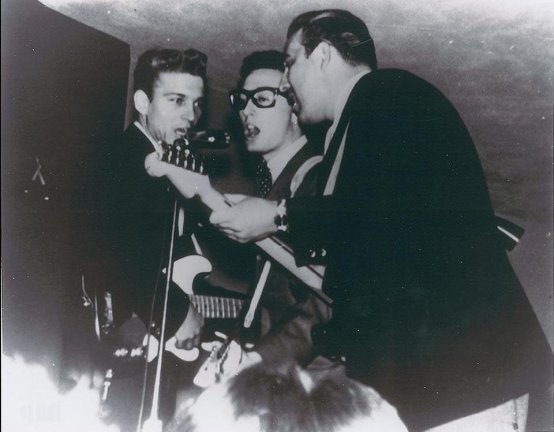 Waylon Jennings, Buddy Holly, and Tommy Allsup.
Winter Dance Party tour at the Fiesta Ballroom, Montevideo, Minnesota. January 27, 1959.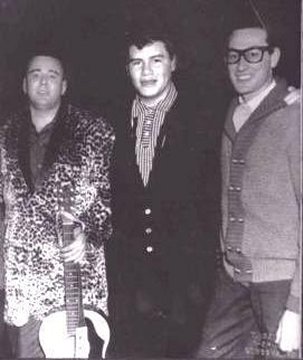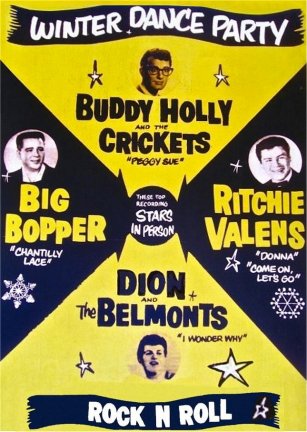 The Big Bopper and I won a coin toss to fly to our next gig with Buddy Holly.
When I heard the cost of the flight was $36 -- a whole month's rent for my parents -- I gave my seat to Ritchie Valens.
And, unlike everyone else in the room for that coin toss, I lived to tell about it. ~ Dion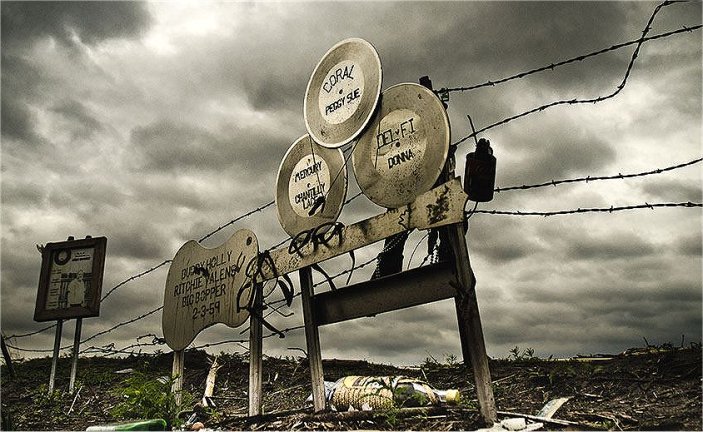 The Crash Site Today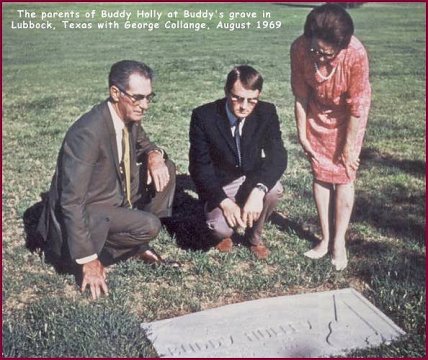 REMEMBERING BUDDY HOLLY
.
THE NORMAN PETTY ROCK 'N' ROLL MUSEUM :: CLOVIS, NM


BILL and SUE-ON HILLMAN:
A 50-YEAR MUSICAL ODYSSEY
www.hillmanweb.com/book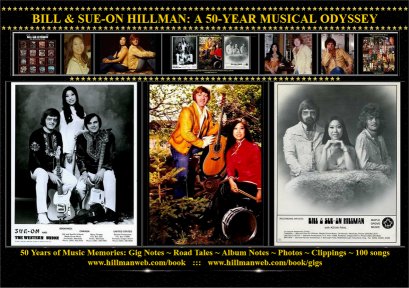 BACK TO THE HILLMAN ECLECTIC STUDIO
Copyright 2014/2020
Bill and Sue-On Hillman e-Mail