Bill and Sue-On Hillman: A 50-Year Musical Odyssey
www.hillmanweb.com/book :: Rock Roots and Influences

PAGE 3 :: SCRAPBOOK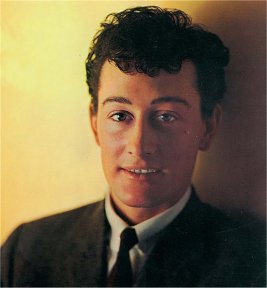 www.hillmanweb.com/rock/holly


BUDDY WRITES HOME FROM NASHVILLE
Buddy Holly wrote this letter to his Parents, from Nashville, in November 1956.
This was right after the DJ Convention and prior to a recording session at the Bradley Studios.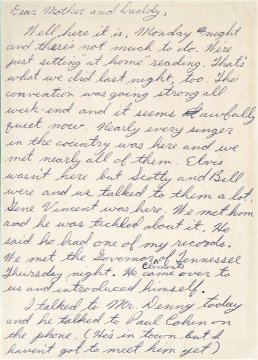 .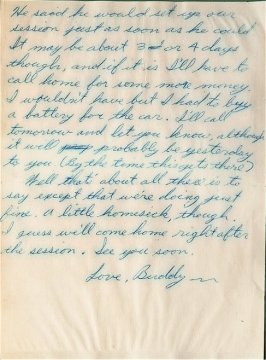 BUDDY HOLLY RECORDING SESSION
15 November 1956 Music City Recording, 804 16th Ave. South, Nashville 3, TN
Harold Bradley [gt], Grady Martin [gt], Don Guess [bass], Farris Coursey [drums],
Floyd Cramer [piano], Dutch McMillin [sax]. Producer: Owen Bradley
042 101033/NA 9586 ROCK AROUND WITH OLLIE VEE 9-30434
043 101034/NA 9587 MODERN DON JUAN 9-30166/DL 8707 VL 73811 CB 20101
044 101035/NA 9588 YOU'RE MY ONE DESIRE 9-30166/DL-8707 VL-73811 CB 20101
GENE VINCENT REMEMBERS

Here's a snippet of Mick Farran interviewing Gene, who was recollecting the encounter,
"So "Be Bop-A-Lula" came out and for three weeks nothing happened. Then some man in Baltimore started playing it and that bloody thing hit. It went to number 1 in every bloody place you went. But I didn't know how to handle a hit. I was only a child … a boy.

I went to Nashville. I walked in the door of the Prince Albert Hotel and had on a pink suit with a wine-coloured shirt. See, they hated me right from the start, cause I had the number one record in town. But I didn't know that at the time. So I went to this big disk-jockeys' convention in town and a person was playing there by the name of Bill Monroe. He had a bluegrass band. And everybody was sitting there. Then Faron Young got up and said: "There's this fella in town; one of these rock and roll people who's only going to last a year, if he lasts that long. But by the way he sings, he won't." And then he said: "And there sits the boy. He might sing in a minute. His name is Gene Vincent." And man, I snuck out that door … crawled out of there. He brought me down so bad! So I went back to the hotel and there was this fella sitting there in the lobby who came up to me and said, "Excuse me, can I get your autograph?" And I said, "Haven't I seen you someplace before?" And he said, "Yeah, my name's Buddy Holly." He had out a record then called "Blue Days, Black Nights". It was a fabulous record."

~ David Friedman
.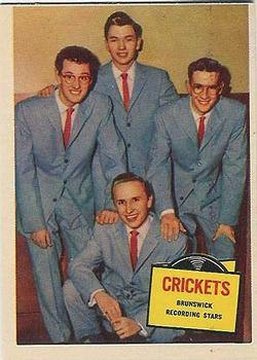 Young Buddy
.


Buddy Holley meets Elvis - Fair Park Coliseum, Lubbock, TX
June 3, 1955 ~ Bob Montgomery looking on.
.
| | |
| --- | --- |
| Buddy and the Everly Brothers | Buddy |
.
| | |
| --- | --- |
| Buddy with his Gibson | Buddy and J.B. Mauldin |
.
| | |
| --- | --- |
| Buddy Holly Trading Card | Buddy in the UK - 1958 |
.
| | |
| --- | --- |
| Taping an interview | Buddy and Jerry Allison Backstage |
.
| | |
| --- | --- |
| Ravin' On with the Crickets | Sonny Curtis, Buddy, Don Guess, Dean Curtis |
.

.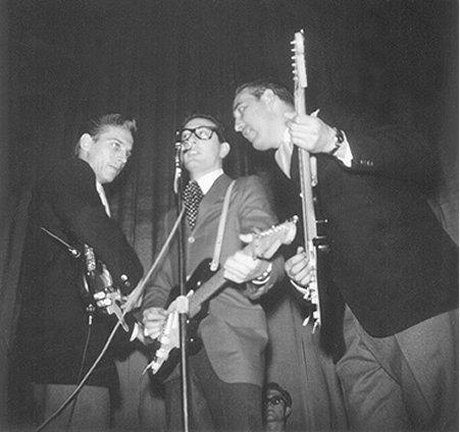 Buddy with Waylon Jennings, Carl Bunch, Tommy Allsup - Crickets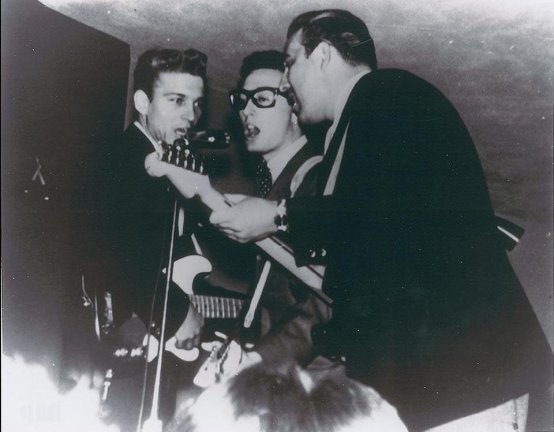 Waylon Jennings, Buddy Holly, and Tommy Allsup.
Winter Dance Party tour at the Fiesta Ballroom, Montevideo, Minnesota. January 27, 1959.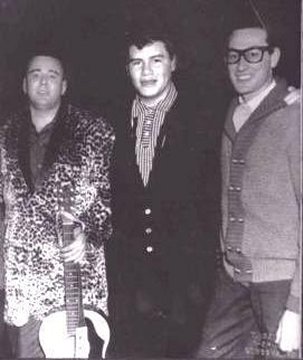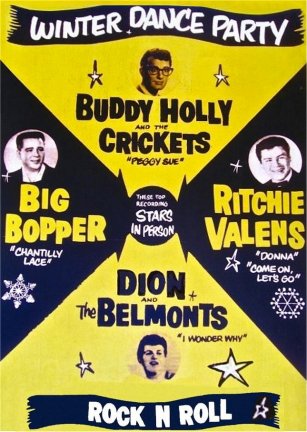 The Big Bopper and I won a coin toss to fly to our next gig with Buddy Holly.
When I heard the cost of the flight was $36 -- a whole month's rent for my parents -- I gave my seat to Ritchie Valens.
And, unlike everyone else in the room for that coin toss, I lived to tell about it. ~ Dion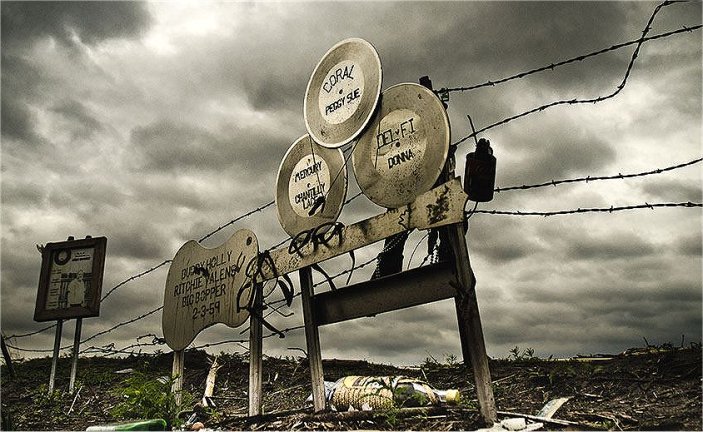 The Crash Site Today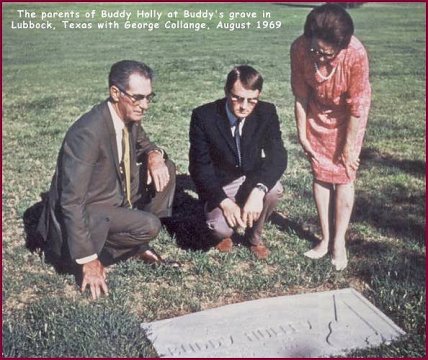 REMEMBERING BUDDY HOLLY
.
THE NORMAN PETTY ROCK 'N' ROLL MUSEUM :: CLOVIS, NM


BILL and SUE-ON HILLMAN:
A 50-YEAR MUSICAL ODYSSEY
www.hillmanweb.com/book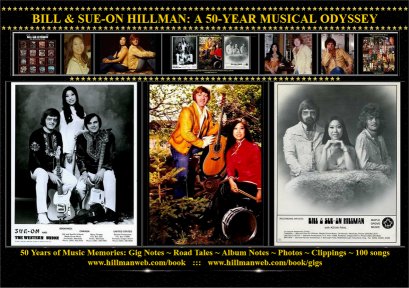 BACK TO THE HILLMAN ECLECTIC STUDIO
Copyright 2014/2018
Bill and Sue-On Hillman e-Mail