BILL and SUE-ON HILLMAN:
A 50-YEAR MUSICAL ODYSSEY

www.hillmanweb.com/book :: www.hillmanweb.com/book/gigs


Presents
ON THE ROAD WITH THE FEDERAL GRAIN TRAIN SHOW
The Touring Years ~ 1966-1973

PRIME MINISTER JOHN DIEFENBAKER ON OUR STAGE
Prince Albert Exhibition :: 1971
www.hillmanweb.com/train/dief.html
On Stage with Dief . . . Hail to the Chief
Excerpt from our Gig Notes Book:
Part IV: Prairie and USA Tours and Sessions

For six weeks every summer each show held surprises. During one of our Prince Albert shows in 1971, former Prime Minister, John Diefenbaker -- a PA native -- was escorted through the crowd to our stage. A musician buddy, Jack Dawes, sent a photo of me pulling the old gentleman up onto our stage. Sadly this gem of a picture has gone missing -- but we still have some grainy images from our 35mm slide collection.

Russ gave the appropriate introductions and the two carried on with witty patter. Russ then sang a song he had written in tribute for Dief: "Hail to Prince Albert."

Russ had been a major PC force in Manitoba in the '50s so they had much in common. Although we lost the best shot of Dief and me on stage, we do still have the following slides as well as the photos we took while at the Diefenbaker home.


The Hillmans and Russ visit the Diefenbaker home in Prince Albert
Warming up the crowd before we bring on Sue-On.
The crowds were pretty wound up before we introduced Russ.
Then the audience was even more excited
when John Diefenbaker made his way to our stage.

John Diefenbaker makes his way through the huge exhibition crowd


Russ Gurr warming up in our tour bus
while we are opening the show out on stage
| | |
| --- | --- |
| Bill and Russ assist Dief up onto our stage while Sue-On looks on. | Russ introduces Dief to thunderous applause |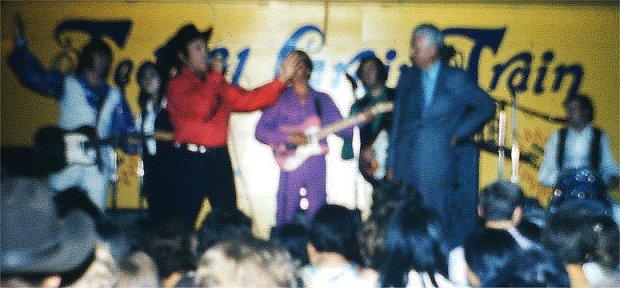 We go into the Tribute song that Russ wrote for John Diefenbaker: Hail to Prince Albert
The Band: Bill and Sue-On ~ Jake Kroeger ~ Barry Forman ~ Kerry Morris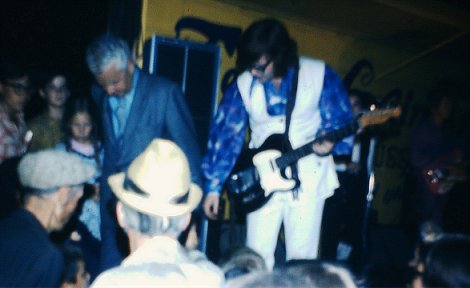 Bill assists PM Diefenbaker off the stage
HAIL TO PRINCE ALBERT
By Russ Gurr

Oh the great western plains
Have a story to tell
From the North West Rebellion
To the fate of Riel
But the one we tell now
Of a much different quest
That of John Diefenbaker
From out of the West

From the boy in Prince Albert
To the law of the land
To the prisoners defence
He would walk to the stand
But his sights were much higher
There was greatness somewhere
And on Parliament Hill
The Prime Minister's chair

Now he tells his own story
How he tasted defeat
Knew the path of a member
Was not always sweet
But he'd try once again
And they gave him the lake
And his first seat in Parliament
And history to make.


Now with Dief it was action
He went out on the street
And he dug up the Tories
A long time asleep
Yes, he walked with his friends
Oh the plain common man
And they cried Diefenbaker
All over the land

He abolished the Arrow
Too costly he said
Then he salvaged the farmers
Muse save them instead
He adjusted the buck
So our neighbours could buy
And he said keep that hydrogen
Out of our skies

He would stand all alone
When his friends passed him by
Any shadow on Parliament
He'd hold in despise
His famed bill of rights
Is a witness to show
Packing halls and arenas
Wherever hee goes.

Now he's free from the reins
And looks in on the scene
Though he still stands and fightss
For his country and Queen
You can scheme and connive
But you can't hurt his name
For the word Diefenbaker
Is already fame
BACK TO THE CONTENTS PAGE
FEDERAL GRAIN ROAD SHOW YEARS :: 1966-1973
www.hillmanweb.com/train
WebMaster: Bill Hillman
Bill and Sue-On Hillman Eclectic Studio
Photos and Text Copyright 2016