Bill Hillman Tracks
THE BEATLES IN HAMBURG
53°37'55"N 09°59'22"E
Early '60s ~ Part V: Fab Four Hangouts
PART I: Gigs | PART II: Digs | PART III: Echoes | PART IV: Reeperbahn | PART V: Hangouts
THE BEATLES' HAMBURG: CONTENTS
.
Main source for photos on this page not taken by Bill Hillman is the With The Beatles site.
Quotations are from The Beatles Anthology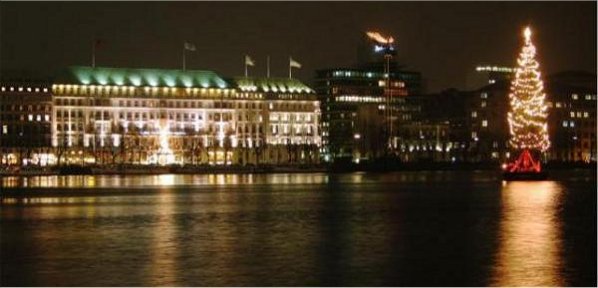 ---
ARRIVALS/DEPARTURES
---
In August 1960 the Beatles arrived from Liverpool after a long trip in an overloaded, beat-up Austin Minibus.

Future arrivals and departures were through Hamburg Airport and the Main Railway Station.
| | |
| --- | --- |
| | |
| Hamburg Airport | Main Railway Station |
| | |
.
---
PUBS AND RESTAURANTS
---

The Paradieshof at Große Freiheit 27-33 was a popular hangout for British musicians.
In the late '80s this building along with the remains of the neighbouring landmark clubs, including the Star-Club,
were replaced with new buildings along with a new passageway.

.

Gretel & Alfons,

Gretel & Alfons at Große Freiheit 29 was the favourite pub of Star-Club musicians and it is still in operation.

Blockhütte, Große Freiheit 66

The Blockhütte at 66 Große Freiheit right next to the Indra was also one of the favorite bars of the area's musicians until it was torn down in 1982. The lot now contains tables and chairs for summer overflow patrons of the Indra.


The Frikadelle

PAUL: Harald's was on the Große Freiheit. They would serve hamburgers called Frikadellen. We could never understand why they didn't call them 'hamburgers' in Hamburg.
.
The Schmuckstraße was once known as the Chinese street were many Chinese seamen and harbor workers had lived with their families. Near the end of WWII they were deported to labour camps or evacuated Hamburg. By 1960 Chinese had returned to other parts of the city. Today there are numerous Chinese restaurants operating in other parts of St. Pauli.

PAUL: If you went round the back there was Chug-ou. It was a Chinese Place just three hundred yards up the road, slightly off the Reeperbahn. Its great attraction was pancakes -'Pfannkuchen mit Zitrone bitte, und Zucker' - pancakes with lemon and sugar. It was the only place that sold them; everywhere else was 'foreign food' for us.

There is a plaque across from the Kaiserkeller with the following inscription:

Die "Chinesenstraße" Schmuckstraße

Für die harten Arbeiten an den Maschinen und als Schiffsköcher oder Hilfsstewards wurden auch auf deutschen Dampfschiffen immer häufiger Chinesen eingesetzt. Seit jener Zeit siedelten sich Chinesen in der Nähe des Hamburger Hafens an,nicht in großen China-Towns wie in Amerika, sondern in einer Seitenstraße der Großen Freiheit, der Schmuckstraße, in deren Häusern entstanden chinesische Speiselokale, Läden und Logierhäuser. Diese Chinesenstraße gab es in der NS-Zeit noch immer. Der Einsatz von Chinesen auf britischen Kriegsschiffen bot den Nazis aber den Vorwand, den Chinesen Spionage zu unterstellen. Am Morgen des 13.Mai 1944 wurden 160 verbliebene Chinesen verhaftet und ins Arbeitslager "Langer Morgen" in Wilhelmsburg deportiert.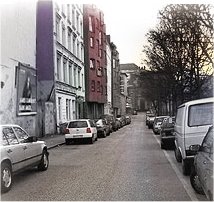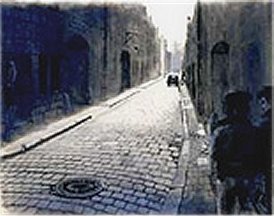 Current photo and Klaus Voorman ink drawing of Schmuckstraß
.

---
50 YEARS LATER
---
Today the notorious Reeperbahn has been taken over largely by tourists. Most of the wild and wicked sex clubs and brothels have been replaced by musical theatres, much tamer clubs, sport casinos, and Internet cafes and American fast food chains such as Macdonalds, KFC, and Subway, as well as fish & chips, curry, sushi, hot dog, Chinese, Indian, and middle eastern restaurants.
---
FAVOURITE BEATLES SPOTS
---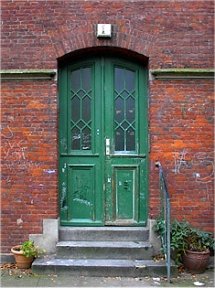 The door at Jäger-Passage Wohlwillstraße 22 is one of the most famous doors in rock 'n' roll history
thanks to the John Lennon pose used on his Rock 'n' Roll Sessions album.
This was taken by Jürgen Vollmer around the time the Beatles were playing at the Top Ten club.
.
.
Beneath the beautiful door at Moorweidenstraße 18,
Jürgen Vollmer photographed Astrid Kirchherr with Stuart Sutcliffe.


St. Joseph Church at Große Freiheit 41-43
Surrounded by raunchy music and sex clubs.
.

The tailor shop that made the Beatles'
leather suits was located at Thadenstrasse 6


The Beatles bought their cowboy boots
at Paul Hundertmark's at Spielbudenplatz 9
.

In the '60s Astrid Kirchherr, Jürgen Vollmer & Klaus Voormann
studied photography and commercial art at the Meisterschule für Mode,
Textil, Grafik und Werbung Master Craftspeople College
for Fashion, Textile, Graphics, and Advertising.
It is now called the University of Applied Sciences.

When Stuart Sutcliffe became engaged to Astrid Kirchherr
and left the Beatles to stay in Hamburg,
he studied at the University of Fine Arts under Professor Paolozzi.
It is located at Lerchenfeld 2.
His artwork has became quite popular in recent years.
GEORGE: They were all very nice people and it was really good for us to meet them, because they were more cultured than the locals. They had a great appreciation for us, but they were very artistic and interesting in themselves. They were the arty crowd around Hamburg. We started hanging out with them. We learnt more from them at that point than they learnt from us, including style. Klaus, Astrid and Jürgen became real friends.

GEORGE: Stuart was engaged to Astrid and he decided that he was going to leave the band and live in Germany because Eduardo Paolozzi was coming to be the lecturer at Hamburg Art College.

KLAUS: Every second of Stuart's short time he was doing something. He saw 10 times more than other people. His imagination was fantastic. His death was a tragedy. He would have done so much.
---
ON THE WATERFRONT
---
...
Many Saturday night club revellers and Reeperbahn musicians
made it a tradition to gather at the St. Pauli Fischmarkt on the harbour.
.

The Elbe riverfront and the Landungsbrücken Piers
appealed to young homesick musicians from Liverpool.
They often strolled along the river bank,
took Grosse Hafenrundfahrt harbour boat tours and
visited landmarks such as the British Mariner's Mission.


The Beatles were often guests at the British Mariner's Mission
which was located at Johannisbollwerk 20.
They appreciated the British atmosphere,
and even spent Christmas of 1962 there.
Beside the Mission is the Gustav Adolf Church -
the oldest Seaman's Church of Hamburg, built in 1907.
.
| | | |
| --- | --- | --- |
| | | |
| The Brodersweg | | The Außenalster seen from the east shore. |
| | | |
Astrid Kirchherr took some of her first Beatles photos on the Brodersweg
in Hamburg's Rotherbaum district on the west shore of the Außenalster,

Jürgen Vollmer also took photos of George Harrison at the nearby steamer jetty (Rabenstraße stop).
---
---
A DAY TRIP
---
There are more than 2100 animals in the famous Hagenbeck zoo. Carl Hagenbeck exhibited seals on Hamburg's Reeperbahn for the first time in 1848. The lions' tract was once remarkable as being the first unfenced enclosure for lions in the world. One of the zoo's biggest attractions is the 'Troparium', with its sharks and moray eels, corals and sea-horses, piranhas, alligators and anacordas. And both young and old enjoy the sight of the walrusses at feeding time, the baby elephants lumbering along and the breathtaking dolphin show.

Around the turn of the century, Carl Hagenbeck (14th June 1844 to 14th April 1913) had the idea of exhibiting animals in bar-less, open-air enclosures instead of in cages. Instead of bars, the animals are separated from the public by invisible ditches. This idea was patented by Carl Hagenbeck in 1896, and in 1907 he opened his Zoo in Stellingen, a district of Hamburg. Since then, zoos modelled on Carl Hagenbeck's design featuring open-air enclosures and panoramic landscapes have opened all over the world. Hagenbeck's Zoo has become known as the forerunner of the modern Wild Animal Park.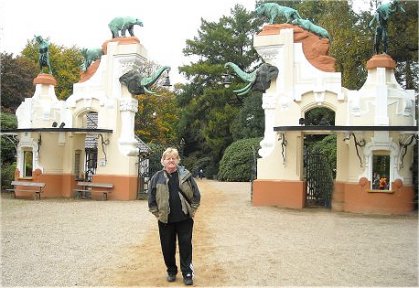 I took a break from my exploration of the St. Pauli district to
ride the fast and efficient Hamburg subway and rail system to HAGENBECK TIERPARK.
The hundreds of photos I took during this day-long visit are displayed at my
Edgar Rice Burroughs / Carl Hagenbeck Connection in ERBzine.
Jungle Animals in Hagenbeck Tierpark
Expedition to Tarzan's Pellucidar Home
Trek Around Tarzan's Pellucidar
---
HAMBURG LIVE THEATRE
---
---
MAP REFERENCES
---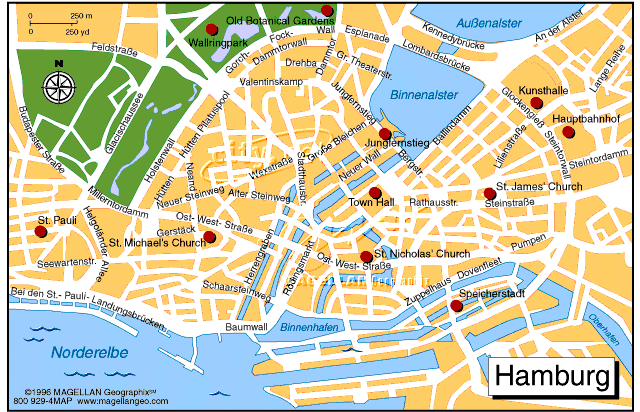 THE BEATLES' HAMBURG: CONTENTS
PART I: Gigs | PART II: Digs | PART III: Echoes | PART IV: Reeperbahn | PART V: Hangouts
Photos I | Photos II | Photos III

Bill Hillman Photos Copyright 2009
Other photos copyrighted by respective owners
Bill & Sue-On Hillman Musical Odyssey
Hillman Eclectic Studio