ANOTHER SUNFLOWER ALBUM

SI-1003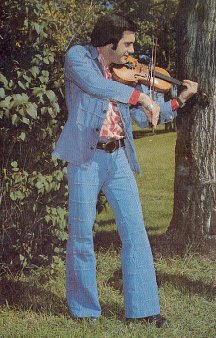 MOST REQUESTED
FIDDLE TUNES
for you... by
BARRY FORMAN
1975
LINER NOTES

---

Barry's first album "Fun N' Fiddle with Forman" contained twelve of Barry's favourites. By contrast this album contains seventeen of his most requested fiddle tunes. These tunes have been arranged by Barry. The result is a most refreshing approach to old time fiddle music. The Forman Fiddle style is the culmination of his early violin training with Mr. Alex Whyte, the Canadian fiddle stylings of his father, Lorne, and the influence of the well known Country Rock Trio - The Western Union. This fiddle style is being passed on to his fiddler son Kent. Kent is nine years old and is Manitoba's Junior Fiddle Champ.

The Musicians on the album are no strangers to the music scene. Bill Hillman does all the guitar work with Sue-On Hillman on drums. Denis Rondeau plays bass and Mark Rutherford does piano, flute and organ.

Barry, a former school teacher, now has the Ford and Mercury dealership in Rivers, Manitoba. It's now Fun N' Fiddle with Forman N' Ford. Enjoy the album.
PERSONNEL
Fiddle: Kent and Barry Forman
All Guitars: Bill Hillman
Drums and Percussion: Sue-On Hillman
Bass: Denis Rondeau
Piano, Organ, Flute: Mark Rutherford
Engineer: Harry Hildebrand - Century 21
Arrangements: Barry Forman
Producer: Alex Groshak

SIDE ONE
1. Anniversary Song
2. Arkansas Traveller
Chicken Reel
3. Andy's Jig
Honest John
4. Joys of Quebec
5. Frisco Waltz
6. Rippling Water Jig

SIDE TWO
1. Maple Sugar
2 Hillbilly Calypso
3. Rubber Dolly
Ragtime Annie
4. Dawn Waltz
5. Flop Eared Mule
Sailor's Hornpipe
6. Big John McNeill
Cover Photo: Photography Unlimited ~ Brandon, MB, Canada