BILL and SUE-ON HILLMAN:
A 50-YEAR MUSICAL ODYSSEY
50 Years on the Road with Bill and Sue-On Hillman
www.hillmanweb.com/book

Presents
A BILL AND SUE-ON HILLMAN SPECIAL RECORDING PROJECT
www.hillmanweb.com/albums/albumff2.html
THE FORMAN FIDDLES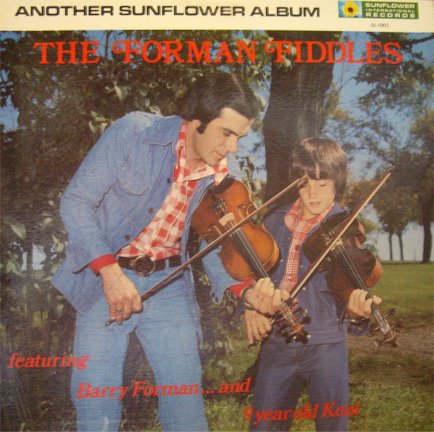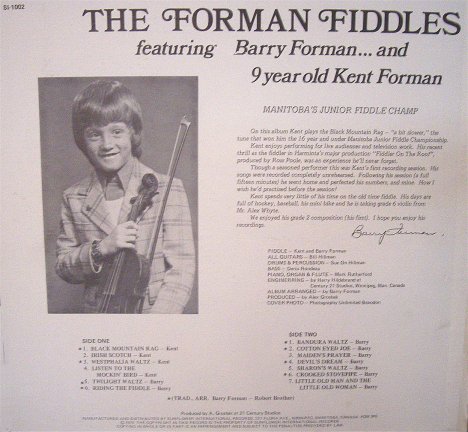 .
ANOTHER SUNFLOWER ALBUM SI-1002

THE FORMAN FIDDLES

featuring
Barry Forman and
9 year old Kent
1975






Manitoba's Junior Fiddle Champ

On this album Kent plays the Black Mountain Rag - "a bit slower," the tune that won him the 16 year and under Manitoba Junior Fiddle Championship. Ken enjoys performing for live audiences and television work. His recent thrill as a fiddler in Hamiota's major production "Fiddler On The Roof," produced by Ross Poole, was an experience he'll never forget.
Though a seasoned performer this was Kent's first recording session. His songs were recorded completely unrehearsed. Following this session (a full fifteen minutes) he went home and perfected his numbers, and mine. How I wish he'd practised before the session!
Kent spends very little of his time on the old time fiddle. His days are full of hockey, baseball, his mini bike and he is is taking grade 6 violin from Mr. Alex Whyte.
We enjoyed his grade 2 composition (his first). I hope you enjoy his recordings.
Personnel
Fiddle: Kent & Barry Forman
All Guitars: Bill Hillman
Drums & Percussion: Sue-On Hillman
Bass: Denis Rondeau
Piano, Organ & Flute: Mark Rutherford
Engineer: Harry Hildebrand
Arrangements: Barry Forman ~ Producer: Alex Groshak
Photo: Photography Unlimited, Brandon ~ Studio: Century 21, Winnipeg

.
.
SIDE 1
1. Black Mountain Rag (K)
2. Irish Scotch (K)
3. Westphalia Waltz (K)
4. Mocking Bird
5. Twilight Waltz
6. Riding the Fiddle

SIDE 2
1. Bandura Waltz
2. Cotton Eyed Joe
3. Maiden's Prayer
4. Devil's Dream
5. Sharon's Waltz
6. Little Old Man
.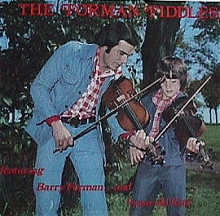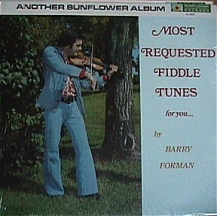 See and Hear All the Hillman Albums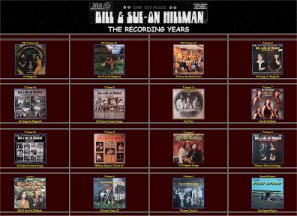 www.hillmanweb.com/albums
HILLMAN ALBUM WALL CONTENTS
www.hillmanweb.com/albums
TO THE HILLMAN MUSICAL ODYSSEY

BILL and SUE-ON HILLMAN: A 50-YEAR MUSICAL ODYSSEY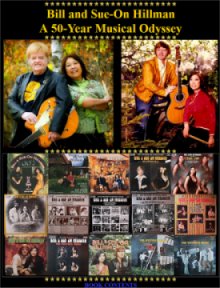 BOOK COVER
BOOK CONTENTS

.Copyright 2000/2002/2004/2015 Bill Hillman
WebMaster: Bill Hillman