Bill and Sue-On Hillman: A 50-Year Musical Odyssey
www.hillmanweb.com/book

HILLMAN INDOCHINA ADVENTURE: PART 4
www.hillmanweb.com/indochina/cambodia

Cambodia Gallery 7b:
GENOCIDE MUSEUM Pt. 3
Tuol Sleng, the Notorious Khmer Rouge Prison
TORTURE

http://www.hillmanweb.com/indochina/cambodia/c07b.html
"There was overwhelming evidence that the Khmer Rouge violated the Nuremberg Principles, the United Nations Charter, the laws of war, and possibly the UN Genocide Convention, yet no individuals have ever been tried in legitimate courts, much less punished. After the fall of the Khmer Rouge, in 1979, the United States and China funneled aid to the deposed regime and undermined all efforts to try the Khmer Rouge leaders Pol Pot, Ieng Sary, Khieu Samphan, Sonn Senn, Noun Chea, Ta Mok and others. Accountability was not part of the UNís $2 billion reconstruction program for Cambodia, which ran from 1993 to 1994 and ended with disputed elections and no mention of war crimes. Today, Cambodian domestic politics threaten to defeat a proposed UN tribunal to try the surviving Khmer Rouge leaders.

"The uncertain fate of the UN-approved Khmer Rouge war-crimes tribunal raises a troubling question: Was amnesty for Khmer Rouge war crimes the price for peace in Cambodia?"
Click for larger full-screen images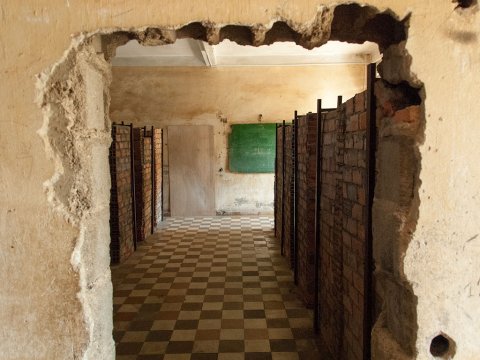 The Cells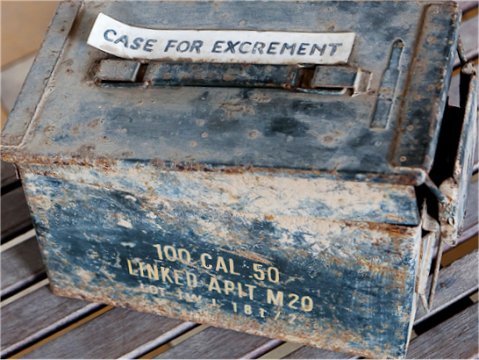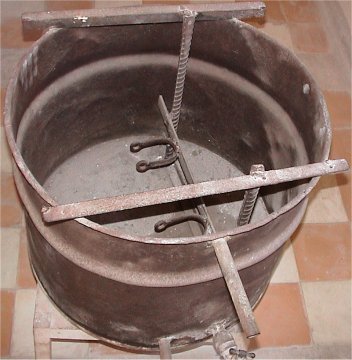 Ammunition Case for Excrement ~ Drowning Drum
Survivor Paintings of Prison Torture
| | |
| --- | --- |
| Prisoners were locked together | Torture of a mother and her children |

| | |
| --- | --- |
| Prison Cell | Prison Transport |

| | |
| --- | --- |
| Tuol Sleng Water Torture | Painful liquid being poured over hands after fingernails were torn off |

| | |
| --- | --- |
| Water Torture and Drowning | Another Prison Torture Scene |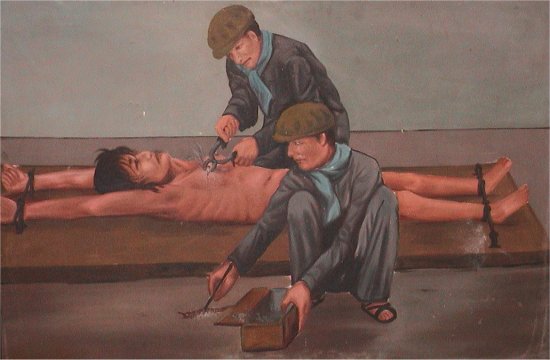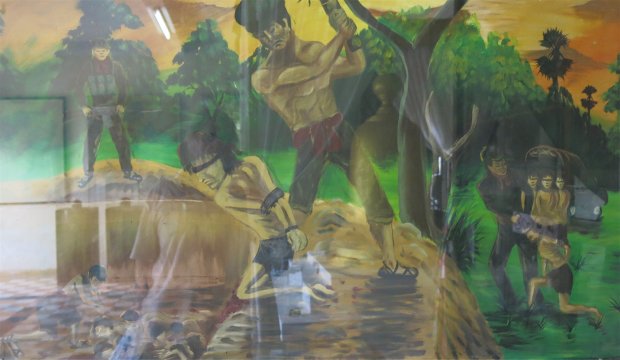 More Prison Torture

.



.
TO MAIN INDOCHINA PAGE


Copyright 2015
Bill and Sue-On Hillman
hillmans@wcgwave.ca