Bill and Sue-On Hillman: A 50-Year Musical Odyssey
www.hillmanweb.com/book

HILLMAN INDOCHINA ADVENTURE
PART 2

www.hillmanweb.com/indochina/laos

PAGE 2:
MEKONG ADVENTURE II
Pakbeng and Riverside Lodge
www.hillmanweb.com/indochina/laos/l02.html
We approached Pakbeng ("mouth river") in late afternoon after a seven-hour longboat voyage on the Mekong. This small village is a major stop for longboats as it lies half-way between Huay Xai and Luang Prabang. A long line of boats were already docked, but with aid of guiding poles we were maneuvered into a small place between other boats.

Since the village is perched high on the banks of the Mekong river we leapt to shore and climbed the steep steps and roadway up to the village. The climb was made a bit easier since we left our backpacks on board - taking only a few overnight necessities. We trudged along the main street up another hill to check into our guest house.

Mekong Riverside Lodge consisted of a series of comfortable bamboo bungalows with excellent balconies overlooking all the activity on the river and the scenic shores on the other side. The room walls were made of thatch and there was mosquito netting over the bed. 24-hour electricity had arrived relatively recently in Pakbeng so power generators were not in full use. The bathroom featured a Western toilet and sink, but a traditional SE Asian wet-room shower with limited hot water.

After a short rest we walked downhill to explore the rustic little village. Apparently there is quite a trade in illegal drugs in the village since it is in the "Golden Triangle" - a major drug production area. We were never approached and saw no indication of drug peddling. A market up another hill had a good selection of local crafts, vegetables, live field rats, frogs, fish, roosters - and many flies. While Mr. Thong shared local colour with the group Bill roamed around taking photos. The sun was going down as we walked back down to a small Wat (temple). Young monks were painting and repairing the Wat and we noticed that locals had left food offerings for their evening meal. Our supper was at a bar/restaurant after which our local guide showed a long NatGeog Lao documentary on his large screen laptop. Darkness had fallen by the time we climbed the hill back to our lodge. Bill's old "football knees" had started to limp a bit so Sue-On and Beam provided a bit of climbing assistance on the stairs : ).

We showered and slept well till a massive thunderstorm with incredible lightning struck around 3:30 am. It knocked out the power. A little later the nearby roosters set up a cacophony of wake-up calls so we crossed the street to Kopchai Deu Indian restaurant for a breakfast of scrambled eggs, bread, butter, marmalade and coffee. Returning to the lodge to check out we were glad to see power restored. Bill took time to take many photos from our room balcony. A special attraction across the river was the early morning bathing of the elephants. While boarding our boat we noticed that there was a bit of fog, but last night's thunderstorm had doused many of the mountainside fires and had cleared the air of much of the smoke. Next stop: PakOu Caves and then on to Luang Prabang.

Longboat docking at Pakbeng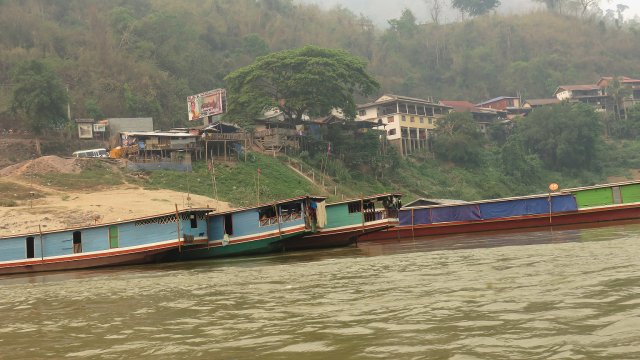 .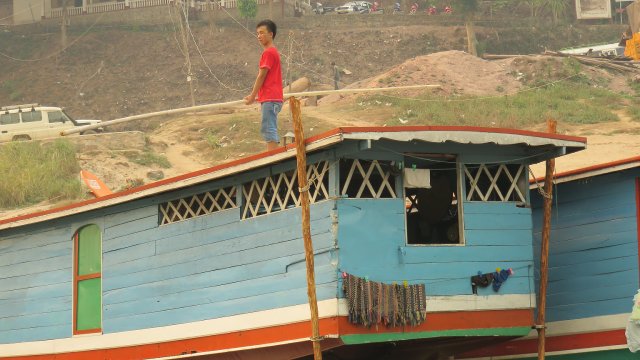 Up the hill to check into Mekong Riverside Lodge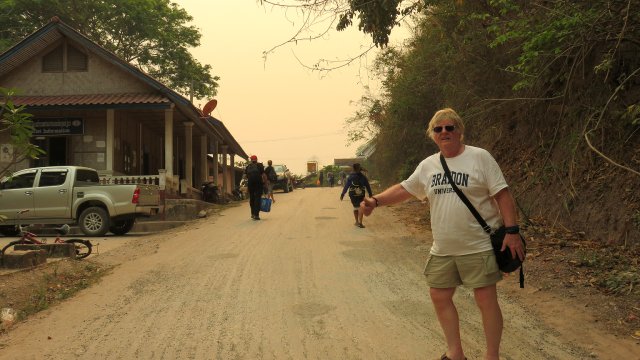 .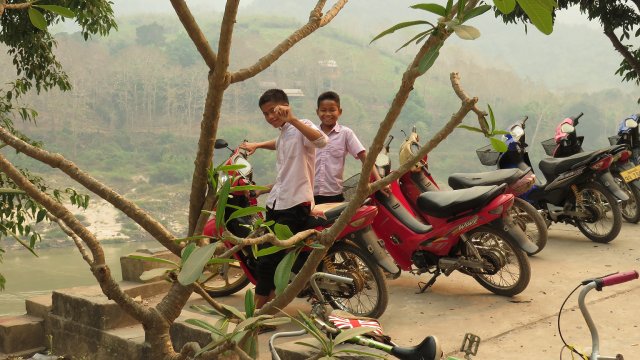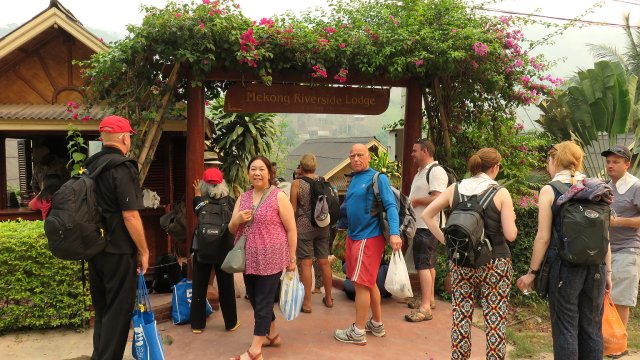 .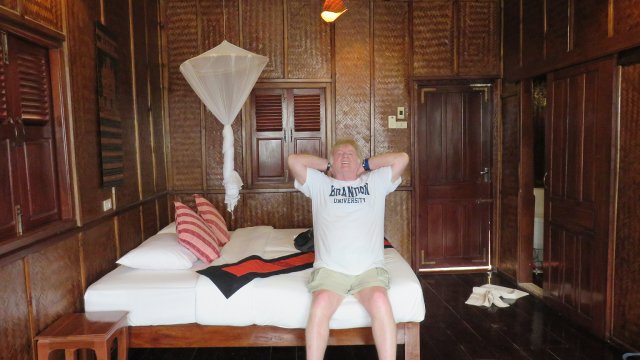 View of the Mekong and a walk through Pakbeng village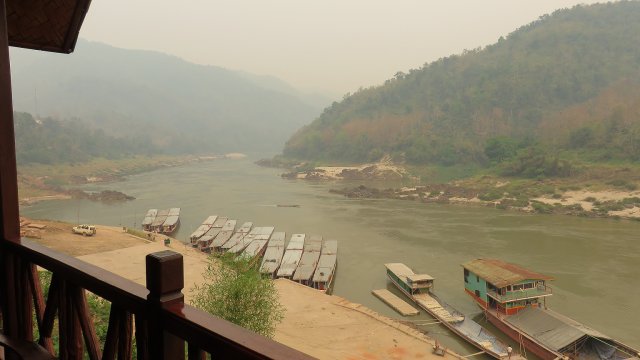 .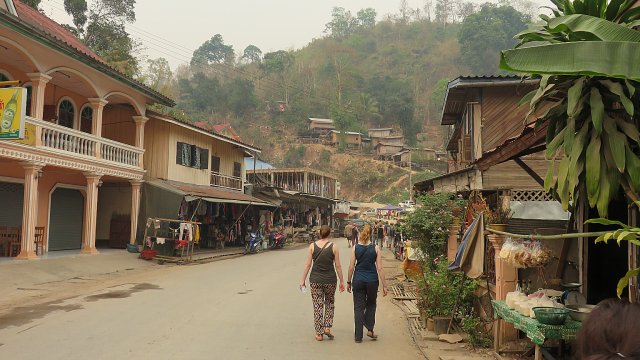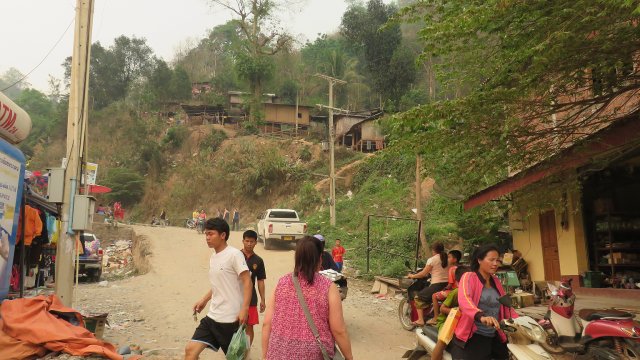 .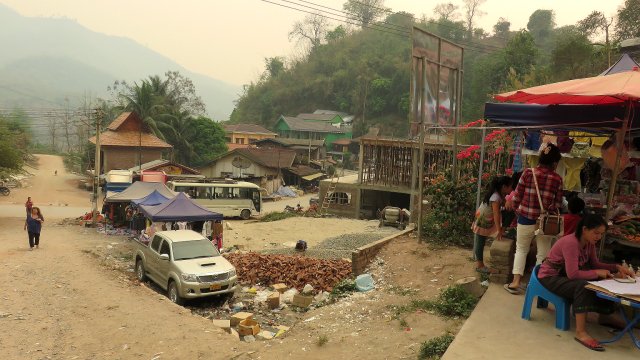 Pakbeng Market and looking down onto the Wat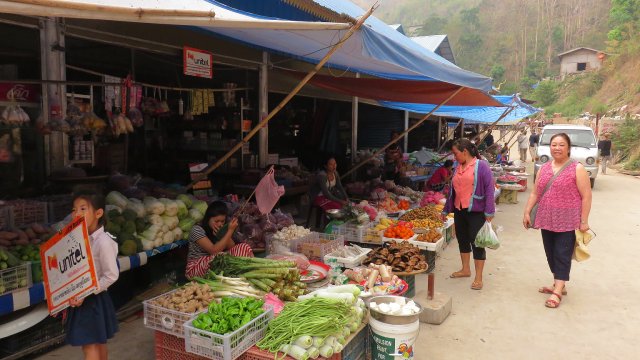 .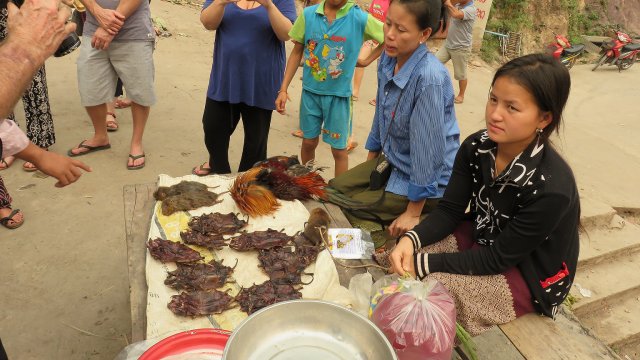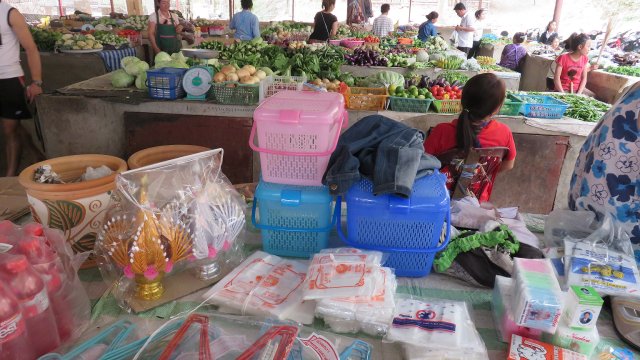 .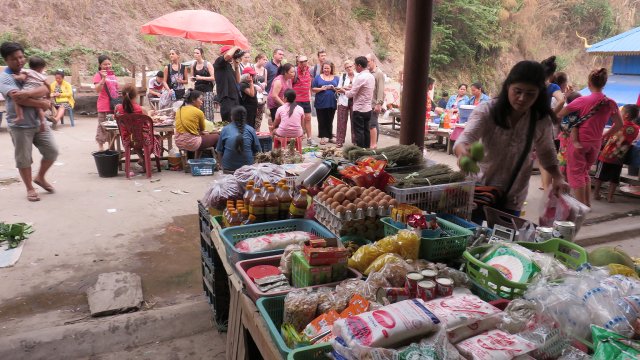 .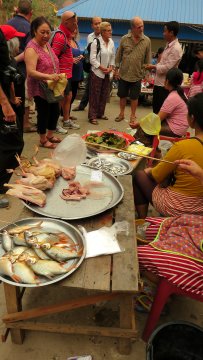 .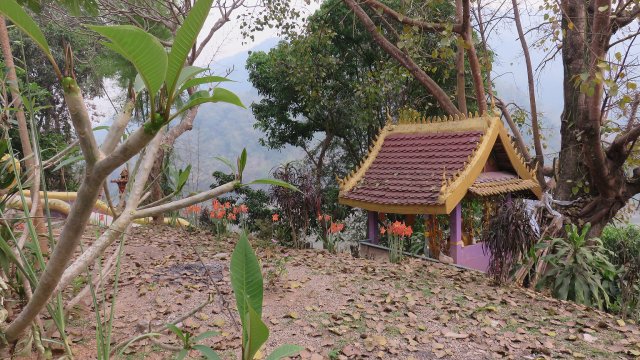 Pakbeng Temple: Wat Kok Kor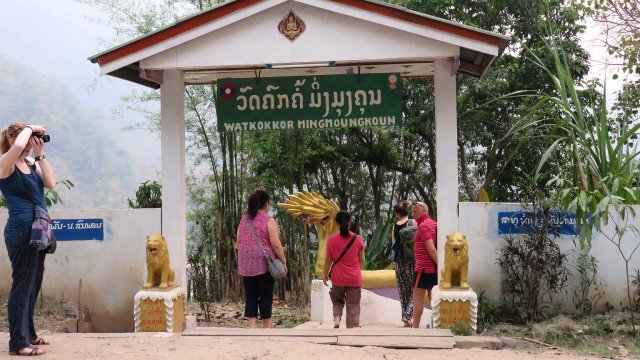 .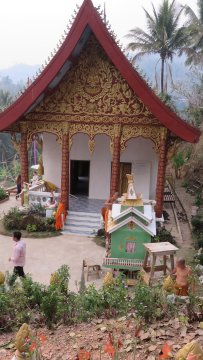 .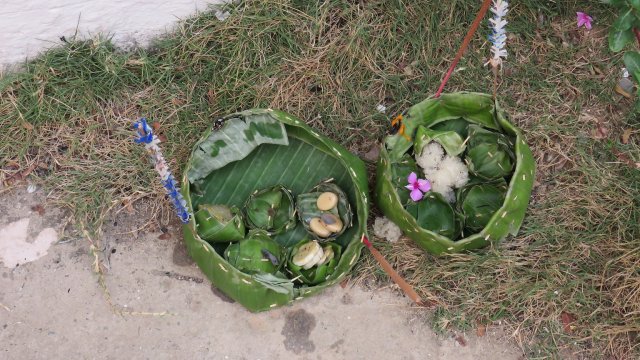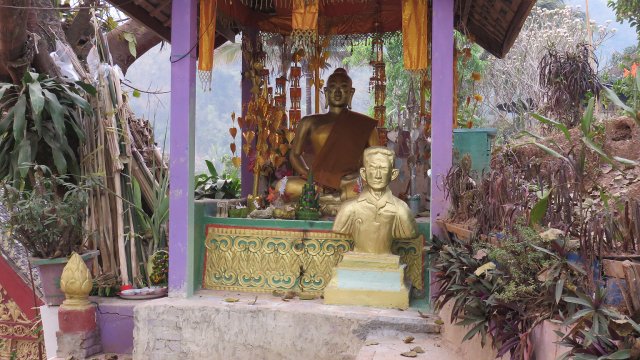 Back to Main Street for evening meal at Ounhoan and over-table chats
Faces: Bill ~ Sue-On ~ Beam ~ Matt ~ Bonnie ~ Mr. Thong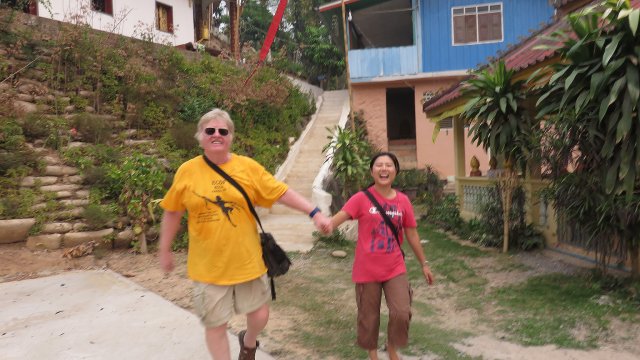 .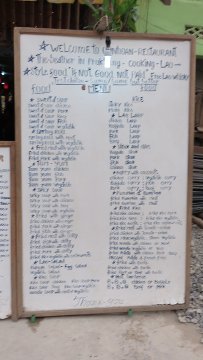 .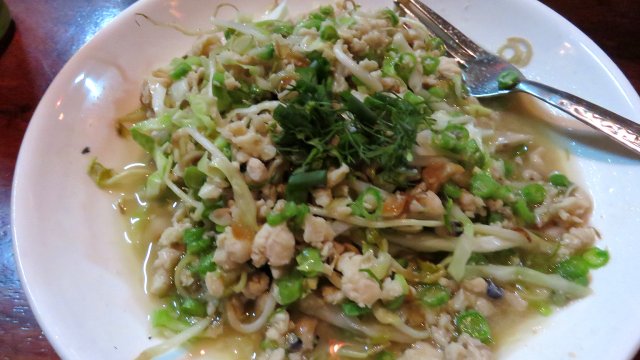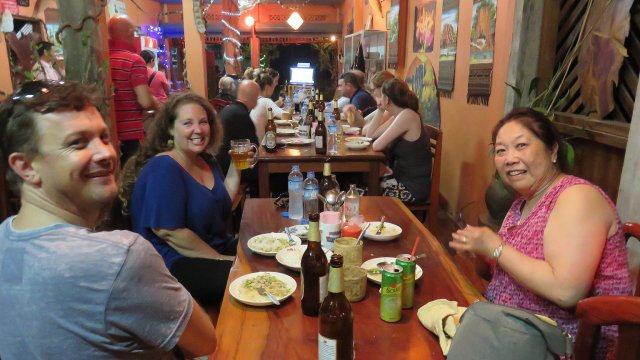 .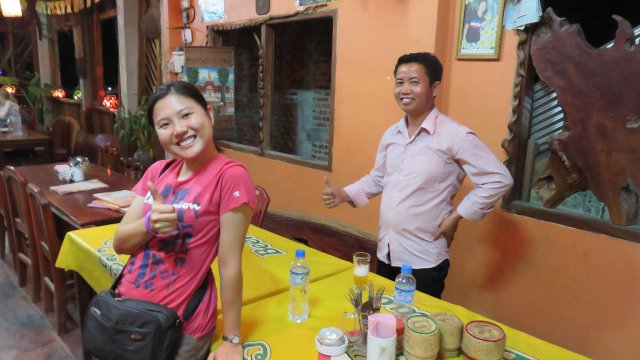 Morning views from Riverside Lodge ~ Breakfast ~ Farewell view from the river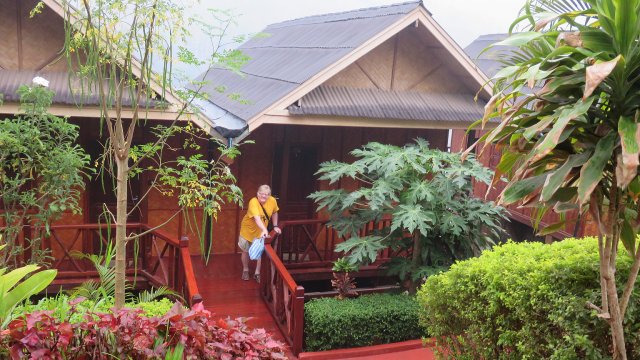 .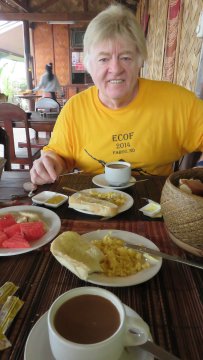 .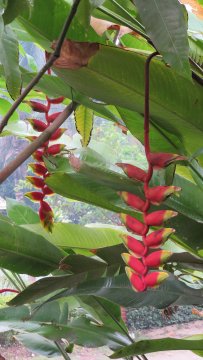 .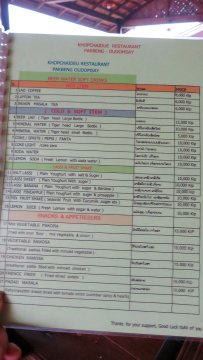 .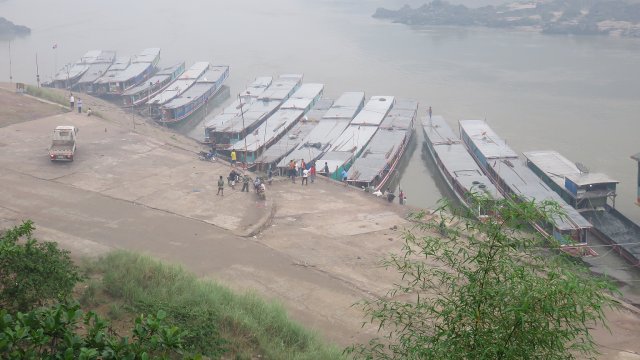 .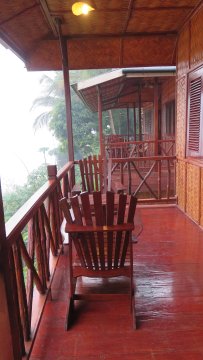 .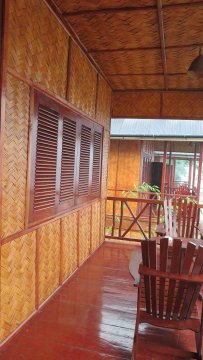 .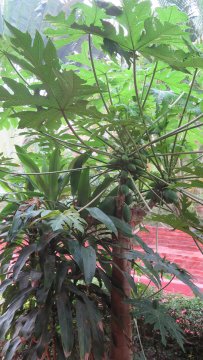 .
.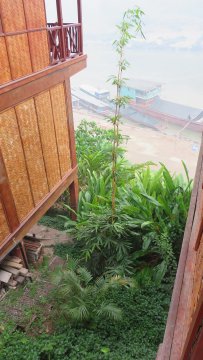 .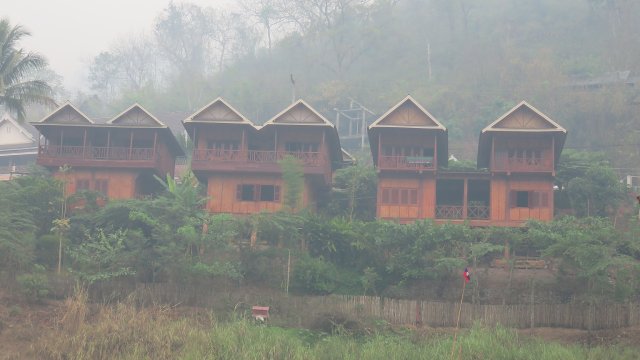 MORE PAKBENG PHOTOS IN
OUTTAKES PAGE 1

TO LAOS CONTENTS





Copyright 2015
Bill and Sue-On Hillman
hillmans@wcgwave.ca