Bill and Sue-On Hillman: A 50-Year Musical Odyssey
www.hillmanweb.com/book

HILLMAN INDOCHINA ADVENTURE
PART 3

www.hillmanweb.com/indochina/vietnam

PAGE 34b: CU CHI TUNNELS III
VIETCONG MUSEUM EXHIBITS

http://www.hillmanweb.com/indochina/vietnam/v34b.html
So far, the tunnels and room exhibits, shooting range, booby traps and weapons displays had been the highlights, but we soon learned that the grounds had many more things to offer. The decorative vegetations was well groomed and the wild jungle growth had its own appeal. People in Vietnam are often reluctant to stray off the main pathways because many areas are still not cleared of mines and unexploded bombs left from the war.

We continued our visit to Cu Chi by taking in the many displays of photographs, artifacts, dioramas, re-enactments, demonstrations, and workshops: Rice Paper ~ Rice Wine ~ Sewing ~ Hat and Cap Making ~ Sandals from Old Tires , etc. There was also an abundance of souvenir shops, restaurants and video theatres -- all done in a style in keeping with the theme of the attraction.

A major emphasis of this sprawling museum was to present a view of the war through the viewpoint of the North Vietnamese and Viet Cong. As their brochure states: "This tunnel system embodies the strong will, intelligence, and pride of Cu Chi people, a symbol of revolutionary heroism of Vietnamese people." Certainly those qualities are in evidence and to be admired, but it's unfortunate that the legitimacy of their story is clouded by the crudely-done, heavy-handed propaganda film that plays continuously in the numerous sit-down theatres scattered across the grounds. Many scores of visitors are seated in large theatre areas to be indoctrinated by this old washed out, almost inaudible video on a distant small screen television. Certainly not worthy of a country now noted for high-tech achievements and exports. One of our guides who had lived through the war years and was aware of both sides of the conflict said, "It's not a 'truth'. It was made after the war by the victors. It's OK if you don't want to watch it." We decided not to watch it. There were far too many more interesting and authentic things to see.

Our last stop was at a souvenir shop followed by a quick refreshing snack. We were served a cup of hot tea with slices of kasava and tapioca (regular fare for those living in the tunnels).
Click for larger full-screen images

Guide Hai issues tickets on the security rampway passing under the highway.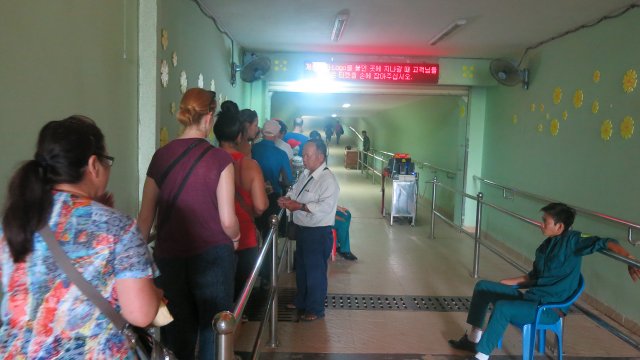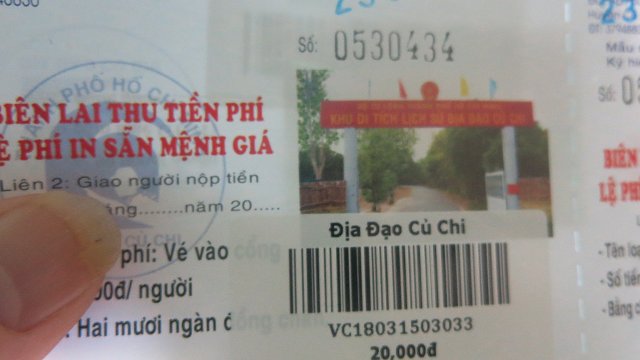 Bill watches while Sue-On admires the luxuriant foliage on the grounds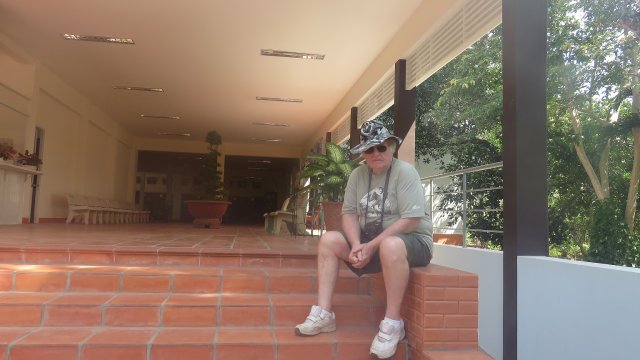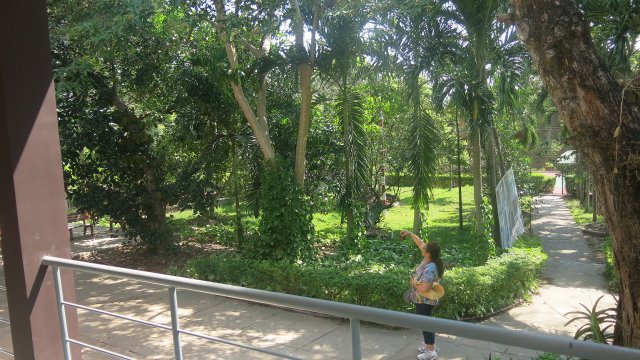 Thatch shelter over one of the many displays of artifacts, dioramas, re-enactments, etc.
plus souvenir shops, restaurants and video theatres.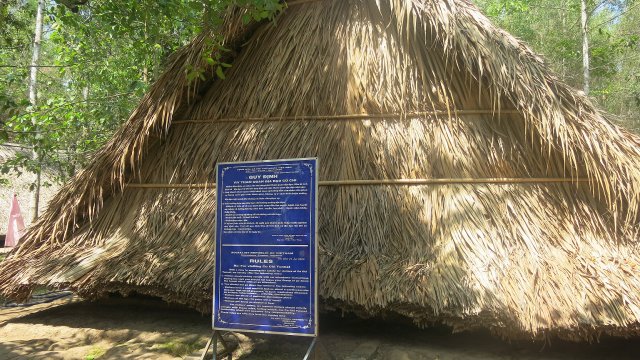 Viet Cong guerrillas resting between skirmishes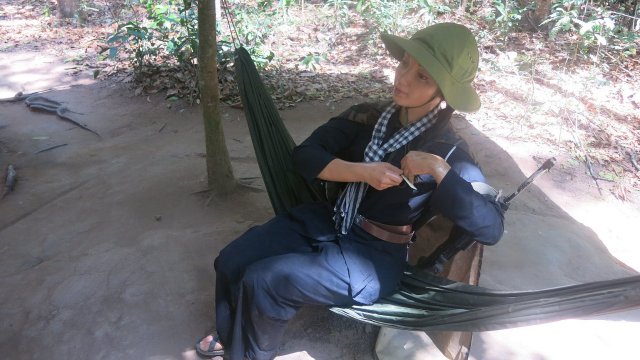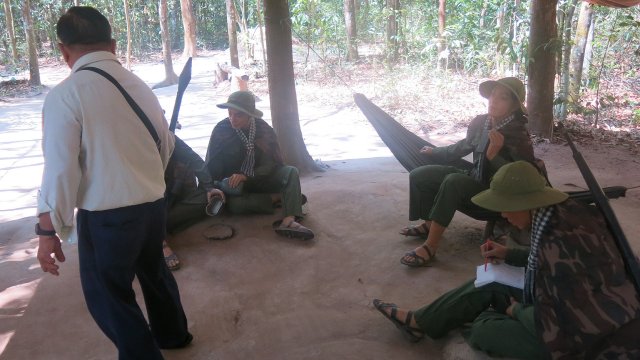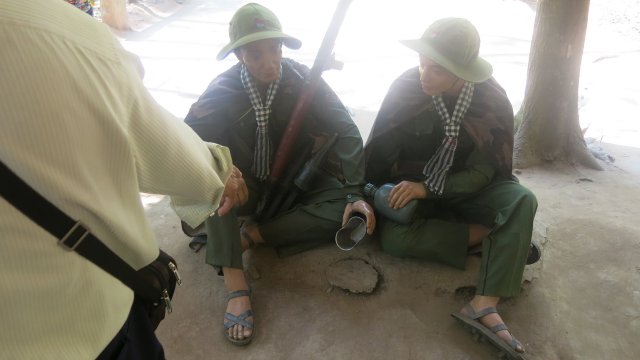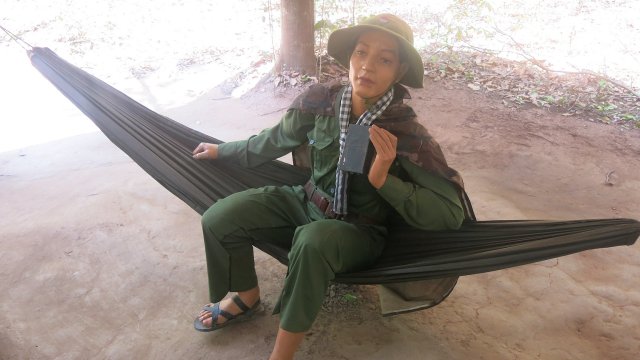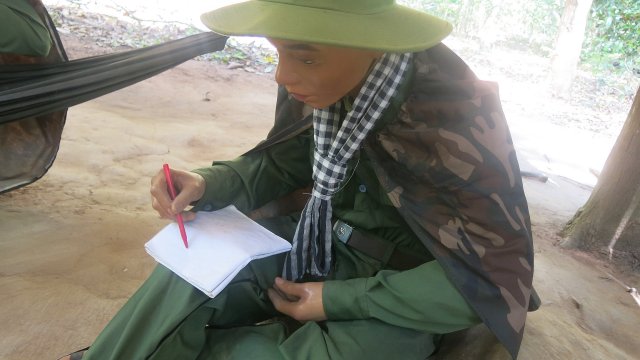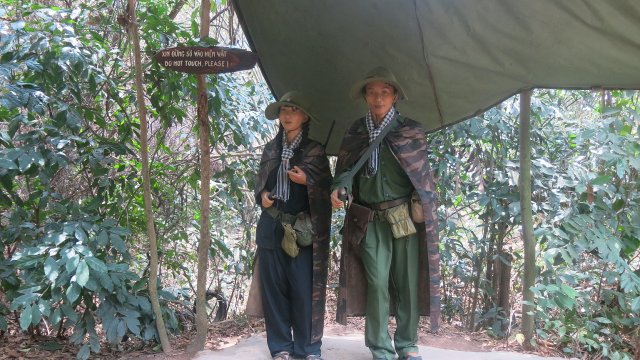 Three VC guerrillas return to the Tunnel after a jungle skirmish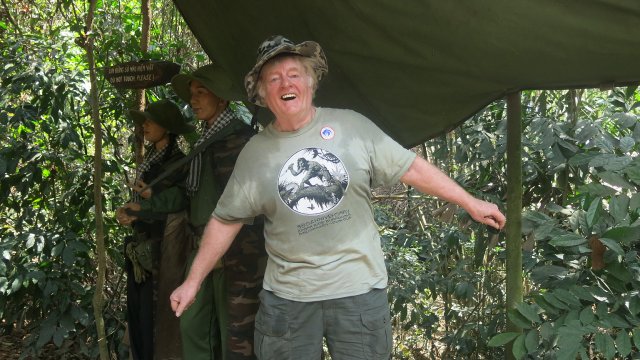 A dejected tank driver whose vehicle was disabled by a land mine.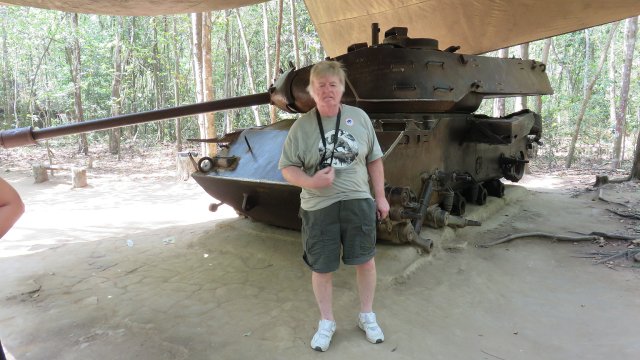 A variety of Craft-Making Demonstration huts
Rice Paper ~ Rice Wind ~ Sewing ~ Hat and Cap Making ~ Sandals from Old Tires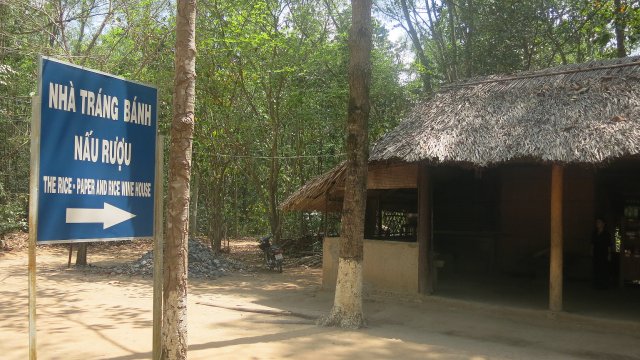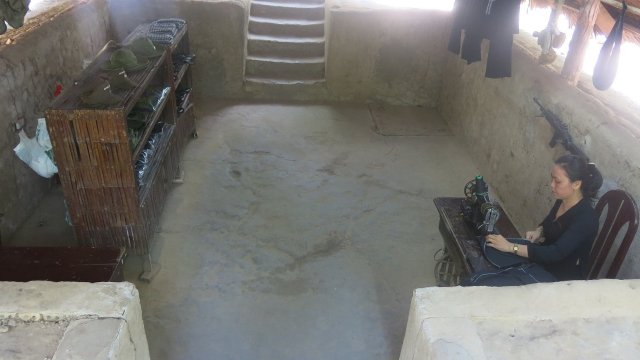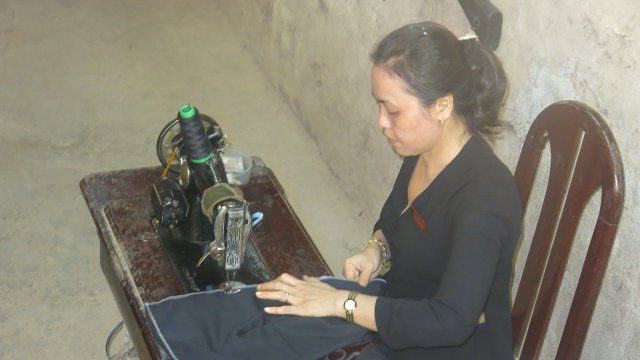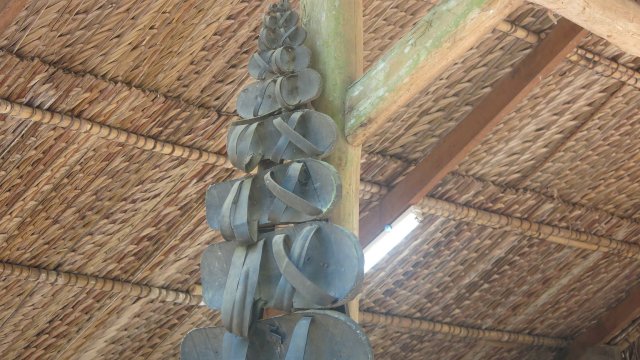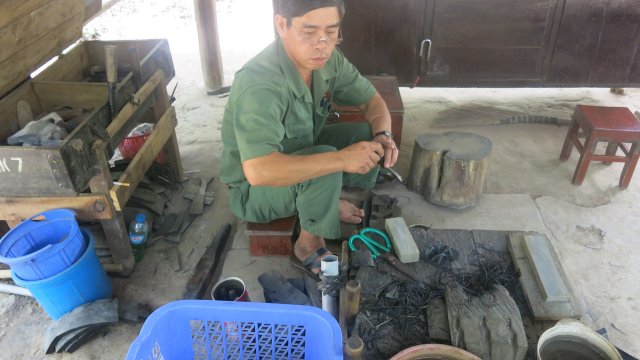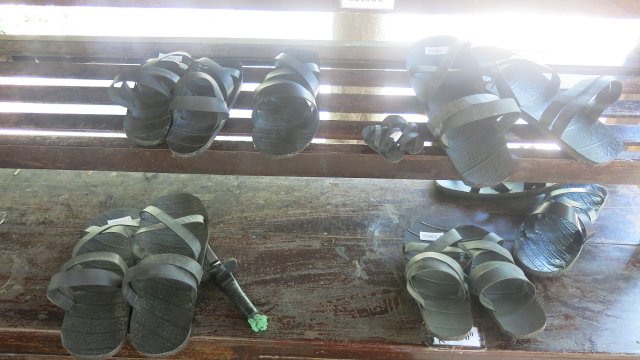 A short visit to one of the many TV viewing huts showing an old propaganda video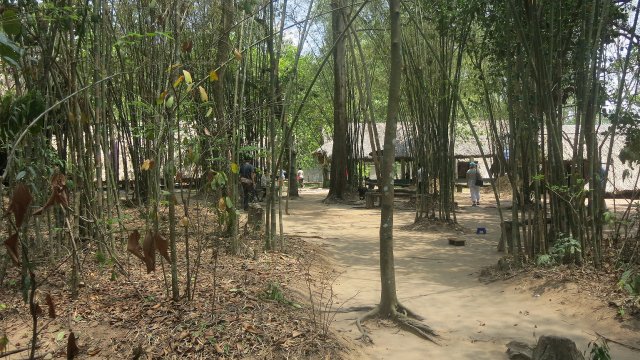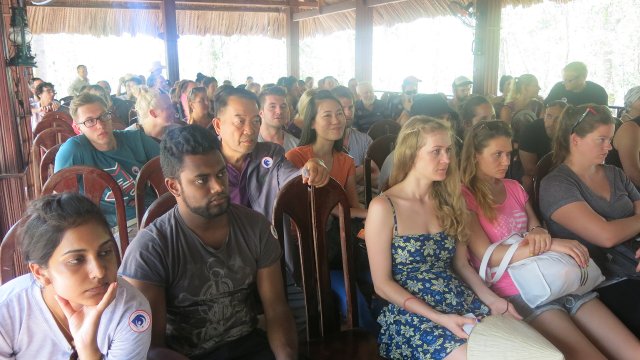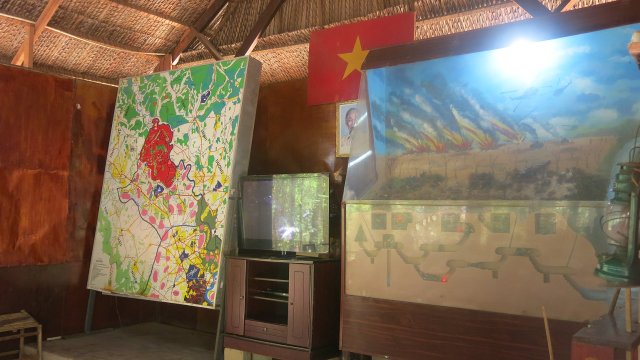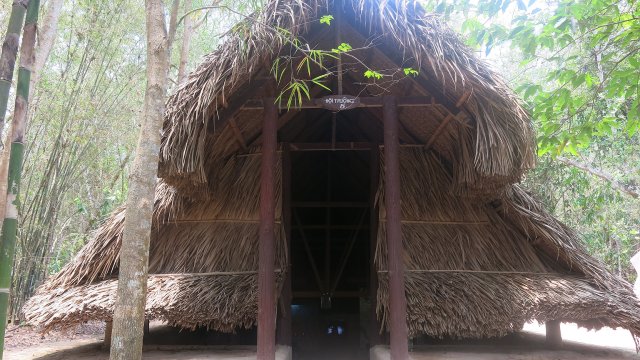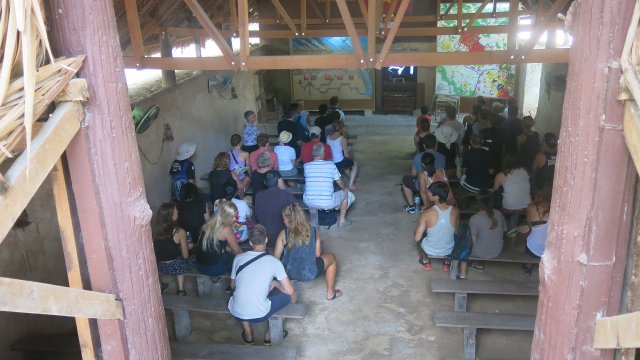 Last Stop: Souvenir Shop and a Snack Table
Served with a cup of hot tea with slices of kasava and tapioca (regular fare for those living in the tunnels)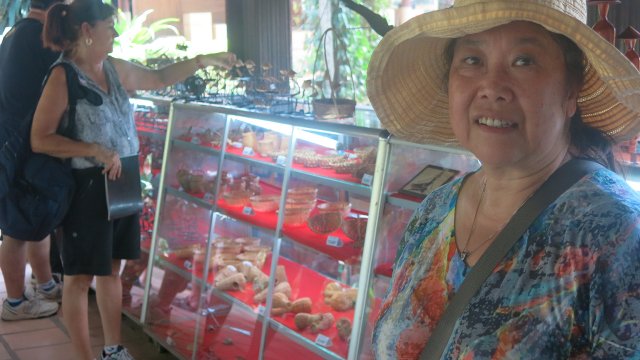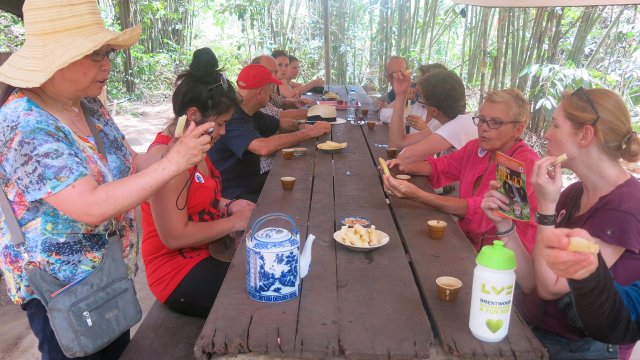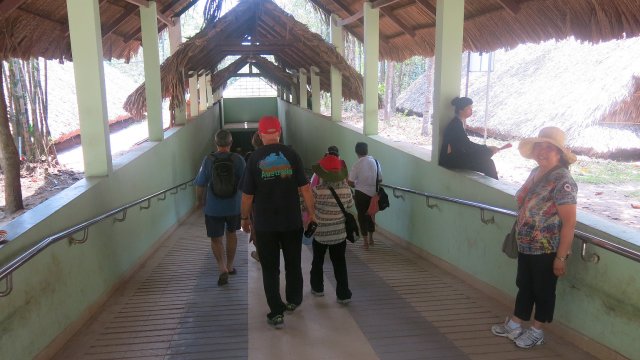 See more photos in the Annex pages



CU CHI CONTENTS



1. Tunnels ~ 2. Weapons ~ 3. Displays ~ 4. Annex I ~ 5. Annex II
BACK TO CU CHI MAIN CONTENTS PAGE


Copyright 2015
Bill and Sue-On Hillman
hillmans@wcgwave.ca