www.hillmanweb.com/book
THE UK CONNECTION
www.hillmanweb.com/uk
I'm an Anglophile. My ancestors were all from the British Isles: Scotland, England and Wales -- and all through my early years I was regaled with stories of the old country, watched English comedies, read English comics & authors, and ate food based mostly on overseas recipes.

Later I discovered blues & folk music via Lonnie Donegan skiffle records, learned guitar from Shadows records, and learned all the British Invasion hit songs to play on stage. When I met Sue-On in 1963 I became captivated by Chinese culture, but even these feelings were flavoured by things British since she had lived most of her life before coming to Canada in Hong Kong - a British possession, which had possibly retained more English customs those found in our neighbour to the south.

In 1976, longtime English musician friend -- Alan Jones -- put us in touch with a Middlesbrough agent, who set up a 7-week tour of Northern England clubs, halls and military bases -- after which we set up a recording session in London. We returned for two more summer tours and recording sessions. Later still, back home in Canada, I even did a John Lennon stint in a Beatles tribute band. Included in our online book - BILL and SUE-ON HILLMAN: A 50-YEAR MUSICAL ODYSSEY - are photos, journal entries, anecdotes, lyrics, online song tracks, influences, and a few memories of musicians we have worked with.

-- Bill Hillman
.
PHOTO GALLERIES FOR THE UK TOURS
.

GOOSEBERRY STUDIOS
19 Gerrard St. ~ London, England
..
BILL & SUE-ON HILLMAN
RECORD ALBUM Volume 6 ~ THE HILLMAN EXPRESS: TRACK 15
Maple Grove Records ~ MGS-1006

This 1976 concept album was recorded on both sides of the Atlantic. The Canadian sessions were at Winnipeg's Century 21 Studios. Half the album was engineered by John Smith who had recently emigrated from England where he had worked with the Beatles at the famous Abbey Road Studios. The UK sessions were near the end of our 7-week, first performance tour of English venues at London's Gooseberry Sound Studios. These sessions were engineered by Mark Lusardi who has worked with many big-name groups across all genres. The English session musicians included Joe Fagin and Lloyd Ryan -- and our bandmates were Kevin Pahl and Alan Jones on keys. (We later joined Alan Jones and his two UK buddies to play on his Free Spirit recording project.
ALBUM LYRICS, PHOTOS AND SESSION NOTES are featured at:
http://www.hillmanweb.com/mglp06.html

---

JOURNAL NOTES OF THE HILLMAN FIRST TOUR OF ENGLAND: Part 3 - August 1976
The London Studio Sessions ~ are featured in the HILLMAN MUSICAL ODYSSEY at:
http://www.hillmanweb.com/uk9603.html

---

SONG ANECDOTES
http://www.hillmanweb.com/mglp06a.html
.

---
UK PERSONNEL ON HILLMAN ALBUM 6
---
.
MARK LUSARDI and GOOSEBERRY STUDIOS
MARK LUSARDI ~ Gooseberry Studios Engineer ~ Hillman Album Volume 6
www.facebook.com/MarkAngeloLusardi
Bio excerpt: In 1975 he moved over to Gooseberry studios in the West End of London and within his first year there became chief engineer. During his five years at Gooseberry he worked with such luminaries as David Bowie, The Sex Pistols, Killing Joke, Public Image, Sham 69, Denise Bovel, Black Slate, Linton Kwesi Johnson, Matumbi, and Hot Chocolate to name but a few. Under his guidance the studio also achieved the unique and probably never to be repeated distinction of having UK national chart numbers 1 and 2, a USA national chart no 1 album and more reggae records in the Black Echoes top 20 than the whole of the rest of the world put together. . .
See the Lusardi Discography at the Discogs site
Profile: Mark Angelo Lusardi, brother of the famous glamour model Linda Lusardi, was a pioneer of UK dub who'd honed his shills in London's Gooseberry Studio recording with the likes of Dennis Bovell, Creation Rebel and Prince Far I in the late 70s. He would later set up his own Mark Angelo Studios which, amoungst its other clients, included the leading Reggae label Greensleeves, with Lusardi working, most notably, on Clint Eastwood & General Saint's 'two Bad DJ' (1983). Lusardi also worked with P.I.L and The Sex Pistols - a good example of the links between punk and Reggae at that time. In the mid-90s he developed an outboard EQ / filtering device called "The Mutator", used by numerous recording artists including Massive Attack, Radiohead, William Orbit, Beck, Leftfield, and Daft Punk.
See more albums engineered by Mark Lusardi at the Roots-Archives site
.
Many of the tracks on these Sex Pistols albums
were recorded at Gooseberry Studios on January 1977.


Gary Numan's groundbreaking 1979
synth-pop album recorded at Gooseberry Studios


Alan Jones project
Free Spirit
.
JOE FAGIN: Bassist & Vocalist
.
Wikipedia Bio on Joe Fagin
Joe Fagin (born January 1940) is a British singer. He was musical director for Jim Davidson, including his 1983 Falklands tour. In 1983 he recorded the theme songs to Auf Wiedersehen, Pet. The single, featuring "Breaking Away" and "That's Living Alright", reached number 3 in the UK singles chart in January 1984. The single was re-released when the programme was repeated on Channel 4 in 1996. He also sang the two songs for the show's second series, "Get it Right" and "Back With the Boys Again". They were also released as a single; but performed less successfully, reaching only number 53 in 1986. He also sang the title song "As Time Goes By" for the situation comedy As Time Goes By. In 1985 he was part of The Crowd, which reached number one with the charity single "You'll Never Walk Alone" for the Bradford City disaster. Fagin released a greatest hits album in 1996. A reworked version of "That's Living Alright" was released on 5 June 2006 for the World Cup as "That's England Alright"
The Best of Joe Fagin | Joe Fagin on IMDB

---

Joe Fagin Unofficial Website: Vocalist * Pianist * Guitarist * Bassist * Musical Director * Actor
Joe Fagin has one of the most recogniseable voices ever to be heard on record, television and film. Best known for performing the theme songs from the first and second series of the comedy drama Auf Wiedersehen, Pet, he has enjoyed success in the UK, Europe and the USA with hit singles such as "Why Don't We Spend the Night" and "Younger Days". He has recorded a wide range of music styles, from the light hearted pop/rock style of "That's Livin' Alright", the witty lyrics of "Savin' Face" (from the Bob Geldof film Number One), the gentle, sentimental "As Time Goes By" to the theatrical sounds of the contemporary opera "Paris".

Fagin has also demonstrated acting talent, both on television and in the theatre, from performing in the Bob Hoskins movie The Long Good Friday, the cult comedy Blott on the Landscape with David Suchet, and the theatre with an adaptation of the childrens classic Wind in the Willows, and most recently the contemporary opera Paris. He also appeared as a country singer in The Barbara Taylor Bradford Mystery - "To Be the Best".
.
LLOYD RYAN: Drums
.
Lloyd Ryan Bio from lloydryandrums.com

Lloyd's career began in 1960, when he purchased an Olympic snare drum (made by Premier) and eventually saved up for a full kit! As well as being regularly on tour, Lloyd has his own private pupils, and he also teaches at Ernest Bevin College, an educational centre very well respected in teaching circles, as head of percussion.

Currently, Lloyd is writing a series of articles for Drummer Magazine, called The Masters. The series is about the history of drumming and includes pieces about Joe Morello, Buddy Rich and other notable names from the world of drumming.

YouTube Videos

Phil Collins & Bill Hillman
Disney Broadway Premiere NYC

Many of Lloyd's pupils, such as Phil Collins, from his Chessington based school have achieved international stardom:
"I had a teacher when I was fourteen, Lloyd Ryan, who tried desperately to teach me to read music, but somehow I couldn't concentrate on that. I was able to listen very well and I learnt all the rudiments, like flams, paradiddles, etc......" - Phil Collins

One of the highlights of Lloyd's career to date was in supporting the legendary Buddy Rich at the 1986 Lewisham Jazz Festival. Lloyd has to date performed well over 400 drum clinics and master classes, and has been a regular writer for a number of music magazines. Another high spot for Lloyd was performing the concerto for drum set and percussion by USA composer John Beck for the National Association of Percussion Teachers at Oxford with the Prince Consort Ensemble from London's Royal College of Music. He was invited to give a repeat performance at the international Percussive Arts Society inugural convention, which also featured artists such as Eric Delaney and Carl Palmer.

Download Tracks
.
JOHN SMITH: Abbey Road Engineer
THE HILLMAN / BEATLES CONNECTION


JOHN SMITH: Century 21 Studios Engineer ~ Hillman Album Volume 6
John Smith had worked as second engineer with the Beatles on their landmark White Album. The photos below are from the November 9th 2006 Abbey Road reunion of former EMI engineers and technicians who had worked on the Beatles sessions. This celebration in the famed Studio Two was in conjunction with the book RECORDING WITH THE BEATLES. It was a wonderful reunion of friends; several were seeing each other for the first time in decades, and many had helped in the writing of the book. Photos of the event were taken by Mike Banks of recordproduction.com and many of them are displayed at: www.recordingthebeatles.com/party

Much of the 1960s Abbey Road staff
reunites on the famous staircase


John Smith
Recording Engineer


Reunion of Beatles Engineers & Technicians
at the famous Abbey Road Studios
.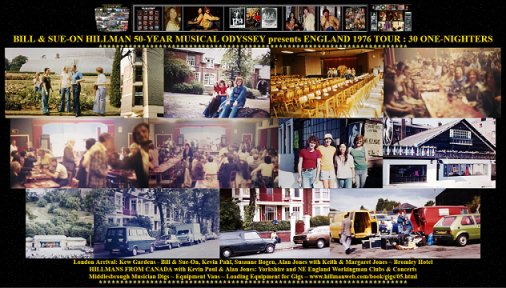 click
A few of the photos from our Gig Notes Ch. 5: UK Tours
www.hillmanweb.com/book/gigs/05.html

IMPULSE STUDIOS
Walls End ~ Newcastle, England

.
BILL & SUE-ON HILLMAN
RECORD ALBUM Volume 7 ~ ON TOUR IN ENGLAND
Maple Grove Records ~ MGS-1007

Mickey Sweeney's Impulse Studios were located above a bingo hall in Newcastle. The studio's main claim to fame at the time was that the famous folk group, the Chieftains, had done some recording there. Our Middlesbrough bass-playing friend, Mick Sandbrook, had lined up some fine musicians for the session: Bernie Watson on Keys, Alan Studholme on drums, and John Ashcroft on synths -- we were quite excited about working with a synth player for the first time. In 1977, synth players were still a bit of a rarity - the instruments were costly, not too versatile, and somewhat hard to master as preset sounds were not yet common. John's work on the Arp Odyssey Synth and his "string machine" really fattened and sweetened our sound.
No. 7 ALBUM LYRICS, PHOTOS AND SESSION NOTES are featured at:
http://www.hillmanweb.com/mglp07.html

JOURNAL NOTES OF THE HILLMAN SECOND TOUR OF ENGLAND: 1977
Journal Excerpts: The Recording of Album 7 in Newcastle's Impulse Studios
http://www.hillmanweb.com/uk7701.html
---
UK PERSONNEL ON HILLMAN ALBUM 7
---
| | | | |
| --- | --- | --- | --- |
| Bernie Watson (Kylastrons) | With Alan, Bernie and Mick at Tynemouth | Between Sessions | Mickey Sweeney |
From an Interview with Mickey Sweeney at the Lindisfarne site
I had a tape recorder as a child, sound fascinated me, I would wire the stylus on the front room hi-fi out of phase play Beatles songs and record the results, later when I was touring I'd try to record gigs and rehearsals, behind a mixer that's my place... The first pro studio I saw was Abbey Rd when The Sect [ I was their roadie ] recorded a song by a group called The Left Banke, the sessions producer was Tim Rice. After the Sect off to London, thru a friend, the engineer for the Alan Price Set, I got a job as soundman for Geno Washington and managed to swing a bass playing role for Tommy Duffy of the Sect. Next Lee Jackson and Jackson Heights because of [ex Junco Partners] Charlie Harcourt, this introduced me to the people at Charisma Records. I toured with a lot of their acts Audience, Van der Graff , ending up as the soundman for more local lads Bell and Arc when I was asked to be Lindisfarne tour manager, big change for me. More>>>
Other Acts Produced: VENOM | Mike Harding | Lindisfarne | Alan Taylor | John Stevens | Raven |

GUARDIAN STUDIOS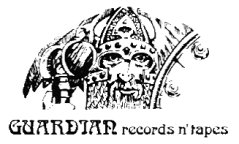 Pity Me (near Durham), England

.
BILL and SUE-ON HILLMAN
RECORD ALBUM NO. 9 ~ ON STAGE IN ENGLAND
Maple Grove Records ~ MGS-1009

Terry Gavaghan's Guardian Studios were located in the little village of Pity Me, near Durham. Before building his dream studio Terry had worked as the lead guitarist for the Carpenters. He had purchased two unique instruments for the studio at London auction: Elton John's 'Honky Chateau' piano and Keith Moon's drums. Our backing group was Desperado, a top English show group which had been thrilling British audiences for years. An earlier version of this band had served to launch the career of Paul Rodgers who moved on to Free and Bad Company fame. We added a talented keyboard player to the session: Alan Clark, who played Elton's piano, Fender Rhodes piano, Hohner Clavinet, and synthesizers. Soon after this session Alan joined Mark Knopfler's Dire Straits and worked with this band until they disbanded many years later.

No. 9 ALBUM LYRICS, PHOTOS AND SESSION NOTES are featured at:
http://www.hillmanweb.com/mglp09.html

LYRICS BOOKLET OF HILLMAN ORIGINAL SONGS
http://www.hillmanweb.com/cdbook.html

JOURNAL NOTES ON OUR THIRD TOUR OF ENGLAND
http://www.hillmanweb.com/uk7901.html

ON STAGE WITH DESPERADO PHOTOS
http://www.hillmanweb.com/odyssey/uk7902.html

MEMORIES OF TERRY GAVAGHAN and GUARDIAN STUDIOS ("The Ghost" Studio)
http://www.hillmanweb.com/uk/guardian.html
---
UK PERSONNEL ON HILLMAN ALBUM 9
---
ALAN CLARK on keys and with Dire Straits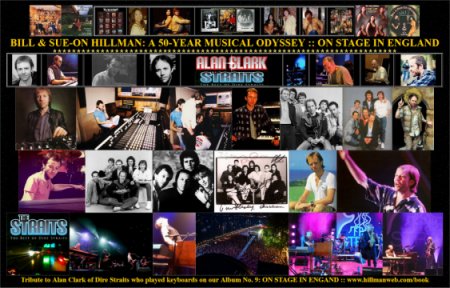 click
Alan Clark Wikipedia Bio
Alan Clark (born March 5, 1952, in Great Lumley, Durham, England) was one of the keyboardists for the English rock band Dire Straits.

As a young child Clark received piano lessons. Then whilst still a pupil at Chester-le-Street Grammar School he played keyboards in working men's clubs before the headline acts came on. These included sixties stars such as the Merseybeats and Del Shannon. He continued his formal musical education at Durham Technical College and was offered a place at the Guildhall School of Music, but turned it down as he had by then secured regular work at the Carousel Casino Club in Chester-le-Street. He then worked on cruise ships and spent some time in Miami. Upon his return to the UK, he played with a group called Splinter, followed by Gallagher & Lyle and a tour of summer festivals with Lindisfarne.

He joined Dire Straits shortly after the release of Making Movies in 1980. His keyboard playing was an important part of the sound on the first album he recorded with the band, Love over Gold from 1982. He continued with Dire Straits until their eventual breakup in the 1990s. In 1983 he contributed on Bob Dylan's album Infidels, which Mark Knopfler co-produced. Clark also worked with Knopfler on some of his film soundtrack work, most notably on the film Local Hero, in which he also makes a brief appearance as the piano player for a small Scottish band, the Acetones. He has also worked with David Knopfler on his solo albums and toured in Eric Clapton's band, playing keyboards in 1988 and 1989, as well in the "Orchestra Nights" performances with the National Philharmonic Orchestra and Michael Kamen during the 24 Nights concerts at the Royal Albert Hall in 1990 and 1991.

In 2001 Clark composed the theme music and various other musical cues for the hit paranormal show Most Haunted. He has also revised the theme on several occasions and provided more music for the show. In November 2005, Clark was a member of the house band at "The Hull Story", a tribute to the music of Alan Hull of Lindisfarne. The concert, which took place at Newcastle City Hall in aid of the Young Musicians Fund, is available on DVD. His Hammond playing features extensively throughout.

Alan Clark at IMDB
BILL & SUE-ON with DESPERADO
| | | | |
| --- | --- | --- | --- |
| Bill, Sue-On, Terry, Ja-On | Bill outside Guardian Studios | Desperado Promo Photo | Hold Me Darling Single |
| | | |
| --- | --- | --- |
| Bill ~ John ~ Colin | Desperado | Sue-On ~ Alun~ Bill |
In 1986, the band Desperado quit the music scene as they could no longer tolerate the grind of the workingmen's club circuit. Colin Bradley emigrated to Canada where he still plays in a variety of successful country bands. John Whittingham opened a small recording studio. Alun Edwards found work as a session singer, in addition to playing briefly in the local band "Fat Chance". Dennis Johnson (Paul Druckers' replacement) also gigged on a sporadic basis and Mick Sandbrook appeared to have settled down to a pipe and slipper retirement. And so it continued until the autumn of 1993 when Colin's visit prompted a band reunion.

Following the buzz created by performing again, the band Raised On Rusks was formed on the understanding that:-
* The only music to be performed would be that of which all the band members enjoyed.
* The band would play a limited number of gigs throughout the year in venues where live music was appreciated.
* They would play an acoustic first set to vary the musical content of the show.
Merrick Hamilton a hugely talented acoustic and electric guitarist was drafted into the band to complete the line up. Sixteen years later they're still at it and still enjoying the unique buzz generated when playing to an audience.
| | |
| --- | --- |
| Mick ~ John ~ Dennis ~ Merrick ~ Alun | Raised On Rusks on stage |
.
THE STORY CONTINUES. . .
.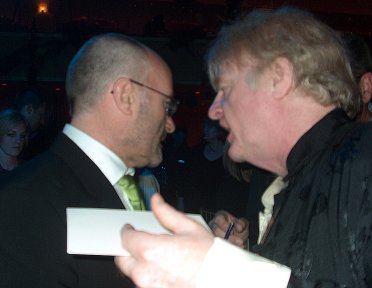 Bill chats with Phil Collins (over loud party music) at the Marriot Ballroom on Broadway, NYC
Phil (composer of the musical) attends each of the Tarzan Stage Premiers and after-show parties:
Broadway ~ Netherlands ~ Hamburg
Bill attends as guest of Disney and Edgar Rice Burroughs, Inc. in Tarzana, California

.
ON THE ROAD WITH BILL and SUE-ON HILLMAN
A 50-Year Musical Journey



MUSIC CARDS AND POSTERS


Intro | Roots and 60s | 70s Decade | UK | 80s and 90s | 21st Century | Sue-On


BILL and SUE-ON HILLMAN:
A 50-YEAR MUSICAL ODYSSEY
THE BOOK
www.hillmanweb.com/book
BOOK CONTENTS
PDF Version

Back to the
HILLMAN ECLECTIC STUDIO
E-Mail: hillmans@wcgwave.ca
Copyright 2009/2015
Bill and Sue-On Hillman