BILL and SUE-ON HILLMAN: A 50-YEAR MUSICAL ODYSSEY


www.hillmanweb.com/book

HILLMAN ENGLAND TOUR I: 1976
Part I: Arrival ~ Gigs ~ Explorations
www.hillmanweb.com/uk/tours/01.html
HILLMANS FROM CANADA
Bill and Sue-On ~ Kevin Pahl ~ Alan Jones
A few photos to illustrate Gig Notes Ch. 5 and Diary Entries in the Media Section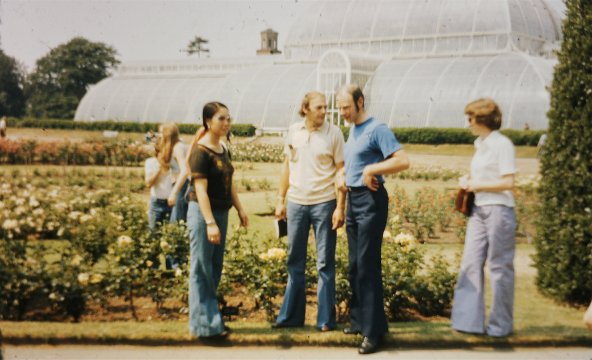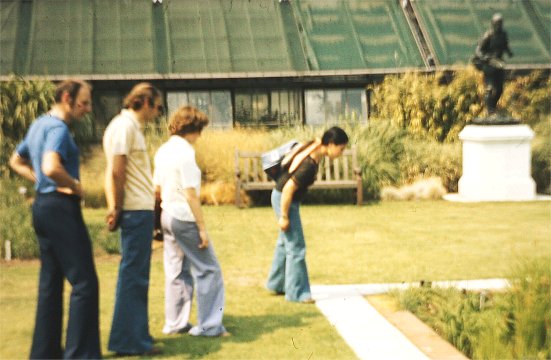 Kevin ~ Susanne Bogen ~ Sue-On ~ Keith Jones ~ Alan ~ Margaret Jones ~ Bill
Keith and Margaret met us at Heathrow and took us on a tour of Kew Gardens before heading south to Bromley.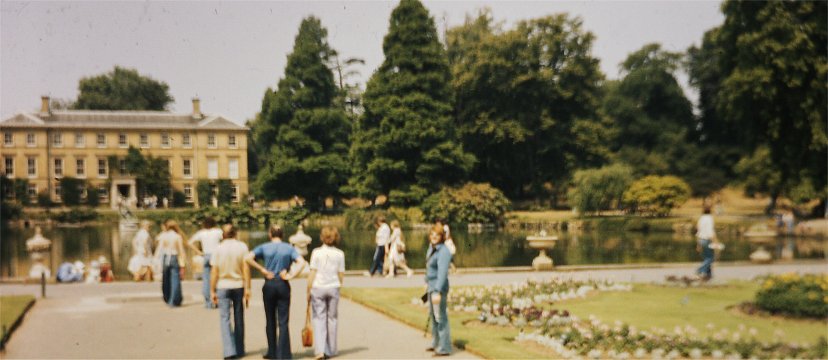 Kew Gardens were an oasis of greenery. Most of the grass in London was brown when we arrived - the result of an unusually long drought.
Sue-On tossed off the jet lag and excitedly explored the gardens and conservatory areas.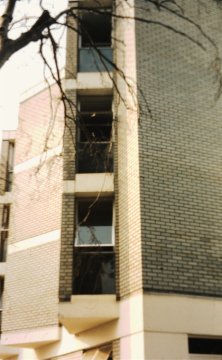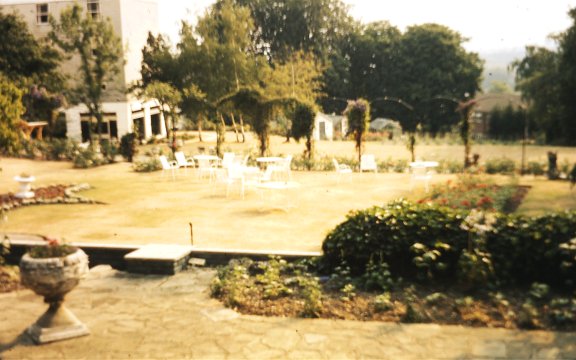 Our Bromley Hotel from where we would pick up our music gear at Wing Music next morning.
Good rooms, a fine supper and beautiful garden to relax in.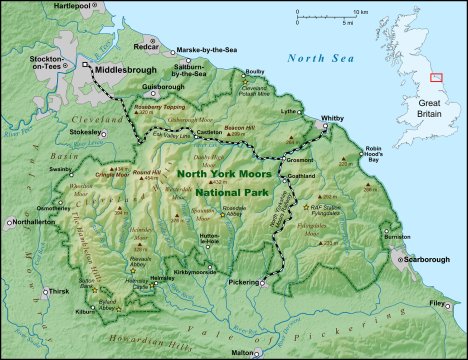 Early Monday morning we loaded our music gear from Wing Music, Bromley
and Keith drove us north to Middlesbrough for our evening performance.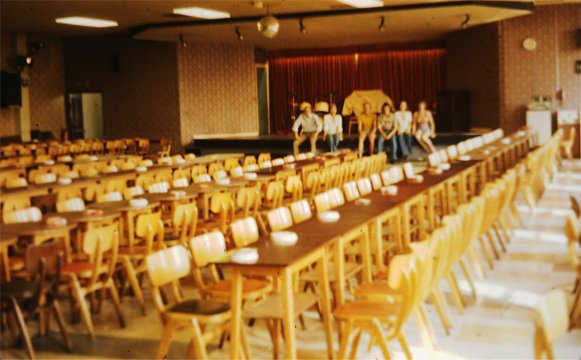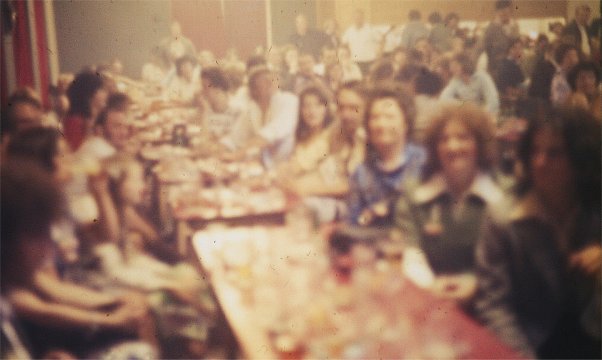 A hurried drive north in our packed Commer van to set up at
The Order of the Buffalo club in Middlesbrough for the first night's show.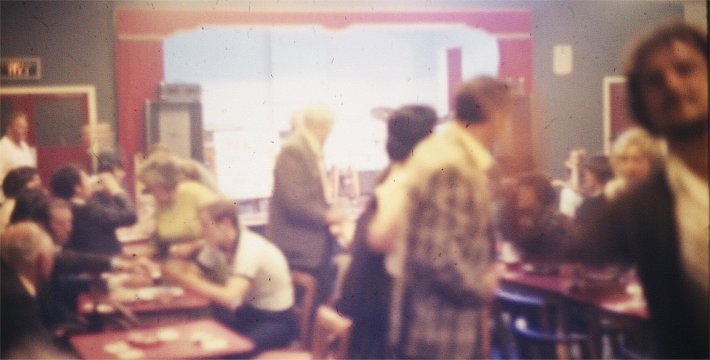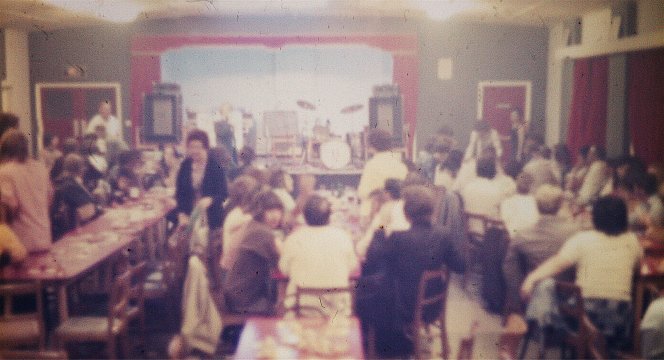 Taking a break during the housey (bingo) session between our show and dance sets to mingle with the crowd.
This was a club typical of most that we played on our tours - a full evening's entertainment crammed into four hours ~ 7-11.
House musicians would open, followed by a variety act which would lead into our show set.
During our break the MC would lead the crowd through a housey session after which we closed the evening with a dance set.
This club was at the Thirsk-Sowerby Club - Home of "James Herriot" of "All Creatures Great and Small" fame.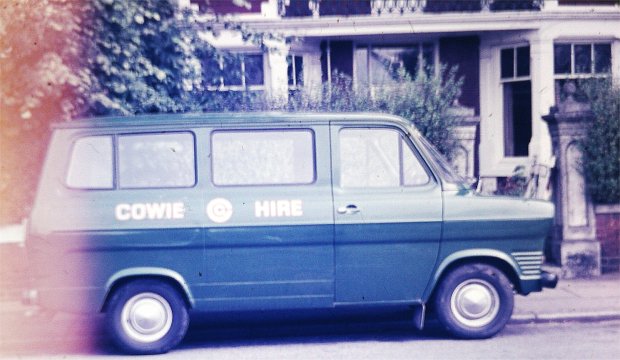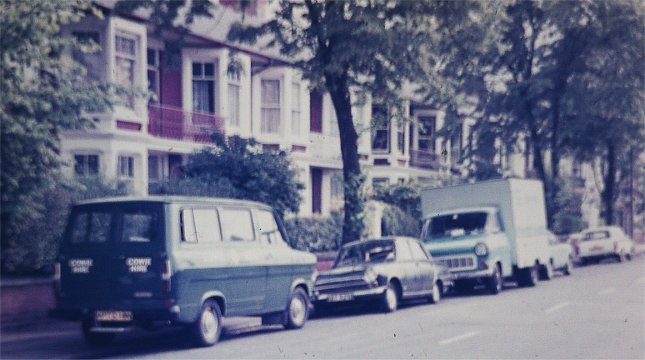 Our Ford Transit rental van outside the Viponds' musicians dig which would be our home base for the next month.
A great place to meet and visit with popular English entertainers, who like us, were performing at the scores of clubs in the area.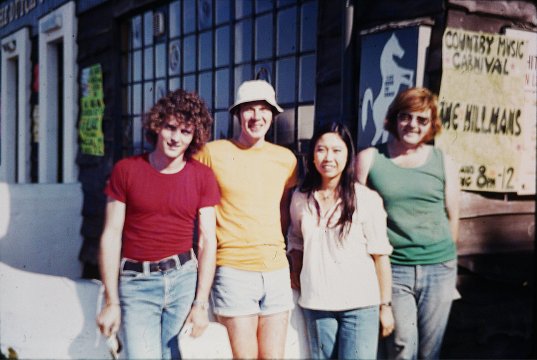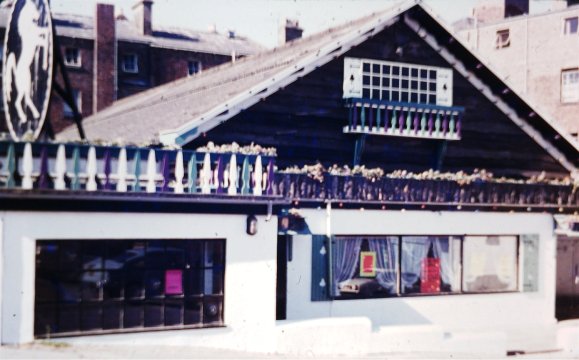 Kevin, Alan, Sue-On and Bill outside the Whitehorse Inn at Whitby. One of a long line of clubs we played.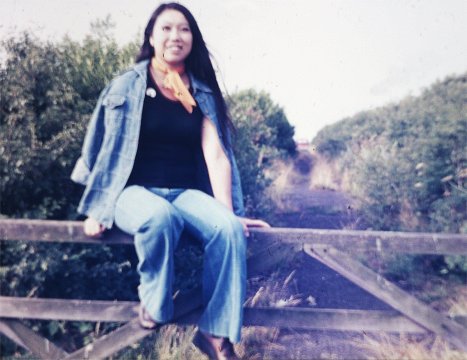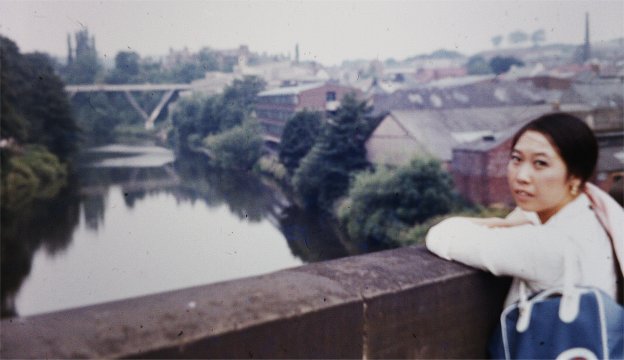 Days before evening showtimes where spent touring the local attractions such as the rolling moors, legendary castles, and historic cities such as Durham.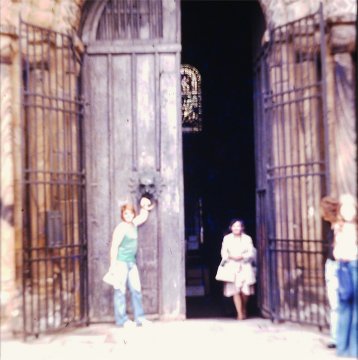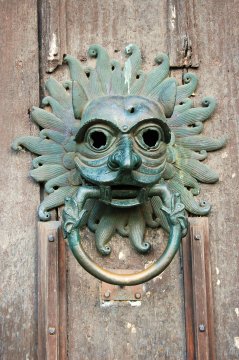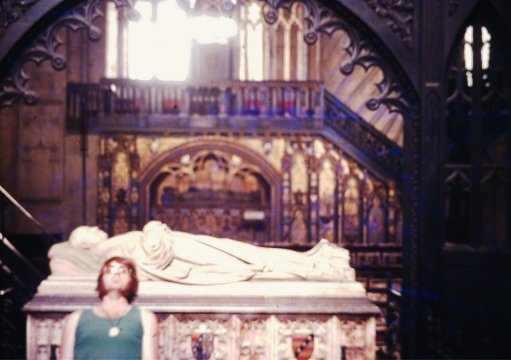 Bill at Durham Cathdral using the Gargoyle knocker to gain sancutary so as to visit and hide among the tombs inside.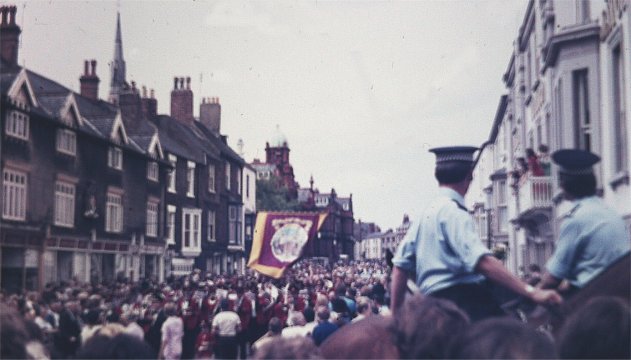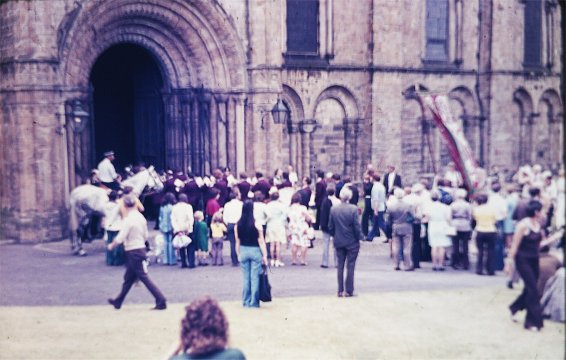 A spectacular longtime annual tradition in Durham: The Miners' Gala
Brass bands representing the many collieries (most have since been abandoned) played and carryed their banner as they marched through the city to the Cathedral.
Once they were all positioned in the Cathedral the haunting sound of all the instruments was breathtaking.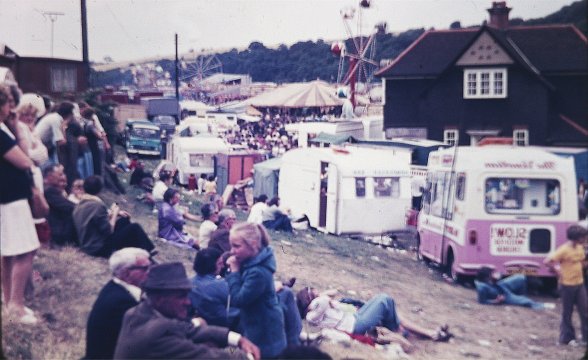 Durham Summer Fair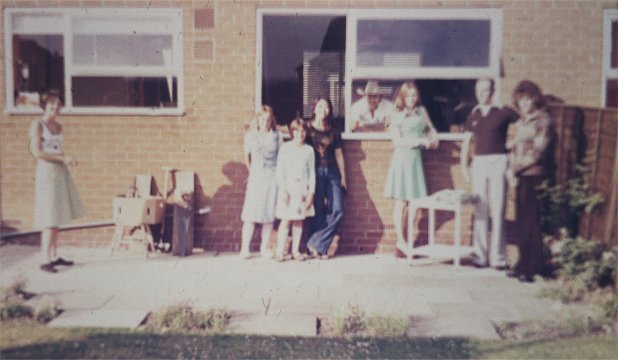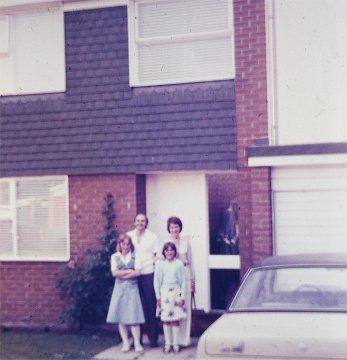 The Jones Family of Spennymoore, Keith (Alan's brother), Margaret and their two young girls (Beverly and Angela) were wonderful hosts.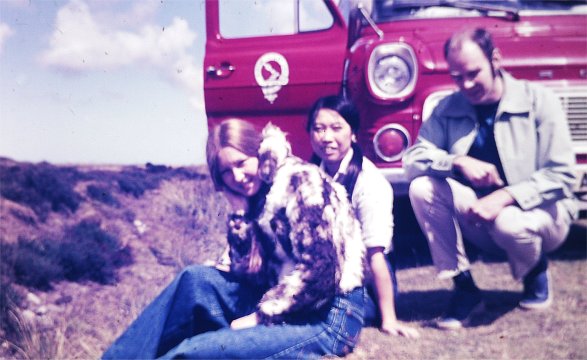 Each morning we would all pile into the equipment van to explore the amazing sights and sites of the area.
There were no passenger seats in the van so we used the large PA speaker bins for seating.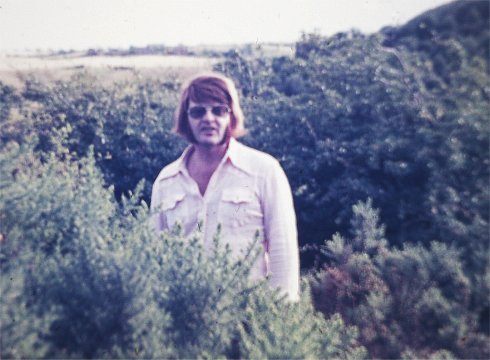 .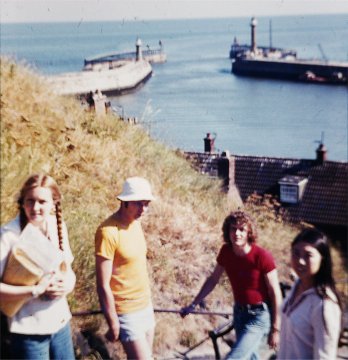 We took many drives through the Yorkshire Moors, enjoying the scenery, greenery and agriculture.
We were never far from the sea and made many visits to Whitby, Robin Hood's Bay and Scarborough.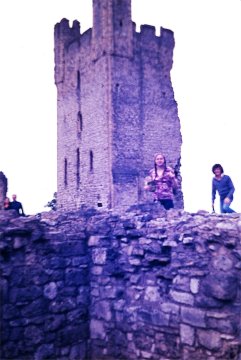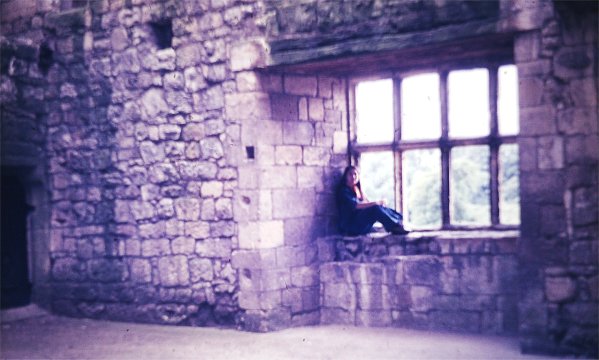 It was great fun exploring the many castles of the area. Some were restored and well kept, but those in ruin were also great for stimulating imagination.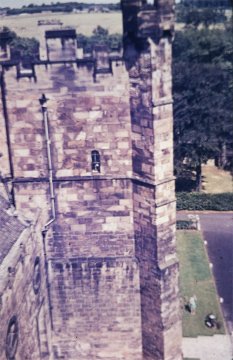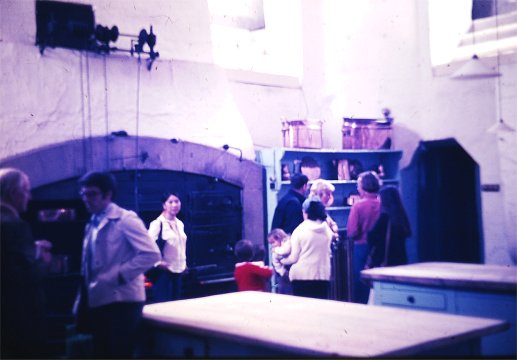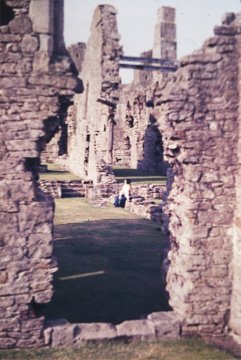 I liked climbing to the attic and roof areas while Sue-On, of course, headed for the huge kitchens.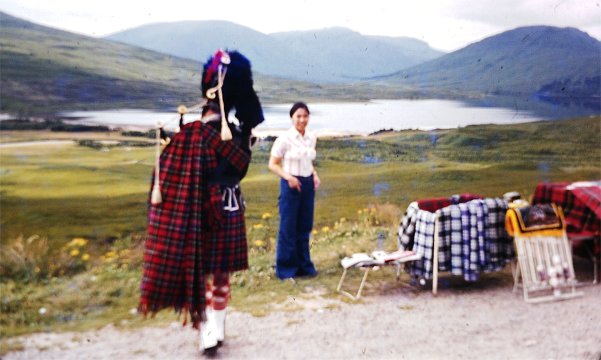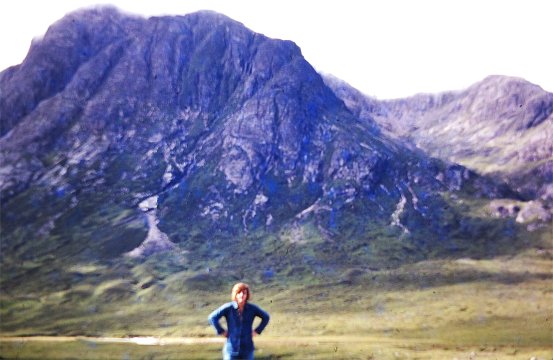 At last we had a Sunday off and looped up into Scotland around Loc Ness, Edinbrough and Glasgow.
Home of Bill's ancestors and not too different from many parts of Canada.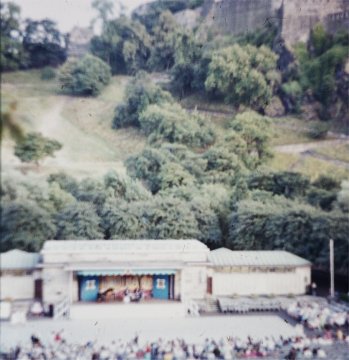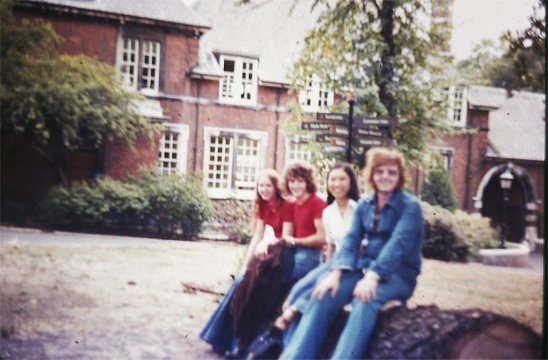 Our UK agent booked us into a great variety of venues but we always found time to take photos along the way.
Our photos were on slides that we finally digitized and cleaned up many decades later. We have shared a few of them on these Webpages.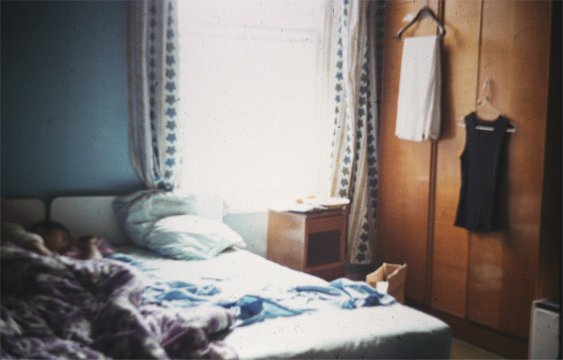 .

Our month-long home and office ~ Sue-On often took time before leaving for the evening performances to write home while Bill tried to keep his journal up to date.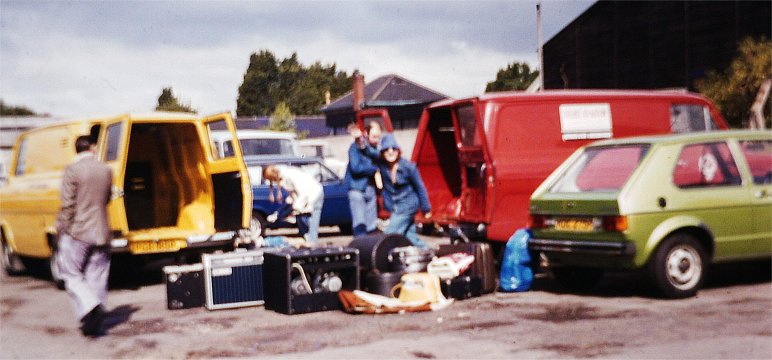 At the end of our one-nighters in the NE we transferred the gear into a different van for the trip south.
This was the start of our London adventure and our recording session at Gooseberry Studios.


Read the whole adventure in our Gig Notes series:
Gig Notes Ch. 5 and Diary Entries in the Media Section




NOW ON TO PART II:



London Adventure and Recording Sessions
www.hillmanweb.com/uk/tours/02.html
lub