THE HILLMAN 2013 ASIAN ADVENTURE
Section I: Malaysia
Page 1
www.hillmanweb.com/asia/malaysia01.html
Photos by Bill and Sue-On
Captions by Sue-On (expanded from our FaceBook pages)
Click for larger images

We flew from Winnipeg to Vancouver
to Hong Kong to KL to Penang
where the Morrises picked us up at the airport.
We finally arrived in Yan, Kedah, Malaysia.
Here we are in front of
Kerry and Edah Morris`s home
...a tropical paradise.

Bill with Kerry and Edah in the front lounges -
one of four on all sides of the house.
It is 11:45 am April 7.
Had a great breakfast ...
... not your typical bacon and eggs ;-)
Be envious, you Manitobans with your snowbanks ;-)

| | |
| --- | --- |
| | |
| My favourite grass - bamboo! | The view outside our air conditioned bedroom window! |

Jackfruit tree in
Kerry and Edah's tropical garden.

Late night snacks - spicy, sweet, crunchy.
These are pastries.
The long flat one is banana chip,
the roll is egg... nearly transparent - very light and not too sweet.
The rosette is so pretty, like Belgian and Icelandic pastry.
This one was slightly spicy - some cumin in it.
They also make a sweet version.

The resident geese: Man (mun) and the Gangster.
Man will come and wrap his neck around your arm,
but the one in the front, The Gangster
and sometimes called that Bastard!
will stretch out his neck to attack you.
I was told to point with my arm out and say GIT
....and he did ;-) Would ANYONE dare dispute me!

Resident peacock looking for a mate ;-)
He's quite the show off and LOUD! . .
But he is a bit sad as he lost his mate.

This was actually our first breakfast in Malaysia -
after Kerry and Edah picked us up at Penang airport.
This was in a 24-hour Indian restaurant...
. . . after a +24-hour flight.
Nothing like some curry and spices
to help clear the jetlag ;-)

Chicken with 2 kinds of sauce, shrimp, rice,
a mix of sauces, fried onions, tripe, calamari,
a mixture from Bill's and my plate.
This for four of us cost $20.00!
The big meal is usually eaten at 2:00,
but that day was a little different.
Just had snacks the rest of the day . . .
then to bed at 6:30 pm MY time for me.

| | |
| --- | --- |
| | |
| Our host Kerry Morris and Hostess Edah Morris. | The deep-fry guy. |

Two gringos and one Malaysian!

The Morris' "Humble Hotel"
...LOL! a real misnomer ;-)

Kerry showing Bill an unusual type of bamboo.

The carport and bamboo.
It`s amazing how everything grows!
The tropical plants we buy at home
just take off to become trees here.

Edah (Shahedah) and the bamboo grove.
The mushroom-type green bushes
are actually clumps of one kind of bamboo
that are trimmed by the gardener.

The gazebo flanked by
banana and palm trees.

| | |
| --- | --- |
| | |
| Elkhorn fern | Mandeville Vine |

Edah`s brother Edan is a collector of birds.
This is one of several cages of song birds
around the open-air lounges.
In the back garden, he has large enclosures
with a variety of birds.
He has a "bird man" who comes every day
to care for them as Edan is not always in this area.

One of the four open-air lounges -
a perfect place to enjoy a tropical rain and
the perfect place to relax after +30 hours of flights,
waiting for connections, etc.

Yellow bird-of-paradise

Not sure what this plant is
but the leaves are like little scoops.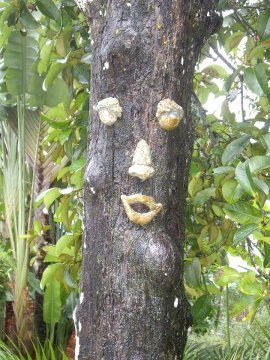 Guardian of the Home
- on a mangostean tree.


BACK TO MALAYSIA/SINGAPORE



Hundreds of Photos with Captions







.
WebMaster: Bill Hillman
Bill and Sue-On Hillman Eclectic Studio
hillmanweb.com
Brandon, Manitoba, Canada
Copyright 2013