THE HILLMAN 2013 ASIAN ADVENTURE
Section I: Singapore/Malaysia
Page 11
www.hillmanweb.com/asia/malaysia11.html
Photos by Bill and Sue-On
(click to see full size)
Captions by Sue-On
(expanded from our FaceBook pages)

SINGAPORE III

After leading us through the first leg of our Singapore visit
the ladies thought that we looked hungry,
so onto another restaurant for another speciality meal:
Hainanese food!

See the chickens hanging there?
That`s what we came for:
Chicken that was steamed,
the run-off fat used to fry the rice and
the steaming liquid used to cook the rice, etc .
VERY tender, juicy, delicious!

Coffee pork! YUMMY!
This is one dish I will be trying to replicate once back home!

We also had some roasted chicken.
The "soup" is the poaching / steaming stock
...light and flavourful.

The ladies also made sure I had my favourite veg:
gailan and peashoots.

OK... these look tempting
and even thoough we are full,
we MUST have some Nyonya Kueh (cake)!

A second display case full of kueh.
These are various kinds of sweet cakes made with
glutinus rice flour, coconut, milk, yams, etc...
Very good! Most of these are steamed.
The colours are from natural products
such as rose water, pandan leaf...

Our selection!
At least we were able to limit the order
and split these 4 ways...whew!

We didn't go to the zoo,
but this was a colourful bus for the zoo.

Raffles Hotel -
Famous colonial hotel
where the Singapore Sling was ìnvented`...

| | |
| --- | --- |
| | |
| The welcoming mat at the entrance. | The well-dressed doorman :-) |

| | |
| --- | --- |
| | |
| Karen at the famous Raffles Hotel, Singapore. | Ang Lai also at Raffles |

| | |
| --- | --- |
| | |
| The buffet set-up in the dining room. | Tiffin: the dining room |

The courtyard surrounded by sparkling white corridors
with branch-offs to various sets of rooms
such as the India Room.
Karen said the rooms are VERY expensive.
There is a private entrance for residents
and another for visitors.

This is the courtyard cocktail lounge.

Bill by the courtyard fountain.

Hiding from security
who are always on the lookout for riffraff ;-)

| | |
| --- | --- |
| | |
| The gift shop is very enticing... | An old coffee machine - NOT for sale ;-) |

| | |
| --- | --- |
| | |
| My purchase: $39.00 Singapore dollars... | A brief respite after shopping at Raffles gift shop. |

.
Singapore Sling anyone?

This was intriguing from the distance.
It's like a big cruise ship run-aground on top of 3 highrises!
Must have been some typhoon!
This is actually a hotel
with an infinity pool and a casino at the top.

| | |
| --- | --- |
| | |
| This is the sign of the big "ferris wheel" by the waterfront. | The Singapore Flyer! |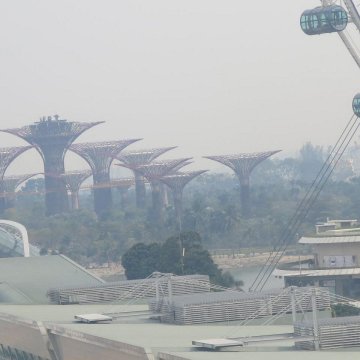 Then...we saw....the Towers of Barsoom!
This is for our ERB friends.
You'll see more of these Super Trees in the next installment on Singapore


BACK TO MALAYSIA/SINGAPORE



Hundreds of Photos with Captions







.
WebMaster: Bill Hillman
Bill and Sue-On Hillman Eclectic Studio
hillmanweb.com
Brandon, Manitoba, Canada