THE HILLMAN 2013 ASIAN ADVENTURE
Section I: Malaysia
Page 31
www.hillmanweb.com/asia/malaysia31.html
Photos by Bill and Sue-On
(click to see full size)
Captions by Sue-On
(expanded from our FaceBook pages)

LOCAL COLOUR :: Part I
Election Fever Abounds

| | |
| --- | --- |
| | |
| Side view of Kerry and Edah's home: "Hotel Humble" . . . | Bill found the guitar stash in Kerry's closet! |








His pickin' attracted two little imps:
Mikey and Sophie

One of the local mosques.
This is the one that we hear at Kerry's house 5 times a day. . .
from 5:50AM every morning,
broadcasting the call to worship...

Off for another adventure.
House boats enroute to Suigai Patanai

Election Headquarters?
Our visit coincided with election time ~ an exciting time to visit..

A creative way of political party flag waving:
Two main parties - the blue party and the green party.
They`ve used their flags to create
a tank and soldiers, a submarine, and a helicopter!
There are thousands of flags all over the country.

The Blue Party Tank . . . or is it the Blue Tank Party?
More flags are added each day
until election day first week of May.
Unlike North America, their election and campaigning
lasts only two weeks!

Not sure whether this is the Blue Party or the Green Party...
maybe made by someone "sitting on the fence."

Definitely one for the Green party.

| | |
| --- | --- |
| | |
| Many fruit vendors along the road | Green Coconut Vendor |

Kampong chicken
running in the sugar cane field...
not much eating on these chickens.

We stopped at our favourite Dadih stall.
This is like the fruit flavoured tofu custard
found in Canadian supermarkets.
But this is smoother and very delicious.
It kind of reminded me of milk powder.
I know it doesn't sound great, but truly... it is lovely!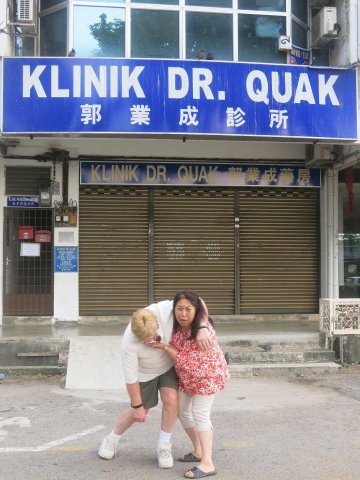 Bill got a hangnail opening his container of Dadih,
so we thought we'd better take him to the clinic.
I had to help him out to the car after...
not sure if we chose the right doctor.



BACK TO MALAYSIA/SINGAPORE CONTENTS



Hundreds of Photos with Captions







.
WebMaster: Bill Hillman
Bill and Sue-On Hillman Eclectic Studio
hillmanweb.com
Brandon, Manitoba, Canada
Copyright 2013