THE HILLMAN 2013 ASIAN ADVENTURE
Section I: Malaysia
Page 30
www.hillmanweb.com/asia/malaysia30.html
Photos by Bill and Sue-On
(click to see full size)
Captions by Sue-On
(expanded from our FaceBook pages)

BACK TO THE MARKET :: Part II

| | |
| --- | --- |
| | |
| Snake oil vendor. LOL! | Happy vendors... Must have made a big sale;-) |

| | |
| --- | --- |
| | |
| The knife and scissors man. | Poor beggar... |

Freshly killed chicken.
These are rubbed with tumeric, which keeps flies away, etc. --
or, you can have a chicken killed as you wait if you don't want tumeric on it.
Visible at the back are all the innards, including cleaned intestines
which MY Mom would cook in whiskey
with the whole chicken and peanuts and ginger, and... YUM!

Hopeful kittens.
There are very few dogs here
because Muslims do not like dogs.
But, there are stray cats everywhere.
They are skinny and have crooked or no tails.

| | |
| --- | --- |
| | |
| Fresh bamboo shoots. | Where's the beef!?! |

Carved for you right here!
I was buying a big chunk for the family dinner
I would be cooking in a couple of days.

Colourful rugs...
was tempted to bring some home but that would mean
I'd have to sacrifice some space in our luggage... resisted...

| | |
| --- | --- |
| | |
| Fresh pineapples | Chili peppers, lemon grass, herbs... |

Visit to the spice man.
Edah buys several kgs of dried chili peppers and
has them ground up to bring back to Canada.

Corn is quite popular here, even in desserts!
Edah's sister Zah gave me a custard recipe with kernel corn.
It is very good and I'll have to give it a try in my kitchen.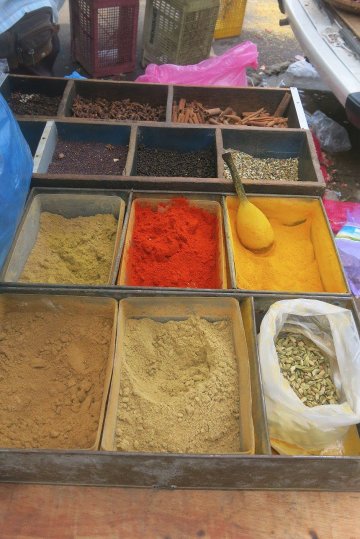 I also picked up the spices
I needed for the Chinese dinner for the family.

| | |
| --- | --- |
| | |
| Yeah . . .NO DURIAN! allowed in this car ;-) | Groceries unloaded! Let the cooking begin, Kakpah! |

BACK TO MALAYSIA/SINGAPORE CONTENTS



Hundreds of Photos with Captions







.
WebMaster: Bill Hillman
Bill and Sue-On Hillman Eclectic Studio
hillmanweb.com
Brandon, Manitoba, Canada
Copyright 2013/2014