THE HILLMAN 2013 ASIAN ADVENTURE
Section I: Malaysia
Page 29
www.hillmanweb.com/asia/malaysia29.html
Photos by Bill and Sue-On
(click to see full size)
Captions by Sue-On
(expanded from our FaceBook pages)

BACK TO THE MARKET :: Part I
Starting with Breakfast

| | |
| --- | --- |
| | |
| Arrival at the market ~ SO many motorbikes, scooters, etc. | A maze of vendors and their stalls at the market. |

BREAKFAST AT THE MARKET FOOD AREA
BEFORE WE EXPLORE THE JUNGLE OF STALLS
We always come to this roti man if we want some for breakfast.
He makes up his dough every evening, lets it rise,
then served up for breakfast every day.
Edah says he has the softest hands as it's always slathered with oil.

The roti, or Indian bread,
can be plain or grilled with egg inside.
Either way is delicious!
On our last morning, he gave us his secret recipe!

The roti
getting golden on the grill.

Here's the tek tarik man - pulled tea.
The tea is very hot and strong, but it is mixed with condensed milk.
It is then poured from a height of about 3-4 feet,
from one container to another.

Instead of a frothing machine, this is done manually.
In doing so, it also allows the tea to cool down
just so one can drink it without scalding the mouth.
YUMMY!

A great breakfast:
the pieces of roti
are dipped in a mild lentil curry sauce.

Other selections available for breakfast, including nasi lemak,
which is rice cooked in coconut milk and
topped with little bits of meat or tiny fish... also delicious!

Crispy snacks

Local elders
gathering for gabfest and breakfast.

A family breakfast.

Kerry jokingly said this was the "infamous" Dr. Quak. . .
had us fooled for awhile.

Bill thought he should make his acquaintence,
just in case he needs his administration some day ;-)

TIME FOR SOME SERIOUS MARKET BROWSING

These beans are called petai.
The pods are peeled and the bean inside
is cooked in various ways, such as in chili sauce.
They call these stinky beans as they make the pee stink,
much like asparagus.

Can't remember what kind of fowl or animals these were,
but they were for sale...

| | |
| --- | --- |
| | |
| The music man! | More fish selections fresh off the boat. |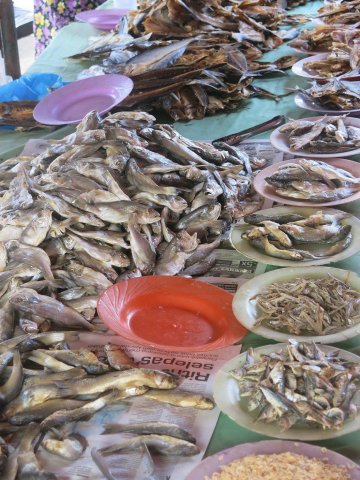 or... dried fish if you wish

BACK TO THE MARKET :: Part II
is featured in Gallery 30

BACK TO MALAYSIA/SINGAPORE



Hundreds of Photos with Captions







.
WebMaster: Bill Hillman
Bill and Sue-On Hillman Eclectic Studio
hillmanweb.com
Brandon, Manitoba, Canada
Copyright 2013/2014